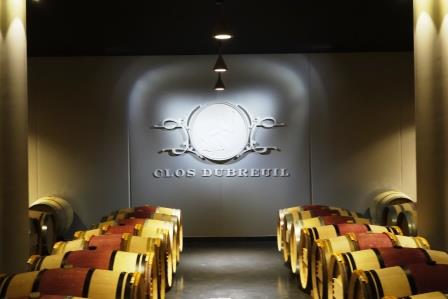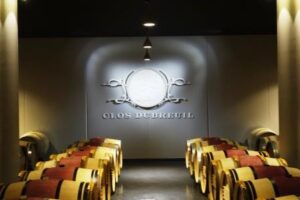 Learn everything about Clos Dubreuil St. Emilion with wine tasting notes and wine with food pairing tips. Learn the best vintages, the history of the property, and information on the vineyards and winemaking. If you want to read about other important, Bordeaux Chateaux: Links to all Bordeaux Wine Producer Profiles
Clos Dubreuil History, Overview
Benoit Trocard purchased this small, St. Emilion estate in 2002. At the time of his original purchase, the vineyard was only 1.5 hectares of vines. The wines of Clos Dubreuil were previously made by Louis Mitjavile, from Tertre Roteboeuf. But that changed just prior to the 2009 vintage. Managing Director, Benoit Trocard is also in charge of their Pomerol property, Clos de la Vieille Eglise.
In August 2011, Benoit Trocard added to his Bordeaux land holdings with the purchase of property in Pomerol. The land had previously been used as a race track by the Libourne Horse Racing Society. It will be interesting to see what Benoit Trocard does with his new Pomerol vineyards, once the vineyards have been developed.
This will take some time as the gravel-based terroir has not been farmed for over 100 years! That is a long time to remain fallow. In 2014, Clos Dubreuil finished the construction of their completely new cellars, vat rooms, and wine-making facilities. In 2022, Clos Dubreuil completed another large-scale renovation. In 2023, Alain Raynaud took over managing the estate.
Clos Dubreuil Vineyards, Terroir, Grapes, Winemaking
The 8-hectare vineyard of Clos Dubreuil is planted to 70% Merlot, 25% Cabernet Franc and 5% Cabernet Sauvignon. This represents a major change in the vineyard plantings since it was purchased by Benoit Trocard, as the vineyard was much closer to 100% Merlot previously. The terroir of Clos Dubreuil consists of clay, chalk, and limestone soils.
The vines are on average 25 years of age. But there are now some very old vines. In 2007, the estate added 2 hectares of vines to their vineyard which included .5 hectares of old vine, Cabernet Franc that is over 50 years of age. The vineyards are located in different, non-contiguous parcels, some of which are on hillsides that rise to 90 meters at their peak.
The first vintage to include the Cabernet Franc was in 2008. Clos Dubreuil is located not too far from Valandraud, Chateau Fleur Cardinale, Chateau Faugeres and Chateau Tour Saint Christophe.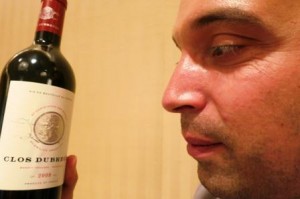 To produce the wine of Clos Dubreuil, fermentation takes place in 10 temperature-controlled vats. One parcel of vines vinified in barrel. This allows for vinification on a parcel by parcel basis. Malolactic fermentation takes place in barrels.
Clos Dubreuil is then aged in 100% new oak for an average of 20 months, depending on the character and strength of the vintage. Clos Dubreuil is a very opulent, modern, sexy style of Right Bank Bordeaux wine that drinks well young.
Clos Dubreuil produces on average, about 3,200 cases a year. There is a second wine, Anna. Anna is made from a selection of barrels with the assistance of their consultant, Michel Rolland. Anna has a production that is close to 800 cases per year. There is a third wine, Clara.
The best vintages of Clos Dubreuil are: 2022, 2021, 2020, 2019, 2018, 2017, 2016, 2015, 2014, 2010, 2009, 2005 and 2000.
With the 2013 vintage, Clos Dubreuil introduced a white Bordeaux wine to their portfolio. Produced from 100% Chardonnay planted in the Lussac appellation on a terroir of clay and limestone soils with southern exposure, the wine will be labeled as a Vin de France and sold under the name of Dubreuil Chardonnay. Currently, only 100 cases are produced from .25 hectares of vines.
To produce the wine, following the initial sorting, the berries are cooled to 2 degrees Celsius for about 8 hours before being sorted once again. The grapes are pressed in whole bunches and barrel fermented.
The wine will be aged in 50% new, French oak barrels from Freres and Berthomieu for about 10 months. Benoit Trocard plans to increase production over the next few years with the goal of reaching up to 325 cases. Clos Dubreuil is the first grower to plant Chardonnay in that region.
When to Drink Clos Dubreuil, Anticipated Maturity, Decanting Time
Clos Dubreuil is better with 4-7 years in the cellar before starting to show its best. Of course, that can vary slightly, depending on the vintage. Clos Dubreuil is best enjoyed in the first 6-18 years of life.
Young vintages can be decanted for about 1 – 2 hours. This allows the wine to soften and open its perfume. Older vintages might need very little decanting, just enough to remove the sediment.
Serving Clos Dubreuil with Wine and Food Pairings
Clos Dubreuil is best served at 15.5 degrees Celsius, 60 degrees Fahrenheit. The cool, almost cellar temperature gives the wine more freshness and lift. Clos Dubreuil is best paired with all types of classic meat dishes, veal, pork, beef, lamb, duck, game, roast chicken, roasted, braised, and grilled dishes.
Clos Dubreuil is also good when matched with Asian dishes, rich fish courses like tuna, mushrooms, and pasta.
The Trocard family owns numerous other Right Bank estates in a myriad of appellations including St. Emilion and Lalande de Pomerol, as well as wines that are classified as Bordeaux Superieur. The Trocard family has owned Clos de la Vieille Eglise in the Pomerol appellation since 1830!
Clos Dubreuil Wine Tasting Notes
31 Vintages 119,287 Views Sort by Vintage-Rating
2022
Clos Dubreuil (St. Émilion Grand Cru)

Dark in color, the wine pops with black cherries, smoke, licorice, spice, and dark, red pit fruits in the nose, and on the palate. Lush, polished, and creamy, with sweetness to the fruit, lift, and length in the finish. Drink from 2025-2040. 93-95 Pts.

1,042 Views

Tasted

May 8, 2023

2021
Clos Dubreuil (St. Émilion Grand Cru)

Spicy and floral, with overtones of espresso, black cherry, cocoa, flowers and sweet plums on the nose. Round, sweet, lush, juicy and fresh, drink from 2023-2039. 91-93

1,592 Views

Tasted

May 20, 2022

2021
Clos Dubreuil Chardonnay (Vin de France)

The nose pops with its lemon peel, pear, green apples and hint of tropical fruit accents. Fresh, sweet, bright and creamy, this is also a treat to taste and will make a fun wine to bring to a blend tasting! Drink from 2023-2028. 90-90

2,042 Views

Tasted

May 20, 2022

2020
Clos Dubreuil (St. Émilion Grand Cru)

Deeply colored, the nose still shows its oaky side before you move to all of its other nuances, flowers, cherries, chocolate, spice and licorice. Full-bodied, lush, polished and opulent, there is depth of flavor and concentration that leaves you with layers of ripe, plush, dark fruits and chocolate. Drink from 2024-2045.

999 Views

Tasted

Mar 21, 2023

Opaque in color, the wine showcases its inky black fruits, licorice, espresso, flowers and smoke with ease. Full-bodied, opulent, velvety and fresh, there is depth of flavor and concentration that leaves you a silky, supple, richly textured finish. Give it 3-5 years in the cellar and enjoy it with ease for up to 2 decades after that. 94-96 Pts

2,507 Views

Tasted

May 20, 2021

2020
Dubreuil Chardonnay (Vin de France)

Unfiltered, with a nose of apples, pears and crispy citrus, the wine is fresh, creamy, sweet, vibrant and juicy, finishing with green apples and lemon peel in the end note. 89 Pts

1,813 Views

Tasted

May 20, 2021

2020
Clos Dubreuil Cuvée Anna (St. Émilion)

Medium-bodied, early-drinking, soft, and fruity with a cocoa, licorice, and back cherry character that comes through in the finish. This is perfect for near-term drinking while waiting for the Grand Vin to develop. Drink from 2023-2030.

970 Views

Tasted

Mar 21, 2023

2019
Clos Dubreuil (St. Émilion Grand Cru)

Deeply colored, the nose opens with flowers, chocolate, licorice, espresso and plum liqueur nuances. On the palate, the wine is lush, rich, deep and complex with layers of silky-textured, fresh, ripe, chocolate-covered plums, black cherry, espresso and spice that start at the mid-palate and continue all th way through to the long finish. Concentrated, lush, flashy, and fleshy in texture, this is a hedonistic treat. Drink from 2023-2040.

1,072 Views

Tasted

Mar 29, 2022

Dark in color, this is all about the deep, chocolate-covered plums, black cherry, licorice, espresso and smoke at its core. Concentrated, lush, flashy, and fleshy in texture, this is a hedonistic treat. The wine was made from 80% Merlot and 20% Cabernet Franc. 93-95 Pts

3,593 Views

Tasted

Jun 8, 2020

2018
Clos Dubreuil (St. Émilion Grand Cru)

Once past the oaky nose you find ripe, plum, cherry, licorice, chocolate and smoke filled aromatics. On the palate you discover all the ripe, sweet, polished, richly textured, black cherries, licorice and plums you desire. Give it 3-5 years in the cellar and enjoy it with ease for up to 2 decades after that.

1,152 Views

Tasted

Mar 9, 2021

Blackberry, boysenberry, licorice and dark chocolate are all over the place here. Lush, round and silky with sweetness to the fruit, concentration, opulent textures and length in the finish, this is the best vintage for Clos Dubreuil I have ever tasted. 94-96 Pts

1,911 Views

Tasted

Apr 19, 2019

2018
Clos Dubreuil Cuvée Anna (St. Émilion)

Forward, early drinking, fruity charmer that is perfect for near term drinking while waiting for the Grand Vin to develop.

1,317 Views

Tasted

Mar 9, 2021

2017
Clos Dubreuil (St. Émilion Grand Cru)

With plush, round textures, the juicy, ripe black cherries are surrounded by chocolate, rainy earth and licorice notes. Soft and approachable, there is lift and sweetness to accompany the fruit-filled finish. The wine was made from 75% Merlot, 20% Cabernet Franc and 5% Cabernet Sauvignon, reaching 13.5% ABV. Due to the frost 50% of the harvest was decimated.

2,196 Views

Tasted

Apr 26, 2018

2016
Clos Dubreuil (Lussac-St. Émilion)

Rich, round, deep and fresh with ample ripe, fleshy, chocolate-covered black cherries, licorice, flowers and smoke, the wine is lush, full-bodied and hedonistic.

1,389 Views

Tasted

Sep 21, 2019

Chocolate-covered black raspberries, licorice and smoky notes create the perfume. On the palate, the wine is plummy, round, fresh and sweet. There is a good purity of fruit in the satin finish.

1,923 Views

Tasted

Apr 29, 2017

2015
Clos Dubreuil (St. Émilion Grand Cru)

Licorice, black cherry, espresso, smoke and spice create the nose. Full bodied, round and juicy the wine is fleshy, flashy, leaving you with silky, ripe, polished, sweet, dark fruits in the endnote.

2,705 Views

Tasted

May 21, 2018

Lush, silky, round, rich and extravagant, this wine combines sublime pleasure with carefully crafted structure. Tempting you with blast of fresh, sweet, dark, red fruits and cocoa in the foreplay, this delight leaves you with a rush of dark chocolate in the endnote. From a blend of 85% Merlot and 15% Cabernet Franc, which could change before bottling, the wine reached 14.5% ABV.

2,587 Views

Tasted

Apr 29, 2016

2015
Dubreuil Chardonnay (Vin de France)

Lemon peel, orange and honeysuckle scents open to a fresh, vibrant, blast of lemon, lime and grapefruit, with a lot of character, but not much complexity.

1,354 Views

Tasted

Apr 29, 2016

2014
Clos Dubreuil (St. Émilion Grand Cru)

Chocolate and black raspberry notes in the nose pair well with the plush, soft, fresh black cherries on the palate. This wine is smooth with freshness in the fruit. From a blend of 80% Merlot, 15% Cabernet Franc and 5% Cabernet Sauvignon, this is the first vintage to include Cabernet Sauvignon in the blend. The wine reached 14% ABV with a pH of 3.65. 91-93 Pts

1,986 Views

Tasted

Apr 27, 2015

2014
Dubreuil Chardonnay (Vin de France)

Meyer lemon pie with orange and vanilla in the nose, this wine is bright with a sweet, lemon-lime finish. 85 Pts

1,050 Views

Tasted

Apr 27, 2015

2013
Clos Dubreuil (St. Émilion Grand Cru)

Fresh herbs, bright cherries, soft, fresh red fruits, cocoa and licorice all produced in an open, forward, round, polished charming style, make this a nice for current and short term drinking.

1,769 Views

Tasted

May 25, 2016

Jammy black raspberry, cocoa, licorice, vanilla and earth lead to a medium-bodied, round-textured wine with juicy plum and cherry notes in the finish. Blending 85% Merlot and 15% Cabernet Franc, the wine reached 13% ABV. From low yields of 25 hectoliters per hectare, 58% of the harvest was placed into the Grand Vin. 89-91 Pts

1,693 Views

Tasted

Apr 28, 2014

2013
Dubreuil Chardonnay (Vin de France)

Debut vintage of this 100% Chardonnay. From the team at Clos Dubreuil, the wine pops with lemon, orange and grapefruit aromas. Zippy, but a bit short in the citrus finish, only 50 cases were produced. Over time, the production will increase to 500 cases. 83-85 Pts

1,321 Views

Tasted

Apr 28, 2014

2012
Clos Dubreuil (St. Émilion Grand Cru)

The wine shows good color, with a smoky, floral nose, silky, soft, rich textures and fresh, ripe sweet, dark berries on the finish. The final blend is 75% Merlot and 25% Cabernet Franc.

3,486 Views

Tasted

May 15, 2015

The first vintage to include fruit from the recently purchased vines, it was produced from a blend of 90% Merlot and 10% Cabernet Franc. Jammy black cherries and licorice notes lead to a fleshy and sweet licorice- and berry-filled wine. 90-92 Pts

2,492 Views

Tasted

Apr 26, 2013

2011
Clos Dubreuil (St. Émilion Grand Cru)

Polished, silky, rich fruits, juicy, ripe black cherries with plum and truffle are found in this appealing wine.

2,403 Views

Tasted

May 20, 2014

Blending 85% Merlot and 15% Cabernet Franc produced a wine with coffee, vanilla, smoke, black and blue fruit with minerality in the aromatics. Aged in 100% new oak, this plush, tannic wine ends with a fresh, blackberry, oak and red plum finish. 90-92 Pts

2,819 Views

Tasted

Mar 16, 2012

2010
Clos Dubreuil (St. Émilion Grand Cru)

Deep in color, with pungent notes of black licorice, espresso bean, chocolate, blackberry and cherry liqueur. The rich wine is plush, opulent and hedonistic with a long, intense decadent finish.

4,702 Views

Tasted

Jul 23, 2013

Licorice, truffle, jammy dark berries and dark chocolate flavors open to a plush, polished, rich, fresh, opulent wine of pleasure. This opulent wine will drink well young.

4,002 Views

Tasted

May 13, 2013

Clos Dubreuil - Dark purple in color, with licorice, smoke, coffee, earth and spice filled aromatics gets even better with the decadent palate feel and chocolate covered, dark, black cherry finish. 91-93 Pts

4,357 Views

Tasted

Mar 14, 2011

2009
Clos Dubreuil (St. Émilion Grand Cru)

Deep in color, the nose is packed with black raspberries, smoke, flowers, earth, espresso bean and minerality. This is a very sensuous, opulent wine with layers of fruit, dark chocolate and spice. Drink this hedonistic wine now, or age it for a decade.

4,385 Views

Tasted

Jul 23, 2013

Inky in color with dark purple accents, vanilla, black licorice, spice, truffle, black cherry jam and spice box aromas make up the perfume. Rich, plush and concentrated with waves of ripe, dark berries and cocoa, this lush, sweet, fat wine ends with a deep, multi-layered, blackberry and cherry liqueur filled finish. This will drink great on release and improve with age.

4,579 Views

Tasted

Mar 12, 2012

2009 Clos Dubreuil is stuffed with aromas of black raspberries, limestone, dark cherries, and espresso beans. Full bodied with rich, supple textures, the 2009 is a major improvement over previous vintages. The wine is concentrated with jammy berry, plum, and chocolate flavors. 92-94 Pts

2,033 Views

Tasted

Jun 28, 2010

2008
Clos Dubreuil (St. Émilion Grand Cru)

Truffle, plum, jam, smoke, chocolate and black licorice scents are there from the moment you pop a cork. The wine is lush round, fat and juicy. On the palate the wine is loaded with dark chocolate, salty tannins and ripe, spicy fruits. Drink it now, or wait another year or two, and it could be even better.

2,130 Views

Tasted

Sep 17, 2018

The first vintage to include the .5 hectares of 55 year old, Cabernet Franc vines purchased the year before. This brought the blend to 90% Merlot and 10% Cabernet Franc. The wine is filled with fresh, sweet black cherries, plum, chocolate, smoke, tobacco and earth. On the palate, the wine is soft, smooth and round.

3,501 Views

Tasted

Jul 23, 2013

Coffee, vanilla, licorice, black raspberry and smokey aromas opens up a silky, opulently textured wine that finishes with sweet, blackberry, chocolate and plum flavors.

3,756 Views

Tasted

Mar 11, 2011

2007
Clos Dubreuil (St. Émilion Grand Cru)

The first vintage to include 2 new hectares of vines which featured .5 hectares of old vine, Cabernet Franc. However, due to the vintage, the Cabernet Franc did not end up achieving enough ripeness to be included in the final blend, which became 100% Merlot. Medium boded, with a touch of green character along with the mineral driven, soft, red cherry personality. This is a wine to drink on the young side.

2,811 Views

Tasted

Jul 23, 2013

2006
Clos Dubreuil (St. Émilion Grand Cru)

Truffle, strawberry jam, dark chocolate and black raspberry notes are easy to pick out from the perfume . The developed wine is soft, with silky smooth tannins and a fresh, sweet, red and black plummy finish that lingers. This is drinking in the right place today for pleasure seekers..

1,943 Views

Tasted

May 25, 2016

Black cherry, licorice and oak notes lead to a structured, tannic, youthful wine with tannic, black cherry filled finish. Give this another 3-5 years before popping a cork.

2,284 Views

Tasted

Jul 23, 2013

2005
Clos Dubreuil (St. Émilion Grand Cru)

Earthy, with cocoa, espresso, plum, licorice, wet earth and black raspberry in the nose. This quickly moves to a fresh, soft, sweet, silky, lushly textured wine with a blast of fresh cherries and chocolate in the finish that can be enjoyed now, or aged for further development.

2,242 Views

Tasted

Jun 28, 2015

From low yields of only 26 hectoliters per hectare, the wine can be considered experimental for the property. To reduce the yields, Benoit Trocard cut the number of bunches per vine down to 6 vines per vine, which is less than usual. With an intriguing nose of espresso bean, vanilla, black raspberry, fresh herbs and minerality, the wine is still young. With good freshness, there is a lot to like in the fat, plummy finish.

2,892 Views

Tasted

Jul 23, 2013

2004
Clos Dubreuil (St. Émilion Grand Cru)

Mostly secondary notes in the nose with truffle, licorice, smoke and wet earth. The fruit is fading. Fully mature and requiring consumption, drink his sooner than later for the last of its soft, spicy red berries.

2,438 Views

Tasted

Nov 30, 2014

Plush, round and charming, the wine is filled with licorice, fresh, sweet cherries and plums with dark chocolate to round it out.

2,668 Views

Tasted

Jul 23, 2013

2003
Clos Dubreuil (St. Émilion Grand Cru)

Fully mature, the debut vintage for the new owner is slightly past its best days. Still, there is a lot of ripe, juicy plums, cherries and tobacco coupled with round textures to be enjoyed. The finish however, is a bit dry and dusty. Drink up.

4,745 Views

Tasted

Dec 18, 2013

The first vintage for Benoit Trocard opens with tobacco, cigar box, smoke and cherries. Close to fully mature, I'd drink this sooner than later to preserve the plush, sweet plum and cherry fruits. There is a slight dryness to the tannins in the finish.

1,747 Views

Tasted

Jul 23, 2013

2002
Clos Dubreuil (St. Émilion Grand Cru)

Tight on the nose, the wine needs coaxing before any mocha tinged, red fruits emerge. On the palate, the wine is on the tart side and requires drinking.

2,095 Views

Tasted

Jul 23, 2013

2001
Clos Dubreuil (St. Émilion Grand Cru)

Earth, spice, smoke, tobacco and plum notes create the aromatic profile. Produced from a blend of 95% Merlot and 5% Cabernet Franc, the wine was aged in 100% new, French oak, the wine is rich, sweet and fresh, with a smoky, black raspberry finish. There is no reason to age this any longer as it's not going to get any better.

2,796 Views

Tasted

Jul 23, 2013

2000
Clos Dubreuil (St. Émilion Grand Cru)

Chocolate fudge, truffle, cherries and mint scents open to a mature, soft, plush textured wine with a sweet, black cherry, licorice and dark chocolate finish. Produced from a blend of 95% Merlot and 5% Cabernet Franc, the wine was aged in 100% new, French oak. This is drinking in prime time today.

2,510 Views

Tasted

Jul 23, 2013

1998
Clos Dubreuil (St. Émilion Grand Cru)

Produced by the family who owns Chateau Tertre Roteboeuf, this 100% Merlot wine is very plush and opulent. Close to fully mature. What this wine lacks in complexity it makes up for in pleasure. There is no reason to hold this wine any longer, since I doubt it will improve

3,488 Views

Tasted

Oct 14, 2008