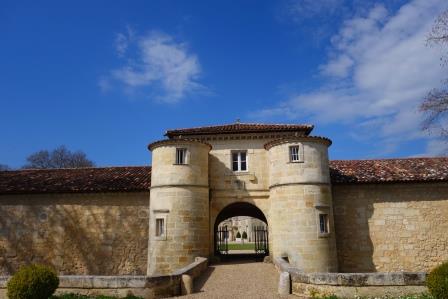 Learn everything about Chateau d'Issan Margaux Third Growth with wine tasting notes and wine with food pairing tips. Learn all the best vintages, a history of the property, information on the vineyards, and winemaking. If you want to read about other important, Bordeaux Chateaux: Links to all Bordeaux Wine Producer Profiles
Chateau d'Issan History, Overview
Chateau d'Issan is one of the oldest wine-producing properties in the Medoc as well as in all of Bordeaux. In 1152, the wine produced by what we know of as Chateau d'Issan today was served for the royal wedding between Eleanor of Aquitaine and King Henri II. At the time, the estate was known as Chateau Lamothe Cantenac.
Jumping ahead a few centuries to the 17th century, the estate became the official possession of the d'Essenault family.
The name, d'Issan is based on an early phonetic spelling of d'Essenault. d'Essenualt, a member of Parliament and a knight began an extensive program of rebuilding, renovating, and redesigning the estate. Eventually, he built a new castle next to the vineyard and continued his construction projects until the French Revolution.
Chateau d'Issan The Modern Age
Skipping ahead several centuries to the modern era for Chateau d'Issan, the vineyard was purchased shortly after the conclusion of World War 2 in 1945 by the well-known Cruse family, who were successful negociants and vineyard owners. When they purchased the vineyard, everything was in poor shape.
The cellars were dilapidated and needed complete rebuilding. In fact, they were in such bad shape, their 1945 wine had to be vinified at Rauzan Segla. The harvest was indeed tiny, as perhaps less than 5 hectares of land was still cultivated with vines. The Cruse family continues to own and manage the Medoc estate today.
Chateau d'Issan remains one of the most picturesque estates in the area. With its moats, drawbridge and courtyard, Chateau d'Issan looks like a beautiful castle out of a fairy tale. It is well worth your time to visit. Chateau d'Issan truly is one of the most beautiful properties in all of Bordeaux.
The current high level of quality at Chateau d'Issan can be traced back to 1998. That is the year Emmanuel Cruse took over the job of managing the Left Bank property. Since 1998, Emmanuel Cruse has slowly but surely turned Chateau d'Issan into one of the top estates in the Margaux appellation.
In February 2013, Chateau d'Issan sold a 50% stake in the historic Medoc property to Jacky Lorenzetti. Jacky Lorenzetti has been working with Emmanuel Cruse on his other Left Bank Bordeaux chateaux including; Chateau Lilian Ladouys and Chateau Lafon in St. Estephe and Chateau Pedesclaux in Pauillac.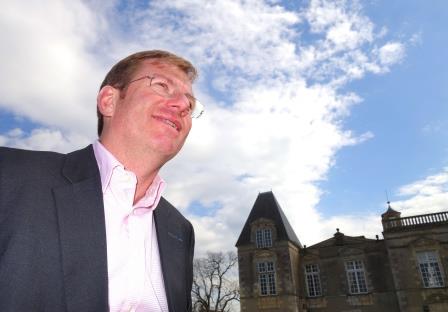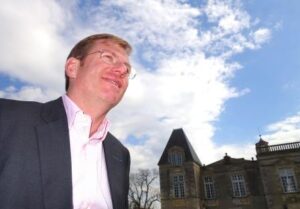 Emmanuel Cruse modernized Chateau d'Issan with the addition of sorting tables and a new pneumatic press, along with building a new reception area to receive the grapes. The portion of new French oak barrels used to age the wine has also increased to an average of 50%. Most importantly, the greater selection is now utilized with the fruit with more of the harvest going into the second wine of Chateau d'Issan.
Chateau d'Issan Vineyards, Terroir, Grapes, Winemaking
The 52-hectare vineyard of Chateau d'Issan is planted to 65% Cabernet Sauvignon, 30% Merlot, 2% Cabernet Franc, 2% Petit Verdot and 1% Malbec. This represents a shift in the vineyard plantings since the 1990s, as today, there is less Cabernet Sauvignon and more Merlot in the vineyard.
And more interestingly, as you can see, now you find all 5 Bordeaux varietals in the vineyard with small amounts of old vine Petit Verdot, planted in 1948, Cabernet Franc, planted in 1958, and Malbec as well.
The increase in the size of the vineyard is due to a combination of recent purchases and a ruling in 2007 by the INAO that allowed Chateau d'Issan to add 10 hectares of vines that were previously classed as part of the Haut-Medoc appellation. Following the decision to expand the Margaux appellation, those vines were re-classified as part of Margaux.
The vineyard has a terroir of gravel with clay and limestone soils on gentle, rolling, slopes. The vineyards of Chateau d'Issan are planted to a vine density of 9,000 vines per hectare with vines that are on average 35 years of age.
They have old vines as well, some of which are more than 70 years of age. More importantly, the vineyard is situated only 800 meters from the Gironde estuary providing moisture in dry years and a buffer from high heat and frost.
Their best terroir is next to the chateau in the enclos which surrounds much of the estate. While today Chateau d'Issan is dominated by Cabernet Sauvignon, which was not the most important grape at the time of the 1855 Classification. In fact, in those days, Chateau d'Issan was planted to 100% Tarney Coulant, a grape that is now almost extinct in Bordeaux today.
The entire property takes up 127 hectares, with 52 hectares under vine. Here's a secret for you. For the 2015 vintage only, Chateau d'Issan made 1 special barrel of wine that came from vines planted in the exact borders of d'Issan at the time of the 1855 Classification of the Medoc!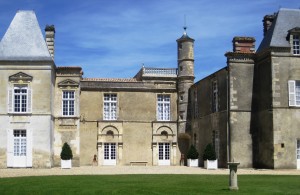 The best vintages of Chateau d'Issan are: 2022, 2021, 2020, 2019, 2018, 2017, 2016, 2015, 2012, 2010, 2009, 2008, 2006, 2005, 2000 and 1959. Clearly, 2019 and 2015 are the best vintages produced in the history of Chateau d'Issan, so far!
Chateau d'Issan Winemaking
To produce the wine of Chateau d'Issan, the wine is vinified in temperature-controlled, stainless steel vats. At Chateau d'Issan, they use 37 vats that range in size from 73 hectoliters up to 148 hectoliters. This allows for a true parcel by parcel vinification.
Malolactic fermentation is conducted in a combination of tank and barrel. The amount of each method varies, depending on the vintage and grape variety as only the Merlot goes through malolactic fermentation in the barrel. The wine of Chateau d'Issan is aged in 50% new, French oak barrels for an average of 18 months before bottling.
The selection here is severe. Today, it's common for close to 40% of the yields to be declassified. There is also a second wine, Blason d'Issan which made its debut in 1995. Production of the Chateau d'Issan is slightly more than 6,000 cases per year.
The Cruse family also own 5 hectares of vines close to Margaux in the Haut Medoc appellation as well as in the Bordeaux Superieur appellation, where they own 10 hectares of vines. The Haut Medoc wines are sold as Chateau de Candale. The vines in Bordeaux Superieur are used to produce Chateau Moulin d'Issan.
Cleary Chateau d'Issan has been steadily improving since 2000. In fact, the back-to-back hits of 2009 d'Issan and 2010, followed by 2015, 2016, 2018, 2019, and 2010 d'Issan vintages are the most exciting wines I have tasted from this property!
All those wines are beautiful examples of Margaux with great character and style. Those are going to be fun wines to compare over the next several decades.
When to Drink Chateau d'Issan, Anticipated Maturity, Decanting Time
Chateau d'Issan can be enjoyed on the young side with decanting. Young vintages can be decanted for an average of 2-3 hours, give or take. This allows the wine to soften and open its perfume. Older vintages might need very little decanting, just enough to remove the sediment.
Chateau d'Issan is usually better with at least 8-12 years of bottle age. Of course, that can vary slightly, depending on the vintage character. Chateau d'Issan offers its best drinking and should reach peak maturity between 12 and 30 years of age after the vintage.
Serving Chateau d'Issan, with Wine, Food, Pairing Tips
Chateau d'Issan is best served at 15.5 degrees Celsius, 60 degrees Fahrenheit. The cool, almost cellar temperature gives the wine more freshness and lift.
Chateau d'Issan is best served with all types of classic meat dishes, veal, pork, beef, lamb, duck, game, roast chicken, roasted, braised, and grilled dishes. Chateau d'Issan is a perfect match with Asian dishes, hearty fish courses like tuna, mushrooms, and pasta as well as cheese.
Château d'Issan Wine Tasting Notes
47 Vintages 468,530 Views Sort by Vintage-Rating
2022
Château d'Issan (Margaux)

Violets, black cherries, blueberries, blackberries, cocoa, cedar, and cigar box fill the aromatics. On the palate, the wine is lively, creamy, deep, long, and most importantly pure. The tannins are silky, and even with all this ripeness, and concentration, the wine remains fresh, vibrant, long and sensuous. This is undoubtedly the finest vintage of d'Issan ever produced! The wine is made from a blend of 65% Cabernet Sauvignon, 30% Merlot, 2% Cabernet Franc, 2% Malbec and 1% Petit Verdot. 14.64% ABV, 3.67 pH. This is the only the third vintage to include 5 Bordeaux varietals in the blend. Picking took place September 15 - September 28. Yields were 30 hectoliters per hectare. Drink from 2027-2055. 95-97 Pts.

1,704 Views

Tasted

May 8, 2023

2022
Blason D'Issan (Margaux)

Roses and red fruits combine in the perfume, while soft, silky, red, and black, creamy fruits combine on the palate and in the elegant, sweet, cherry-packed finish. Give this a year to soften, and it will be perfect for near term drinking while waiting for the Grand Vin to develop. The wine blends 55% Merlot, 44% Cabernet Sauvignon and 1% Petit Verdot. Drink from 2025-2035. 89-91 Pts.

1,316 Views

Tasted

May 8, 2023

2021
Château d'Issan (Margaux)

Deep ruby in color, the wine kicks off with assorted red pit fruits, lilacs, cedar and forest leaves. Medium-bodied, elegant, soft and vibrant, the fruit is focused on its freshness, balance and elegance, leaving you with the essence of purity in the red cherries and plums that linger in the finish. Produced from a blend of 65% Cabernet Sauvignon, 30% Merlot, 2% Cabernet Franc, 2% Petit Verdot and 1% Malbec. This is the second vintage to include 5 Bordeaux varietals in the blend. 13.18% ABV, pH 3.6. Picking took place September 27 - October 9. Drink from 2024-2047. 92-94

1,655 Views

Tasted

May 20, 2022

2021
Blason D'Issan (Margaux)

Black raspberries and floral notes are what you initially notice. The wine is light, but more importantly, fresh, sweet and fruity with loads of ripe cherries on the palate and in the finish. This is a perfect wine to order in a cafe or restaurant. The wine blends 52% Merlot with 46% Cabernet Franc. Drink from 2023-2029. 88-90

1,098 Views

Tasted

May 20, 2022

2020
Château d'Issan (Margaux)

he first vintage to include 5 Bordeaux varietals in the blend starts out with violets, forest floor, spice, plums, currants, cherries, mint, and a hint of pepper on the nose. Vibrant red fruits, silky tannins, sweetness, and purity in the fruits are easy to discern on the palate. The elegant finish lingers, which is a good thing, as you are going to finish the bottle far too quickly. Tasting 2015, 2016, 2018, 2019, and now 2020 over the years is going to be a lot of fun. But I warn you, it will be difficult to pick a favorite. Though, today, there is a good possibility that the 2020, due to the inclusion of the new grape sources is going to be at the head of the class. Drink from 2025-2055.

4,214 Views

Tasted

Mar 21, 2023

The first vintage to include 5 Bordeaux varietals in the blend starts out with violets, wet earth, spice, cherries, espresso and currants on the nose. From there the wine is fresh, energetic, elegant and complex. Full-bodied, silky, long and intense, with the essence of minerality paired with spice and fruit in the finish. This will age and evolve for at least 2-3 decades. Produced from a blend of 55% Cabernet Sauvignon, 39% Merlot, 3% Cabernet Franc, 2% Petit Verdot and 1% Malbec. 94-96 Pts

6,138 Views

Tasted

May 20, 2021

2020
Blason D'Issan (Margaux)

On the floral side of the style range with nuances of cherries, orange rind, spice, currants and spearmint. The wine is medium-bodied, supple and finishes with sweet cherries on the mid-palate and in the refined, and mildly, chalky finish. Drink from 2023-2032.

1,065 Views

Tasted

Mar 21, 2023

Supple, silky, fresh, medium-bodied and forward, this open charmer is on the floral side with ample sweet, ripe red fruits as well. Vivacious and refined, this is going to be great on release. Enjoy this while waiting for the Grand Vin to develop. 90-92 Pts

2,401 Views

Tasted

May 20, 2021

2019
Château d'Issan (Margaux)

d'Issan has been on a roll lately with 2019 marking another step-up in quality. The wine is full-bodied, silky, fresh, vibrant, pure and lively. The nose is packed with wet earth, herbs, flowers, tobacco, espresso and ripe, sweet, red berries. There is serious lift and energy here with a finish that lingers, giving you more time to spend with all of its graceful, lifted, pure, sweet, fresh plums, blackberries, spice and currants. This will age and evolve for at least 2-3 decades.

8,286 Views

Tasted

Mar 29, 2022

Gentle aromas of flowers, wet earth, tobacco, espresso and red fruits permeate the nose. Elegant and refined in character, the wine falls gently over your palate with warm tones of ripe, sweet, fresh plums, blackberries, spice and freshness, so you discover lift, energy, length and purity. This will age and evolve for at least 2-3 decades. The wine was produced from a blend of 70% Cabernet Sauvignon and 30% Merlot. The Grand Vin was produced from only 47% of the harvest. 94-96 Pts

8,714 Views

Tasted

Jun 8, 2020

2019
Blason D'Issan (Margaux)

Medium-bodied, elegant, fresh, soft and supple with good energy. The wine opens with flowers, cherries and currants, and continues with that theme, finishing with silky tannins and freshness. You can enjoy this on release while waiting for the Grand Vin to develop. Drink from 2022-2034.

1,419 Views

Tasted

Mar 29, 2022

2018
Château d'Issan (Margaux)

Silky, fresh, floral and pure, this gorgeous vintage of d'Issan is just great. The violet and lilac bouquet, with accents of tobacco leaf, cedar, crème de cassis attracts you right off the bat. On the palate, the wine is refined, elegant and shows its purity, freshness and silky textures with no effort. Give it 7-9 years in the bottle and enjoy it over the following 2-decades or more. The wine blends 60% Cabernet Sauvignon and 40% Merlot.

3,891 Views

Tasted

Mar 9, 2021

Cherry blossoms, smoke, forest floor, licorice and blackberry aromas open the wine. The wine is full-bodied, round, sweet, juicy and just a little bit spicy. You can feel the vitality in the ripe, red plums and black currants which accent the finish. From a blend of 60% Cabernet Sauvignon and 40% Merlot, the wine reached 13.97% ABV. The Grand Vin was produced using 53% of the harvest. The picking took place September 24 to October 11. 94-96 Pts

4,514 Views

Tasted

Apr 19, 2019

2018
Blason D'Issan (Margaux)

Flowers and spice are perfectly packaged with ripe, red pit fruits and tobacco. Medium-bodied, soft and supple with sweet cherries on the mid-palate and finish. Give this a year or two to soften, developing additional nuances making it perfect for near term drinking while waiting for the Grand Vin to develop.

2,938 Views

Tasted

Mar 9, 2021

This approachable, medium-bodied, earthy, cherry-filled, soft, floral and tobacco-accented charmer is perfect to enjoy while waiting for the Grand Vin to develop. 89-91 Pts

4,283 Views

Tasted

Apr 19, 2019

2017
Château d'Issan (Margaux)

A silky style of wine that is medium bodied, forward, polished and fruity. There is lift, ripe red fruits, forest leaf and tobacco strokes from start to finish. The juicy fruits in the endnote offer melodious, creamy textures. In three to five years this will develop even more intriguing complexities and softer textures. From a blend of 65% Cabernet Sauvignon and 36% Merlot, the wine reached 13.18% ABV with a pH of 3.68. The Grand Vin was produced from 47% of the harvest. The picking took place September 18 through October 3.

3,537 Views

Tasted

Apr 26, 2018

2017
Blason D'Issan (Margaux)

Forward, and already approachable, the wine is medium bodied with a bright, fresh cherry and earthy character. This is all about its early drinking, elegant, soft textured charm..

3,165 Views

Tasted

Apr 26, 2018

2016
Château d'Issan (Margaux)

Earthy, wet forest aromatics, truffle, dark cherries and herbs on the front end and a full-bodied, fresh, silky, sweet, polished, red pit fruit palate and finish on the backend. What more could you ask for in a terrific Margaux? This is showing just great today, and with aging, it promises to be even better. Give it 7-9 years in the bottle and enjoy it over the next 15-20 years or longer. The wine was made from blend of 65% Cabernet Sauvignon and 35% Merlot.

6,060 Views

Tasted

Sep 21, 2019

With the structure to age, freshness which offers lift to all the ripe, sweet, red fruits and the added nuanced complexities you find on the nose and the palate, this is a top-flight example of d'Issan. The wine will demand at least a decade in the cellar.

7,268 Views

Tasted

May 20, 2018

Dark in color with strong floral aromatics that escalate with smoke, espresso, licorice, dark cherry and cassis, this wine is full-bodied, plush, opulent and richly textured with loads of sweet, pure, dark red fruits. From a blend of 64% Cabernet Sauvignon and 36% Merlot, this wine reached 13.24% ABV with a pH of 3.71. Now aging in 50% new, French oak barrels, it represents 45% of the harvest, which took place from September 29 to October 19.

6,429 Views

Tasted

Apr 29, 2017

2016
Blason D'Issan (Margaux)

Opening with hints of coffee bean, earth and plum, this wine is medium-bodied, fresh and approachable with a sweet, vibrant cherry-filled style. This will drink well on release.

5,063 Views

Tasted

Apr 29, 2017

2015
Château d'Issan (Margaux)

Elegant, refined, floral, and fresh, the wine is packed to the brim with perfectly ripe, exuberant, lively, earthy, black plums, cherries, blackberries, cigar wrapper, and flowers. Full-bodied, vibrant, soft, and silky, give this beauty just a few more years of aging and enjoy it over the following 2 decades or more with ease. Drink from 2025-2055.

5,802 Views

Tasted

Jul 8, 2022

Truffles, fresh flowers and Cuban cigar aromas work in tandem with the plums and cherries. Medium/full bodied, the wine is elegant in character, with layers of sweet fruits and silky tannins in the finish. You can drink this young, due to the supple textures, but if you have the patience to wait a decade, this will be stunning when it enters maturity.

6,039 Views

Tasted

May 21, 2018

Continuing to get better and better, the earthy, floral characteristics are really kicking in. The wine is silky, polished and refined, and the finish just keeps on going. This should easily hit the top of my range.

7,233 Views

Tasted

Jul 12, 2017

Deep ruby hue, displaying heady violet scents, cherry liqueur, licorice, boysenberry and earth, this wine is hedonistic with its lithe, elegant, velvety tannins. Full-bodied and sensuous with freshness and purity of fruit, this sexy delight delivers a voluptuously long finish. From a blend of 65% Cabernet Sauvignon and 35% Merlot, this wine reached 13.82% ABV with a pH of 3.85. Aging in 50% new, French oak barrels, it represents 55% of the harvest. The harvest took place from September 21 to October 6. 94 - 95 Pts

6,905 Views

Tasted

Apr 21, 2016

2015
Blason D'Issan (Margaux)

Medium bodied, fresh, soft and silky, the fruit has a really sweetness, that is only made better by its earthy, floral and tobacco nuances. Even though it's young, it's already quite easy to drink.

3,390 Views

Tasted

May 21, 2018

Blending 60% Cabernet Sauvignon and 40% Merlot, this wine offers floral scents with coffee bean, plum and earth. Medium-bodied, forward, soft and easy to like, this charmer will offer pleasure on release and could age for a bit as well. 87 - 89 Pts

3,514 Views

Tasted

Apr 21, 2016

2014
Château d'Issan (Margaux)

Smoke, tobacco, cigar box, cassis and floral aromatics can be picked up with ease. Forward and approachable, the medium/full bodied, dark, red fruit filled wine can be enjoyed in its youth, while you wait for the 2015 and 2016 to mature.

4,110 Views

Tasted

Jun 25, 2017

A quickly detected aura of flowers, licorice, cherries and black raspberries, this wine is medium/full-bodied, elegant in style and replete with nectarous cherries and silky tannins. From a blend of 77% Cabernet Sauvignon and 23% Merlot, the wine reached 13.24% ABV, with a pH of 3.83. 90-92 Pts

4,649 Views

Tasted

Apr 22, 2015

2013
Château d'Issan (Margaux)

Medium bodied, fresh and clean, with a forward personality, coupled with fresh, crisp red cherries and earth. Light in style, this is already offering early drinking pleasure.

3,930 Views

Tasted

May 25, 2016

Floral, black cherry and tobacco in character, the wine is medium bodied, soft, forward and fresh with more dark cherries in the finish. From 74% Cabernet Sauvignon and 26% Merlot, the wine reached 12.83% ABV with a pH of 3.69. The wine is aged in 50% new oak. With yields of 28 hectoliters per hectare, the Grand Vin represents 55% of the harvest. 90-91 Pts

4,445 Views

Tasted

Apr 20, 2014

2012
Château d'Issan (Margaux)

Much of this wine is still being held in reserve, yet it's hard to not recognize all the sweet, ripe, dark berries, polished, elegant, tannins, freshness, length and complexity. But you should wait at least 5 more years before popping a cork.

5,641 Views

Tasted

Mar 12, 2017

Elegant, soft, fresh and forward, this medium bodied wine delivers an open, sweet, delicious splash of black cherry, vanilla and plums with a silky, elegant, fresh mouth feel.

7,396 Views

Tasted

May 15, 2015

From a blend of 67% Cabernet Sauvignon and 33% Merlot, the wine reached 13.24% ABV. Dark ruby in color with coffee, truffle, licorice, tobacco, black cherry and smoke in the nose. Soft in texture with a supple core of cool black cherries and dark chocolate in the finish. 90-93 Pts

4,895 Views

Tasted

Apr 25, 2013

2012
Blason D'Issan (Margaux)

Coffee, licorice and black cherry in the nose with fresh, soft, but herbaceous notes in the black cherry finish. 84-86 Pts

6,330 Views

Tasted

Apr 25, 2013

2011
Château d'Issan (Margaux)

Leafy, forest floor, cedar and cassis aromas, medium bodied, accessible and forward, you can drink this cassis and olive filled wine young, while waiting for the 2010 and 2009 to develop.

3,507 Views

Tasted

May 20, 2014

From a blend of 61% Cabernet Sauvignon and 39% Merlot, which represents 57% of the harvest with yields of 36 hectoliters per hectare, the wine reached 13.23% ABV and will be aged in 50% new oak. In the nose, earth, coffee, licorice, blackberry and truffle scents. Soft, round and filled with fresh black and red fruits, this is a charming style of d'Issan. 91-93 Pts

4,800 Views

Tasted

Apr 19, 2012

2011
Blason D'Issan (Margaux)

Blending 60% Cabernet Sauvignon & 40% Merlot, the wine opens with smoke, truffle and black cherry, offering a cassis, black cherry finish. This will drink well young. 84-85 Pts

5,186 Views

Tasted

Apr 19, 2012

2010
Château d'Issan (Margaux)

Still youthful and relatively primary, there is no doubt about all the potential here with its layers of fresh, silky-textured, pure, red, and black fruit profile. The gorgeous display of red and purple flowers in the nose, along with all of its perfectly ripe fruits hits all the right notes. But the wine needs further time in the cellar to soften. Drink from 2025-2045.

5,383 Views

Tasted

Jul 10, 2022

Sweet blackberry, plum, dark cherries, earth, vanilla, truffle and jammy scents create the inviting perfume. The wine is medium/full bodied, refined, elegant and fresh, ending with an intense spicy, cassis, cocoa and fresh black raspberry filled finish. There is a lot of character to this wine. This wine is also going to spark intense discussions on whether 2009 d'Issan or 2010 d'Issan is the better wine. I'm waiting a decade to compare both vintages together to see which side of the fence I'm going to sit on, for that debate.

10,254 Views

Tasted

May 7, 2013

Licorice, cassis, jammy blackberry and earthy scents open to full bodied, structured Bordeaux wine with round, polished tannins. This Margaux wine ends with a long, fresh, ripe, sweet dark berry filled, fresh finish. 2010 d'Issan was offered at 48 Euros, which was higher than they asked in 2009. This is the finest vintage of Chateau d'Issan I have tasted yet.

9,772 Views

Tasted

Jul 14, 2012

2010 d'Issan From a blend of 61% Cabernet Sauvignon and 39% Merlot, the Margaux wine will probably be aged in 55% new oak for close to 18 to 20 months. 2010, with its dark, inky purple accents stains the glass is it's swirled. Oak, cassis, forest floor and graphite scents are on display with little coaxing, Offering a big mouthful of ripe cassis, vanilla, licorice and sweet tannin, there is a lot to like about this wine. More classic in style than 2009, 2010 is a little richer and more powerful than the 2009. Emmanuel Cruse feels the wine is one step up from the 2009. I agree. He added, "Even though the IPT levels are the same in both vintages, 2010 feels denser and offers more structure." d'Issan is one of the Medoc properties with slightly lower ABV levels in 2010, when compared with 2009. 2009 reached 13.9%. In 2010, the wine is at 13.7% . 94-95 Pts

9,819 Views

Tasted

Apr 21, 2011

2010
Blason D'Issan (Margaux)

Blason d'Issan From 59 % Cabernet Sauvignon & 41% Merlot, the wine offers soft textures, cassis and black cherry flavors with good freshness. This should offer pleasure and charm when released. 87-88 Pts

6,105 Views

Tasted

Apr 20, 2011

2009
Château d'Issan (Margaux)

Medium-bodied with an attention-seeking blend of flowers, tobacco leaf, currants, mint leaf, and dark cherries on the nose. This is bottled elegance, finishing with its gorgeous multi-layered, black cherry, earth, and silky plum notes on the palate and in the endnotes. Drink from 2022-2040.

2,960 Views

Tasted

Sep 25, 2022

Just a beauty that is starting to display its full potential. Texturally, the wine is soft, sensuous and rich, with supple, lifted tannins and good concentration of flavor from start to finish. You can drink this with an hour or two of air, or let it age another 5 years or so for more development.

3,067 Views

Tasted

Sep 20, 2019

Just great stuff here! The fruit is sensuous, supple and rich. There is ample concentration of flavor, complex aromatics and texturally speaking, this just simply feels great on your palate. Still quite young, you can drink this now if you have to, but give it some time, another 5 years or so and this will be even better!

7,347 Views

Tasted

Jul 7, 2017

This keeps developing as it should in all the right ways. It's more elegant, softer and plusher in the mouth. The perfume has additional complexities and the finish, with its sweet, soft, opulent fruits is a treat.

6,980 Views

Tasted

Nov 3, 2014

From an assemblage of 60% Cabernet Sauvignon and 40% Merlot, the wine reached 13.9% ABV. Aged in 50% new oak, the wine was produced from yields of 35 hectoliters per hectare. Deep ruby in color, espresso bean, truffle, minerality, black cherry and tobacco scents open to a sensuous, rich, opulent wine of pleasure. With silky tannins, flesh and freshness, the wine ends with sweet, ripe, spicy, pure cherry and blackberry. Under the watch of Emmanuel Cruse, Chateau d'Issan continues improving. The good news for consumers is, prices have not yet caught up with the current level of quality!

8,595 Views

Tasted

May 2, 2012

Filled with cassis, tobacco, truffle, smoke and a kiss of oak in the perfume, this Margaux wine is full bodied with round textures, silky, polished tannins and ample freshness. The wine finishes with chocolate covered cassis and black cherries.

9,444 Views

Tasted

Jul 14, 2011

2009 d'Issan smells enticing with its earthy blackberry, cassis, licorice, and forest aromas. Full bodied, silky, and opulent, this wine has ample structure to age. It has round tannins, and finishes with sweet, dark fruit flavors. This could be the best wine d'Issan has ever produced. 93/95 Pts

10,271 Views

Tasted

Aug 26, 2010

2008
Château d'Issan (Margaux)

Cigar, cedar, tobacco, red fruits, wet earth and green herbs are available with little effort. Medium bodied, soft and approachable, the wine is still a bit strict on the palate. It should soften with a bit time, so give it another 5 years or so., Yields were extremely low this year, as more than 60% of the crop was destroyed by hail.

2,966 Views

Tasted

Sep 17, 2018

Blending 62% Cabernet Sauvignon and 38% Merlot produced a wine with floral, blackberry, plum, earth and spice aromas that easily waft from the glass. With round textures, full body and soft tannins, the wine ends with sweet boysenberries and black cherry. Give it a few more years to fill out.

7,578 Views

Tasted

Jul 15, 2012

08 Château D'Issan is deeply colored. With a blend of 62% cabernet sauvignon and 38% merlot, the wine starts off with cassis, cedar, flowers, black fruit, cherry, vanilla, and cocoa powder scents. Produced from incredibly low yields resulting from a massive hail storm in May, 2008, this full bodied wine finishes with a long, fresh, black fruit and plum note. 92-94 Pts

8,931 Views

Tasted

Aug 31, 2009

2007
Château d'Issan (Margaux)

At full maturity, there is a softness and polish to the tannins that helps enhance the fresh, red berry, earth, tobacco and floral character. The wine is medium bodied, and leaves with delicate, earthy, red cherries in the finish.

4,520 Views

Tasted

Sep 2, 2017

2006
Château d'Issan (Margaux)

Continuing to soften and fill out, the wine is in its drinking window. The nose shows floral, cherry and tobacco notes. The palate is refined, fresh and fruity even if it lacks density. This should be a treat for 2 decades or longer.

3,633 Views

Tasted

Oct 22, 2018

Already showing truffle, tobacco, cedar, cassis, cigar box and peppery aromatics, the wine offers a medium/full bodied, round, soft experience, with, ripe tannins and fresh, sweet, dark red fruits in the finish. Unlike several wines in the Medoc from 2006, Chateau d'Issan avoids the hard tannins many wines are currently displaying.

4,711 Views

Tasted

May 25, 2016

Deep ruby in color, coffee bean, tobacco, earth, smoke, cassis and truffle scents are found in this blend of 61% Cabernet Sauvignon and 39% Merlot. The wine reached 13.6% ABV. With silky tannins and a delicate, fresh, spicy, cherry finish, this Margaux is already drinking surprisingly well at this stage, give it a few more years to develop additional levels of complexity.

6,630 Views

Tasted

May 2, 2012

2005
Château d'Issan (Margaux)

Floral in nature, finesse in style, medium-bodied, fresh, soft, silky, and vibrant, the sweet red berries along with notes of earth and tobacco are starting to show quite well. The refined finish, with its touch of crushed rocks, red fruits, and forest leaf has only a bit of tannin to resolve. Drink from 2022-2040.

5,113 Views

Tasted

Jul 10, 2022

Starting to show secondary notes of tobacco, thyme, plum, cedar and earth on the nose. This has really filled out and improved over the past decade. There is a beautiful purity to the fruit, silky, soft tannins and a fresh, fruit filled finish that tastes as good as it feels. The wine was made from a blend of 60% Cabernet Sauvignon and 40% Merlot.

7,057 Views

Tasted

Jun 28, 2015

From 60% Cabernet Sauvignon and 40% Merlot, the wine was aged in 55% new oak. Still deep in color, the wine opens with floral, black cherry, forest floor, cassis, tobacco and spicy aromas. With supple, refined textures, concentration of fruit and a long, elegant, blackberry finish, this continues to develop perfectly. Give it a few more years and enjoy it over the next 15-25 years. 2005 Chateau d'Issan remains well priced for consumers looking for value and quality in Bordeaux.

10,085 Views

Tasted

May 2, 2012

Deep in color, popped and poured, the wine offered tobacco, earth, cassis, truffle, smoke and cigar box scents. Full bodied, soft textured and round, this young Margaux wines needs another 5-7 years before it begins to strut its stuff.

12,518 Views

Tasted

Aug 13, 2011

Deep in color, this structured, traditionally made Margaux opens with earth, cassis, spice, blackberry and floral aromas. Full bodied and loaded with ripe, dark berries, this rich wine will improve for decades.

12,166 Views

Tasted

May 28, 2009

2004
Château d'Issan (Margaux)

Earthy, truffle, cigar box, cedar chest and cassis aromas pop as soon as the wine hits the glass. On the palate, the wine delivers a nice, polish and mature softness to its character, with a spicy, round, black cherry finish. This has evolved quite nicely.

3,265 Views

Tasted

Jan 4, 2015

60% Cabernet Sauvignon and 40% Merlot produced a wine filled with tobacco, green leaves, strawberry and cassis notes. Elegant and refined, there is a lot to like in the spicy, open, round, red berry dominated finish. This is already starting to open up. I'd prefer to drink this on the young side, as it's probably not going to make old bones.

4,224 Views

Tasted

May 2, 2012

2003
Château d'Issan (Margaux)

Blending 69% Cabernet Sauvignon with 31% Merlot produced a wine that reached 12.9% ABV. The wine was aged in 50% new, French oak, which is now completely integrated into the wine. Wet earth, tobacco, forest floor and blackberry fruits play well with the soft, plush, ripe, red and black cherries, ripe tannins and sweet plums. Supple and round, this is drinking perfectly now, yet it can age for at least another decade.

3,417 Views

Tasted

Dec 18, 2013

From an assemblage of 69% Cabernet Sauvignon and 31% Merlot, the wine reached 12.9% ABV. Earth, tobacco, smoke, truffle and cassis notes lead to a medium bodied, soft, silky, round, wine that is already offering a lot of pleasure today. The wine finishes with supple textured cherries and spice. 2003 d'Issan is not a vintage for long aging. I'd drink it over the next decade.

3,475 Views

Tasted

May 2, 2012

2002
Château d'Issan (Margaux)

From a blend of 78% Cabernet Sauvignon and 22% Merlot, the wine reached 12.6 ABV. Leafy green aromas with forest floor, earth and cassis are easy to find. Close to mature at 10 years of age, the wine finishes with sweet cherries.

4,195 Views

Tasted

May 2, 2012

2001
Château d'Issan (Margaux)

Using 68% Cabernet Sauvignon and 32% Merlot, the wine reached 12.7% ABV. The wine looks mature, as it has taken on degrees of lightening in the ruby color. In the nose, forest floor, earth, leaf, cedar-chest, gravel and cassis scents are present. Medium bodied and soft in texture, this charming Margaux wine ends with light, cherry and cassis. I'd opt for drinking this sooner than later as it might not improve much from here.

3,438 Views

Tasted

May 2, 2012

2000
Château d'Issan (Margaux)

Fully mature, this, elegant, silky, medium-bodied expression of Margaux, with all its flowers, tobacco leaf, sweet red fruits and earthy nuances is a pleasure to drink. Splash decanted, it took no time at all before it was ready for prime time pleasure.

3,785 Views

Tasted

Jul 2, 2021

The essence of flowers and cassis are front and center in the nose. With 30 minutes of air, the wine softens, fills out and offers additional notes of smoke and spice box. On the palate, the wine is elegant, fresh and spicy, with a touch of greeness on the back end, if you are a finicky taster, and look for those things. The rest of the finish is all about sweet, juicy cassis with a hint of spice. This wine should deliver at this level for at least another 15-20 years if well stored.

4,221 Views

Tasted

Feb 28, 2018

What a difference a few years makes in the life of a wine. This is much better than when last tasted in 2014. The textures have shifted to the soft, voluptuous side. In the nose, the cassis, tobacco, cedar, floral and light espresso scents are all over the place. The finish is packed with sweet, fresh, ripe, velvety, dark red fruits. Drink this now and over the next 20 years.

4,008 Views

Tasted

May 11, 2016

Classic in style in all the right ways, the cigar box, tobacco, earth, smoke and cassis is perhaps the best part of the wine. The wine is fresh, concentrated and full of pep on the palate, with a citrus note in the finish. This was better after 2 hours in the decanter, so it could improve with another 3-5 years in the bottle. The wine was produced from a blend of 70% Cabernet Sauvignon and 30% Merlot and aged in 50% new, oak barrels.

5,016 Views

Tasted

Nov 14, 2014

Cedar wood, forest floor, tobacco, leaf, cassis, flowers and blackberries make up the aromatics. Soft, concentrated, rich, round and showing well, the wine finishes with a long display of fresh, earthy, black and red berries.

5,272 Views

Tasted

Feb 21, 2013

This charming, elegant Margaux opens with floral, cassis, earth, stone, black plum and tobacco notes. Refined in personality with gentle tannins and polished textures, the finish ends with fresh, pure, blackberry and dark cherry. From a blend of 70% Cabernet Sauvignon and 30% Merlot, this is already starting to drink well and will continue to improve over the next 10-20 years. In today's market, this is worth buying as it represents high quality for a fair price.

5,857 Views

Tasted

May 2, 2012

Ruby colored with lightening at the edges, the wine offers tobacco, boysenberry, truffle, violets and spice aromas. Round in texture and filled with spicy cassis and blackberry, this delicious, elegant Margaux wine is starting to show nicely. It should continue improving for at least another 15-20 years

7,707 Views

Tasted

Jul 17, 2011

With blackberry, bitter chocolate, tobacco and truffle scents, the soft textured, earthy, cassis and black cherry flavored Margaux wine is already drinking well at 11 years old and will only get better from here.

7,925 Views

Tasted

May 15, 2011

Spice, black fruit, cedar and tobacco in the nose. This full bodied wine is already approachable. While not overly complex, this traditionally styled wine ends in a long, black fruit filled finish.

9,020 Views

Tasted

Mar 5, 2010

1999
Château d'Issan (Margaux)

Rustic and firm in style, this is now fully mature. Classic in style, the edges can be a bit rough, but there is plenty of cool vintage fruit and tobacco to make this quite nice for near term drinking.

4,049 Views

Tasted

Jul 7, 2017

1996
Château d'Issan (Margaux)

Fully mature, medium-bodied, soft, silky and elegant with a nose packed with tobacco leaf, flowers and red fruits, the refined finish wraps everything up nicely with its earthy, red currants and cigar wrapper endnotes. No decanting is needed, just pop and pour.

2,474 Views

Tasted

Apr 3, 2022

Light ruby with bricking in the color, cassis, truffle, tobacco, forest floor and sweet licorice aromas are found in the nose. Full bodied with soft textures, there is some tannin remaining that needs to be resolved. The mid palate shows a minor hint of green. A few more years will add complexity.

4,292 Views

Tasted

Jul 14, 2011

1995
Château d'Issan (Margaux)

Fully mature, the wine has softened, filled out and while it is on the green leafy, herbal side, there is still enough, soft, earthy, red fruits to keep its charming character. However, there is not much gas left in the tank here, so drink up, if you have any of this in your cellar.

2,861 Views

Tasted

Oct 5, 2018

1990
Château d'Issan (Margaux)

This opens with earthy ripe, blackberry flavors and hints of mixed, pit fruit jam, licorice, truffle and earthy scents. Soft, ripe and round, the wine finishes with roasted dark berry flavors and fennel.

7,121 Views

Tasted

Jun 26, 2010

1989
Château d'Issan (Margaux)

Slightly past its prime-time drinking window, now you find more tertiary notes than fruits, with a pleasant, albeit, short, bright red berry, earth, herb, olive, and forest note in the finish. Drink this sooner than later before the remainder of the fruit fades any further.

2,523 Views

Tasted

Jul 10, 2022

1988
Château d'Issan (Margaux)

Starts and ends with its earthy, tobacco and cedar character, the wine is rustic and while not quite stern, it shows its green side. Fully mature, pop and pour this one.

2,919 Views

Tasted

Oct 22, 2018

1983
Château d'Issan (Margaux)

Looking much older than its true age, plenty of cedar, tobacco and cigar box with hints of cassis are on the nose. Medium bodied, with a spicy, peppery, cranberry and cassis palate, there is a tart, slightly green finish, drying finish here. This wine requires consumption sooner than later.

4,949 Views

Tasted

Mar 20, 2017

1966
Château d'Issan (Margaux)

Tobacco, cedar, wet forest floor, cigar box, spice and kirsch, medium bodied with a light, spicy, red berry finish. This was probably fully mature 20 years ago.

3,713 Views

Tasted

May 22, 2012

1959
Château d'Issan (Margaux)

Supple, sultry, silky knock out of a wine here. The fruit remains ripe, fresh and really shows on the palate. The flowery, earthy, spice and tobacco bouquet is equally fabulous.

2,179 Views

Tasted

Apr 16, 2016

1955
Château d'Issan (Margaux)

Better on the nose than the palate, the wine has lost much of its fruit and complexity. If you have been saving a bottle for a special occasion, I'd pop the cork sooner than later.

2,512 Views

Tasted

Mar 21, 2016

1929
Château d'Issan (Margaux)

Sadly, this bottle was far past its prime. Murky in color, with a combination of earth, tobacco, sherry and cigar aromatics, the wine displayed remnants of tart red fruits and a bit too much acidity.

1,616 Views

Tasted

Sep 5, 2018

1928
Château d'Issan (Margaux)

Fading, but still holding its own, with plenty of tobacco, cigar box, cedar, earth, forest and red fruit notes. Rustic, but not overly so, with good color for its age, and vestiges of fruit in the finish.

1,695 Views

Tasted

Nov 10, 2017

1922
Château d'Issan (Margaux)

The nose was quite dirty, and a bit off-putting with its rotten vegetable, balsamic and root beer aromatics. There was zero fruit here. But surprisingly, the palate had some, limited, fruits, soft textures and even sweetness remaining. All things considered, at 96 years of age, from a weak year this was reasonable to drink.

1,967 Views

Tasted

Oct 22, 2018