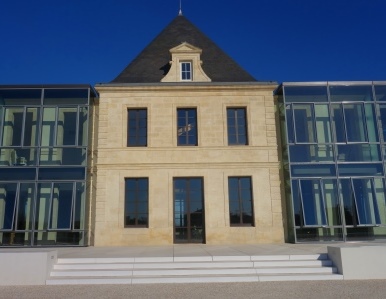 Learn everything about Chateau Pedesclaux, Pauillac, Fifth Growth, with wine tasting notes and wine with food pairing tips. Learn the best vintages, a history of the property, information on the vineyards and winemaking. If you want to read about other important, Bordeaux Chateaux: Links to all Bordeaux Wine Producer Profiles
Chateau Pedesclaux History, Overview
Chateau Pedesclaux was created by its namesake, Pierre Urbain Pedesclaux in 1810 when he purchased vineyard land from another Pauillac estate, Grand Puy. The Pedesclaux family were already established in Bordeaux as Negociants when they added winemakers to their resume.
In fact, Edmond Pedesclaux was one of the brokers that helped determine the original 1855 Classification of the Medoc. In 1883, the property was enlarged when the owner purchased vines from the Cruse family, who owned the neighboring estate of Chateau Pontet Canet at the time.
The Pedesclaux family eventually sold their Left Bank estate in 1891 to Count Gastebois. Chateau Pedesclaux passed through numerous owners' hands until 1950 when Lucien Jugla bought Chateau Pedesclaux. At the time of the purchase, Chateau Pedesclaux was in such bad shape from years of neglect, they were not even producing wine when Lucien Jugla took over Chateau Pedesclaux!
Jugla was not a wealthy landowner. He worked at the estate for 20 years before he was able to purchase the vineyard. It was under the care of Lucien Jugla that the property and vineyards were slowly but surely restored. It was during the ownership of the Jugla family that the vineyards were planted with such a large proportion of Merlot vines.
In 1965, Chateau Pedesclaux was passed to his five children. Chateau Pedesclaux was modernized over a three-year period, finishing in 2007.
Chateau Pedesclaux The Modern Age
In 2009, the family sold Pedesclaux to Jacky Lorenzetti who already owned Château Lilian Ladouys in St. Estephe. The transaction was completed with the financial engineering assistance of Vincent Mulliez to whom Lorenzetti has given responsibility for managing the new acquisition, as he did earlier for Lilian Ladouys.
In February 2013, Jacky Lorenzetti added to his list of Bordeaux estates when he purchased 50% of Chateau dIssan in Margaux, a well-known Third Growth chateau. This was followed by obtaining Chateau Lafon Rochet in 2022.
Jacky Lorenzetti enlarged the vineyards of Chateau Pedesclaux with the purchase of 12 hectares situated on the Milon plateau. These Medoc vines are located next to parcels owned by Chateau Lafite Rothschild and Chateau Mouton Rothschild. Emmanuelle Cruse is the director of Pedesclaux today.
Chateau Pedesclaux Vineyards, Terroir, Grapes, Winemaking
The 49-hectare, Left Bank vineyard of Chateau Pedesclaux is planted to 59% Cabernet-Sauvignon, 36% Merlot, 3% Petit Verdot, and 2% Cabernet Franc. This represents a continuing increase in Cabernet Sauvignon in the vineyards. Over time, it is the goal of the estate to continue increasing the portion of Cabernet Sauvignon in the vineyards and remove more of their Merlot vines.
The terroir of Chateau Pedesclaux is gravel over a clay subsoil. You can look at the vineyards of Chateau Pedesclaux easily if you divide them into 3 main parts. Some of their best parcels are on the slopes close to the chateau. They also have vines due south and west, both of which are next to Chateau dArmailhac, and another parcel placed not far from Chateau Lynch Bages.
Plus, as we said earlier, they have parcels that are well placed, next to Chateau Lafite Rothschild, in the far west of the appellation. The dizzying patchwork of parcels has varying degrees of quality terroir, but as the vines age, and their replanting program continues, the wine keeps getting better and better.
The overall average vine density is close to 8,333 vines per hectare. On average, the vines are 35 years of age, although some vines are much older. The oldest vines date as far as 1950.
Since Jacky Lorenzetti purchased the estate, a new style of modern, labor-intensive vineyard management started to take place which includes debudding, desuckering, deleafing, crop thinning, and hand-harvesting into small plastic lugs. Laser optical sorting was conducted for the first time in 2009 at Pedesclaux.
By 2018, 50% of the vineyards were being farmed using organic and biodynamic methods. Starting in 2019, 100% of their vineyards were farmed organically. In 2022, Chateau Pedesclaux was certified as being 100% organic.
In 2011, Pedesclaux introduced a new label to accompany the surge in the level of quality produced at the estate. In 2015, Chateau Pedesclaux finished a complete renovation and modernization of the chateau and their entire wine-making facilities using the same architect that designed the new cellars at Chateau Cos dEstournel, Jean-Michel Wilmotte. 2015 was also the first vintage to include Petit Verdot in the blend.
The new Pedesclaux chateau was uniquely redesigned to maintain its original look by building massive glass walls surrounding the entire, original, classically designed building. The vat room is also interesting. Depending on the angle you are looking at, the cellars can resemble a blend of modern design with a giant, T-Rex dinosaur with its large gaping jaws.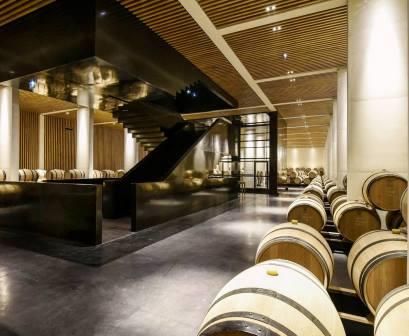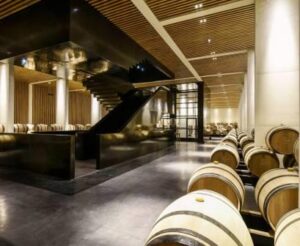 The wines of Chateau Pedesclaux are produced in the following manner; after a 10-day cold soak at 8 degrees Celsius, the juice is fermented in 58 stainless steel tanks that range in size from 50 hectoliters to 150 hectoliters.
The extraction is achieved through délestages and pigeages. Two important changed starting in 2016, vinifying crushed berries and reducing the laceration time has clearly added more definition to the wines.
Malolactic fermentation takes place in a combination of vat and French oak barrels with 30% of the wine going through malolactic fermentation in the barrel.
The wine of Pedesclaux is aged in 60% new, French oak barrels for an average of 12 months. For the first two months of barrel aging, the wine is aged on its lees. On average, Chateau Pedesclaux produces close to 9,000 cases of Bordeaux wine per year.
There is a second wine, previously named Lucien de Pedesclaux. The name was a tribute to the previous owner, Lucien Jugla. The second wine is now called Fleur de Pedesclaux. On average, Fleur de Pedesclaux is produced from 90% Merlot. In the 2012 vintage, this was the only wine in Pauillac, and probably the entire Left Bank produced from 100% Merlot.
There is a third wine made from 2 hectares of vines located in the Haut Medoc appellation, La Rose de Pedesclaux.
The best vintages of Chateau Pedesclaux are: 2022, 2021, 2020, 2019, 2018, 2017, 2016, 2015, 2014, 2012, 2010 and 2009.
When to Drink Chateau Pedesclaux, Anticipated Maturity, Decanting Time
Chateau Pedesclaux can be enjoyed on the young side with decanting. Young vintages can be decanted for an average of 1-3 hours, give or take. This allows the wine to soften and open its perfume. Older vintages might need very little decanting, just enough to remove the sediment.
Chateau Pedesclaux is usually better with at least 8-10 years of bottle age. Of course, that can vary slightly, depending on the vintage character. Chateau Pedesclaux offers its best drinking and should reach peak maturity between 10-25 years of age after the vintage.
Serving Chateau Pedesclaux with Wine, Food, Pairing Tips
Chateau Pedesclaux is best served at 15.5 degrees Celsius, 60 degrees Fahrenheit. The cool, almost cellar temperature gives the wine more freshness and lift.
Chateau Pedesclaux is best served with all types of classic meat dishes, veal, pork, beef, lamb, duck, game, roast chicken, roasted, braised, and grilled dishes. Chateau Pedesclaux is also good with Asian dishes, hearty fish courses like tuna, mushrooms, and pasta.
Château Pedesclaux Wine Tasting Notes
18 Vintages 99,799 Views Sort by Vintage-Rating
2022
Château Pedesclaux (Pauillac)

On the floral edge, with black currants, black cherries, licorice, cigar box and forest floor in the nose, the palate is round in texture. The fruits are fresh, creamy, sweet, ripe and lively, with a finish that is long, and layered with red, black and blue fruits. Give it a few years in the cellar, and enjoy over the following 2 or more decades. The wine is blended using 68% Cabernet Sauvignon, 22% Merlot, 7% Cabernet Franc, and 3% Petit Verdot. 14.44 % ABV, 3.86 pH. Harvesting took place September 12 - September 22. Yields were 37 hectoliters per hectare. Drink from 2025-2050. 93-95 Pts.

1,739 Views

Tasted

May 8, 2023

2022
Fleur de Pedesclaux (Pauillac)

Forward, early drinking, soft, round, creamy-textured, red pit -fruit charmer that is perfect for early-drinking, Pauillac enjoyment. Drink from 2025-2032. 89-91 Pts.

1,893 Views

Tasted

May 8, 2023

2021
Château Pedesclaux (Pauillac)

Ripe, fresh, medium-bodied and already quite easy to taste, the wine is floral, with dark, red pit fruits and tobacco leaf to start things off in the nose. Medium-bodied, soft and polished, with flesh and freshness in the red fruits on the palate, give this just a year or two and and it should be quite a treat to taste.. The wine is a blend of 64% Cabernet Sauvignon, 27% Merlot, 6% Cabernet Franc and 3% Petit Verdot. 13% ABV. Drink from 2024-2045. 91-93

2,007 Views

Tasted

May 20, 2022

2021
Fleur de Pedesclaux (Pauillac)

Fruity, juicy, forward and fresh, the wine is already quite easy to enjoy due to its sweet currants and touch of cocoa on the soft, fruity backend. Drink from 2023-2030. 86-88

1,737 Views

Tasted

May 20, 2022

2020
Château Pedesclaux (Pauillac)

The first thing you notice is the beautiful sense of purity in the red fruits before finding all the flowers and leaves of tobacco. On the palate, the wine is vibrant, firm, fresh and layered with crushed rocks, currants, blackberries, and spice. The tannins are soft and ripe, with a gentle polish to the lifted, red fruits in the elegant finish. Give it a few years in the cellar and enjoy over the following 2 or more decades. Drink from 2025-2050.

1,937 Views

Tasted

Mar 21, 2023

Dark garnet in color, the wine is all about its creme de cassis, flowers, blackberries, cigar wrapper, smoke and green forest leaf aromatics. Vibrant and silky with freshness to the fruits bringing you lift and definition. The wine finishes with a touch of cocoa, tobacco and ripe, sweet, juicy, savory currants that linger. This is clearly an estate on the rise. Give this at least 7 years of aging before pulling a cork. The wine is a blend of 56% Cabernet Sauvignon, 34% Merlot, 5% Cabernet Franc and 5% Petit Verdot. 92-94 Pts

4,248 Views

Tasted

May 20, 2021

2020
Fleur de Pedesclaux (Pauillac)

Medium-bodied, fresh, bright, crisp. crunchy, chewy red fruits with a touch of bitter cocoa on the backend that is perfect for ordering in a cafe or bistro, and it is clearly ready to go on release. Drink from 2023-2032.

1,240 Views

Tasted

Mar 21, 2023

Perfect for ordering in a cafe or bistro, the wine is juicy, fruity and fresh with sweet, ripe currants, red plums and cranberries. The wine is round, soft and ready to go on release. 89-91 Pts

1,963 Views

Tasted

May 20, 2021

2019
Château Pedesclaux (Pauillac)

Cedar, cigar box, currants, smoke and tobacco leaf notes are all over the place. The wine hits your palate with a big gulp of chewy, dark red fruits, blackberry, herbs and cassis. The finish is fresh, fruit-filled, long and generous with a supple textured endnote. The wine blends 72% Cabernet Sauvignon, 20% Merlot, 6% Cabernet Franc and 2% Petit Verdot. I like how they continue increasing the amount of Cabernet Sauvignon in the blend here. This is a Pauillac on the rise.

4,393 Views

Tasted

Mar 29, 2022

Tobacco leaf, licorice, cedar and forestry aromatics combine with cassis, red plum, pepper and cherry fruits on the nose. The medium-bodied palate offers a refined, red berry, spice-and-tobacco-tinged experience exuding freshness and purity of fruit. The wine blends 72% Cabernet Sauvignon, 20% Merlot, 6% Cabernet Franc and 2% Petit Verdot. The continually increasing percentage of Cabernet Sauvignon adds more character and complexity that is easy to taste. 92-94 Pts

6,065 Views

Tasted

Jun 8, 2020

2019
Fleur de Pedesclaux (Pauillac)

Soft, polished, fresh and fruity, the elegantly-textured, red currants already shine nicely on the nose and palate. Medium-bodied and fully ready-to-go, this is perfect for ordering in a café or bistro. Drink from 2022-2030.

1,152 Views

Tasted

Mar 29, 2022

2018
Château Pedesclaux (Pauillac)

The savory nose comes alive with mint, cigar box, tobacco leaf, cedar, espresso, crème de cassis and blackberries. The wine is medium-full-bodied, soft, fresh, chewy, vibrant with a kick of dark cocoa, espresso, earth, spice and currants in the finish. The wine blends 64% Cabernet Sauvignon, 27% Merlot, 5% Cabernet Franc and 4% Petit Verdot. Clearly, they continue upping their game at Pedesclaux.

5,191 Views

Tasted

Mar 9, 2021

Mint, tobacco, cassis, cocoa, currants and blackberries kick off the aromatics. From there it's the concentrated, fresh, lively, round, firm, spicy character on the palate and in the finish that matters. The wine blends 64% Cabernet Sauvignon, 27% Merlot, 5% Cabernet Franc and 4% Petit Verdot, reaching 13.96% ABV. Slowly but surely they continue upping their game at Pedesclaux. 92-94 Pts

4,149 Views

Tasted

Apr 19, 2019

2017
Château Pedesclaux (Pauillac)

The nose pops with black currant, tobacco leaf, licorice, cedar and forestry aromatics. On the palate, the wine displays freshness in the fruits and cream on the tannins. Medium/full bodied with a lot of black and red fruits, which carry through to the endnotes, this has both charm and age ability. The higher percentage of Cabernet adds complexity and character to the wine. Made from blending 65% Cabernet Sauvignon, 25% Merlot, 7% Cabernet Franc and 3% Petit Verdot, the wine reached 13.25% ABV. The harvest took place September 18 to September 29.

3,831 Views

Tasted

Apr 26, 2018

2016
Château Pedesclaux (Pauillac)

One of the more obscure Classified Growths deserves a lot more attention because this is a very good wine. Good levels of concentration allow you a rich bite of juicy, dark red fruits in every sniff and sip. The fruit has lift and crunch. The tannins are soft and firm and the finish tastes as good as it feels. There is length, structure, energy, and the ability to age and evolve for at least 2-3 decades.

7,433 Views

Tasted

Apr 8, 2020

Still considered the new kid on the block in Pauillac, this wine was made from blending 48% Cabernet Sauvignon, 45% Merlot, 4% Petit Verdot and 3% Cabernet Franc, reaching 13.3% ABV. Richly colored, the wine shows off its ready, saucy, crunchy cassis, tobacco, cigar box and lead pencil aromas with ease, together with a duvet of tannins, serious concentration, lift and length. As more of the vineyard becomes planted to Cabernet Sauvignon, this will keep getting better and better.

5,857 Views

Tasted

Apr 29, 2017

2015
Château Pedesclaux (Pauillac)

It's so young, yet you already find some secondary development. Truffle, cigar wrapper, smoke and forest leaf share top billing with the black currants. The tannins are soft, there is a sweetness to the fruit along with a roundness in the mouth. At least 7 years of aging will be about right here.

4,680 Views

Tasted

May 21, 2018

A real Pauillac with character that is on the rise, the wine serves up its cassis, tobacco and earthy, spicy notes effortlessly.

2,970 Views

Tasted

Jul 12, 2017

The new kid on the block in Pauillac has produced a ripe, elegant, sweet, polished charmer with plenty of cassis and dusty tannins in the finish. This is an estate to watch as they have an owner with a spare no expense attitude who has already completed a new cellar and is beginning to replant much of the vineyard, getting the right vines into the correct soil type. 90 – 92 Pts

3,642 Views

Tasted

Apr 18, 2016

2014
Château Pedesclaux (Pauillac)

Earthy cassis and tobacco nuances are what you initially notice. From there, the freshness, finesse and soft, polished, red fruits on the palate and in the finish are what you'll keep with you. This estate is really on track to start producing very fine wine. If you are a fan of Pauillac, you should keep an eye out for the 2016.

4,223 Views

Tasted

Nov 14, 2017

Tobacco, cedar, licorice and cassis on the nose, this wine has smooth tannins, freshness, and the polished finish of dark plums. The wine was produced from a blend of 53% Cabernet Sauvignon and 47% Merlot. 89-91 Pts

3,964 Views

Tasted

Apr 14, 2015

2013
Château Pedesclaux (Pauillac)

Medium bodied and meant for early drinking, the wine is fresh, with a red berry, cedar and cherry tobacco character that carries through.

3,033 Views

Tasted

May 25, 2016

From 48% Merlot, 47% Cabernet Sauvignon, 3% Petit Verdot and 2% Cabernet Franc, the wine reached 12.96% ABV. Cassis, earth and cherry aromas are accompanied by a medium-bodied wine with a spicy black cherry and herb profile that should be fun to taste early. 87-89 Pts

3,835 Views

Tasted

Apr 20, 2014

2012
Château Pedesclaux (Pauillac)

63% Cabernet Sauvignon, 32% Merlot and 5% Cabernet Franc which reached 13.2% ABV. The wine opens with cassis, stone and lead pencil notes. Medium/full-bodied with fresh, crunchy cassis flavors, the wine shows a bit of dust in the tannins. 89-91 Pts

4,178 Views

Tasted

Apr 23, 2013

2011
Château Pedesclaux (Pauillac)

Blending 65% Cabernet Sauvignon, 30% Merlot and 5% Cabernet Franc, the wine reached 12.83% ABV. This is the second vintage to feature more Cabernet Sauvignon due to newly purchased vines. Consulted by Emmanuel Cruse from Chateau d'Issan in Margaux, the wine offers cedar wood, gravel, pepper and cassis. One of the most obscure classified growths in the Medoc, Curse decided on a more stringent selection for the wine. Opening with earth, cassis and spice, this medium-bodied wine ends with crisp cassis. 88-89 Pts

4,444 Views

Tasted

Apr 10, 2012

2010
Château Pedesclaux (Pauillac)

Pedesclaux, a contender for the most obscure classified growth in Pauillac opens with earth, cassis and spice. This medium/full bodied wine ends with a tannic cassis and blackberry finish. 88-90 Pts

6,529 Views

Tasted

Apr 20, 2011

2009
Château Pedesclaux (Pauillac)

Fully mature, soft, round, ripe, medium-bodied, uncomplicated, easy to drink wine that is ready to go. Subsequent vintages, especially 2015 and younger are substantially better wines.

3,466 Views

Tasted

Aug 19, 2021