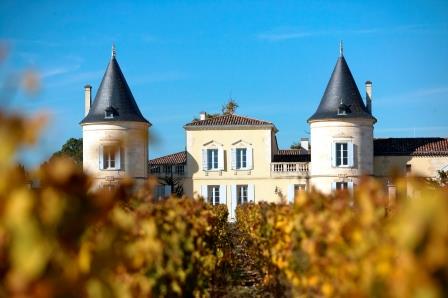 Learn everything about Chateau Lilian Ladouys, St. Estephe with wine tasting notes, and wine with food pairing tips. Learn about the best vintages, wine ratings, a history of the property, information on vineyards and winemaking. If you want to read about other important, Bordeaux Chateaux: Links to all Bordeaux Wine Producer Profiles
Chateau Lilian Ladouys History and Overview
What we know of as Chateau Lilian Ladouys today, began to gain fame in 1654 when it was known at that time under the name of La Doys. As you can guess, in time, La Doys morphed into Ladouys, which is how the estate earned its name. In those days, it was known as Chateau Ladouys.
During the 18th century, Chateau Ladouys was purchased by the Barre family. The Barre family remained in charge of Chateau Ladouys for more than 150 years. The Barre family was responsible for constructing the chateau that is still in use at the property today.
To ensure the family name remained intact at the property, they added their initials, AB, for (Auguste Barre) to a cornerstone on one of the twin towers. The other tower has stone etched with CL, for Chateau Ladouys.
By the early 1900s, due to neglect and a lack of funds, Chateau Ladouys slipped into a dilapidated state. The owners of Chateau Ladouys were forced to sell some of their Saint Estephe vineyards to help pay off debts they had incurred.
Chateau Lilian Ladouys the Modern Era
The fortune and condition of what was about to become Chateau Lilian Ladouys did not begin to be rectified until the new owners, Christian Thieblot and Lilian Thieblot begin to invest and modernize the estate. If you are wondering why you never see older vintages of Chateau Lilian Ladouys, the answer is simple.
It was under the stewardship of the Thieblot family, that the name of the property was changed in honor of Lilian Thieblot to Chateau Lilian Ladouys. This took place in 1989.
In 2007, the light, yellow-tinted chateau and vineyards of Lilian Ladouys were resold to Jacky Lorenzetti. Jacky Lorenzetti earned his fortune as the founder of Foncia, a massive French and European, real estate company. Lorenzetti also owns the rugby team, Racing Metro 92.
The Lorenzetti family continued adding to their portfolio in the Medoc with the purchase of Chateau Pedesclaux and a smaller estate, also located in Pauillac, Haut Milon. In February 2013, Jacky Lorenzetti added to their Bordeaux holdings with the purchase of 50% of Chateau dIssan in the Margaux appellation.
Chateau Lilian Ladouys Vineyard, Terroir, Grapes, Winemaking
The 80 hectare Left Bank Bordeaux vineyard of Lilian Ladouys is planted to 50% Merlot, 45% Cabernet Sauvignon, 4% Petit Verdot, 1% Cabernet Franc. This represents two major changes in the vineyard that was previously dominated by Cabernet Sauvignon. Not only have the grape varieties changed, but since the Lorenzetti, due to purchases of vines all over the appellation, the estate has nearly doubled in size.
The Petit Verdot vines were also a new addition to the varietal makeup. The vines are old at close to 40 years of age. The oldest vines are 60 years of age. The vine density ranges from 8,000 vines per hectare to 10,000 vines per hectare. The terroir is typical of St. Estephe with its gravel, clay and limestone soils.
However, the vineyards of Chateau Lilian Ladouys are spread all over the appellation, providing a wide range of terroirs. They have vines to the south of the appellation not far from Chateau Cos d'Estournal. To the north, they own vines neighboring Chateau Calon Segur.
Due to exchanges with other Saint Estephe vineyards, and purchases of various parcels of vines, today, Lilian Ladouys now has less limestone and increased gravel and clay in their terroir. As the new vines, age and are better integrated into the vineyard, the wine will show more richness and depth. In 2023, the estate was certified as being 100% organic in its farming methods.
To produce the wine of Chateau Lilian Ladouys, vinification takes place in temperature-controlled, stainless steel vats. 48 vats in total are used. The vats range in size from 54 hectoliters to 172 hectoliters. Malolactic fermentation takes place in tank, with the exception of 10% of the fruit, which goes through malolactic fermentation in French oak barrels.
The wine of Chateau Lilian Ladouys is aged on average in 40% new, French oak barrels for between 14 and 16 months.
The best vintages of Chateau Lilian Ladouys are: 2022, 2021, 2020, 2019, 2018, 2017, 2016, 2015, 2014, 2012, 2010 and 2009.
The annual production of Chateau is close to 20,000 cases of St. Estephe wine each year. There is a second wine, La Devise de Lilian. The property is consulted and managed by Emmanuel Cruse who owns and manages Chateau dIssan in the Margaux appellation.
When to Drink Chateau Lilian Ladouys, Anticipated Maturity, Decanting Time
Chateau Lilian Ladouys can be enjoyed somewhat early. However, the wine is often better with at least a few years of bottle age. Of course, that can vary slightly, depending on the vintage. Chateau Lilian Ladouys is usually best enjoyed in the first 10-20 years of life.
Young vintages can be decanted for 1-2 hours. This allows the wine to soften and open its perfume. Older vintages might need very little decanting, just enough to remove the sediment.
Serving Chateau Lilian Ladouys with Wine, Food, Pairing Tips
Lilian Ladouys is best served at 15.5 degrees Celsius, 60 degrees Fahrenheit. The cool, almost cellar temperature gives the wine more freshness and lift.
Lilian Ladouys is best served with all types of classic meat dishes, veal, pork, beef, lamb, duck, game, roast chicken, roasted braised, and grilled dishes. Lilian Ladouys is also good with Asian dishes, hearty fish courses like tuna, mushrooms, and pasta.
www.chateau-lilian-ladouys.com
Château Lilian Ladouys Wine Tasting Notes
17 Vintages 129,528 Views Sort by Vintage-Rating
2022
Château Lilian Ladouys (St. Estèphe)

Flowers, blackberries, peppery spice, and wet earth with a touch of powdered chocolate create the nose. On the palate, the wine is round, lush, sweet, and fresh. The black raspberries are peppery, spicy, and vibrant with an olive, and tobacco leaf accent on the mid-palate, and in the finish. The wine blends 52% Cabernet Sauvignon, 40% Merlot, and 8% Petit Verdot. 13.97% ABV. Drink from 2025-2038. 91-93 Pts.

1,138 Views

Tasted

May 8, 2023

2021
Château Lilian Ladouys (St. Estèphe)

Spice, smoke, red pit fruits and cocoa form the nose. On the palate, the wine is forward, soft and vibrant, with a cherry filled, medium-bodied, fresh, creamy finish. The wine blends 53% Cabernet Sauvignon, 40% Merlot, 6% Petit Verdot. and 1% Cabernet Franc. 12.9% ABV. Drink from 2023-2035. 90-92

1,952 Views

Tasted

May 20, 2022

2020
Château Lilian Ladouys (St. Estèphe)

Fresh espresso, blackberries, flowers, spice box, chocolate and spearmint create the complex nose. On the palate, the wine really shines with its layers of ripe, sweet, fresh and vibrant cherries and blackberries, creamy tannins and hint of cocoa in the finish. And as good as this wine is, it sells for a song. Fans of Left Bank Bordeaux should be all over this gem. Drink from 2024-2040.

3,789 Views

Tasted

Mar 21, 2023

I am really liking the spicy quality to the fresh, sweet red fruits, cigar wrapper, cedar and blackberries on the nose. Medium/full-bodied, round, soft and energetic, there is richness along with soft textured tannins, ripe dark red fruits and a hint of cocoa in the finish. 92-94 Pts

7,708 Views

Tasted

May 20, 2021

2020
Château Lilian Ladouys La Devise de Lilian (St. Estèphe)

Medium-bodied, forward, fresh, early drinking, soft, fresh, bright, red berry and spearmint filled wine with a touch of spice in the endnote. Enjoy this while waiting for the Grand Vin to develop. Drink from 2022-2029.

1,277 Views

Tasted

Mar 21, 2023

Forward, early-drinking, medium-bodied, lighter-styled charming wine with a bright, crisp, red currant character for early drinking pleasure. Enjoy this while waiting for the Grand Vin to develop 86-88 Pts

1,549 Views

Tasted

May 20, 2021

2019
Château Lilian Ladouys (St. Estèphe)

Sporting a nice depth of color, the wine pops right off the bat with its nuances of black cherries, currants, thyme, mint, tobacco leaf, spice and smoke. Medium/full-bodied, fresh and vibrant, the fruits with its chocolate and minty overtones linger in the slightly, dusty, long finish. This will age and develop for at least 2 decades or more. Drink from 2025-2040.

5,573 Views

Tasted

Mar 29, 2022

Leafy aromas with thyme, mint, tobacco leaf, cassis, spice and smoke are easy to find. On the palate, the wine is medium/full-bodied, fresh and vibrant. The energetic finish, with its dusty tannins, lifted red fruits and spicy chocolate is exactly what you were hoping to find. The wine was made from blending of 59% Merlot, 37% Cabernet Sauvignon, 3% Petit Verdot and 1% Cabernet Franc. 92-94 Pts

7,345 Views

Tasted

Jun 8, 2020

2019
Château Lilian Ladouys La Devise de Lilian (St. Estèphe)

Early-drinking, fresh, forward, lighter-styled, red currant wine that is already delivering its olive-tinted, savory, cherry filled pleasures with ease. Enjoy this while waiting for the Grand Vin to develop. Drink from 2022-2029.

680 Views

Tasted

Mar 29, 2022

2018
Château Lilian Ladouys (St. Estèphe)

Full-bodied, spicy, smoky and floral with layers of tobacco and black currants. Full-bodied, round, lush and loaded with sweet, juicy red and black fruits, give it time to come around, at least 6 years or so. The wine was produced using 59% Cabernet Sauvignon, 37% Merlot and 4% Petit Verdot.

3,919 Views

Tasted

Mar 9, 2021

Definitely the best vintage of Lilian Ladouys to date. The wine is loaded with licorice, black fruits, smoke and wet earth. Medium/full-bodied with a round, juicy, lush-mouth feel, there is a nice spicy character in the finish due to the increase of Cabernet Sauvignon in the vineyard and the blend. The wine was produced using 59% Cabernet Sauvignon, 37% Merlot and 4% Petit Verdot, reaching 14.4% ABV. 92-94 Pts

7,966 Views

Tasted

Apr 19, 2019

2017
Château Lilian Ladouys (St. Estèphe)

Licorice, black raspberries, tobacco, smoky cherries, spice and cedar characteristics come out in this medium/full bodied, dusty textured, forward wine which ends in a soft, red berry finish. Made from blending of 50% Merlot, 43% Cabernet Sauvignon and 7% Petit Verdot, the wine reached 13.2% ABV.

4,497 Views

Tasted

Apr 26, 2018

2016
Château Lilian Ladouys (St. Estèphe)

A big gulp of juicy, peppery, ripe, sweet red fruits, cassis, hints of dark cocoa, licorice and cigar wrapper gets everything started. The right amount of freshness and tannic bite give this winner structure, a backbone for aging and round textures to smooth everything out. 5-7 years in the cellar will add a lot more to the experience. And the best part is, the wine sells for a song! It is worth buying by the case.

10,349 Views

Tasted

Apr 8, 2020

Fresh, spicy cassis, licorice and blackberry have exploded all over the place in the best vintage yet for Lilian Ladouys. With textbook tannins, fresh fruit, length and lovability, the wine was made from a blend of 62% Merlot, 32% Cabernet Sauvignon and 6% Petit Verdot with 13.6% ABV and a pH of 3.67.

12,369 Views

Tasted

Apr 29, 2017

2015
Château Lilian Ladouys (St. Estèphe)

Cedar, tobacco leaf, cigar wrapper, wet earth, red plum help create the character here. The wine is medium-bodied, forward, soft already expressive with its crisp, lively finish.

3,589 Views

Tasted

May 21, 2018

Cassis, cranberry and spice, medium-bodied and soft on the palate, this wine is fresh, bright and crisp in its red berry character.

4,767 Views

Tasted

Apr 19, 2016

2014
Château Lilian Ladouys (St. Estèphe)

Licorice, black raspberries, tobacco, smoky cherries, spice and cedar characteristics come out in the medium/full bodied, dusty textured finish.

5,691 Views

Tasted

Jun 25, 2017

Fresh, sweet but sassy black raspberries and cherries, licorice, espresso and fertile soil, this wine finishes with soft but dusty tannins. 89-91 Pts

6,993 Views

Tasted

Apr 13, 2015

2013
Château Lilian Ladouys (St. Estèphe)

Blending 55% Merlot, 40% Merlot, 3% Petit Verdot and 2% Cabernet Franc, the wine has an earthy, crisp, bright, red berry and thyme personality with a lot of freshness in its style. 87-89 Pts

4,690 Views

Tasted

Apr 20, 2014

2012
Château Lilian Ladouys (St. Estèphe)

55% Cabernet Sauvignon and 45% Merlot, the wine reached 13.1% ABV and will be aged in 50% new French oak for between 12-14 months. Smoke, stone, cassis, leaf and pepper scents open to a medium-bodied, fresh black cherry-filled wine with a sweet and tart black raspberry finish. 88-90 Pts

3,849 Views

Tasted

Apr 23, 2013

2011
Château Lilian Ladouys (St. Estèphe)

From an assemblage containing one of the highest concentrations of Merlot in the appellation at 70%. The remainder is made from Cabernet Sauvignon with deep color and a perfume of licorice, coffee and black cherry. This medium-bodied wine has fresh cassis in the finish. 88 - 90 Pts

3,450 Views

Tasted

Apr 8, 2012

2010
Château Lilian Ladouys (St. Estèphe)

Lilian Ladouys, located close to Lafon Rochet on sand and gravel soils, this vintage was produced from a 52% Cabernet Sauvignon, 43% Merlot and 5% Cabernet Franc. The wine opens with stone, oak and blackberry aromas. Medium bodied with light cassis flavors and dusty tannins are found in the finish. 89-91 Pts

8,729 Views

Tasted

Apr 19, 2011

2009
Château Lilian Ladouys (St. Estèphe)

Medium bodied with ripe red berries and earthy scents, this soft textured, easy to drink St. Estephe wine is best enjoyed in its youth. If you're looking for value priced Bordeaux with character, this is a great choice.

13,344 Views

Tasted

May 3, 2012

1996
Château Lilian Ladouys (St. Estèphe)

Light, fading, more tobacco and earth on the nose than crisp, sharp red fruits in the finish. Drink up.

4,315 Views

Tasted

May 9, 2014