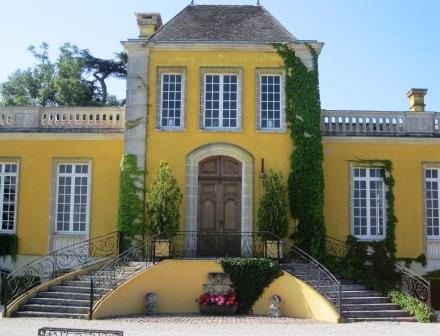 Learn everything about Chateau Lafon Rochet St. Estephe Fourth Growth, with wine tasting notes and wine with food pairing tips. Learn about the best vintages, the history of the property, information on the vineyards, and winemaking. If you want to read about other Bordeaux wine producers: Links to all Bordeaux Wine Producer Profiles
Chateau Lafon Rochet History, Overview
What we know of today as Chateau Lafon Rochet in St. Estephe, dates back to the middle of the 17th century. The estate was founded In 1650, when Antoinette de Guillemotte, brought the land of Rochette as her dowry to her husband, Pierre de Lafon.
Shortly after they were married, following the custom of the day, they renamed the estate, using their last name, coupled with the previous name of the property, Chateau Rochet, and Chateau Lafon Rochet was born.
While many Bordeaux vineyards were confiscated during the French Revolution, that did not happen to Lafon Rochet. In fact, the Left Bank estate remained the property of the same family for more than two centuries.
Chateau Lafon Rochet the Modern Age
Everything changed at Chateau Lafon Rochet in 1959 when Guy Tesseron purchased the estate. The property needed extensive work as it had fallen into a dilapidated state. The Tesseron family, under the direction of Guy Tesseron completely renovated Lafon Rochet from top to bottom.
This was something that had to be done as most of the original buildings were in such bad shape, they could no longer be used. The vineyard also needed extensive replanting. At the time of the purchase, the vineyard was only 17 hectares.
Through replanting and subsequent purchases, the estate has more than doubled in size since the Tesseron family took control of the property. That marked the start of the modern era for Chateau Lafon Rochet.
Tesseron had his work cut out for him at his Medoc property in the 1960s. The vineyards were as we mentioned in poor shape.
Much of the land needed to be replanted in part, but the grape varieties that already existed in the vineyards were planted in the wrong types of soils for their varietal. The Merlot was in the gravel and the Cabernets were in the clay.
That is still slowly being corrected today, although currently, almost everything is as it should be. This explains why the wines are so much better today.
Because the wine-making facilities had also become dilapidated under the previous owners, Guy Tesseron was forced to build all-new wine-making facilities.
Even the Chateau had to be replaced! In fact, Chateau Lafon Rochet is the only 1855 Classified growth with a new chateau that was constructed in the 20th century!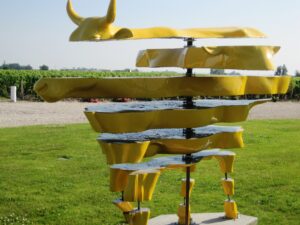 In 1999, after being in the Bordeaux wine trade for more than four decades, Michel Tesseron took over the property and decided to change the classic style of the 18th-century design that was created for the chateau. Michel Tesseron did it by adding some color to Lafon Rochet in 2000.
As you can see, the chateau of Lafon Rochet is now a bright, sunny, bold, Mediterranean shade of yellow. It's an artistic statement according to Michel Tesseron.
At the same time, the labels of Chateau Lafon Rochet were also changed to showcase the new, artistic, sun-filled, yellow theme.
It was under the management of Basile Tesseron that Chateau Lafon Rochet was ushered into the modern age. Basile Tesseron started at the estate in 2007, after training with negociants. He speaks perfect English, with a subtle British accent. That is something he picked up while living in England.
Things changed in September 2021 when Chateau Lafon Rochet was sold to Jacky Lorenzetti. Jacky Lorenzetti is an experienced vineyard owner as he already owns neighboring Chateau Lilian Ladouys, also located in Saint Estephe as well as Chateau Pedesclaux in Pauillac and Chateau dIssan in Margaux. Emmanuelle Cruse will take over as the director of the estate.
Chateau Lafon Rochet Vineyards, Terroir, Grapes, Winemaking
The 41-hectare vineyard of Lafon Rochet is planted to 57% Cabernet Sauvignon, 37% Merlot, 4% Petit Verdot, and 2% Cabernet Franc. This shows a slight increase in their Cabernet Sauvignon and Petit Verdot plantings.
On average, the vines are kept at 37 years of age. However, the estate has old vines. Their oldest parcels have Merlot vines that were planted all the way back in 1938.
The vineyard is planted to a vine density that ranges from 8,500 to 10,000 vines per hectare. However, newer plantings are done at 9,000 vines per hectare.
As we mentioned previously, the vineyard of Lafon Rochet is in one large block that can be subdivided into 40 separate parcels. They have slopes and hills that rise to 26 meters in elevation.
The vineyard of Lafon Rochet is in almost one single, large parcel, which is unusual for the region, although the vineyard does make a few odd twists, turns, and angles to remain in its single block of vines.
They have 38 hectares under vine. The vineyard was slightly reduced in size as they sold 3 hectares of vines. Their terroir is mostly gravel, clay, sand, limestone, and marl soils. Their best parcels are located on the west side of the estate, where find a mix of deep gravel and clay.
Part of what makes their terroir unique is that some of the clay in their vineyards is the same type of hard, blue clay found in Pomerol at Petrus.
Chateau Lafon Rochet has good neighbors. They are ideally placed not far from Chateau Cos dEstournel, Chateau Cos Labory, and Chateau Lafite Rothschild in Pauillac. This places much of their vines in the southern part of the Saint Estephe appellation.
Lafon Rochet continues to experiment with various farming techniques. Over time they have tried using organic farming on at least 10% of their vineyards. But the results were not what they were hoping for.
Chateau Lafon Rochet Wine Making
In 2015, Lafon Rochet completed a renovation and renovation of their cellars and vat rooms. This was a much-needed improvement, as the cellars were more than 35 years old.
The biggest change was to bring in all-new, gleaming, stainless steel tanks and concrete vats. The design and concrete vats were created by the same architect that designed the new cellars at Chateau Cheval Blanc, Christian de Portzamparc.
Where previously, the wine was vinified in all stainless steel, today, that takes place in stainless steel and cement.
The new cement tanks at Lafon Rochet are stunningly beautiful to see, as well as being incredibly smooth to touch.
To more precisely vinify the 40 parcels, the estate now has a total of 42 vats that are a combination of 18 gleaming stainless steel tanks that range in size from 50 hectoliters up to 100 hectoliters and 24 concrete vats in a wide myriad of different shapes and sizes that go from as small as 50 hectoliters up to 190 hectoliters.
70% of the vinification now takes place in their new, concrete tanks, which is where the Cabernet Sauvignon is fermented. The remainder of the grape varieties, Merlot, Cabernet Franc, and Petit Verdot are vinified in stainless steel.
Malolactic fermentation takes place in a combination of 50% in new oak barrels and the remaining 50% of the wine sees malolactic fermentation in tanks or vats.
The wine of Chateau Lafon Rochet is then aged in 55% new, French oak barrels for 9 months before the wine is moved to one-year-old barrels, where it remains for an additional 9 months of aging before bottling.
The best vintages of Chateau Lafon Rochet are: 2022, 2021, 2020, 2019, 2018, 2017, 2016, 2015, 2014, 2010, 2009, 2005, 2003 and 2000.
In 2012, in a continuing effort to make even better wine, Lafon Rochet made two significant moves.
First, they hired the well-known consultant Jean-Claude Berrouet, who is best for his work at Petrus to help with the winemaking. They also used optical sorting technology for the first time.
Speaking of first's, Lafon Rochet became the first Bordeaux chateau to take part in the Google Street View Program, which allows online viewers the chance to see the entire estate in 3D. However, that is not the only first for the estate.
At Chateau Lafon Rochet, they maintain a unique practice during the late winter months that combines wine with health. From November until March, the owner, Michel Tesseron, joins members of his team twice a week for 20 minutes of Tai Chi in their cellars.
On average, close to 10,000 cases of Chateau Lafon Rochet are produced each vintage. There are 2 second wines, Les Pelerins de Lafon Rochet and Les Secrets de Lafon Rochet. While the two-second wines are identical, Les Secrets de Lafon Rochet is produced exclusively for export.
When to Drink Chateau Lafon Rochet, Anticipated Maturity, Decanting Time
Chateau Lafon Rochet can be enjoyed somewhat early. However, the wine is often better with at least a few years of bottle age. Of course, that can vary slightly, depending on the vintage.
Chateau Lafon Rochet is usually best enjoyed in the first 10-25 years of life. Young vintages can be decanted for 1-3 hours. This allows the wine to soften and open its perfume. Older vintages might need very little decanting, just enough to remove the sediment.
Serving Chateau Lafon Rochet with Wine, Food, Pairing Tips
Chateau Lafon Rochet is best served at 15.5 degrees Celsius, 60 degrees Fahrenheit. The cool, almost cellar temperature gives the wine more freshness and lift.
Lafon Rochet is best served with all types of classic meat dishes, veal, pork, beef, lamb, duck, game, roast chicken, roasted, braised, and grilled dishes. Lafon Rochet is also quite good with Asian dishes, hearty fish courses like tuna, mushrooms, and pasta.
Château Lafon-Rochet Wine Tasting Notes
27 Vintages 191,124 Views Sort by Vintage-Rating
2022
Château Lafon-Rochet (St. Estèphe)

Rich in color, the wine is floral, with pepper, spice, tobacco leaf, currants, and blackberries. Medium-bodied, fresh, soft, ripe, round, and polished, with blackberries, black cherries, chocolate, spice, and cedar nuances. The fruits are fresh, bright, and creamy. Give this just a few years in the bottle and it promise to be even better! The wine was made from blending 65% Cabernet Sauvignon, 31% Merlot, and 4% Cabernet Franc. 14.5% ABV, 3.77 pH. This is the first vintage with the new owner, Jackie Lorenzetti, and the team of Emmanuel Cruse, fully in charge. Drink from 2025-2045. 94-96 Pts.

2,712 Views

Tasted

May 8, 2023

2021
Château Lafon-Rochet (St. Estèphe)

Cedar, tobacco leaf, herbs, peppery spice and black raspberries. The wine is medium-bodied, soft, energetic and fresh, with a lifted, red currant and leafy endnote. The wine was made from blending 69% Cabernet Sauvignon, 26% Merlot, 4% Cabernet Franc and 1% Petit Verdot. 13% ABV. The is the final vintage for the Tesseron family. Subsequent vintages will be produced by Jackie Lorenzetti, along with the team of Emmanuel Cruse, the new owner of the property. Drink from 2023-2035 91-93

1,774 Views

Tasted

May 20, 2022

2020
Château Lafon-Rochet (St. Estèphe)

Flowers, cigar wrapper, wet earth, smoke, chocolate, blackberries and red pit fruits open the nose. But, it is on the palate, where the wine really shines with all of its layers of full-bodied, concentrated, long, dark, round, energetic, creamy, plush, ripe, fruits. The finish is long, clean and vibrant with a creamy textured endnote that will be even better once the minor amount of oak remaining has fully integrated. This is the final vintage from the Tesseron family who brought in the harvest and vinified the wine. The new owner, Jacky Lorenzetti, along with Emmanuel Cruse finished the wine. Starting with the 2021 vintage, the new owners were fully in charge. Drink from 2024-2045.

3,344 Views

Tasted

Mar 21, 2023

Deeply colored, the wine is full-bodied, concentrated, long, dark, round, dark and energetic. The fruits are plush, ripe, sweet and fleshy. The mid-palate shows off its blend of cassis, blackberry, cocoa, tobacco leaf and spice with little effort. The finish is long, clean and vibrant with a creamy textured endnote. This should age and develop nicely for at least 2-3 decades. 94-96 Pts

5,097 Views

Tasted

May 20, 2021

2019
Château Lafon-Rochet (St. Estèphe)

Deep in color, the wine exudes black and blue fruit, smoke, spice, tobacco and lilacs on the nose. On the palate, the wine is full-bodied, with chewy tannins and vibrancy, leaving you with layers of ripe, fresh, spicy red fruit with earthy overtones in the endnote. Allow it a few years in the cellar and it should soften and fill out nicely. Drink from 2025-2040.

2,790 Views

Tasted

Mar 29, 2022

Dark ruby in color, the wine is lush, soft, rounded and concentrated with layers of perfectly ripe, black, red and blue fruit complicated by crushed rocks, stones, smoke and spice-box aromas. Rich, lusciously textured and full-bodied, this is a beautiful expression of Saint Estephe and Lafon Rochet. 93-95 Pts

6,378 Views

Tasted

Jun 8, 2020

2018
Château Lafon-Rochet (St. Estèphe)

Espresso, flowers, cocoa, tobacco leaf, wet earth and red pit fruit aromas are all over the place. The wine is rich, round, juicy and loaded with sweet, lifted red fruits. The tannins are soft, the freshness provides the right amount of lift and you find intriguing notes of spice and spearmint in the finish. Give it a just a few years to soften and develop additional nuances and enjoy it over the following 2 decades or more. The wine was made from blending 64% Cabernet Sauvignon, 26% Merlot, 6% Petit Verdot and 4% Cabernet Franc.

3,443 Views

Tasted

Mar 9, 2021

Quite floral in nature, from there you find black and dark red fruits, spice box, tobacco leaf and cocoa. Full-bodied, deep, rich and ripe, the palate enjoys layers of opulent, fleshy, dark red fruits, bitter chocolate and licorice. The wine was made from blending 64% Cabernet Sauvignon, 26% Merlot, 6% Petit Verdot and 4% Cabernet Franc, reaching 14.75% ABV with a pH of 3.75. 5% of the wine is aging in foudres. This is the finest vintage of Lafon Rochet I have ever tasted. Basile Tesseron is doing a great job managing the estate today. 93-95 Pts

5,320 Views

Tasted

Sep 25, 2019

2017
Château Lafon-Rochet (St. Estèphe)

Dark, spicy and soft textured, there is fresh blackberry and cassis with accents of licorice and espresso. The wine is medium bodied and bright, leaving you with an earthy, red berry finish.

4,666 Views

Tasted

Apr 26, 2018

2016
Château Lafon-Rochet (St. Estèphe)

Cigar box, earth, cedar wood, spice and fresh red fruits really sing out here. Full-bodied and loaded with ripe, red pit fruits, the wine has length and character. Age this for 5-7 years and drink it over the next 2 decades or more. Produced from a blend of 67% Cabernet Sauvignon, 25% Merlot, 6% Cabernet Franc and 2% Petit Verdot.

8,949 Views

Tasted

Sep 21, 2019

Floral in nature, the wine is full bodied, rich, round and soft. The dark red fruits are ripe, spice, sweet and fresh. The wine has lift, character and while the freshness is present, the wine never loses its focus on its sweetness in the perfectly ripe berries.

7,006 Views

Tasted

May 13, 2018

Sweet dark, blackberry, cassis, floral and forest scents lead you to a finesse-styled wine. Full bodied, polished, fresh and spicy with a nice shot of juicy cassis in the finish -- it sounds like a great evening to me. This wine has a serious concentration of flavor and a party pack assortment of dark red fruits in the finish. Produced from a blend of 67% Cabernet Sauvignon, 25% Merlot, 6% Cabernet Franc and 2% Petit Verdot, the wine reached 13.6% ABV.

6,941 Views

Tasted

Apr 29, 2017

2015
Château Lafon-Rochet (St. Estèphe)

Medium bodied, soft, earthy and fresh, with a vibrance to the sweet red and black fruits which are followed by herbs, olives and tobacco. Forward in style, a few years will add more softness and nuance to the wine.

3,915 Views

Tasted

Mar 12, 2018

Showing better after its first year of barrel aging, the wine has put on weight,, and is showing a freshness to its bright, Cabernet Sauvignon leaning.

3,260 Views

Tasted

Jul 12, 2017

Dusty tannins, red and black fruit with a touch of herbs, cherries and thyme in the finish. This wine was made from a blend of 54% Cabernet Sauvignon, 35% Merlot, 6% Cabernet Franc and 5% Petit Verdot, reaching 13.3% with a pH of 3.66. This is the first vintage made in their new cellars. The vats are stunning. They are worth the look if you are in the area. 88 - 90 Pts

4,946 Views

Tasted

Apr 19, 2016

2014
Château Lafon-Rochet (St. Estèphe)

Could this be the best wine ever from Lafon Rochet? I think so! With its soft, supple textures, blast of ripe, sweet, black, dark red and blue fruit, coupled with its long, character filled finish, this was showing quite nicely indeed. Age will only improve this wine from here. The wine was produced from a blend of 66% Cabernet Sauvignon, 26% Merlot, 4% Cabernet Franc and 4% Petit Verdot.

4,559 Views

Tasted

Jan 31, 2017

Polished and lush with black raspberries and dark chocolate covered cherries in the nose, this wine has round tannins, ample concentration, sweetness and freshness. The wine was made from a blend of 66% Cabernet Sauvignon, 26% Merlot, 4% Petit Verdot, and 4% Cabernet Franc, reaching 13.5% ABV. 91-93 Pts

4,932 Views

Tasted

Apr 13, 2015

2013
Château Lafon-Rochet (St. Estèphe)

Medium bodied, forward, with a fresh, light, red fruit and oaky personality that is already quite easy to drink.

2,007 Views

Tasted

Feb 7, 2016

Smoke, earth and dusty blackberry aromas, along with a light plum on the palate and an oaky finish, this will be best in its youth. 87-89 Pts

1,232 Views

Tasted

Apr 20, 2014

2012
Château Lafon-Rochet (St. Estèphe)

With forest, tobacco and leaf aromas, along with scents of mocha, the palate offers cherry and cranberry sensations, but the finish is a bit too dry. 87-89 Pts

2,233 Views

Tasted

Apr 23, 2013

2011
Château Lafon-Rochet (St. Estèphe)

Deep in color with coffee, smoke and black cherry scents. Ripe tannins and sweet, ripe black cherry and plums are found in the round finish. 88-90 Pts

3,268 Views

Tasted

Apr 8, 2012

2010
Château Lafon-Rochet (St. Estèphe)

Smoke, licorice, jammy blackberry, espresso and earthy notes create the perfume. On the palate, the blend of 66% Cabernet Sauvignon, 31% Merlot and 3% Petit Verdot offers true depth of flavors, a lot of tannin, acidity, sweet and tart fruits and the structure to age.

8,118 Views

Tasted

Feb 6, 2013

Deeply colored, the perfume offers black and blue fruits, gravel, smoke and tobacco scents. Full bodied, rich and tannic, this powerful sweet wine, ends with a melange of spicy black fruits with hints of fresh blueberries. 90-93 Pts

6,618 Views

Tasted

Apr 20, 2011

2009
Château Lafon-Rochet (St. Estèphe)

Showing what a decade of age can do, this is a beauty. The wine has added layers of complexity and richness. It is full, rich and round, with layers of ripe, spicy dark red fruits, espresso, tobacco, cedar and red plums. The round tannins give this a nice, juicy mouth feel.

4,301 Views

Tasted

Sep 20, 2019

Deep in color, with cedar wood, spice, blackberry and gravel scents, this medium/full bodied, tannic, masculine wine requires time before the ample tannins soften and everything comes together.

6,958 Views

Tasted

Jan 26, 2012

2008
Château Lafon-Rochet (St. Estèphe)

The second vintage for the young Basile Tesseron, the wine is developed and already showing off its forest floor, herb, tobacco and red berry character. Medium bodied, classic and slightly rustic on the finish, you can drink this now, or over the next decade or so with ease.

7,903 Views

Tasted

Sep 17, 2018

The firm tannins soften with 2 hours air, opening to a nose of tobacco, earth, blackberry and crushed rocks. One the palate, blackberries and cassis are aided by crisp freshness in the finish. The past few years of bottle age have added a lot to the wine.

4,102 Views

Tasted

Feb 10, 2014

2007
Château Lafon-Rochet (St. Estèphe)

The debut vintage for the young Basile Tesseron, the wine is developed with forest, tobacco, plum and old wood characteristics. Medium bodied, soft and light in fruit, this requires drinking sooner than later to grab the remainder of the fruit.

3,473 Views

Tasted

Mar 30, 2017

2006
Château Lafon-Rochet (St. Estèphe)

Showing some maturity in the color, the wine offers cedar, tobacco, minerality and red fruits. The wine is developed, offering fine drinking today, with its fresh, sweet, medium bodied, red fruit character. The wine was produced from a blend of 53% Cabernet Sauvignon, 40% Merlot, 5% Cabernet Franc and 2% Petit Verdot.

5,252 Views

Tasted

May 25, 2016

Spice, earth, truffle, cranberry and cassis aromas pair well the medium bodied, soft, forward, wine that drinks well early.

4,822 Views

Tasted

Aug 5, 2012

2005
Château Lafon-Rochet (St. Estèphe)

This wine remains stubbornly tannic. With a few hours in the decanter, the wine offered black fruits, tobacco, cassis and gravel, but the tannins were intrusive and hard. This wine seems like it was cut from the same cloth as a 1986 Bordeaux. It's still young. It might soften in a decade. But it will always be a very tannic wine. 2009 and 2010 are both better vintages for this St. Estephe chateau.

8,335 Views

Tasted

Jul 9, 2011

2004
Château Lafon-Rochet (St. Estèphe)

Medium bodied with sweet and tart red fruits, soft textures and some green notes in the crisp finish.

3,322 Views

Tasted

Jan 4, 2015

2003
Château Lafon-Rochet (St. Estèphe)

Starting to lose its fruit, the wine has taken on more of a tart, sweet and sour, red berry character on the palate. I'd opt for drinking this sooner than later.

4,347 Views

Tasted

Dec 18, 2013

2003 is such a great vintage for St. Estephe! Almost every producer from top to bottom made great wine and Lafon Rochet is no exception. With its nose of stone, tobacco, roasted dark berries, licorice and earth, this medium/full bodied Bordeaux wine is already giving pleasure. The wine ends with a round, fleshy textured black and red fruit filled finish.

6,796 Views

Tasted

Oct 1, 2011

2002
Château Lafon-Rochet (St. Estèphe)

Mature, medium bodied and showing a distinctive, olive, leaf, herb and cedar accent to the bright red berries, the wine is ready to go.

2,531 Views

Tasted

Oct 5, 2018

2001
Château Lafon-Rochet (St. Estèphe)

Fully mature, medium bodied wine that is more interesting on the tobacco, plum and earthy nose, than on the palate, with its sweet and tart berries and austere, crisp, cranberry and cassis finish.

3,522 Views

Tasted

Mar 10, 2016

2000
Château Lafon-Rochet (St. Estèphe)

A bargain when it was first offered, the wine attracts your attention with its earthy, tobacco, plum, forest and spicy black cherry nose. Good concentration and a long, fresh, blackberry finish are the hallmarks of this wine. It's just starting to open, soften and come together. This should drink well for at least another 12 to 15 years.

5,678 Views

Tasted

Jan 19, 2013

1996
Château Lafon-Rochet (St. Estèphe)

Fully mature, with an attractive, tobacco, cedar chest, spice and cherry tobacco nose. Medium bodied, and better on the palate than with its stern character, this is ready for prime time consumption and will probably be at its best over the next 3-5 years.

4,054 Views

Tasted

Jan 2, 2015

1995
Château Lafon-Rochet (St. Estèphe)

Mature, with some rusticity in the tannins, the nose, with its tobacco, spicy, fresh, bright red fruits, cedar and forest leaf is better than the palate, which carries a bit of harsh tannins and crisp red fruits.

3,938 Views

Tasted

Dec 3, 2018

1990
Château Lafon-Rochet (St. Estèphe)

Fully mature, with a complex, secondary nose of tobacco, stone, cigar box, black cherry, earth and spice. Medium bodied, with some rusticity in the tannins, this is at peak, or slightly past showing its best.

5,732 Views

Tasted

Jul 29, 2013

1982
Château Lafon-Rochet (St. Estèphe)

This should have been consumed years ago. Today you find a light, earthy, herbal and tobacco-filled wine with hints of red fruits. Soft, but without much length or volume, if you have a bottle, drink it sooner than later.

2,550 Views

Tasted

Dec 14, 2021