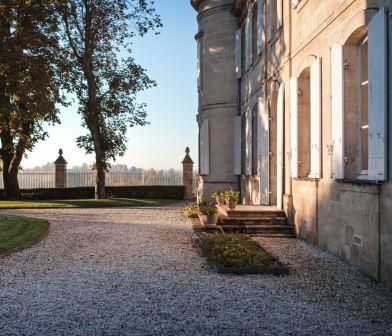 Learn everything about Chateau Cos Labory St. Estephe Fifth Growth with wine tasting notes, and wine with food pairings. Learn the best vintages, a history of the property, information on vineyards and winemaking. If you want to read about other Bordeaux wine producers: Links to all Bordeaux Wine Producer Profiles
Chateau Cos Labory History, Overview
Like other Bordeaux wine chateaux in the Saint Estephe appellation, Chateau Cos Labory takes the first part of their name from the famous hill of COS. There is history at Cos Labory.
Bordeaux wine was being produced at Cos Labory in the late 1700s when the owner at the time, Pierre Gaston died. In those days, the estate was known as Cos Gaston, which took the second part of their name from the Gaston family.
His three children drew lots for the estate. It went to his son, Hyacinthe. Hyacinthe married Anne Pauty and they had an only–child, Marie–Sany. Marie–Sany later married Francois–Armand Labory and the estate was renamed Cos Gaston Labory. At that time, they were producing more wine than Cos dEstournel, their closest neighbor.
What happened next changed the makeup of two estates located in the Medoc. Chateau Cos Labory was purchased by Louis–Gaspard d'Estournel, the owner of Chateau Cos d'Estournel. Gaspard d'Estournel sold the property a few years later after he transferred many of the best vineyard parcels from Cos Labory over to Cos d'Estournel.
In 1922, Cos Labory was sold to Ambrosio and Augusto Weber for 200,000 French Francs. Through a direct descendant, Bernard Audoy, the Weber family still owns the St. Estephe property today.
In 1971, the family added to their holdings in Bordeaux when they purchased another estate in Saint Estephe, Chateau Andron Blanquet. In 1999, they modernized the estate when they added temperature-controlled, stainless steel fermentation tanks. Bernard Auody began managing the family vineyard in 1984.
In March 2023, Chateau Cos Labory was sold to the owner of Cos d'Estournel, Michel Reybier, who also purchased the neighboring estate of Chateau Andron Blanquet. This has been in discussion for a bit, as the technical director of Cos d'Estournel, also helped with blending 2022 Cos Labory. The selling price is rumored to be close to 5 Million Euros per hectare, 18 Million Euros, a record-setting price for 5th Growth Bordeaux!
Chateau Cos Labory Vineyards, Terroir, Grapes, Winemaking
The 18-hectare Bordeaux vineyard of Cos Labory is planted to 60% Cabernet Sauvignon, 35% Merlot, and 5% Cabernet Franc. There is a small amount of Petit Verdot planted in the Left Bank vineyard as well. On average, the vines are 35 years of age. The vines are planted at a density of 8,700 vines per hectare. The terroir of Cos Labory is gravel and limestone soil with patches of clay typical of the St. Estephe appellation.
Much of their vineyard for Chateau Cos Labory is located close to the chateau, next to Chateau Cos d'Estournel, which is just across the road, only a stone's throw away. In fact, they have parcels placed in the middle of the Cos dEstournel vineyard. They have gentle slopes rising up to 25 meters at their peak.
They also have vines placed further north, next to Chateau Lafon Rochet. Much of their clay soils are in the area of Lafon Rochet, which as you would expect, is where you find their Merlot vines. In all, their vineyard is divided into 8 main blocks of vines.
The property uses machines to deleaf and in part, to harvest. They also use leaf-burning machines, which can cause problems. The heat from the machine can damage the grape skins as they suffer from high temperatures. At Chateau Cos Labory, they do not practice green harvesting, so yields can be quite high, which cuts down on the potential quality.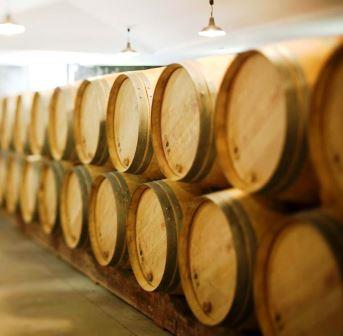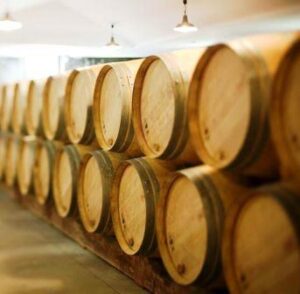 Chateau Cos Labory Wine Making
The wine is vinified in large, 150-hectoliter, stainless steel vats. Chateau Cos Labory is aged in about 40% new oak barrels. Interestingly, Chateau Cos Labory is one of the few Bordeaux chateaux to age their wine in American oak. The wine of Chateau Cos Labory is actually aged in a combination of French oak and American oak barrels.
On average, Cos Labory produces close to 8,000 cases of Bordeaux wine per vintage. There is a second wine, Le Charme de Cos Labory.
The best vintages of Chateau Cos Labory are: 2022, 2021, 2020, 2019, 2018, 2016, 2015, 2014, 2010, 2009, 2005, 2003 and 2000. It should be noted that starting in 2016, Cos Labory stepped up its game, making the best wines in the history of the estate in 2019 and 2020.
With a terroir located less than a stone's throw from Chateau Cos d'Estournel, they could be making much better wine if Chateau Cos Labory was willing to use a more labor-intensive approach in their vineyard management.
When to Drink Chateau Cos Labory, Anticipated Maturity, Decanting Time
Chateau Cos Labory can be enjoyed early. However, the wine is often better with at least a few years of bottle age. Of course, that can vary slightly, depending on the vintage.
Chateau Cos Labory is usually best enjoyed in the first 10-18 years of life. Young vintages can be decanted for 1-2 hours. This allows the wine to soften and open its perfume. Older vintages might need very little decanting, just enough to remove the sediment.
Serving Chateau Cos Labory with Wine, Food, Pairing Tips
Chateau Cos Labory is best served at 15.5 degrees Celsius, 60 degrees Fahrenheit. The cool, almost cellar temperature gives the wine more freshness and lift.
Chateau Cos Labory is best served with all types of classic meat dishes, veal, pork, beef, lamb, duck, game, roast chicken, roasted, braised, and grilled dishes. Cos Labory is also good when served with Asian dishes, and hearty fish courses like tuna, mushrooms, pasta, and cheese.
Château Cos Labory Wine Tasting Notes
17 Vintages 67,343 Views Sort by Vintage-Rating
2022
Château Cos Labory (St. Estèphe)

The dark fruits show nicely in the nose, and on the palate. Soft, and round in texture, with ripeness, freshness, and sweetness, the only issue here is too much new oak, as the wine seems dry in the finish. This the last vintage for the new owners. Starting in 2023, the team of Cos d'Estournel will take over the vineyard and production of the wine. The wine is a blend of 55% Cabernet Sauvignon, 36% Merlot, 7% Petit Verdot, and 2% Cabernet Franc. Drink from 2025-2040. 91-93 Pts.

1,229 Views

Tasted

May 8, 2023

2021
Château Cos Labory (St. Estèphe)

Black currants, tobacco leaf, herbs, forest floor and coffee bean on the nose is what you find before reaching the medium-bodied, round, currant filled palate. Forward, fruity and ready to go early in life, give it just a year or two before pulling a cork. Drink from 2024-2040. 89-91

1,015 Views

Tasted

May 20, 2022

2020
Château Cos Labory (St. Estèphe)

Flowers, black raspberries, red and black currants, licorice, oak and spearmint create the perfume. On the palate, the wine is ripe, round and loaded with sweet, vibrant, clean, red berries that taste and feel just great! As I wrote earlier, Cos Labory has really upped their game lately. This makes three solid vintages in a row! Give it just a year or two in the cellar and it promises to be even better. Drink from 2025-2040.

640 Views

Tasted

Mar 21, 2023

Round, ripe, chewy, sweet, and fresh, the wine is medium/full-bodied with an already delicious blast of blackberry, Asian spice and currants in the nose and palate. Cos Labory has really upped their game lately. This makes three solid vintages in a row. 91-93 Pts

1,278 Views

Tasted

May 20, 2021

2019
Château Cos Labory (St. Estèphe)

Cos Labory has been making better wine than ever recently, and the 2019 continues that trend. Smoke, earthy, spicy, floral red and black fruits are all over the place on the nose and palate. Medium-bodied, fresh, long, fruity-filled and forward, with a solid depth-of-flavor, ripe tannins and a creamy textured finish. and a peppery nuance that kicks in on the endnote, this is going to be great with a few years of age. Drink from 2025-2040.

1,093 Views

Tasted

Mar 29, 2022

2018
Château Cos Labory (St. Estèphe)

Medium bodied, fresh, bright, lifted red fruits, spice and earth pop up in the nose easily. The wine has energy, elegance and loads of red currants, red plums and herbs on the palate. The finish delivers more of those gorgeous red, sweet, chewy fruits. This is a big step up from previous vintages. I am liking it a lot!

1,459 Views

Tasted

Mar 9, 2021

Medium-bodied, round, forward and with a nice level of ripeness to the fruit and accompanied by spice and tobacco leaf, the wine really works well with this vintage. 90-92 Pts

3,025 Views

Tasted

Apr 19, 2019

2017
Château Cos Labory (St. Estèphe)

Medium-bodied, forward, fresh, and savory, with an herbal, spearmint, and tobacco leaf edge to the red fruits, while not mature, it is already easy to like now and should deliver pleasure for at least the next 12 years or so. Drink from 2023-2035.

716 Views

Tasted

Aug 22, 2023

A medium bodied, forward, classic styled wine with an easy going, fresh, red berry character that will drink well with just a few years of age.

2,597 Views

Tasted

Apr 26, 2018

2016
Château Cos Labory (St. Estèphe)

Fruity, forward, medium bodied, spicy, round and easy drinking, there is a nice blast of ripe cassis and cigar box in the finish.

4,156 Views

Tasted

Sep 21, 2019

Medium bodied with loads of earth, spice box, blackberry and cassis, this wine is fresh, bright and shows character and sweetness as well as fruit in the finish.

1,973 Views

Tasted

Apr 29, 2017

2015
Château Cos Labory (St. Estèphe)

Light in color, medium-bodied, with soft, mineral driven red fruits and leafy qualities. You can already drink this now, just give it an hour in the decanter.

3,635 Views

Tasted

May 21, 2018

An earthy, medium-bodied wine with cassis, blackberries and a crisp, herbal, sweet and tart quality to the fruit. 86 - 88 Pts

2,268 Views

Tasted

Apr 19, 2016

2014
Château Cos Labory (St. Estèphe)

Showing much better in bottle, than in barrel, this early drinking, medium bodied wine serves up a spicy, dark, red berry centered wine with an earthy, cherry finish.

3,850 Views

Tasted

Jan 31, 2017

Smoked cherries, earth and herbs on the nose, this wine is medium-bodied, forward and easy-drinking in style with a woodsy spice mingling midst the cassis. 86-89 Pts

2,509 Views

Tasted

Apr 13, 2015

2012
Château Cos Labory (St. Estèphe)

Blackberries and a touch of oak and rustic tannins finish with a core of blackberry and cranberry. 87 – 89 Pts

2,790 Views

Tasted

Apr 23, 2013

2011
Château Cos Labory (St. Estèphe)

Lead pencil, smoke, stone and black cherry scents, round tannins and a fresh, black cherry finish. 88-89 Pts

3,783 Views

Tasted

Apr 8, 2012

2010
Château Cos Labory (St. Estèphe)

Medium bodied, oaky, with ripe and over ripe blackberries, dark cherries, spice, espresso bean and herbs, this easy going blend of 65% Cabernet Sauvignon and 35% Merlot can be enjoyed now, if you like primary fruit, or with 5-7 years of age, for more secondary notes.

6,384 Views

Tasted

Aug 3, 2014

2009
Château Cos Labory (St. Estèphe)

Medium bodied, uncompicated, fresh, earthy, red berry dominated wine .

5,757 Views

Tasted

Dec 28, 2014

2008
Château Cos Labory (St. Estèphe)

Medium bodied, with bright, crisp, red fruits that are followed by stern, rustic tannins. The wine is better on the earthy, spicy, cedar and tobacco nose, but not by much.

3,928 Views

Tasted

Sep 15, 2017

2005
Château Cos Labory (St. Estèphe)

Firm, masculine and still tannic, the wine shows an earthy, tobacco, cherry nose. Medium. full bodied, with an earthy, tannic core, give this a few more years to soften and come together.

5,300 Views

Tasted

Oct 8, 2016

2003
Château Cos Labory (St. Estèphe)

Ready to drink and showing well with its soft, round textures, earthy, dark red and black fruits, smoke and spicy profile. Medium bodied and charming, this is quite nice and is probably the best wine I recall tasting from the property. It really shows how great 2003 is for St. Estephe.

4,166 Views

Tasted

Aug 23, 2015

1990
Château Cos Labory (St. Estèphe)

Dried wood, mold, tobacco and clay make up the perfume. This rustic wine ends with a dry, lean, tart cherry finish.

3,792 Views

Tasted

Sep 19, 2010