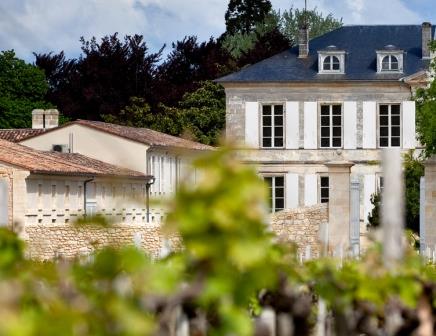 Learn everything about Chateau d'Armailhac, Pauillac, Fifth Growth, with wine tasting notes, and wine with food pairing tips. Learn the best vintages, a history of the property, information on the vineyards, and winemaking. If you want to read about other important, Bordeaux Chateaux: Links to all Bordeaux Wine Producer Profiles
Chateau d'Armailhac History, Overview
Chateau d'Armailhac was previously part of their massive vineyards that we know today as Chateau Mouton Rothschild. The name of the estate came from one of the first owners of the estate, Dominique d'Armailhacq.
During the late 1600s, the d' Armailhacq brothers earned their living as riverboat captains on the Gironde estuary. It was at that point in time they began purchasing land in Pauillac.
By 1740, the wine was sold under the name of Mouton d'Armailhacq. While the vineyard was known for making Pauillac, it was not as popular or as well known as its neighbors, Chateau Pontet Canet or Chateau Brane Mouton. (Brane Mouton eventually became Chateau Mouton Rothschild)
The d'Armailhacq family, who got their start in the Bordeaux wine trade continued to own the estate until 1843 when the family had fallen deeply into debt and was forced to sell a portion of their property to satisfy their debt.
It was obvious to people in Pauillac at the time the owners of the estate, the d'Armailhacq family needed funds, all they had to do was look at the chateau. The family began to build the chateau in 1820. 10 years later, the slow construction ground to a halt as they could not afford to finish it.
For some unknown reason, which may have eventually turned into a tradition, the building was never completed, leaving only half the chateau completed, making what later became Chateau d'Armailhac, one of the more interesting chateaus to visit in modern times.
It is thought that Chateau d'Armailhac was one of the first producers to begin planting large portions of Cabernet Sauvignon and Merlot in their Left Bank vineyards. Eventually, the d'Armailhacq family sold the estate to the Ferrand family who in turn sold it to the young, and soon-to-be-famous Baron Rothschild.
For the Baron, this was an important purchase as Chateau d'Armailhac was located right next to Chateau Mouton Rothschild. This purchase allowed Mouton Rothschild to expand their holdings in Pauillac. As part of the deal, Count Ferrand was allowed to remain in residence at Chateau d'Armailhac for the remainder of his life, rent-free.
In reciprocity, Baron Philippe Rothschild also took over the Bordeaux trading arm of Chateau d'Armailhac, which allowed the Baron to begin producing and marketing this first branded wine, Mouton Cadet.
Chateau d'Armailhac The Modern Era
When the Medoc property was purchased by the Baron in 1934, it was known as Chateau Mouton d'Armailhacq. It was the Baron who changed the name to Chateau d'Armailhac.
In fact, this property has gone through numerous name changes over the years including; Chateau Mouton-Baron Philippe, (1956–1973), Mouton Baronne (1974–1978), and even Chateau Mouton-Baronne-Philippe from 1979 until 1988
To honor his recently deceased wife Pauline, in 1976, the label included "En hommage a Pauline", for that single vintage. In 1989, the label was changed to the name we know the wine as today, Chateau d'Armailhac.
In 2006, Philippine de Rothschild added to their holdings with the purchase of 24 hectares of vines belonging to Chateau Colombier Monpelou was owned by Bernard Jugla. Part of the purchase agreement was that the technical team of Mouton Rothschild continue making the wine under the name of Chateau Colombier Monpelou until 2015.
From that point forward, it is expected that most of those vines will be added to the vineyards of Chateau d'Armailhac. Chateau d'Armailhac is not the only Fifth Growth Pauillac vineyard in the Rothschild family holdings. In 1970, they purchased Chateau Clerc Milon. In 2021, they completed construction on their new, state-of-the-art cellars, just in time for the 2021 vintage. The cellars, which are entirely gravity-fed allow for parcel-by-parcel vinification.
Chateau d'Armailhac Vineyards, Terroir, Grapes, Winemaking
The 70-hectare vineyard is planted to 53% Cabernet Sauvignon, 36.6% Merlot, 8.1% Cabernet Franc and 2.3% Petit Verdot. This represents a change in the vineyard with more Merlot and less Cabernet Franc as well as a decrease in the Cabernet Sauvignon. Previously d'Armailha had one of the largest concentrations of Cabernet Franc in the Medoc. That is no longer the case today.
The majority of the Chateau d'Armailhac vineyard is shaped like a T, with a few scattered parcels in and around Chateau Pontet Canet and not too far from Chateau Mouton Rothschild. The terroir is mostly gravel with sand, clay, and limestone soils. Their best terroir is on the plateau, which is located close to the chateau.
The vineyard can be divided into two main parts, both of which are gravel ridges with about half the vines placed south of the chateau while the remaining vines sit due west, close to Chateau Mouton Rothschild. To the east, the vineyard abuts Chateau Pedesclaux. The vineyard has a vine density of 8,500 vines per hectare.
The vines are old. On average the vines are close to 50 years of age. However, it is important to note that some of the oldest vines in the Medoc are at Chateau d'Armailhac. In fact, close to 20% of their entire vineyard is more than 130 years of age with plantings dating back to 1890!
These are some of the oldest vines in all of Bordeaux. Many of those old vines are Cabernet Franc dating back to 1890! As those vines die, they are replaced with Cabernet Sauvignon, which is a better fit for their vineyard.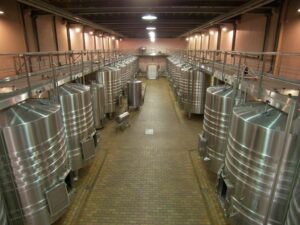 To produce the wine of Chateau d'Armailhac, the wine is vinified in temperature-controlled, stainless steel tanks. Malolactic fermentation takes place in tank. In 2021, the estate completed the construction of new cellars.
The wine of Chateau d'Armailhac is aged in 30% new, French oak barrels for an average of 16 months. The production of Chateau d'Armailhac is on average close to 18,000 cases per year.
Chateau d'Armailhac offers good value, drinks well young, and shows good, solid, Pauillac character. The original porcelain artwork used for the logo resides in the museum at Chateau Mouton Rothschild.
The best vintages of Chateau d'Armailhac are: 2022, 2021, 2020, 2019, 2018, 2017, 2016, 2015, 2014, 2012, 2010, 2009, 2006, 2005, 2003 and 2000. Older vintages have not aged that well. I would probably not look for those wins today. Instead, I'd focus on the much better, younger, more interesting vintages.
Chateau d'Armailhac was for years thought of as a lighter-styled, early-drinking Bordeaux wine. Today, d'Armailhac expresses ample Pauillac character with a good concentration of flavor and supple textures. Hopefully, this trend to produce better Bordeaux wine at this property will continue.
2009 is the finest young vintage of Chateau d'Armailhac I've ever tasted. Although, while 2010 d'Armailhac is different in style, it is not that far from 2009 in terms of quality.
When to Drink Chateau d'Armailhac, Anticipated Maturity, Decanting Time
Chateau d'Armailhac can be enjoyed on the young side with a few hours of air. But I find it too tannic to enjoy without cellaring. The wine is most often best at 8-15 years of bottle age. Of course, that can vary slightly, depending on the vintage character.
In the best vintages, the wine will be at its best between 10-25 years of age after the vintage. Young vintages can be decanted for an average of 2-3 hours, give or take. This allows the wine to soften and open its perfume. Older vintages might need very little decanting, just enough to remove the sediment.
Serving Chateau d'Armailhac with Wine, Food, Pairing Tips
Chateau d'Armailhac is best served at 15.5 degrees Celsius, 60 degrees Fahrenheit. The cool, almost cellar temperature gives the wine more freshness and lift.
Chateau d'Armailhac is best served with all types of classic meat dishes, veal, pork, beef, lamb, duck, game, roast chicken, roasted, braised, and grilled dishes. Chateau d'Armailhac is also good with Asian dishes, hearty fish courses like tuna, mushrooms, pasta, and a myriad of hard and soft cheeses.
Château d'Armailhac Wine Tasting Notes
27 Vintages 333,189 Views Sort by Vintage-Rating
2022
Château d'Armailhac (Pauillac)

Black fruits, flowers, smoke Asian spice and tobacco leaf nuances mark the perfume, while the palate is awash in luxurious, plums, currants, licorice, black cherries and cocoa. Lush, plush and polished, with a long, creamy, mint-stained finish, this is going to age quite nicely. The wine blends 60% Cabernet Sauvignon, 22% Merlot, 16% Cabernet Franc, and 2% Petit Verdot. 14.5% ABV, 3.83 pH. Drink from 2025-2045. 93-95 Pts.

2,209 Views

Tasted

May 8, 2023

2021
Château d'Armailhac (Pauillac)

Dark ruby in color, the wine is floral in nature, with black raspberries, cherries and spice on the nose. On the palate, the wine is medium-bodied, soft, approachable and focused on its freshness, sweetness and easy going charm. The wine blends 63% Cabernet Sauvignon, 22% Merlot, 13% Cabernet Franc and 2% Petit Verdot, 13% ABV. The wine represents 50% of the harvest. Drink from 2024-2044. 90-92

1,445 Views

Tasted

May 20, 2022

2020
Château d'Armailhac (Pauillac)

Blackberries and black currants define the nose, palate, and character of this classy Pauillac. The wine offers vibrancy, chewy textures, and nuances of mint, tobacco leaf, cedar, peppery spices, and tobacco wrapper. Classic, classy, refined, and with ample layers of sweet, lush, dark fruits with the tannins to age, this will drink well early, yet it will also evolve quite well. Drink from 2026-2050.

1,718 Views

Tasted

Mar 21, 2023

Juicy, spicy, supple and fresh, the wine is medium-bodied, refined, soft and polished, finishing with ripe, red and black currants, savory herbs, tobacco leaf and hints of spicy pepper on the backend. The wine blends 59% Cabernet Sauvignon, 30% Merlot, 8% Cabernet Franc and 3% Petit Verdot, 13.3% ABV. ABV. 92-94 Pts

2,583 Views

Tasted

May 20, 2021

2019
Château d'Armailhac (Pauillac)

Medium-bodied, soft, fresh, crisp and vibrant, the wine is packed with dark currants, freshness, tobacco wrapper, forest leaf, blackberries and peppery spices. Soft, lifted, balanced and fresh, the wine finishes with blackberries, currants, spice and a light touch of savory herbs. Drink from 2026-2044.

3,079 Views

Tasted

Mar 29, 2022

The nose, with its floral, cedar chest, tobacco leaf, blackberry and cassis aromatic profile is inviting. Medium-bodied, soft, round and fruity, the finish, with its soft-textured, elegantly-styled blackberry endnote lets you know this needs about 5 years or so in the cellar before it starts letting loose. The wine was made from blending 62% Cabernet Sauvignon, 27% Merlot and 9% Cabernet Franc. 92-94 Pts

5,018 Views

Tasted

Jun 8, 2020

2018
Château d'Armailhac (Pauillac)

The darkest vintage of d'Armailhac I have ever seen, from the first swirl and sniff, you know it's a new level for this chateau. On the nose you find smoke, tobacco leaf, blackberries, plums, wet earth and thyme. On the palate, the wine is lush, round and deep with layers of sweet, dark, ripe fruits, soft, round tannins, herbs, pepper, dark chocolate, spice and a blast of black and dark red fruits in the finish. Give this a decade in the cellar and it will really start strutting its stuff. The wine is a blend of 55% Cabernet Sauvignon, 30% Merlot, 10% Cabernet Franc and 5% Petit Verdot.

3,605 Views

Tasted

Mar 9, 2021

Richly textured, this is the darkest d'Armailhac I have ever seen and the fruits are equally dark. The blackberries display a floral charm along with a touch of smoke black currant. On the palate, the wine is medium-full bodied, with good concentration of its dark, crème de cassis, a touch of cocoa and tobacco. The tannins are soft add the perfect backdrop to all the round juicy, deep fruits. The wine is a blend of 55% Cabernet Sauvignon, 30% Merlot, 10% Cabernet Franc and 5% Petit Verdot. The harvest took place from September 12 to September 3. 92-94 Pts

6,750 Views

Tasted

Apr 19, 2019

2017
Château d'Armailhac (Pauillac)

The opening act is black fruit, juicy plums, smoke and just a tip of licorice in the background. Intermission finds soft, fresh, sweet blackberries while a salty minerality lingers in the wings. The wine is a blend of 68% Cabernet Sauvignon, 22% Merlot, 7% Cabernet Franc and 3% Petit Verdot. The harvest took place from September 6 to September 29.

2,630 Views

Tasted

Apr 26, 2018

2016
Château d'Armailhac (Pauillac)

Juicy, earthy and with a touch of fine dust to the tannins, the wine has lift, the fruit is ripe, sweet and soft. Medium bodied, refined and energetic, give this 7-8 years in the cellar and enjoy it over the next 2 decades of life.

7,302 Views

Tasted

Sep 21, 2019

Black cherries are all over the place. The fruit is fresh, juicy and long with cocoa and spicy plum scents. The wine has lift, the fruit is sweet and soft, This is the best wine ever made at the property.

5,643 Views

Tasted

Feb 10, 2019

Medium/full bodied, soft, polished, sweet, dark red fruits, with freshness, ripe tannins and a tobacco, cedary edge to the nose.

5,589 Views

Tasted

May 13, 2018

Black cherry, cocoa, flowers and spicy plum aromas create the nose. On the palate, the wine is fresh, sweet and silky. The tannins are soft and the fruit feels good as it sticks on your palate. Medium/full bodied, long and harmonious, this is easily the best wine ever made at the property. Produced by blending 62% Cabernet Sauvignon, 28% Merlot, 0.8% Cabernet Franc and 0.2% Petit Verdot, this wine reached 13.4% ABV. The harvest took place September 27 to October 14.

5,295 Views

Tasted

Apr 29, 2017

2015
Château d'Armailhac (Pauillac)

Soft, silky, forward and medium bodied, there is verve, sweet fruit and lift. The wine remains focused on earthy nuances, dark red fruits, cassis, spice and licorice. You can age this for 7-10 years before popping a cork.

4,293 Views

Tasted

May 21, 2018

Soft, smooth and on the way to silky, the wine is medium bodied, forward, and already open to sharing its earthy, ripe, dark red fruits, cassis, spice and tobacco character. The finish combines freshness with round, soft tannins and juicy, dark red fruits.

2,903 Views

Tasted

Mar 12, 2018

Scoring at the top my range, or even higher will be easy for this wine. It is ripe, juicy, concentrated and fresh, finishing with an earthy blast of tobacco tinged, cassis and blackberry.

3,682 Views

Tasted

Jul 12, 2017

Spicy cassis, flowers and gentle notes of coffee and thyme create layers of elegance, freshness, polish and texture. With hints of milk chocolate and sweet blackberries in the finish, this wine is quite nice for the vintage and surprises the palate with more velvet to the tannins than expected. Produced by blending 60% Cabernet Sauvignon, 29% Merlot, 9% Cabernet Franc and 2% Petit Verdot, this wine reached 13.25% ABV. 89-91 Pts

3,843 Views

Tasted

Apr 18, 2016

2014
Château d'Armailhac (Pauillac)

Solid wine this year, with a spicy, dark, red berry nose, complicated by tobacco and earthy aromatics. Medium/full bodied with freshness, finesse and refined, ripe, sweet fruits in the finish.

5,727 Views

Tasted

Feb 1, 2017

This deep, ruby colored wine offers black raspberries and licorice in the nose. The fruit is sweet and spicy with a lush, black cherry finish. Blending 50% Cabernet Sauvignon, 36% Merlot, 12% Cabernet Franc and 2% Petit Verdot, the wine reached 13.8 ABV. 89-91 Pts

4,545 Views

Tasted

Apr 14, 2015

2013
Château d'Armailhac (Pauillac)

With a sharp, cassis, cranberry and tobacco infused character, the wine is medium bodied, and finishes with light, bright, red fruits.

3,010 Views

Tasted

Feb 10, 2016

With a licorice, floral and dark cherry nose, this delicate, medium-bodied Pauillac ends with dusty tannins and a forward cassis and cherry finish. From 59% Cabernet Sauvignon, 28% Merlot, 12% Cabernet Franc and 1% Petit Verdot, the wine is aging in 35% new oak. 88-90 Pts

2,434 Views

Tasted

Apr 20, 2014

2012
Château d'Armailhac (Pauillac)

Forward, soft and expressive, the medium-bodied wine is all about the fresh, clean, peppery, red fruits and spicy nuances. Not a long distance runner, drink this over the next 10-12 years for maximum enjoyment.

4,910 Views

Tasted

Nov 12, 2018

Soft, round, forward, medium bodied with a fresh cassis and tobacco filled personality. The bottle was decanted about one hour in advance of the tasting.

5,226 Views

Tasted

May 15, 2016

Soft, round, forward, medium bodied with a fresh cassis filled personality.

5,046 Views

Tasted

Mar 11, 2015

From a blend of 54% Cabernet Sauvignon, 29% Merlot, 14% Cabernet Franc and 3% Petit Verdot, the wine reached 13.4% ABV. Tobacco, stone, pepper and black cherry notes open to a soft, forward, medium-bodied Pauillac that ends with fresh black plums. 89-91 Pts

4,683 Views

Tasted

Apr 23, 2013

2011
Château d'Armailhac (Pauillac)

Very floral, with black cherry, cocoa, blackberry and earthy scents rounding out the perfume. The soft, easy to like and drink style is very good for the vintage.

4,439 Views

Tasted

Feb 16, 2014

From a blend of 57% Cabernet Sauvignon, 28% Merlot, 13% Cabernet Franc and 2% Petit Verdot, the wine opens with espresso and blackberry scents. Medium-bodied, fresh, charming and easy to like, the wine ends with fresh cassis. 89-91 Pts

4,399 Views

Tasted

Apr 10, 2012

2010
Château d'Armailhac (Pauillac)

Fresh, vibrant, racy red fruits with notes of flowers, smoke, tobacco leaf, herbs, and cedar shine through. Medium/full-bodied, vibrant, juicy, and just about ready to go, give it an hour or two in the decanter. Drink from 2022-2040.

4,573 Views

Tasted

Jul 8, 2022

This is getting close to its prime-time window, that I suspect will hit in the next few years, the wine is juicy, fresh, sweet, and loaded with bright, red fruits, tobacco and spicy characteristics with soft textured, ripe tannins.

7,989 Views

Tasted

Nov 12, 2018

This just keeps getting better and better. The purity of the fruit, freshness, balance and elegance is starting to wake up. Give it a few more years.

8,957 Views

Tasted

May 4, 2016

Another nice showing for this well-priced Pauillac. Lots of fresh dark berries, cassis, cedar and tobacco, soft textures and a fresh, crisp, refined finish. Some time in the cellar will be god for this wine.

9,318 Views

Tasted

May 28, 2014

Smoke, blackberry, tobacco leaf and spicy cassis notes pop with little effort. Tannic, refined and concentrated, the wine is structured to age, ending with fresh, pure, crunchy cassis.

10,240 Views

Tasted

May 7, 2013

Jammy dark berries, plum, coffee and mushroom scents open this sweet, fresh, plummy, full bodied wine. The finish ends with sweet, roasted blackberries. 91-93 Pts

9,796 Views

Tasted

Jul 30, 2011

From a blend of 60% Cabernet Sauvignon, 23% Merlot, 15% Cabernet Franc and 2% Petit Verdot, the wine opens with cedar, 5 spice, gravel and cassis scents. Filled with chocolate covered blackberries and sweet cassis, this wine offers depth and purity of flavor. This is the second strong vintage in a row for this Pauillac. 92-94 Pts

10,198 Views

Tasted

Apr 20, 2011

2009
Château d'Armailhac (Pauillac)

Medium-bodied, soft, elegant and polished, the dark red fruits and tobacco leaf pop with ease. Refined, classic and ready to go, give it an hour of air and enjoy the ride.

7,941 Views

Tasted

Sep 20, 2019

Mineral, smoke, tobacco and blackberry scents lead to an elegant Pauillac with a lush, soft, forward, black plum filled finish. Give this a few years before popping a bottle, it will add complexity and more finesse.

10,042 Views

Tasted

May 1, 2014

Pure cassis, gravel, dark berries and earthy aromas lead to a plush, fresh, chewy Pauillac. From an assemblage of 60% Cabernet Sauvignon, 24% Merlot, 14% Cabernet Franc and 2% Petit Verdot, the wine is medium/full bodied with plush textures and ripe tannins. Graceful and elegant, the wine ends with good concentration of fruit and sweet cassis flavors.

10,866 Views

Tasted

Feb 7, 2012

2009 d'Armahillac shows ample fresh blackberry, oak, cassis, and boysenberry notes. The long, ripe finish is concentrated with dark berries. This is the finest wine I have ever tasted from this property. 90/93 Pts

11,379 Views

Tasted

Aug 26, 2010

2008
Château d'Armailhac (Pauillac)

Herbal, minty and leafy with red fruits, medium body and a salty, red berry finish. The wine is a bit strict and the tannins stand out. Give it a few more years for the wine to soften and fill out.

3,900 Views

Tasted

Sep 19, 2018

Produced in a light and polite style, with cassis, cranberry and spice in the nose, this medium bodied Pauillac does not have the level of concentration found in the beautiful 2009 or 2010. It's a correctly made Pauillac, it's just a little light. It should drink well young.

5,822 Views

Tasted

Oct 3, 2014

This medium bodied Bordeaux wine offers tobacco, earth and cherry notes in the perfume. Light in style, the wine shows some green flavors in the finish. Similar to Clerc Milon, the strong 2009 d'Armahillac remains the wine to buy. It's probably the best wine the property has ever produced. It's also one of the best values from the Medoc in an expensive vintage.

6,614 Views

Tasted

Jan 28, 2011

08 Château D'Armailhac offered hints of licorice with black fruit on the nose. Medium bodied with soft tannins and an easy going personality, it's a wine to drink young. 87-89 Pts

6,609 Views

Tasted

Aug 31, 2009

2007
Château d'Armailhac (Pauillac)

A solid example of classic Bordeaux, with its medium bodied, expression of fresh, bright, red fruits, wet earth, tobacco, cedar and cigar wrapper. The tannins have a nice polish that adds to the soft, easy to like, red berry finish. This is very strong for the vintage.

3,853 Views

Tasted

Sep 2, 2017

2006
Château d'Armailhac (Pauillac)

Medium-bodied, red currant, cedar, herb, leaf oriented wine with a slight rusticity to the tannins with a crisp edge to the red fruits and herbs in the finish along with a touch of dust in the classically-styled backend that is fully ready to go. Drink from 2023-2031.

2,293 Views

Tasted

Jan 30, 2023

Forest, old wood, cigar box and cedar notes are easy to find This is fully mature, and drinking in the sweet spot. Medium bodied, fresh and offering its cassis and cedar profile in the finish. This is the first vintage made in the estate's new gravity based cellar system.

4,740 Views

Tasted

May 25, 2016

Chocolate mint, cassis, tobacco and fresh cherries open to a medium bodied Pauillac that is rapidly approaching maturity.

10,200 Views

Tasted

May 1, 2012

2005
Château d'Armailhac (Pauillac)

This is a nice time to start popping your corks here. Not fully mature, but clearly ready to offer pleasure with all of its sweet, dark currants, leafy herbs, flowers, peppery spice, and tobacco-packed charms. Medium-bodied, fresh and bright, 1 hour in the decanter will do the trick. Drink from 2022-2035.

3,816 Views

Tasted

Jul 9, 2022

With aromas of cedar wood, tobacco, blackberry, earth and spice, the wine is already developing well and showing its open, cassis fueled, elegant fresh, Pauillac, charm.

6,517 Views

Tasted

Jun 27, 2015

This is developing nicely. With a nose filled with cedar wood, cassis, oak, lead pencil and hints of tobacco, this is all about Pauillac. Soft and round in texture, while this lacks the density found in the top wines, it also lacks the high price tag. Produced from a blend of 60% Cabernet Sauvignon, 29% Merlot, 10% Cabernet Franc and 1% Petit Verdot, this is a Left Bank Bordeaux wine that you can drink now and over the next 12-15 years.

11,003 Views

Tasted

Dec 21, 2011

2004
Château d'Armailhac (Pauillac)

Cedar wood, peppery berries and cassis in character, another year or two could add some softness to the sandy tannins in the blackberry and cranberry end notes.

3,308 Views

Tasted

Jan 4, 2015

Light in color, with advanced aromatics, this lighter style of Pauillac offers spicy cassis, cranberry, earth and tobacco. Already close to mature, this wine is best enjoyed over the next 6-10 years.

4,934 Views

Tasted

May 1, 2012

2003
Château d'Armailhac (Pauillac)

From a blend of 65% Cabernet Sauvignon, 20% Merlot, 13% Cabernet Franc and 2%Petit Verdot, this medium bodied, round, ripe, blackberry, cedar wood, tobacco and earth infused wine is ready to drink.

4,580 Views

Tasted

Feb 6, 2013

2002
Château d'Armailhac (Pauillac)

Drinking well with about an hour of air, this blend of 70% Cabernet Sauvignon, 22% Merlot, 5% Cabernet Franc and 3% Petit Verdot offers a classically styled, cassis and blackberry, tobacco and herb profile, with a round texture with only a minor hint of greeness in the otherwise, dark, red plum finish.

3,138 Views

Tasted

Feb 8, 2017

2001
Château d'Armailhac (Pauillac)

Light, bright, medium bodied, mature, soft textured and focused on cassis, cranberry, cherry and tobacco notes, the wine is pleasant, but not exciting.

4,678 Views

Tasted

May 26, 2014

2000
Château d'Armailhac (Pauillac)

Mature, soft, easy drinking Pauillac with a tobacco, cassis and earthy, forest character. This requires drinking as it's not meant to age much after this point.

4,826 Views

Tasted

May 28, 2014

Offering secondary notes of tobacco, earth and truffle. This medium bodied wine did not seem fully ripe. The flavors in the finish edged to the red fruit side.

8,928 Views

Tasted

Mar 5, 2010

1996
Château d'Armailhac (Pauillac)

Dark red tea in color, with strawberry and earthy aromas, this medium bodied Pauillac ends with green peppercorn and cherry flavors. This lighter style of Bordeaux wine is past fully mature.

5,788 Views

Tasted

Jul 21, 2011

1995
Château d'Armailhac (Pauillac)

Firm, almost strict in character, with a tannic spine that never faded. The wine is medium bodied, with crisp, sharp, red berries, tobacco, cedar and wet earth characteristics. The wine is much better on the nose on the nose than the medium bodied, austere palate. At 20 years of age, this is not going to improve from here.

5,744 Views

Tasted

Oct 29, 2016

1989
Château d'Armailhac (Pauillac)

Displays a spicy, cedar nose. Medium bodied with a short blackberry finish that already has some dry sensations. Since this wine is past full maturity, it should be drunk up

5,253 Views

Tasted

Jun 20, 2009

1945
Château Mouton-d'Armailhacq (Pauillac)

Brick and tea in color, with a pleasant nose of cedar, leaves, earth, forest floor and tobacco notes. Not much fruit remains, what there is was on the tart, cranberry, spicy side of the style range.

3,340 Views

Tasted

May 7, 2015