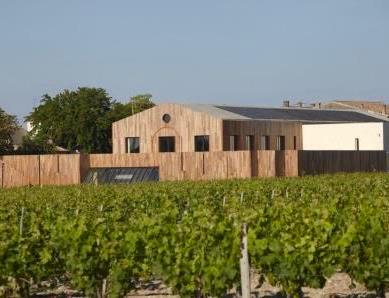 Learn everything about Chateau Clerc Milon, Pauillac, Fifth Growth with wine tasting notes and wine with food pairing tips. Learn all the best vintages, wine ratings, a history of the property, information on vineyards and winemaking. If you want to read about other important, Bordeaux Chateaux: Links to all Bordeaux Wine Producer Profiles
Chateau Clerc Milon History, Overview
During the early 1800s, numerous small Bordeaux wine vineyards were located in the appellation of Pauillac. One of the better small estates was owned by M. Mandavy. That chateau later became Chateau Duhart Milon. Next to their vineyards sat a Bordeaux wine vineyard belonging to Mr. Jean-Baptiste Clerc.
The Clerc family owned the vineyard at the time of the 1855 Classification. Clerc sold part of his estate to Mr. Lamena before he passed away in 1863. The remaining portion of his holdings was inherited by his widow.
That part which had been purchased by the Lamena family was sold to Jacques Mondon, who mounted a legal challenge for the right to use the estate name of Clerc Milon. Despite owning the smaller part of the original estate, he won the case. The property became known as Clerc Milon-Mondon for a short time.
The vineyard holdings were broken up first in 1877 during the widows' successions and finally reduced to just half its original size after that. Jacques Mondon, a notary in Pauillac, bought the estate and began to bottle and sell the wine as Clerc Milon Mondon.
In the 1960s, the chateau and vineyards passed into the hands of Jacques Vialard, another Pauillac notary, and then on his death, the vineyard was given to his sisters Marie and Marguerite Vialard. Baron Philippe de Rothschild, the owner of Chateau Mouton Rothschild acquired Clerc Milon from the family in 1970.
Chateau Clerc Milon The Modern Age
A series of different owners and sales had completely forgotten about Chateau Clerc Milon to the point where the original vineyard was divided into several hundred parcels, with almost as many title deeds.
Poorly maintained, Clerc Milon had only 10.5 hectares of vines in production and was little known outside of Pauillac at the time is was purchased by Baron Rothschild. The Baron described it as; "A pretty estate in a high-quality terroir, that was currently in poor condition." He was right. And that was soon to change.
Knowing something about image, after all the Baron in part recreated Mouton Rothschild in his own flamboyant image, he decided Clerc Milon also needed its own identity to stand out in the Medoc. He chose a representation of a Jungfraubecher, a German marriage cup dating from 1609 which is on display in the Museum of Wine in Art at Chateau Mouton Rothschild.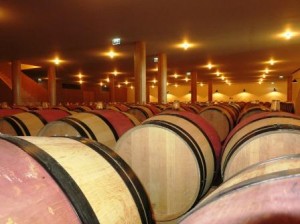 In 1983, the illustration for the Chateau Clerc Milon label was changed to a pair of dancing clowns made of precious stones. The original art was created by a 16th-century German goldsmith, also displayed in the Museum at Mouton.
In 2007, Clerc Milon renovated the Left Bank estate and constructed new wine-making facilities. This is important to note as Chateau Clerc Milon does not have an actual chateau. Instead, they have only technical wine-making facilities. Part of these major improvements started with the new vat house. Entirely gravity-fed, it completely eliminates the need for pump-overs.
The new facilities at Clerc Milon are based on a green philosophy. Energy is produced due to the 300 square meters of photovoltaic cells on the rooftop. Chateau Clerc Milon lays claim to being the first vat house with HQE (High Environmental Quality) certification in the Bordeaux wine-making region.
The estate added a new barrel cellar which was built inside a small hill placing half the cellars underground. This keeps the cellar cold while taking advantage of the environment. Work continues on replanting the vineyards. Optical sorting is also used. All of these improvements in the facilities have clearly helped create a better wine at Clerc Milon.
In time for the 2017 harvest, Clerc Milon became the first estate in Bordeaux to use robotics in their vineyards. Nicknamed, Ted, the robot was created in a partnership with Naio technologies. Originally, the robot was conceived to aid in simpler, agricultural, vegetable farming. But with the right technological innovations, Ted, was altered for grape harvesting.
Chateau Clerc Milon Vineyards, Terroir, Grapes, Winemaking
The 45 hectare vineyard of Clerc Milon in Pauillac is planted to 50% Cabernet Sauvignon, 37% Merlot, 10% Cabernet Franc, 2% Petit Verdot and 1% Carmenere. Chateau Clerc Milon maintains one of the largest plantings of Carmenere in Bordeaux. The vineyard has a terroir that is a complex array of gravel, limestone, sand, and clay-based soils.
The vineyard is spread over 247 different parcels, making it a very difficult patchwork of soils to farm and harvest. The owners are trying to slowly change that. When neighboring parcels are replanted, they are now joined together. With one small exception, a small parcel of vines placed close to Chateau Pedesclaux, all of their vines are in 1 large block.
Chateau Clerc Milon is in the northern part of Pauillac, with vines next to 2 First Growth estates, Chateau Mouton Rothschild and Chateau Lafite Rothschild. The best parcels of Clerc Milon are located on a plateau, not too far from the Gironde estuary. Today, close to 50% of their vines are farmed using organic farming techniques.
On average, the vines are 53 years of age. However, they have even older vines. In fact, they own some Carmenere vines that were planted all the way back in 1947. Those are the oldest remaining Carmenere vines in the entire Bordeaux appellation! They have even older Cabernet Sauvignon vines planted in 1903!
The vine density is the same as what is planted at neighboring Chateau Mouton Rothschild with 10,000 vines per hectare. All work in their vineyard is done using only, 100% biodynamic farming and sustainable vineyard management techniques.
To produce the wine of Chateau Clerc Milon, vinification takes place in 40 stainless steel temperature vats which allow for very precise vinification of the vineyard's 45 hectares of vines.
Malolactic fermentation takes place in tank. The wine of Chateau Clerc Milon is aged in an average of 30% new, French oak barrels for between 14 and 18 months. The amount of oak and time in the barrel depends on the character of the vintage.
To commemorate the property's newly reconstructed chai, starting with the 2010 vintage, the wine featured a new label designed by Richard Peduzzi. Richard Peduzzi is best known as the interior set designer for the Louvre and d'Orsay museums in Paris.
In 2015, Chateau Clerc announced they were going to start producing a second wine, Pastourelle de Clerc Milon to help continue increasing the quality of their Grand Vin. However, the better term would be, they were about to start releasing a second wine, as Pastourelle de Clerc Milon was made starting with the 2009 vintage.
The best vintages of Chateau Clerc Milon are 2019, 2018, 2017, 2016, 2015, 2014, 2012, 2010, 2009, 2008, 2006 2005, 2003 and 2000.
Clerc Milon produces a charming style of Pauillac. In the best vintages, this classically styled Bordeaux wine offers ample concentration of currants, blackberry, and spice. This property has recently undergone major renovations in the cellars and in the vineyards. Management has changed as well. 2009 and 2010 were the finest young vintages of Clerc Milon I've ever tasted.
That changed with the sublime 2016 vintage here. The wine expresses ample Pauillac character with a good concentration of flavors paired with supple textures. Hopefully, this trend to producing better wine at this property will continue as I expect good things to come from this estate over the next several years.
Chateau Clerc Milon was ably managed by Jean-Emmanuel Danjoy, who moved to Chateau Mouton Rothschild in time for the 2019 vintage. Under the direction of Jean Emmanuel Danjoy, Chateau Clerc Milon began making the best wines in the history of the estate.
Much of that success is due to their work in the vineyards, selection, and in picking riper fruit. According to Jean-Emmanuel Danjoy, "At Clerc Milon, we look for complete phenolic ripeness when harvesting.
Ideally, that means, melting skins with no tannic astringency, good color extraction, and brown seeds. Luckily, that level of ripeness can be achieved in our climate with potential alcohol below 13.5% and with good acidity. Those qualities are important to us, especially since Cabernet Sauvignon is the backbone of Clerc Milon."
On average, there is close to 16,000 cases of wine produced each year at Chateau Clerc Milon. There is a second wine, Pastourelle de Clerc Milon, which made its debut with the 2009 vintage.
When to Drink Chateau Clerc Milon, Anticipated Maturity, Decanting Time
Chateau Clerc Milon can be enjoyed on the young side with a few hours of air. But I find it so much better with cellaring. The wine is usually better at 8-12 years of bottle age.
Of course, that can vary slightly, depending on the vintage character. In the best vintages, the wine will be at its best level of peak maturity between 10-25 years of age after the vintage. Young vintages can be decanted for an average of 2-3 hours, give or take. This allows the wine to soften and open its perfume. Older vintages might need very little decanting, just enough to remove the sediment.
Serving Chateau Clerc Milon with Wine and Food Pairing Tips
Chateau Clerc Milon is best served at 15.5 degrees Celsius, 60 degrees Fahrenheit. The cool, almost cellar temperature gives the wine more freshness and lift.
Chateau Clerc Milon is best served with all types of classic meat dishes, veal, pork, beef, lamb, duck, game, roast chicken, roasted, braised, and grilled dishes. Chateau Clerc Milon is also good with Asian dishes, hearty fish courses like tuna, mushrooms, and pasta.
Château Clerc Milon Wine Tasting Notes
34 Vintages 379,696 Views Sort by Vintage-Rating
2022
Château Clerc Milon (Pauillac)

Spicy red fruits, flowers, cedar, tobacco leaf, and currants make an appearance in the nose. On the palate, the wine is silky, fresh and elegant. The profile here is elegance, refinement, lift, and purity, along with a note of sweet chocolate on the very backend of the finish. This is going to be quite easy to enjoy in its youth. But, patience is a virtue. So give it some time in the bottle. as it will improve with age. The wine blends 59% Cabernet Sauvignon, 32% Merlot, 8% Cabernet Franc, and 1% Carmenere. 14.5% ABV, 3.83 pH. Drink from 2026-2050. 94-96 Pts.

863 Views

Tasted

May 8, 2023

2022
Pastourelle de Clerc Milon (Pauillac)

Red fruits, tobacco, cedar, and peppery spice show in the nose. On the palate, the wine is soft, forward, and fresh, with a sweetness to the fruits, and a delicacy, as well as freshness to the fruits on the palate. Drink from 2025-2034. 90-92 Pts.

1,396 Views

Tasted

May 8, 2023

2021
Château Clerc Milon (Pauillac)

You already find tobacco leaf, espresso, black plum, cigar box, and currants on the nose. On the palate, the wine is medium-bodied, fresh, elegant and polished. There is a fabulous sense of purity, gentleness in the tannins, and a slight, savory-edge in the finish that accompanies all those ripe berries. This is so good now, It is going to be quite easy to enjoy in its youth. The wine blends 59% Cabernet Sauvignon, 28% Merlot, 10% Cabernet Franc, 1.5% Petit Verdot and 1.5% Carmenere, 13% ABV. Drink from 2024-2045. 92-94

1,153 Views

Tasted

May 20, 2022

2021
Pastourelle de Clerc Milon (Pauillac)

Flowers, Asian spice, and red fruits come through easily on the nose and palate. Forward, fresh, sweet and elegant, this is already disarmingly easy to taste. Enjoy this in its youth for all its sweetness in the fruits, soft, elegant-textures and blast of mint in the endnote. Drink from 2023-2033. 89-91

873 Views

Tasted

May 20, 2022

2020
Château Clerc Milon (Pauillac)

The nose opens with a display of flowers, cherry pipe tobacco, spices, and currants. Medium-bodied, elegant, fresh, crisp, and clean, there is a nice sense of purity to the array of red fruits along with a touch of spice, and vibrancy in the refined, soft, mildly, dusty finish. This is going to be gorgeous to enjoy in its youth, although it clearly has the ability to age and improve for 2-3 decades with ease. Drink from 2025-2050.

573 Views

Tasted

Mar 21, 2023

With a floral, spicy, tobacco leaf, currant and chocolate filled perfume, the wine is elegant, fresh, supple and silky. There is a beautiful sweetness to the currants, cherries and plums in the mouth. The sensation of the Merlot comes through the blend more than usual as you find a touch of dark chocolate gently coating your palate in the finish, adding length, texture and complexity. This is so good now. But it is going to be even better with 7-9 years of age. The wine blends 53% Cabernet Sauvignon, 37% Merlot, 8% Cabernet Franc, 2% Petit Verdot, 13.3% ABV. 94-96 Pts

2,034 Views

Tasted

May 20, 2021

2020
Pastourelle de Clerc Milon (Pauillac)

Flowers, cherries and tobacco leaves are what you initially notice before moving on to the sweet, fresh, waves of soft, polished, elegant, red fruits with their spicy edge. This is perfect for sharing in casual bistros and cafes. Drink from 2023-2034.

1,625 Views

Tasted

Mar 21, 2023

Spicy, forward and fresh, this medium-bodied charmer serves up sweet cassis with hints of savory herbs in an approchable, soft textured style that is perfect for casual bistros and cafes. 89-91 Pts

1,313 Views

Tasted

May 20, 2021

2019
Château Clerc Milon (Pauillac)

The large percentage of Cabernet Sauvignon, 72%, (The highest percentage since 1986) seems to have added a lot of complexity here, as it was so ripe. Now, you find a complex array of flowers, spice, tobacco leaf, blackberries, and currants in the nose. Fresh, crisp, soft, sweet, and vibrant on the palate, the wine offers length, purity, freshness, and a finish loaded with sweet red fruits, a touch of peppery spice, and just a hint of savory, leafy herbs on the backend. This is in contention as the best vintage of Clerc Milon ever produced. Drink from 2027-2047.

1,715 Views

Tasted

Mar 29, 2022

Flowers, chocolate, tobacco, blackberry and cassis are just some of the nuances you experience before reaching the silky, polished, refined core of fruit on the palate and in the finish. The wine blends 72% Cabernet Sauvignon, 22% Merlot and a mix of Petit Verdot and Cabernet Franc. It is interesting to note that 1986 was the last time Clerc Milon had this much Cabernet in the blend. 93-95 Pts

6,422 Views

Tasted

Jun 8, 2020

2019
Pastourelle de Clerc Milon (Pauillac)

Spicy, soft, polished, fresh and already approachable, the wine is loaded with savory edged, sweet, ripe, fresh red berries. Medium-bodied, forward and accessible, you can enjoy this on release for all of its up-front, sweet, red berries, or wait a year or two for more secondary notes to emerge. Drink from 2023-2034.

592 Views

Tasted

Mar 29, 2022

The blend of 66% Merlot, 23% Cabernet Sauvignon and 11% Cabernet Franc provide all the elements needed to produce a forward, elegantly-styled, soft, medium-bodied wine with vibrant red fruits, a hint of cocoa and silky textures. This will be ready to go on release and should be perfect for restaurants. 90-92 Pts

2,642 Views

Tasted

Jun 8, 2020

2018
Château Clerc Milon (Pauillac)

This is clearly a new level of quality for Clerc Milon. The wine opens with a touch of smoke, crushed rock, violets, crème de cassis and spice. Elegant, soft, refined and fresh, the fruit feels just great on your palate with the perfect amount of vibrancy, giving you lift and more than ample fruit offering you length. From a blend of 60% Cabernet Sauvignon, 27% Merlot, 9% Cabernet Franc, 3% Petit Verdot and 1% old vine Carmenere, the wine is 14.15%. Clearly, this is the best vintage ever produced at Clerc Milon!

2,095 Views

Tasted

Mar 9, 2021

A beautiful dark, inky cranberry color with purple edges, the wine is silky and deep with licorice, crushed rock, flowers and perfectly ripe crème de cassis. The wine is supple, structured and fresh, representing the sophisticated, refined side of Pauillac. The wine was made from a blend of 60% Cabernet Sauvignon, 27% Merlot, 9% Cabernet Franc, 3% Petit Verdot and 1% old vine Carmenere, reaching 14.15% ABV. The harvest took place September 17 to October 10. 60% of the harvest was placed into the Grand Vin. There is so much going on with the 2018, you will want to age this wine for at least 8 years before popping a cork. Clearly, this is the best vintage ever produced at Clerc Milon! 94-96 Pts

3,765 Views

Tasted

Apr 19, 2019

2018
Pastourelle de Clerc Milon (Pauillac)

Forward, elegant, soft and already quite approachable, this delicious wine is fully ready to go with all its sweet, fresh, ripe red fruits, tobacco, forest leaf and floral notes. This is perfect for ordering in a restaurant as it does not require decanting.

1,525 Views

Tasted

Mar 9, 2021

Medium-bodied with a black raspberry, floral edge to the elegant, fresh, soft textured style, you can drink this charmer on release with pleasure. 89-91 Pts

2,133 Views

Tasted

Apr 19, 2019

2017
Château Clerc Milon (Pauillac)

Minerality and salty tannins heighten the natural sweetness of the deep, red fruits. The wine has vitality, gentleness and the structure to age. The finish delivers ripe cassis, blackberry, licorice and even more rock and stone. Certainly this is one of the best vintages for Clerc Milon. An arrangement of 60% Cabernet Sauvignon, 23% Merlot, 14% Cabernet Franc, 2% Petit Verdot and 1% old vine Carmenere, the wine reached 13.2% ABV with a pH of 3.64. The harvest took place September 13 to September 29.

2,133 Views

Tasted

Apr 26, 2018

2017
Pastourelle de Clerc Milon (Pauillac)

Medium bodied, elegant, forward, red berry filled with accents of currants, tobacco leaf and wet earth. You can drink this on release.

1,620 Views

Tasted

Apr 26, 2018

2016
Château Clerc Milon (Pauillac)

The combination of all that juicy, red fruit, tobacco leaf, touch of dark cocoa and fresh, spicy fruits feels as good as it tastes. Medium bodied, refined and with ample structure to age, give it 7-9 years an this is going to be a very good Pauillac. The wine was made from blending 55% Cabernet Sauvignon, 29% Merlot, 13% Cabernet Franc, 2% Petit Verdot and 1% old vine Carmenere.

6,139 Views

Tasted

Sep 21, 2019

What a super wine! This has depth of flavor, perfectly ripe, juicy, sweet, fresh cassis galore, soft, silky tannins and a finish that keeps on going. This should age without trouble for at least 30 years, but will start drinking well by its 10th birthday.

4,181 Views

Tasted

Feb 10, 2019

Retaining its depth of color, the wine easily shows off its black raspberry, cassis, cocoa and floral notes. Silky tannins with a hint of salt and a purity of fruit with freshness for lift keep the layers of fruit on its toes.

4,907 Views

Tasted

May 13, 2018

With quite a dark ruby color, there is chocolate-covered black raspberry, plum, and cigar box with a floral nose. The palate has a richness that I've never seen here before. Concentrated, polished, silky, sweet and fresh, the wine is long with real depth of flavor, ending with a salty complexity in the finish. This is a new level of quality for Clerc Milon. Blending 55% Cabernet Sauvignon, 29% Merlot, 13% Cabernet Franc, 2% Petit Verdot and 1% old vine Carmenere, this wine reached 13.6% ABV with a pH of 3.58. The harvest took place September 26 to October 15.

4,679 Views

Tasted

Apr 29, 2017

2016
Pastourelle de Clerc Milon (Pauillac)

Finesse in style, medium bodied, with a strong floral component to the aromatic profile, this is perfect for ordering in restaurants today, or for easy going, pleasure.

2,073 Views

Tasted

Sep 21, 2019

Medium bodied with a bit of minerality in the salty tannins, the wine is vinified to be soft, approachable, fruity, elegant and fresh. Pastourelle de Clerc Milon is not sold as a future, the wine is aged until it's ready for drinking, which, on average, is five years after the vintage.

1,637 Views

Tasted

Apr 29, 2017

2015
Château Clerc Milon (Pauillac)

Floral and tobacco nuances pop right up before moving on to the elegant textured, black cherry, licorice and crushed rock characteristics found here. The wine offers energy and purity in its fruits with soft tannins in the finish.

5,068 Views

Tasted

May 21, 2018

Elegance, purity and freshness are the hallmarks of this beauty. Medium/fulll bodied, with layers of alternating black cherry and cassis, you also find notes of spice box, tobacco and cedar. The smooth tannins and fresh dark red fruits in the finish resonate with crispness and length. This will age quite well.

3,380 Views

Tasted

Mar 12, 2018

At the top of my score range, or even better is where this should end up. Rich in texture, silky tannins and ripe, pure, sweet, cassis with a crispness on the palate is the name of the game here.

2,759 Views

Tasted

Jul 12, 2017

The essence of forest floor, freshly fallen leaves and the wrapper of a fine cigar mingle with sweet cherries and fennel to create the aromatics for this medium/full-bodied wine. Silky, elegant, charming and focused on perfectly ripened red fruits, there is a beguiling purity in the cherry finish, leaving a lasting memory on the palate. Blending 51% Cabernet Sauvignon, 34% Merlot, 13% Cabernet Franc, 1% Petit Verdot and 1% old vine Carmenere, this wine reached 13.4% ABV with a pH of 3.63. 90 - 92 Pts

3,139 Views

Tasted

Apr 18, 2016

2015
Pastourelle de Clerc Milon (Pauillac)

If you are looking for an easy to drink wine that does not break the bank when you're dining out, this is a perfect choice. Forward, soft, fruity and round with enough, softly textured fruit to satisfy. This is a fine wine of pleasure.

2,671 Views

Tasted

May 21, 2018

2014
Château Clerc Milon (Pauillac)

Freshness, ripe, sweet, dark red fruits, soft, elegant tannins and an attractive, spicy, fresh, red berry finish, what more can you ask for in a young Pauillac?

4,155 Views

Tasted

Feb 1, 2017

Tobacco and forest floor infused with a spray of cedar, the wine is soft, polished, medium-bodied, fresh, complex, elegant and approachable. There is length and a suave charm in the zippy finish. Using 58% Cabernet Sauvignon, 29% Merlot, 11% Cabernet Franc, 1% Petit Verdot and 1% old vine Carmenere, the wine reached 13.5% ABV with a pH of 3.5. 91-93 Pts

3,828 Views

Tasted

Apr 14, 2015

2013
Château Clerc Milon (Pauillac)

Elegant, early drinking, medium bodied Pauillac, with a floral, red berry and cassis character.

2,250 Views

Tasted

Feb 10, 2016

With espresso, plum and smoke on the nose, the medium/full-bodied wine is forward and open, ending with a simple blackberry note. From a blend of 58% Cabernet Sauvignon, 27% Merlot, 12% Cabernet Franc, 2% Petit Verdot and 1% Carmenere, the yields were 23 hectares per hectare. The wine is aging in 50% new French oak. 88-89 Pts

1,875 Views

Tasted

Apr 20, 2014

2012
Château Clerc Milon (Pauillac)

With a floral, cassis, earth, thyme and black cherry nose, this soft styled wine will deliver tasty, early drinking pleasure.

3,755 Views

Tasted

May 15, 2016

With a floral, cassis, earth and black cherry nose, this soft styled wine will deliver tasty, early drinking pleasure.

2,983 Views

Tasted

Mar 11, 2015

This vintage represents the highest percentage of Cabernet Sauvignon used in the blend over the past several decades at 60% . The rest of the blend includes 29% Merlot, 9% Cabernet Franc, 1% Petit Verdot and 1% Carmenere. The wine reached 13.6% ABV. Graphite, jammy black cherries, licorice and coffee bean scents open to a soft, fresh black raspberry-filled wine that should drink well with just a few years of bottle age. 90-92 Pts

3,994 Views

Tasted

Apr 23, 2013

2011
Château Clerc Milon (Pauillac)

Fresh, lively, vibrant red fruits and spice, medium bodied, with an open, red plum and black cherry finish.

9,323 Views

Tasted

May 22, 2015

Polished, soft, fresh, forward and elegant, the lively, cassis and dark cherries are complicated by earthy, tobacco and spicy qualities. Open and easy to like, this is a very successful wine in this difficult year.

5,240 Views

Tasted

Feb 16, 2014

Blending 54% Cabernet Sauvignon, 37% Merlot, 7% Cabernet Franc and even amounts of Petit Verdot and Carmemere. Lead pencil, earth and cassis, this polished Pauillac ends with a long, fresh, bright cassis and mineral sensation. 90-91 Pts

3,087 Views

Tasted

Apr 10, 2012

2010
Château Clerc Milon (Pauillac)

Medium-bodied, and vibrant, this has entered the start of its prime-time drinking window. Now, you can enjoy the spicy edge you find on all the red fruits, flowers, tobacco, cedar, herbs, and mint leaves. Soft, silky, and refined, the finish focuses on its spice-tinged red berry cherry character. Allow the wine 1-2 hours in the decanter and it will offer up all its pleasures. Drink from 2022-2037.

4,570 Views

Tasted

Jul 8, 2022

Medium/full bodied, pure, fresh and clean, the wine is refined, elegant, energetic and polished, with a cored of ripe, sweet, red fruits that builds and expands. The tobacco, cedar, pepper and red fruits in the nose and finish feel as good as they taste. Give this until 2022 and the wine should be rocking'!

6,614 Views

Tasted

Nov 12, 2018

A beauty in 2010, this is a great Pauillac with character. The cassis, tobacco and cedar character, coupled with the elegant tannins and freshness makes a great combination.

6,434 Views

Tasted

May 4, 2016

Dark in color, the vibrant fruit and soft, polished ripe tannins are followed by a good denseness of raw material and richness of fruit on the palate. This is an attention seeking, well priced Pauillac. In another 7 years, give or take, this is going to be a treat.

8,062 Views

Tasted

May 22, 2014

Earthy, coffee bean, vanilla, spicy black raspberry, cedar chest, and fresh cassis notes create the bouquet. Concentrated with cassis, fresh, spicy black cherries, ripe, but powerful tannins, balance and freshness, this is still a baby. Give it at least 5 years of age, if you can keep your hands off it.

6,133 Views

Tasted

May 7, 2013

Deeply colored, the wine opens with cassis, earth, forest floor and plum aromas. Round and elegant in nature, this Pauillac ends with polished black and red fruits. 91-93 Pts

7,346 Views

Tasted

Jul 30, 2011

Clerc Milon 50% Cabernet Sauvignon, 36% Merlot ,11% Cabernet Franc, 2% Petit Verdot and 1% Carmenere make up the blend for the darkest color I recall seeing in Clerc Milon. Complex aromas of fresh herbs, cassis, forest scents, cedar wood and mocha open to smooth tannins, fleshy textures, brightness and a clean, cassis filled finish. 91-93 Pts

6,491 Views

Tasted

Apr 20, 2011

2009
Château Clerc Milon (Pauillac)

Medium-bodied, elegant, fresh, spicy, and refined, there is a gorgeous sense of purity to the currants on the palate and the touches of flowers of spice add to the complexity. Drink from 2022-2039.

3,513 Views

Tasted

Sep 26, 2022

Starting to show really well, the wine is fresh, bright, medium-bodied and filled to the brim with sweet, juicy, lifted red fruits, spice box, earth and tobacco leaf. Elegant, soft and refined, the fruit is the right mix of juicy, vibrant, luscious and refined. Still young, you can drink this now with an hour of air, but if you give it another few years, it is going to be even better! 2009 was the first vintage for Jean Emmanuel Danjoy who will be taking over as technical director at Mouton Rothschild.

4,185 Views

Tasted

Sep 20, 2019

With a ruby hue, the Asian spice, smoke, spice and cigar box aromas are easily found. Silky, soft and polished, there is a sense of refinement in the fruit along with a slight chocolate sensation. The fresh, ripe character of the fruit in the finish make this a vintage for early drinking, or one that consumers can age. 2009 was the first vintage for the new director, Jean Emmanuel Danjoy.

6,902 Views

Tasted

May 22, 2014

Coffee, licorice, truffle, blackberry and tobacco scents lead to a lush, sweet, round and ripe wine that delivers sweet black cherries and spice and soft, plush textures.

8,892 Views

Tasted

May 1, 2013

Cedar, cassis, tobacco, blackberry, earth and spice aromas were all over the place. This blend of 50% Cabernet Sauvignon, 44% Merlot, 4% Cabernet Franc, 1% Petit Verdot and 1% Carmenère creates a wine that combines freshness, clean fruit, cassis and round tannins. There is ample concentration of raw materials to allow the wine and evolve, yet it will drink well young.

9,889 Views

Tasted

Feb 7, 2012

2009 Clerc Milon, with its cassis, oak, caramel, and dark berry scented perfume, is inviting. This full bodied wine ends with boysenberries, cassis, and spice. This lighter style of Pauillac has not always been my favorite because of lack of concentration. 2009 is a big step forward. This is a very nice wine. 91/93 Pts

10,056 Views

Tasted

Aug 26, 2010

2009
Pastourelle de Clerc Milon (Pauillac)

Medium bodied, forward, easy to drink, the wine is soft textured, showing a floral and cherry nose and palate. This drinks well on release. The is the first vintage for the second wine of Clerc Milon and is produced from a blend of 50% Cabernet Sauvignon and 36% Merlot, 11% Cabernet Franc, 2% Petit Verdot and 1% Carmenere.

2,459 Views

Tasted

Feb 24, 2018

2008
Château Clerc Milon (Pauillac)

Starting to show just a hint of lightening in the color, the wine is medium bodied, fresh, soft and offers its red fruit and licorice with ease. Classic in style, with a reserved character, you can drink this now, or age it a few more years to gain more nuances to accompany all that fresh, juicy, tobacco filled cassis..

4,030 Views

Tasted

Sep 17, 2018

Medium bodied, structured and on the firm side of the style range for Clerc Milon, the wine is young, lacking the depth and excitement found in the next series of vintages.

7,248 Views

Tasted

May 22, 2014

Scents of chocolate, licorice, cassis, cherry, mint, coffee and stone open to a medium/full bodied, soft textured wine, ending with a tart, black cherry filled finish. The wine was produced from a blend of 42% Cabernet Sauvignon, 40% Merlot, 16% Cabernet Franc and 2% Petit Verdot .

6,935 Views

Tasted

Feb 16, 2012

Clerc Milon was already closing down. With coaxing, earth, tobacco, cedar and cassis aromas could be found. This lighter style of Pauillac wine ends with a chocolate covered, cherry finish. The vintage of Clerc Milon to buy remains the 2009.

7,067 Views

Tasted

Jan 28, 2011

08 Château Clerc Milon was deep ruby. Black fruit with a hint of oak on the nose. The finish showed great purity with its red and black fruit profile. An elegantly styled wine. 89-91 Pts

6,638 Views

Tasted

Aug 31, 2009

2007
Château Clerc Milon (Pauillac)

Medium bodied, earthy, cedar dominated character with crisp, peppery, red fruits in the finish.

5,535 Views

Tasted

Sep 2, 2017

Lighter in style and delivering all it has to offer today, with its earthy, tapenade and cherry profile, drink this over the next few years.

4,876 Views

Tasted

May 22, 2014

2006
Château Clerc Milon (Pauillac)

In just a few years, this wine has truly blossomed. Now, you find a fresh, elegant, medium-bodied blast of cassis and cherry inflected with spice box, flowers, earth and tobacco notes. This is a good time to start drinking this gem.

4,225 Views

Tasted

Nov 8, 2019

Ready for drinking, this charmer delivers tobacco, dark chocolate and sweet red fruits. Medium bodied and mature, the nose, followed by the sweet, fresh, ripe, red berry filled attack are far more interesting than the finish. Drink now age it for more development.

4,916 Views

Tasted

May 25, 2016

Truffle, cocoa powder, blackberry and spice on the nose, with ripe, polished tannins, the structure to age and a fresh, crunchy, cassis finish. Give it a few more years to soften and come together.

5,916 Views

Tasted

May 22, 2014

Earth, tobacco, cassis, spice and blackberry scents, soft, polished tannins and a fresh, spicy cassis finish are found in this charming Pauillac. The wine was made from a blend of blend of 50% Cabernet Sauvignon, 44% Merlot and 6% Cabernet Franc. Drink this now if you them young, or give it a few more years to develop.

6,328 Views

Tasted

Sep 1, 2012

From an assemblage of 50% Cabernet Sauvignon, 44% Merlot and 6% Cabernet Franc, the wine opens with tobacco, smoke, blackberries, cedar chest and floral aromas. The wine offers good concentration of flavor and is more powerful as well as tannic than many vintages of Clerc Milon. Although the tannins are polished, this is young and needs another 5 years before the tannins fade, the wine softens and begins to truly open up. This is a stylish Pauillac that still sells for a reasonable price for a classified Bordeaux wine.

8,115 Views

Tasted

Dec 21, 2011

2005
Château Clerc Milon (Pauillac)

This has turned the corner and is now just great to drink. The nose shows secondary notes. The tannins have softened, the fruit is there, but so are the earthy, spicy, tobacco, cedar and cherry nuances. Drink this now, or wait a few more years as this is just now entering its prime time drinking window.

5,783 Views

Tasted

Oct 22, 2018

Silky, smooth, delicious, polished, sweet, dark red fruits and tobacco with some, refined tannins left to resolve and a kick of fresh, juicy, cassis in the finish. Give this a few more years to develop.

6,433 Views

Tasted

Jun 28, 2015

Cigar box and cedar wood along with cassis and blackberry are available in the open nose. Soft and elegant on the palate, with a fresh, crisp, refined red berry center, this is only going to get better with another 3-5 years of bottle age.

7,230 Views

Tasted

May 22, 2014

Medium bodied and loaded with tobacco, earth, cassis and dark berries, this soft, elegant, refined, fresh Pauillac will probably drink well young. Give it a few more years. The wine was produced from a blend of 48% Cabernet Sauvignon, 40% Merlot, 10% Cabernet Franc, 1% Petit Verdot and 1% Carmenere.

5,954 Views

Tasted

Aug 20, 2012

2004
Château Clerc Milon (Pauillac)

Earth, cigar box, blackberry and green pepper on the nose. There is a hint of dryness on the palate in the singed, cassis finish. This is ready to drink.

3,049 Views

Tasted

Jan 4, 2015

Cedar wood, spice, earth and dark cherry aromas, medium body and an open, ready to drink, soft, red berry personality. The wine was produced from a blend of 49% Cabernet Sauvignon, 42% Merlot, 7% Cabernet Franc, 1% Petit Verdot and 1% Carmenere.

5,300 Views

Tasted

May 1, 2012

2003
Château Clerc Milon (Pauillac)

With wet earth, spice box, truffle tobacco and fresh blackberries on the nose, this medium bodied, finesse styled wine avoids the over ripe qualities many wines suffer from in this vintage. Soft and close to fully mature, there is a dusty quality to tannins in the dark chocolate and cassis finish.

6,035 Views

Tasted

May 22, 2014

With the patina of age in the color, tobacco, forest floor and fresh herbs dominate the perfume in this cassis filled wine. Medium bodied, with some dryness in the cherry dominated finish, if you own any, drink up as this wine is not going to get better. The wine was produced from a blend of 55% Cabernet Sauvignon, 39% Merlot, 2% Petit Verdot, 1% Carmenere and 3% Cabernet Franc.

4,713 Views

Tasted

Dec 18, 2013

Tobacco, cedar, smoke, cassis, s[ice and wet earth. Soft and round in texture, with a juicy mouthful of fresh cassis, this medium/full bodied wine is maturing at a rapid pace.

9,245 Views

Tasted

May 15, 2011

2002
Château Clerc Milon (Pauillac)

A solid wine that is drinking well at 12 years of age. Lots of fresh, ripe cassis, forest floor, tobacco, cherries and earth. Soft, charming and vibrant, this is quite nice today. The wine was produced from a blend of 55% Cabernet Sauvignon, 40% Merlot, 3% Cabernet Franc and 2% Petit Verdot.

4,101 Views

Tasted

May 22, 2014

2001
Château Clerc Milon (Pauillac)

Vibrant, medium bodied with a bright, red berry quality to the fruit, the wine is probably close to fully mature. The wine was produced an unusual blend of 54% Cabernet Sauvignon, 36% Merlot and 10% Cabernet Franc.

3,458 Views

Tasted

May 22, 2014

2000
Château Clerc Milon (Pauillac)

Soft, fresh and open, this medium bodied wine serves up fresh cassis, blackberry, forest floor and tobacco in the nose. Polite and refined, this is drinking well today. The wine was produced from a blend of 67% Cabernet Sauvignon and 33% Merlot.

4,602 Views

Tasted

May 22, 2014

Following the 2009 Clerc Milon, this is my favorite vintage, and it's drinking perfect today with its earthy, tobacco, cassis and cedar chest aromas. More of a finesse Pauillac in style, the medium bodied wine offers pure, ripe, soft cassis and spice in the finish. The wine was produced with an unusual blend for the property, 67% Cabernet Sauvignon and 33% Merlot.

6,219 Views

Tasted

Jun 21, 2012

1996
Château Clerc Milon (Pauillac)

From a blend of 51% Cabernet Sauvignon, 37% Merlot, and 12% Cabernet Franc, this fully mature Pauillac displayed cassis, tobacco and truffle in the aromas. With a medium body, this Pauillac ended with with sweet, black cherries and spice flavors. This Bordeaux wine is fully mature. There is no reason to age it any longer as it will not improve much from here.

7,286 Views

Tasted

Jul 16, 2013

Cassis, plum and hints of earth make up the perfume. Medium bodied and uncomplicated, the wine finishes with fresh strawberry and plum flavors.

6,941 Views

Tasted

Jul 15, 2011

Cassis, blackberry, olives and herbal notes made up the perfume. Already mature, this easy drinking Pauillac ended with bitter chocolate and backberry flavors.

8,513 Views

Tasted

Jul 1, 2010

1989
Château Clerc Milon (Pauillac)

This has slipped past its prime time window. Light in the palate and nose, this easy drinking style of wine is not bad, it's just simple, lacks excitement and requires immediate drinking.

3,296 Views

Tasted

Nov 15, 2009

This starts with black fruit, licorice, camphor and coffee notes on the nose. Full bodied with a nice finish of licorice tinged cassis. This wine is fully mature and should be enjoyed sooner than later. The fruit has already started fading.

2,568 Views

Tasted

Jun 19, 2009