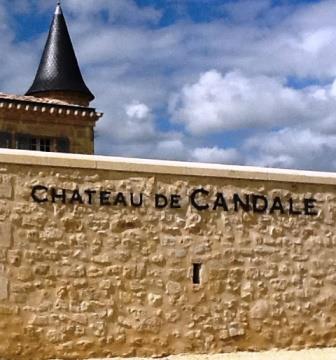 Learn everything about Chateau de Candale St. Emilion with wine tasting notes, wine, and food pairing tips, best vintages, a history of the property, and information on the vineyards and winemaking. If you want to read about other important, Bordeaux Chateaux: Links to all Bordeaux Wine Producer Profiles
Chateau de Candale History, Overview
Chateau de Candale has been an estate in St. Emilion for centuries. The estate takes its name from the original founder of the property, Lady Margaret de Suddolk Kandall. The name was eventually shortened, and a phonetic spelling was chosen. Still, it is nice to be remembered.
The modern era for Chateau de Candale begins for the estate when the vineyard was purchased by Jean Louis Vicard in 2010 from the Adams family. Stephen Adams and Denise Adams still own the neighboring Saint Emilion estate, Chateau Fonplegade.
Jean Louis Vicard was already familiar with the Bordeaux wine trade as he was one of the more successful coopers, producing barrels in the Cognac region at his family company, Cooperage Vicard, that was founded all the way back in 1875.
One of the first decisions made by Jean Louis Vicard was to bring in the team of Stephane Derenoncourt to consult on the winemaking and vineyard management for Chateau de Candale.
Since the estate was first purchased, Jean Louis Vicard has increased the size of the estate from 11 hectares to its current 13-hectare size. In January 2017, Chateau de Candale was purchased by Thibaut Decoster and Magali Decoster who also own and manage 2 additional Bordeaux vineyards in Saint Emilion, Clos des Jacobins, and Chateau La Commanderie.
Chateau de Candale Vineyards, Terroir, Grapes, Winemaking
The Right Bank vineyard is planted to 84% Merlot, 14% Cabernet Franc and 2% Cabernet Sauvignon. The vineyard is located east of the Saint Emilion village, not too far from Tertre Roteboeuf.
The terroir is clay and limestone soils and can be divided into 32 separate parcels. The vineyard is planted to a vine density of 6,000 vines per hectare. On average, the vines are kept at 30 years of age. Vineyard farming practices are self-sustaining.
To produce the wine of Chateau de Candale, the whole berry grapes are vinified in open-top, conical-shaped wood vats. Malolactic fermentation takes place in stainless steel tanks. The wine is aged in an average of 40% new, French oak barrels for between 12 to 18 months before bottling. As you might expect, the barrels were made by the owner, Jean Louis Vicard.
The best vintages of Chateau de Candale are: 2022, 2021, 2020, 2019, 2018, 2017, 2016, 2015, 2014, 2010, and 2009.
There is a second wine, Roc de Candale. On average, the production is close to 4,200 cases of wine per year of Chateau de Candale.
When to Drink Chateau Candale, Anticipated Maturity, Decanting Time
Chateau Candale is usually better with 3-4 years of bottle age. Of course, that can vary slightly, depending on the vintage. Chateau Candale is best enjoyed in the first 3-12 years of life.
Young vintages can be decanted for up to 1 hour or so. This allows the wine to soften and open its perfume. Older vintages might need very little decanting, just enough to remove the sediment.
Serving Chateau de Candale with Wine and Food Pairings
Chateau de Candale is best served at 15.5 degrees Celsius, 60 degrees Fahrenheit. The cool, almost cellar temperature gives the wine more freshness and lift. Chateau de Candale is best paired with all types of classic meat dishes, veal, pork, beef, lamb, duck, game, roast chicken, roasted, braised, and grilled dishes.
Chateau Candale is also good when matched with Asian dishes, rich fish courses like tuna, mushrooms, and pasta.
Aside from making wine, Chateau de Candale has earned a good reputation with local residents for their restaurant, L'Atelier de Candale, which offers a charming outdoor, wine country setting in Bordeaux.
Château de Candale Wine Tasting Notes
10 Vintages 15,411 Views Sort by Vintage-Rating
2022
Château de Candale (St. Émilion Grand Cru)

Black cherries, espresso and flowers are what you expect from the wine, due to its deep color. The wine is soft, fresh, elegant, medium-bodied, forward, round and fruity, on the palate and on the backend. Drink from 2025-2037. 90-92 Pts.

911 Views

Tasted

May 8, 2023

2021
Château de Candale (St. Émilion Grand Cru)

Bright, fresh and fruity with a raspberry, smoke and espresso edge to the crisp, juicy red fruit on the palate. Drink from 2023-2032. 87-89

965 Views

Tasted

May 20, 2022

2020
Château de Candale (St. Émilion Grand Cru)

Over the past few years, de Candale has been improving and 2020 continues that trend. Medium-bodied, soft, silky and vibrant, the elegant, supple-texture wine leaves you with a sweet layer of black cherries with a touch of spice in the endnote. Drink from 2023-2038.

431 Views

Tasted

Mar 21, 2023

2020
Château de Candale (St. Émilion Grand Cru)

Mineral driven, dark red fruits, savory herbs and a touch of oak are the first things you notice. On the palate the wine is medium-bodied,, with silky tannins, freshness and salinity in the endnote. This should be delicious to drink shortly after release. 90-92 Pts

1,149 Views

Tasted

May 20, 2021

2019
Château de Candale (St. Émilion Grand Cru)

With a dark ruby color, the wine is round, rich, plush and polished, showing a lot of ripe, sweet pit fruits, jam and black cherries with a dollop of chocolate in the medium-bodied, fresh finish. This should be delicious to drink on release. 89-91 Pts

1,673 Views

Tasted

Jun 8, 2020

2018
Château de Candale (St. Émilion Grand Cru)

Toffee, espresso, plum and cherry tones come up in the nose. Medium-bodied, fresh and bright, with soft, round red pit fruits I the finish. The wine will be just great on release.

615 Views

Tasted

Mar 9, 2021

Round, juicy, mature and fresh, there is an admirable sweetness to the juicy red fruits. There is energy in the cherries, cocoa and licorice which powers through to the finish. 89-91 Pts

1,143 Views

Tasted

Apr 19, 2019

2017
Château de Candale (St. Émilion Grand Cru)

Black cherry, earth, licorice and flower aromas pique your interest in this medium bodied, early drinking wine. Prepare for an blitz of sweet cherry on the palate and in the finish.

1,347 Views

Tasted

Apr 26, 2018

2016
Château de Candale (St. Émilion Grand Cru)

Forward, elegant and medium-bodied, the wine is smoky with licorice accented ripe, juicy plums, ending with a soft, polished finish.

1,227 Views

Tasted

Sep 21, 2019

Refined elegance with juicy ripe plum, licorice, black cherry and smoke, this medium/full-bodied wine has soft, polished tannins and a fine, fruity finish.

1,796 Views

Tasted

Apr 29, 2017

2015
Château de Candale (St. Émilion Grand Cru)

A forward and dapper charmer with supple textures, soft, round and fruity with a nice blast of licorice, black cherry and espresso in the finish.

2,017 Views

Tasted

Apr 29, 2016

2009
Château de Candale (St. Émilion Grand Cru)

Forward, soft, round and fruity, with a nice blast of licorice, black cherry and oak in the finish.

2,137 Views

Tasted

Sep 14, 2015