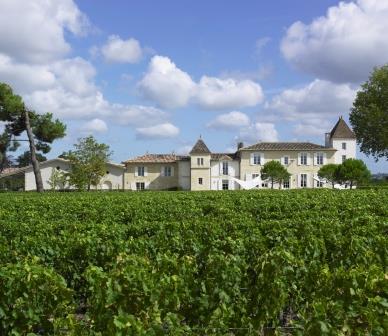 Learn everything about Clos des Jacobins St. Emilion with wine tasting notes and with wine and food pairing tips. Learn the best vintages, a history of the property and information on the vineyards and winemaking. If you want to read about other important, Bordeaux Chateaux: Links to all Bordeaux Wine Producer Profiles
Clos des Jacobins dates back to the 1700's. But the modern era begins when it was purchased in 1964 by Jean Georges Cordier. Cordier is a member of the well-known negociant family that is best associated for owning Chateau Gruaud Larose and Chateau Talbot in St. Julien.
The Decoster family purchased the St. Emilion vineyards of Clos des Jacobins in 2004 from Gerald Frydman. In part, they were inspired to buy the estate due to the success of their relatives, Florence and Dominique Decoster were having at Fleur Cardinale, also located in the Saint Emilion appellation.
Clos des Jacobins Vineyards, Terroir, Grapes, Winemaking
The 8.5 hectare of Clos des Jacobins is planted to 80% Merlot, 18% Cabernet Franc and 2% Cabernet Sauvignon. The St. Emilion vineyard of Clos des Jacobins consists of 2 parcels of vines.
The chateau and main section of the vineyard is located not far from the village of St. Emilion. You see it on the right as you drive into the village. However, they also have a small parcel of vines not too far from Chateau Angelus.
The vineyards of Clos des Jacobins have a terroir of clay, sand and limestone soil. The vineyard is planted to a vine density of 8,500 vines per hectare. On average, the vines are 30 years of age. But Clos des Jacobins has old vines that are close to 85 years of age located close to Chateau Grand Mayne.
To produce the wine of Clos des Jacobins, vinification takes place in truncated French oak tanks. Malolactic fermentation occurs in barrel.
The wine is aged in 80% new, French oak barrels for an average of 18 months. Clos des Jacobins is managed by Thibaut Decoster and Magali Decoster who also own and manage other Bordeaux vineyards in Saint Emilion, La Commanderie and Chateau de Candale.
If the Decoster name sounds familiar, you are right. They are indeed related to the Dominique Decoster and Florence Decoster of Chateau Fleur Cardinale.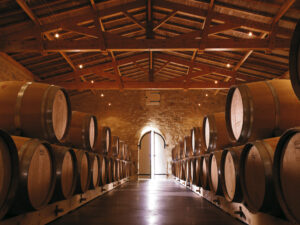 Clos des Jacobins hired Hubert de Bouard of Chateau Angelus to consult in their wine making as well as in their vineyard management in 2001.
In fact, Clos de Jacobins was the first Right Bank client to hire de Bouard as a consultant. With Hubert de Bouard's help and a lot of continuing effort in the Clos des Jacobins vineyards, things look to be turning around for this chateau.
With their new, spare no expense attitude, optical sorting machines are now being used at both St. Emilion estates, Clos des Jacobins and La Commanderie. The Decosters also recently added a new cold room at Clos des Jacobins that will help lower the grapes temperature for the cold prefermentation maceration performed at the property.
The best vintages of Clos des Jacobins are: 2020, 2019, 2018, 2017, 2016, 2015, 2014, 2010, 2009 and 2005.
The production is slightly more tan close to 3,250 cases of Clos des Jacobins wine per vintage. There is a second wine, Prieur des Jacobins.
When to Drink Clos des Jacobins, Anticipated Maturity, Decanting Time
Clos des Jacobins is better with 3-4 years in the cellar before starting to show its best. Of course that can vary slightly, depending on the vintage. Clos des Jacobins is best enjoyed in the first 3-15 years of life.
Young vintages can be decanted for about 1 hour or so. This allows the wine to soften and open its perfume. Older vintages might need very little decanting, just enough to remove the sediment.
Serving Clos des Jacobins with Wine and Food Pairings
Clos des Jacobins is best served at 15.5 degrees Celsius, 60 degrees Fahrenheit. The cool, almost cellar temperature gives the wine more freshness and lift.
Clos des Jacobins is best paired with all types of classic meat dishes, veal, pork, beef, lamb, duck, game, roast chicken, roasted, braised and grilled dishes. Clos des Jacobins is also good when matched with Asian dishes, rich fish courses like tuna, mushrooms and pasta.
Clos des Jacobins Wine Tasting Notes
14 Vintages 66,095 Views Sort by Vintage-Rating
2020
Clos des Jacobins (St. Émilion Grand Cru)

Showing a good depth of color, the fruit is ripe, dark, sweet and polished. Medium-bodied, with soft-textures and a cool touch of minerality in the licorice, spice and espresso toned finish, this is good now, and it is going to be even better with 3-5 years of bottle age. 90-92 Pts

1,243 Views

Tasted

May 20, 2021

2019
Clos des Jacobins (St. Émilion Grand Cru)

Fruity, lush, round and rich, with loads of ripe dark berries, chocolate, espresso and licorice, the wine offers a lot of pleasure in every sniff and sip. 90-92 Pts

2,394 Views

Tasted

Jun 8, 2020

2018
Clos des Jacobins (St. Émilion Grand Cru)

Espresso, smoke, plums, licorice and black cherries are easy to find on the nose and palate. The wine is lushly textured, opulent and fresh with sweetness to all the plums and cherries you find in the finish. This is really coming along nicely and will be even better with some age. 93 Points

1,018 Views

Tasted

Mar 9, 2021

Round, supple, fresh and fruity, the dark, red fruits and licorice pop with energy and the freshness and soft tannins come with a nice cocoa and plum note in the finish. 91-93 Pts

1,825 Views

Tasted

Apr 19, 2019

2017
Clos des Jacobins (St. Émilion Grand Cru)

Medium-bodied, with a core of licorice, cocoa and sweet cherry fruits. Soft tannins and a gentle mouth feel will make this wine charming to enjoy in its youth. 90 Points

1,575 Views

Tasted

Apr 26, 2018

2016
Clos des Jacobins (St. Émilion Grand Cru)

Spicy, earthy, smoky, espresso bean and licorice infused cherry sensations are with you from start to finish here. The wine is polished, fresh and inviting, with a core of ripe, elegant earthy, red fruits on the palate and in the finish. 92 Points

1,653 Views

Tasted

Sep 21, 2019

Medium bodied with a smoky, cherry personality, the wine is soft and polished with a plummy, earthy, chocolate finish. 91 Points

2,042 Views

Tasted

Apr 29, 2017

2015
Clos des Jacobins (St. Émilion Grand Cru)

This is the best wine produced here. It is impossible not to notice the soft, sweet, silky, fresh, pure cherries and plums. There is energy and vibrancy in the wine that leaves you with an earthy, licorice and black cherry finish. 92 Points

2,824 Views

Tasted

Mar 12, 2018

Clearly the best wine ever produced here, the fruits are silky, soft, sweet and polished, the round supple textures feel great, and the plummy, licorice infused finish with its cocoa and charcoal nuances are a pleasure to taste. 92 Points

2,654 Views

Tasted

Nov 22, 2017

Better after just a year in barrel there is a bit more weight, density and complexity, This should end up at the top, or just past my initial barrel scores. 91 Points

2,598 Views

Tasted

Jul 12, 2017

Medium-bodied, forward, elegant, sweet, fresh, spicy, earthy cherries, espresso and thyme get things off to a good start, before the refined tannins in the finish kick in. 89-91 Pts

2,304 Views

Tasted

Apr 29, 2016

2014
Clos des Jacobins (St. Émilion Grand Cru)

Medium-bodied, soft and sweet with dark red fruit and chocolate character, this wine has a forward personality. 88-90 Pts

2,481 Views

Tasted

Apr 27, 2015

2013
Clos des Jacobins (St. Émilion Grand Cru)

With floral and plum notes in the nose, there is a softness in the mouth, finishing with black raspberries and some dryness in the finish. 86-88 Pts

2,585 Views

Tasted

Apr 28, 2014

2012
Clos des Jacobins (St. Émilion Grand Cru)

Medium bodied, soft and silky smooth, the licorice and black cherry focused wine is definitely going to deliver its pleasures early. The wine was made from a blend of 75% Merlot, 22% Cabernet Franc and 3% Cabernet Sauvignon. 89 Points

2,536 Views

Tasted

Nov 8, 2015

Coffee, licorice, dark red berries with a round, oaky and slightly dry finish. 88-90 pts

3,199 Views

Tasted

Apr 26, 2013

2011
Clos des Jacobins (St. Émilion Grand Cru)

Earth, smoke, coffee bean and black raspberry notes open to a medium bodied, forward, soft wine that will be drinkable on release. 89 Points

2,953 Views

Tasted

Nov 17, 2013

From a blend of 75% Merlot, 23% Cabernet Franc and the rest made up of Cabernet Sauvignon, the wine opens up with black licorice, dark cherry, oak, chocolate and wet earth scents. Medium bodied, round and fresh, at 13.5% alcohol, the wine ends with coffee, licorice and black cherry. 89-92 Pts

3,007 Views

Tasted

Mar 16, 2012

2010
Clos des Jacobins (St. Émilion Grand Cru)

Floral, black raspberry and licorice in the nose, soft, ripe tannins and a finish with sweet black cherries. This drinks well young, due to the ripeness of the fruit and it should age for at least another 10-15 years. 91 Points

4,570 Views

Tasted

Nov 3, 2015

There are times when a very good wine, with an easy to get along with personality hits the spot. Especially when you grab the last bottle of the night, splash decant it, and boom, it's ready to go. With its licorice, coffee bean, blackberry liqueur nose, plush, soft textures and fat, juicy, fruit filled silky finish, it was the right wine at the right time. Drink now for pleasure, or age it for more complexity. The wine was made from a blend of 75% Merlot and 25% Cabernet Franc. 91 Points

3,578 Views

Tasted

Aug 24, 2014

With the assistance of Hubert de Bouard from Chateau Angelus, this property keeps getting better, one step at a time. Earthy, pepper, herbs, plums and coffee aromas catch your interest. The soft, round textures, freshness and vanilla infused black raspberry finish is a pleasure to experience. 90-93 Pts

3,771 Views

Tasted

Mar 14, 2011

2009
Clos des Jacobins (St. Émilion Grand Cru)

With a perfume that seeks attention due to its fresh earth, tobacco, licorice, truffle and black raspberry profile, this concentrated, plush textured, wine ends with a rich, chocolate covered, ripe, cherry and blackberry finish. The hard work from Magali and Thibault Decoster and their consultant, Hubert de Bouard from Angelus as paid off, as this is the best wine yet from Clos de Jacobins. 93 Points

4,481 Views

Tasted

Mar 12, 2012

2009 Clos des Jacobins has a nose filled with mixed berries, anise, smoke, espresso, and fresh herbs. Full bodied, with ample dark pit fruit that fills your mouth before you head into the licorice tinted finish. Hubert de Bouard consults for the property. 91-93 Pts

5,302 Views

Tasted

Jun 28, 2010

2008
Clos des Jacobins (St. Émilion Grand Cru)

Medium bodied, with bright, red fruits, olives, espresso and thyme are out in front. There is a bit too much freshness here, which is probably not going to lessen with age as the fruit fades with time. I'd opt for drinking this wine sooner than later. 87 Points

2,044 Views

Tasted

Dec 27, 2017

2005
Clos des Jacobins (St. Émilion Grand Cru)

Licorice, coffee bean, black cherry and earthy aromas, soft, smooth, silky textures and a plush, rich, plum, fennel and black cherry are found in this wine. This is already starting to drink well and should continue to improve for at least the next decade. 92 Points

3,458 Views

Tasted

May 31, 2012