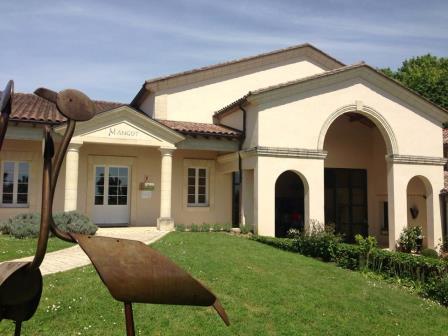 Learn everything about Chateau Mangot St. Emilion with wine tasting notes and wine with food pairing tips,. Learn the best vintages, the history of the property, and information on their vineyards and winemaking. If you want to read about other important, Bordeaux Chateaux: Links to all Bordeaux Wine Producer Profiles
Chateau Mangot History, Overview
What we know of as Chateau Mangot today has a long history in the Right Bank that dates all the way back to 1546. However, the modern era for Chateau Mangot starts in 1976 when the vineyard was purchased by Jean Guy Todeschini. The estate is still owned by a member of the Todeschini family today.
Prior to 1976, The Todeschini owned a smaller, neighboring estate, Chateau de Lisse. In 1976, the properties were combined, giving Chateau Mangot a much larger vineyard.
This also made sense from a historic point of view as the vineyards were originally part of the same estate in the previous century. Today, Chateau Mangot is managed by Karl Todeschini and Yann Todeschini.
Chateau Mangot is located due east in Saint Emilion, and is perhaps the last vineyard in the appellation before reaching the Cotes de Castillon appellation.
Chateau Mangot Vineyards, Terroir, Grapes, Winemaking
The 35-hectare vineyard of Chateau Mangot is planted to 85% Merlot, 10% Cabernet Franc and 5% Cabernet Sauvignon. The vineyard has a terroir of clay and limestone soils. The vineyard is divided into 21 separate parcels, based on a combination of soil types and exposures.
They have old vines which average about 40 years of age. However, some of their Merlot parcels are more than 60 years old. They have good neighbors. Located in the cooler soils found in the Saint Etienne De Lisse sector of St. Emilion. They are not far from Chateau Faugeres, Chateau de Pressac, Chateau Fleur Cardinale and Valandraud.
To produce the wine of Chateau Mangot, vinification takes place in stainless steel tanks. Malolactic fermentation takes place in French oak barrels. The wine is then aged in various percentages of new, French oak that ranges from 40% going up to 100% for their top Cuvee wines. The wines are then aged for between 12 to 16 months before bottling.
Chateau Mangot produces 2 more: Chateau Mangot Todeschini Distique 11, which is a parcel selection that uses a completely different blend than their other wines at about 40% Cabernet Franc, 30% Cabernet Sauvignon and 30% Merlot that is aged in 100% new, French oak barrels. This Cuvee was previously known as Mangot Todeschini until the 2018 vintage.
Chateau Mangot Quintessence, is made from 100% Merlot from their oldest vines and is aged in 100% new, French oak barrels. A portion of Quintessence is also vinified using micro-vinification techniques. Thomas Duclos is their consultant.
Chateau Mangot l'Autre Mangot is an interesting wine as it is aged entirely in amphora with the use of any sulfur.
There is a second wine, Chateau Bardoulet. The average annual production is close to 12,500 cases of wine per year. The Todeschini family also owns Chateau La Brande in the Cotes de Castillon appellation.
The best vintages of Chateau Mangot are: 2022, 2021, 2020, 2019, 2018, 2017, 2016, 2015, 2014, 2012, 2010, 2009 and 2005.
Starting with the 2015 vintage, the property began selling a portion of their harvest from what they refer to as the Todeschini Asteria Vineyard to Benoit Touquette, from which he produces Fait Main.
When to Drink Chateau Mangot, Anticipated Maturity, Decanting Time
Chateau Mangot needs some time before it can be enjoyed. Young vintages can be decanted for an average of 1 hour or more. This allows the wine to soften and open its perfume.
Older vintages might need very little decanting, just enough to remove the sediment. Chateau Mangot is usually better with at least 4-6 years of bottle age. Of course, that can vary slightly, depending on the vintage character. Chateau Mangot offers its best drinking and should reach peak maturity between 4-15 years of age after the vintage.
Serving Chateau Mangot, with Wine and Food Pairings
Chateau Mangot is best served at 15.5 degrees Celsius, 60 degrees Fahrenheit. The cool, almost cellar temperature gives the wine more freshness and lift.
Chateau Mangot is best paired with all types of classic meat dishes, veal, pork, beef, lamb, duck, game, roast chicken, roasted, braised, and grilled dishes. Chateau Mangot is also good when matched with Asian dishes, rich fish courses like tuna, mushrooms, and pasta.
Château Mangot Wine Tasting Notes
21 Vintages 69,071 Views Sort by Vintage-Rating
2022
Château Mangot (St. Émilion Grand Cru)

Elegant, soft, fresh, and deep, the wine quickly focuses you on its layers of ripe, sweet, fresh, dark, red pit fruits. The long, powerful, mineral-edged finish, with its layers of plums, cherries and salt, sticks with you. Drink from 2025-2042. 92-94 Pts.

2,937 Views

Tasted

May 8, 2023

2021
Château Mangot Distique 12 (St. Émilion Grand Cru)

One of the few Bordeaux wine made from 100% Cabernet Franc, the deeply colored wine opens with black, red and blue fruit with a touch of spice and flower stem aromatics. On the palate, the wine is round, soft, fruity and rich. There is a nice sweetness to the fruits and a softness on the palate and in the savory finish. The wine is aged without new oak in a combination of amphora and foudres. Drink from 2024-2040. 91-93

1,718 Views

Tasted

May 20, 2022

2021
Château Mangot (St. Émilion Grand Cru)

Black cherries, juicy black plums, espresso, and a touch of chocolate on the nose and palate get things going. Round, soft, polished, fruity, and fresh, the finish leaves you with chocolate-covered cherries and a touch of salt in the endnote. The wine is aged in a combination of new, French oak, foudre, and clay amphora. Drink from 2023-2036.

1,711 Views

Tasted

May 20, 2022

2020
Château Mangot Distique 13 (St. Émilion Grand Cru)

Almost inky in color, the wine unfurls with nuances of smoke, licorice, oak, blackberry and black plums. Rich, full-bodied and concentrated with all the right stuff, the wine offers length, density, opulence and hedonistic textures, leaving you with a long wave of black fruits, silky tannins, espresso and dark cocoa notes that stick with you. 94-96 Pts

2,345 Views

Tasted

May 20, 2021

2020
Château Mangot (St. Émilion Grand Cru)

Packed with black cherries, chocolate and licorice from start to finish, the wine is deeply colored with layers of lusciously-textured black plums, blue fruit, and cherries. This is an opulent style that will offer a pleasure young, yet it can age for 2 decades as well. Drink from 2023-2040.

2,200 Views

Tasted

Mar 21, 2023

Deeply colored, the wine opens with flowers, espresso, licorice, smoke and black cherries coated with chocolate. Silky, fresh and polished, the wine is rich, round and fresh, with a gorgeous sweetness, lift and purity in the fruit. 92-94 Pts

3,571 Views

Tasted

May 20, 2021

2020
Château Mangot Todeschini Distique 13 (St. Émilion Grand Cru)

Rich, concentrated, opulent wine packed with black and dark red fruits, espresso, chocolate, licorice and smoke. The wine is full-bodied, yet not overpowering, there is a finesse to its depth of flavor and fruit-packed finish. Drink from 2025-2045.

1,773 Views

Tasted

Mar 21, 2023

2019
Château Mangot Todeschini (St. Émilion Grand Cru)

Deep in color, with equally dark fruit to match, the wine is all about the core of fresh, black raspberries, chocolate covered plums, espresso and maraschino cherries in the nose. The wine is richly textured with a finish that kicks in with latent notes of fennel, cocoa and black cherries. The wine is aging in a combination of new, French oak barrels and clay amphora. Give this 4-5 years in the cellar before popping a cork. 92-94 Pts

3,382 Views

Tasted

Jun 8, 2020

2019
Château Mangot Distique 12 (St. Émilion Grand Cru)

Black and red pit fruits, espresso, smoke, licorice and dried flowers show up easily on the nose. On the palate, the richly-textured wine shines due to all of its fresh, sweet, silky-textured red and black plums. There is length, concentration and nice sense of purity here. Drink from 2023-2037

1,360 Views

Tasted

Mar 29, 2022

2019
Château Mangot (St. Émilion Grand Cru)

Flowers, cherries, licorice and plums blend together perfectly in the perfume. Silky, fresh and lifted on the palate, with a silky, creamy-textured, finish packed with espresso tinted, cherries and plums and cocoa. This can be enjoyed with pleasure early. Drink from 2023-2038.

3,313 Views

Tasted

Mar 29, 2022

Cherries, flowers, plums and thyme create the nose. On the palate, the wine is medium-bodied, elegant, silky and fresh, leaving with you sweet, ripe, juicy red fruits and a touch of cocoa on the back end. 90-92 Pts

4,267 Views

Tasted

Jun 8, 2020

2018
Château Mangot Distique 11 (St. Émilion Grand Cru)

With a new name, note the Distique 11 on the label, the dark colored wine hits you with layers of velvet textured dark red, black and blue fruit. Full-bodied, concentrated and with layers of black cherries, licorice, chocolate and plums, the wine hits all the right notes on your palate. This should age for 2-3 decades with ease. This is clearly a new level for the winery. Give this a few years in the cellar before popping a cork.

3,019 Views

Tasted

Mar 9, 2021

2018
Château Mangot (St. Émilion Grand Cru)

Rich, plush and polished, with silky tannins, layers of chocolate covered cherries, licorice and earth on the nose and palate. There is good concentration of flavor along with freshness in the lengthy, silky finish. The wine is aged in a combination of new, French oak and clay amphora.

3,618 Views

Tasted

Mar 9, 2021

Black cherry liqueur, smoke and floral aromas lead to a silky, soft, fresh, clean wine focusing on the ripeness and purity in the fruit. This is an innovative, tidy style of wine, which in part comes from their move to a different way of aging -- both new, French oak and clay amphora. 91-93 Pts

4,413 Views

Tasted

Apr 19, 2019

2018
Château Mangot Todeschini (St. Émilion Grand Cru)

Showing a dark color, the wine offers flowers, black cherry, licorice, cocoa yielding almost velvet textures in the opulent finish. This represents a new direction here as the wines are now aged in a combination of new, French oak and clay amphora. Give this a few years in the cellar before popping a cork. 92-94 Pts

2,314 Views

Tasted

Apr 19, 2019

2017
Château Mangot Cabernet Sauvignon Todeschini (St. Émilion Grand Cru)

Medium bodied with ripe, sweet cherries, underbrush and licorice, the wine is delectable and fresh. Drink this ten to 12 years after the vintage.

1,332 Views

Tasted

Apr 26, 2018

2017
Château Mangot (St. Émilion Grand Cru)

Sweet, elegant, fresh and focused on its ripe, cherry, plum and licorice tones, the wine is forward and fruity with just a hint of chocolate on the back end. This will be delicious on release.

1,874 Views

Tasted

Apr 26, 2018

2016
Château Mangot Cabernet Sauvignon Todeschini (St. Émilion Grand Cru)

Smoke, licorice and tobacco rise above the dark red fruits in this deeply colored wine. Polished and fresh with a concentrated dark plum center and silky tannins, the wine is produced from a parcel selection of their best four hectares of vines.

1,455 Views

Tasted

Apr 29, 2017

2016
Château Mangot (St. Émilion Grand Cru)

Smoky black cherries, soft, polished tannins and a wave of licorice, juicy dark fruits and cocoa in the finish, this is a wine that keeps getting better year after year!

2,350 Views

Tasted

Sep 21, 2019

Smoky black cherries, soft, polished tannins and a wave of licorice, juicy dark fruits and cocoa in the finish, this is a wine that keeps getting better year after year!

2,634 Views

Tasted

Apr 29, 2017

2015
Château Mangot Cabernet Sauvignon Todeschini (St. Émilion Grand Cru)

Made from their best four hectares of vines, this wine made its debut with the 2008 vintage. From a blend of 40% Cabernet Franc, 30% Merlot and a surprising 30% Cabernet Sauvignon, the wine is fruity, tannic and packing a punch. Give this structured, Left Bank look-alike some time in the cellar to develop as the tannins are quite high. It could be much better with 3-5 years of bottle age.

1,732 Views

Tasted

Apr 29, 2016

2015
Château Mangot Todeschini (St. Émilion Grand Cru)

Made from a parcel selection of their best vines, the wine kicks off with flowers, cherry, espresso, cedar, tobacco and black raspberry sensations. The wine is medium bodied, fresh, fragrant and needs a few years before everything comes together here.

2,138 Views

Tasted

May 21, 2018

2015
Château Mangot (St. Émilion Grand Cru)

Soft textured, forward, round, dark red fruits, espresso and licorice start you off and stay with you.

4,960 Views

Tasted

May 21, 2018

Blending 75% Merlot and 25% Cabernet Franc produced a black cherry, earth and dark fruit-oriented wine with a soft, round, forward approach, making it a tasty, fun wine to drink in its youth. A bit like a date with a Pi Phi.

2,608 Views

Tasted

Apr 29, 2016

2012
Château Mangot (St. Émilion Grand Cru)

The estates entry level wine made from a blend of 85% Merlot, 9% Cabernet Franc and 6% Cabernet Sauvignon is medium bodied, dominated by fresh, red plums and cherries, thyme and espresso notes. The wine will drink best in its youth.

2,249 Views

Tasted

Jun 8, 2016

2005
Château Mangot Cuvée Quintessence (St. Émilion Grand Cru)

Light in fruit, color and body, the red fruits are sweet, spicy and fresh, but the wine does not have the depth for further aging. Drink up.

3,798 Views

Tasted

Nov 6, 2016