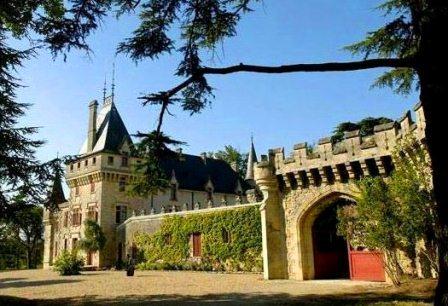 Learn everything about Chateau de Pressac St. Emilion with wine tasting notes and wine with food pairing tips. Learn the best vintages, the history of the property, and information on the vineyards and winemaking. If you want to read about other important, Bordeaux Chateaux: Links to all Bordeaux Wine Producer Profiles
Chateau de Pressac History, Overview
The history of what we know of Chateau de Pressac today started several hundred years ago, during the Medieval time period. At first, the property was used as a fortress.
In 1453, following the Battle of Castillon which ended the Hundred Years War, the official treaties were signed at Chateau de Pressac. At the time, the estate was a castle, complete with a moat and drawbridge, which is where the design for the modern-day chateau took its inspiration from. As you can see, there is a lot of history connected to this vineyard.
As a working vineyard in St. Emilion, Chateau de Pressac dates back to at least 1737 when the owner at the time began planting a popular grape called Auxerrois. In time the name of the grape was grape changed to Pressac. Pressac was better known by its complete formal name for the variety at the time, Noir de Pressac.
During those days, Pressac, was a popular grape for the Bordeaux appellation, especially in the Right Bank. In time, the grape once again changed names Malbec. Of course, Chateau Pressac took its name from the original French term for Malbec, the grape that was planted at the estate in its formative years.
Chateau de Pressac the Modern Era
Jean Francois Quenin purchased Chateau de Pressac in 1997. Because the vineyards were allowed to become dilapidated by the previous owner, Jean-Francois Quenin was forced to replant the majority of the vineyard. He also invested a large sum of money in rebuilding and modernizing their winemaking facilities.
Jean Francois Quenin changed how the grapes were harvested, moving from machine picking to manual harvesting. All this work is really starting to pay off as the wines have continued improving year, after year. 2015 and 2016 are both, strong, top-level vintages for Chateau Pressac.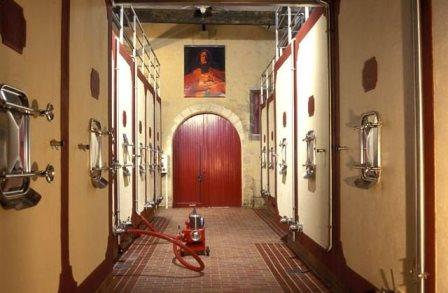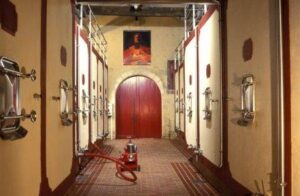 The complete renovation allows Chateau de Pressac to vinify on a parcel by parcel basis, as the estate now has one vat per parcel. At Chateau de Pressac, they use a system of cube-shaped, cement vats for the vinification.
The 10, cube-shaped vats range in size from 45, 50, and 60 hectoliters. Now, everything is moved by gravity in the cellars. The renovation included a new barrel room too.
To aid in sorting, Chateau de Pressac began using optical sorting in 2009, and in time for the 2012 Bordeaux vintage, they added the new Oscillys destemmer, vertical presses, and a peristaltic pump.
Chateau de Pressac strives to remain technologically up to date. They are currently using robots for the cap punching. Robots in Saint Emilion! Who said Bordeaux was behind the times?
Aside from being the owner of a classified Saint Emilion estate, Jean Francois Quenin, is one of the busier people in the Right Bank wine world today. Not only is he the President of the Union of Saint Emilion, Pomerol, and Fronsac, he's President of the St. Emilion Wine Council and if that wasn't enough, he's also the Vice President of the Cercle de Rive Droite!
Chateau de Pressac Vineyards, Terroir, Grapes, Winemaking
The 42 hectare St. Emilion vineyard of Chateau de Pressac is planted to 69% Merlot, 18% Cabernet Franc, 9% Cabernet Sauvignon, 2.5% Malbec, 1.5% Carmenere, and 1% Malbec.
The terroir is split into two separate soil types, which can be further divided into 3 distinct blocks. On the plateau, you find more limestone. On the slopes, there is a stronger concentration of clay with limestone soil.
The vineyard is planted to a vine density ranging from 5,500 to 6,000 vines per hectare. The vineyard is located in the Saint Etienne de Lisse commune, not far from Valandraud, Chateau Faugeres and Chateau Fleur Cardinale.
Chateau de Pressac is vinified in cube shaped, concrete vats. Everything in the cellar is moved by gravity. The wine is aged in 65% new, French oak barrels for an average of 12 months before bottling.
The Best vintages of Chateau de Pressac are: 2022, 2021, 2020, 2019, 2018, 2017, 2016, 2015, 2012, 2010, 2009, 2005, 2001, 2000 and 1998. It should be noted that starting with 2016, the wines here have really improved!
There is a second wine, Chateau Tour de Pressac. A small amount of wine is also used for a new, third wine on occasion. On average, Chateau de Pressac produces between 8,000 and 12,000 cases of St. Emilion wine per vintage.
When to Drink Chateau de Pressac, Anticipated Maturity, Decanting Time
Chateau de Pressac is better with at least 4-6 years of bottle age. Of course, that can vary slightly, depending on the vintage.
Chateau de Pressac is best enjoyed in the first 5-21 years of life. Young vintages can be decanted for about 1 hour to 90 minutes. This allows the wine to soften and open its perfume. Older vintages might need very little decanting, just enough to remove the sediment.
Serving Chateau de Pressac with Wine and Food Pairings
Chateau de Pressac is best served at 15.5 degrees Celsius, 60 degrees Fahrenheit. The cool, almost cellar temperature gives the wine more freshness and lift.
Chateau de Pressac is best paired with all types of classic meat dishes, veal, pork, beef, lamb, duck, game, roast chicken, roasted, braised, and grilled dishes. Chateau de Pressac is also good when matched with Asian dishes, rich fish courses like tuna, mushrooms, pasta, and a wide variety of both hard and soft cheese.
Château de Pressac Wine Tasting Notes
21 Vintages 82,552 Views Sort by Vintage-Rating
2022
Château de Pressac (St. Émilion Grand Cru)

Silky, elegant, pure, fresh, and medium-bodied, the sweet, dark, red, and black fruits are vibrant, polished, refined, long, and pure in the nose, and on the palate. Drink from 2025-2040. 93-95 Pts.

632 Views

Tasted

May 8, 2023

2021
Château de Pressac (St. Émilion Grand Cru)

Smoky, with a leafy, tobacco edge to the elegant, refined, fresh, cherries and plums. Medium-bodied, soft and silky, there is a nice sweetness to the fruits on the palate and in the finish, with its touch of chocolate-mint in the endnote. Not much wine was made as the yields were under 15 hectoliters per hectare. Drink from 2023-2035. 92-94

1,162 Views

Tasted

May 20, 2022

2021
Château Tour de Pressac (St. Émilion Grand Cru)

Light-weight, forward, cherry and flower filled wine for early-drinking consumption. Drink from 2023-2027. 84-85

1,032 Views

Tasted

May 20, 2022

2020
Château de Pressac (St. Émilion Grand Cru)

Medium-bodied, elegant, soft and fresh with a core of ripe, sweet, vibrant red fruits, silky tannins and a finish ending with chalk, cocoa, espresso and cherries. Drink from 2023-2045.

516 Views

Tasted

Mar 21, 2023

Elegant, floral and smoky, the wine is medium-bodied, lifted and loaded with sweet, juicy, silky plums, licorice, spice, cherry liqueur and mesquite. The finish is long, fresh and refined with layers of creamy wild cherries and black raspberries in the endnote. 93-95 Pts

1,674 Views

Tasted

May 20, 2021

2020
Château Tour de Pressac (St. Émilion Grand Cru)

Medium-bodied, soft, forward, fruity charmer with sweetness to the cherries and touch of chocolate on the palate. Drink this while waiting for the Grand Vin to develop. Drink from 2023-2027.

886 Views

Tasted

Mar 21, 2023

2019
Château de Pressac (St. Émilion Grand Cru)

Energetic, fresh, silky and refined, the wine blends sweet red fruits, espresso, touches of cocoa, licorice, flowers and a refined, medium-bodied character. Everything is in place to offer close to 2 decades of elegant drinking. Drink from 2023-2035.

2,339 Views

Tasted

Mar 29, 2022

Fresh, juicy, soft and polished, the wine is medium-bodied, supple and elegantly styled. The plums are fresh and the sweet cherries are even fresher. The licorice and espresso accents add to the fun. The finish, with its freshness and dark chocolate covered, lifted red fruits resonates. 92-94 Pts

3,622 Views

Tasted

Jun 8, 2020

2019
Château Tour de Pressac (St. Émilion Grand Cru)

Medium-bodied, forward, fruity and fresh this is perfect for near-term drinking for all of its sweet, red berry character. Drink from 2022-2027.

678 Views

Tasted

Mar 29, 2022

2018
Château de Pressac (St. Émilion Grand Cru)

Floral and spicy, with a dash of spearmint, licorice, black cherries and smoke on the nose. The wine is elegant, fresh, medium/full-bodied, soft and silky, with an inviting finish of sweet, ripe, plums, cherry and black raspberry. One of the few Bordeaux wines using all five allowable grape varieties, blending 74% Merlot, 16% Cabernet Franc, 7% Cabernet Sauvignon, 2% Carmenere and 1% Malbec.

2,188 Views

Tasted

Mar 9, 2021

Medium/full-bodied, you'll find, smoke, licorice, espresso and plum in the nose. The wine is elegant, energetic, soft and polished with sweet, red fruits and silky textures. One of the few Bordeaux wines to use all five allowable grape varieties, the wine blends, 74% Merlot, 16% Cabernet Franc, 7% Cabernet Sauvignon, 2% Carmenere and 1% Malbec. 92-94 Pts

2,518 Views

Tasted

Apr 19, 2019

2018
Château Tour de Pressac (St. Émilion Grand Cru)

Medium-bodied, fruity and fresh, with soft, earthy sweet red cherries, plum and licorice in its core. This is perfect for early drinking pleasure.

1,255 Views

Tasted

Mar 9, 2021

2017
Château de Pressac (St. Émilion Grand Cru)

Spice, underbrush, licorice and red fruits create the aromatic profile. On the palate, the wine is medium bodied, soft, bright and fresh. There is a fiery vivacity to the red fruit. With a fitting depth of color, this wine offers extra polish. One of the

3,102 Views

Tasted

Apr 26, 2018

2016
Château de Pressac (St. Émilion Grand Cru)

The spicy note adds complexity to the licorice, vanilla, wild cherry and smoke in the nose. The wine is silky, soft, polished sweet and uplifted, with loads of elegant, polished, sweet, perfectly ripe red pit fruits in the finish.

3,386 Views

Tasted

Sep 21, 2019

Deep in color, the wine has flesh with rich, dark fruits, silky textures and polished tannins. There is length and character in the finish. This is the best wine yet from de Pressac.

5,491 Views

Tasted

Apr 29, 2017

2015
Château de Pressac (St. Émilion Grand Cru)

Soft, fresh and silky, this is sweet, elegant, fruity and medium bodied. You find earthy, pure refined, red fruits with a finish that feels as good as it tastes, with all its red berries, spice, earth, smoke and cherries.

4,593 Views

Tasted

May 21, 2018

Elegance and silk are the hallmarks of this beauty. The wine shows its earthy, pure, refined, red fruits with little effort. The finish feels as good as it tastes, with all its fresh, ripe, red berries, spice, earth, smoke and cherries.

3,659 Views

Tasted

Mar 12, 2018

Medium bodied and focused on its elegant, pure, earthy, spicy nature, the wine is soft, silky, clean and fresh, dark, red fruit nature.

2,963 Views

Tasted

Nov 22, 2017

With a good depth of color, this wine shows more polish and depth than usual. Ripe, dark, juicy, sweet plums and licorice at its core, this ends with freshness and a silky mouth feel.

2,503 Views

Tasted

Apr 29, 2016

2014
Château de Pressac (St. Émilion Grand Cru)

Smoky cherries and cocoa with silky, smooth textures, this wine is medium bodied with a cherry-coated, licorice finish. 90-91 Pts

3,019 Views

Tasted

Apr 27, 2015

2013
Château de Pressac (St. Émilion Grand Cru)

Floral and light red berry aromas move to a medium-bodied, open, easy-to-drink, cherry-filled character. This will be best to drink on the young side. 87-89 Pts

2,234 Views

Tasted

Apr 29, 2014

2012
Château de Pressac (St. Émilion Grand Cru)

Opening with fresh earth, herbs, licorice, espresso and ripe, soft plums, the wine is medium bodied and silky smooth with a sweet, plummy finish.

3,143 Views

Tasted

May 15, 2015

Earthy, spicy, oaky, medium-bodied with red plums and cherries. 88-90 Pts

3,119 Views

Tasted

Apr 26, 2013

2011
Château de Pressac (St. Émilion Grand Cru)

Earthy, leafy, polished and soft, this medium bodied, red berry filled wine is best for near term drinking.

2,466 Views

Tasted

Nov 17, 2013

Oak, stone, coffee and black raspberry scents, medium body and a red berry jam finish are found in this wine. 87-89 Pts

2,963 Views

Tasted

Mar 16, 2012

2010
Château de Pressac (St. Émilion Grand Cru)

A nice early drinking, medium bodied, easy to like Right Bank wine with an open, soft, forward personality, black cherry, earth, fennel and coffee bean nose that ends with a clean, fresh, black cherry finish.

5,132 Views

Tasted

Dec 26, 2013

2009
Château de Pressac (St. Émilion Grand Cru)

Filled with earth, plums, cherries and fennel, this medium bodied, round textured, value wine from St. Emilion will deliver pleasure on release. Interestingly, this is one of the few Bordeaux wines to utilize the talents of two consultants, Hubert de Bouard and Alain Raynaud.

5,733 Views

Tasted

Mar 12, 2012

2008
Château de Pressac (St. Émilion Grand Cru)

Surprisingly light in color and fruit, this forward, medium bodied, refined, spicy, red berry dominated wine is already showing what it has to offer. This is not a wine for aging. Instead, it is an easy drinking, soft textured, pleasant wine for current consumption.

4,592 Views

Tasted

Nov 16, 2016

2006
Château de Pressac (St. Émilion Grand Cru)

Fully mature, better on the earthy, truffle, tobacco and plum palate than on the medium-bodied, firm, slightly stoic, currant and tobacco-stained palate.

1,733 Views

Tasted

Sep 16, 2020

2005
Château de Pressac (St. Émilion Grand Cru)

Starting to drink quite well at 10 years of age, the wine has developed nicely. The earthy, truffle laden nose is made even better with its ripe, sweet, black raspberries and dark cherry notes. The soft, smooth finish ends with fresh, juicy plums, cherries and licorice. This has room for further evolution.

4,219 Views

Tasted

Sep 1, 2015