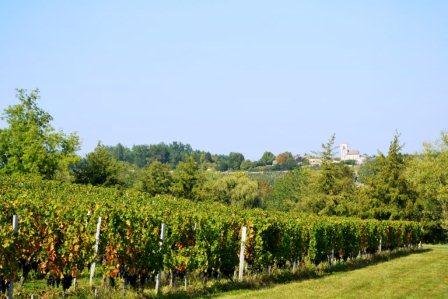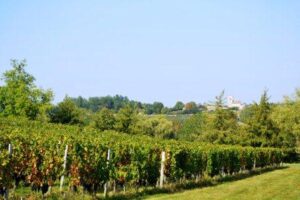 Learn everything about Entre Deux Mers Bordeaux wine, with a history of the Entre Deux Mers appellation, the character, and style of the wines, and a wine buying guide with detailed, profiles on the best producers in the appellation with wine tasting notes, wine, and food pairing tips, histories, and information on the vineyards and winemaking.
For a look at other, important Bordeaux value wine regions: Bordeaux Value Wine Appellation Guide
If you want to read about other Bordeaux wine producers in different Bordeaux appellations: Links to all Bordeaux Wine Producer Profiles 
Entre Deux Mers Overview, History
Entre Deux Mers takes its name from its location, a large, triangular, shaped region in the middle of two bodies of water, the Garonne river to the south and the Dordogne river to the north.
During the 18th century, when Bordeaux was being widely planted, the wines from Entre Deux Mers were much more popular, sought after, and expensive than they are today.
In fact, Entre Deux Mers was once responsible for producing more white Bordeaux wine than red Bordeaux wine. Entre Deux Mers is situated just south and due east of the city of Bordeaux.
The Entre Deux Mers appellation was created in 1937, allowing the production of dry white wine and sweet wine. That changed in 1957 when only dry White Bordeaux wine was able to be produced. The Entre Deux Mers appellation has more than 7,000 hectares under vine with nearly 10,000 hectares of land in total, spread across 135 communes, making it the largest appellation in Bordeaux.
It is interesting to note that even though more red wine grapes are planted in the appellation, 5,500 hectares, compared to 1,500 hectares for white wine grapes, only the white wines were allowed to be called Entre Deux Mers. Red wines were sold as generic AOC Bordeaux or, Bordeaux Superieur.
There are more than 250 different producers in the Entre Deux Mers region. Most estates in the Entre Deux Mers appellation are somewhat large, averaging 11 hectares in size with larger estates covering more than 60 hectares. On average, close to 11 million cases of wine are produced each year in Entre Deux Mers.
After years of petitioning the INAO to allow red wines produced in the appellation to be sold as coming from Entre Deux Mers, starting with the 2023 vintage, all red wines coming from Entre Deux Mers can be labeled as Entre Deux Mers. Producers have the choice to use the Entre Deux Mers designation as well as Bordeaux AOC or Bordeau Superieur.
To use the appellation on your label, estates must follow certain minimum rules. Vineyards must be planted to a minimum of 4,500 vines per hectare. All wines must be aged a minimum of 21 months before release, using any combination of bottles, barrels, or vats, so that the wine is ready to drink on release.
The Entre Deux Mers region has one of the longest histories as a wine-producing area in France. In fact, Entre Deux Mers dates back almost 2,000 years, which was when it was first planted with grapevines by the ancient Romans. But Entre Deux Mers earned its reputation due to the wine produced by Benedictine Monks during the Middle Ages.
At first, the Monks began producing wine in Entre Deux Mers for religious purposes. In 1079, the Monks, led by Saint Gerard de Corbie, constructed the Abbey of La Sauve Majeure, which took its name from the Latin term, granda silva, which means large forest.
That phrase accurately describes much of the Entre Deux Mers region as close to 75% of the region remains unplanted, due to the dense greenery. The remains of the historic Abbey can still be seen today. It's been declared a protected Unesco historical site.
Entre Deux Mers is an attractive area to drive through. Many of the chateaux located in Entre Deux Mers are stunningly beautiful and are as impressive as many of the best Classified Growths in the Medoc.
One of the most interesting estates close to the region is Chateau de Rastignac, which was designed as a tribute to Thomas Jefferson to look like the White House, in Washington DC.
The top 10 important facts you need to know about Entre Deux Mers.
#1 Entre Deux Mers is named after its geographical location in the middle of two bodies of water, the Garonne and the Dordogne rivers.
#2 Entre Deux Mers was created in 1937 as an appellation, and only allowed the production of white wine at the time.
#3 Entre Deux Mers includes 9 different AOC Bordeaux appellations.
#4 Entre Deux Mers produces dry white Bordeaux wine, red Bordeaux wine, and sweet Bordeaux wine.
#5 Starting with the 2023 vintage, red wines from Entre Deux Mers can be sold as Entre Deux Mers as well as Bordeaux Superieur.
#6 Most Entre Deux Mers consists of forest land, which is not suitable for growing grapes.
#7 Entre Deux Mers was first planted by the ancient Romans.
#8 Entre Deux Mers is one of the largest Bordeaux wine-producing appellations at 10,000 hectares in size.
#9 Even though the wine from Entre Deux Mers is humble, many of the most beautiful chateaus in Bordeaux is located in the region.
#10 Entre Deux Mers features a chateau that was created to look exactly like the White House in Washington DC.
Perhaps the best-known wine from the Entre Deux Mers appellation comes from Chateau Reignac. Other estates worth the effort to seek out are: Chateau Marjosse, Domaine de Courteillac, Chateau Gree-Laroque, Chateau Le Pin Beausoleil, Chateau Rauzan Despagne, Chateau Pey-La-Tour, Chateau Bonnet, Chateau Carignan, Chateau Hostens Picant and Chateau Thieuley are other examples of the better wines being made today in the Entre Deux Mers appellation.
Several of the best growers with the Bordeaux Superieur designation come from the large, Entre Deux Mers appellation. Generally speaking, the best wines from the Entre Deux Mers area are the white Bordeaux wines, due to the region's naturally cooler terroir and its compact, sand, and clay soils. However, there are sections where you can also find gravel and limestone.
Entre Deux Mers Vineyards, Grapes, Terroir
Part of the problem with the terroir of the Entre Deux Mers appellation is the lack of mineral elements in the soil and the massive amount of forest land.
In fact, much of the appellation is not planted for the production of grapes as it's inhabited by forest land and other greenery situated on a series of rolling hills.
Due to its varieties of diverse mix soils and forest land, Entre Deux Mers is different than most Bordeaux appellations as much of the land remains devoted to producing other agricultural crops. Entre Deux Mers is susceptible to damage from hail storms.
As a generalization, you can view Entre Deux Mers in two parts with red wine grapes planted in the eastern part of the appellation due to more clay in the soil and in the west with more gravel. The north and south is where you find more white wine grapes.
In August 2013, the appellation lost close to 10% of its entire production due to severe storms. Several estates lost their entire crop.
The main grape varieties planted in the Entre Deux Mers region are Sauvignon Blanc, Semillon, and Muscadelle. Those varieties are used to produce both dry, white Bordeaux wine as well as sweet, white Bordeaux wine. The white wines of the Entre Deux Mers appellation are what the region does best.
For the production of red Bordeaux wine in Entre Deux Mers, Merlot, and Cabernet Sauvignon are by far the most important grapes planted in the region. However, some producers in Entre Deux Mers have been experimenting with grapes that are not allowable by law.
This means their wines must be sold as simple Vin de France wines. Chateau Thieuley has plantings of Syrah and Chardonnay. They sell their Syrah blend under the name of Chateau Thieuley Les Truffieres Syrah, which takes its name from the numerous Mycorrhizal oak trees they planted on their land which promote the growth of truffles.
The Entre Deux Mers appellation includes 9 separate AOC-designated areas. Similar to what takes place in the Medoc, Entre Deux Mers is counted as one of the AOC areas. The other communes that make up the appellation are; Premieres Cotes de Bordeaux, Sainte Croix du Mont, St. Macaire, Graves de Vayres, and Sainte Foy Bordeaux. The communes of Loupiac and Cadillac are also part of the Entre Deux Mers appellation as well.
Both those regions, Loupiac and Cadillac, are well known for producing affordable, sweet, white Bordeaux wine made from grapes attacked by botrytis, which is also known as noble rot.
If the wines of Sauternes and Barsac are out of your budget, Loupiac and Cadillac are good sources for well-priced, sweet, white Bordeaux wine. You can read full details on all of these and other, smaller Lesser Known Bordeaux Appellations.
The best vintages of Entre Deux Mers are: 2022, 2021, 2020, 2019, 2018, 2017, 2016, 2015, 2012, 2010, 2009 and 2005. The vast majority of wines from the Entre Deux Mers appellation require drinking in the first few years after bottling. So you should approach most red wines older than 7 years of age with extreme caution and the majority of white wines older than 5 years of age carefully. There are a few wines that can age a bit longer, but the majority of Entre-Deux Mers should be tasted in their youth.
While the majority of the wines from the Entre Deux Mers region are simple, easy-to-drink wines, there are some quality producers in the appellation region making both, red and white wine. But it takes effort to find the best wines, as most are not much more than simple, early-drinking quaffers.
Due to the low prices and poor overall reputation of the region, many producers are struggling to make a profit from their vines. In fact, during the 1960s, as quality slid in the appellation, the wines for a time were all designated as simply, Vin de table.
While most white Bordeaux wines are aged in oak barrels after alcoholic fermentation, that is not always the case in Entre Deux Mers.
Several producers in the Entre Deux Mers appellation make white Bordeaux wine that is fermented and aged completely in stainless steel tanks and do not see any oak in the aging process.
For more about Entre Deux Mers  www.vins-entre-deux-mers.com