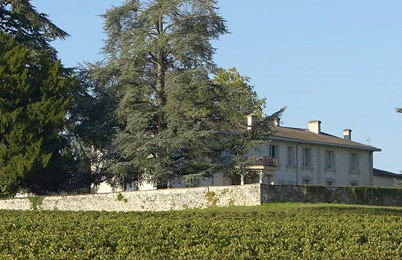 Learn everything about Chateau Pey La Tour Bordeaux Superieur with wine tasting notes, wine, and food pairing tips, best vintages, a history of the property, information on the vineyards, and winemaking. If you want to read about other important, Bordeaux Chateaux: Links to all Bordeaux Wine Producer Profiles
Chateau Pey La Tour History, Overview
What we know of as Chateau Pey La Tour today actually dates all the way back to the 1700s when it was developed by the Seigneurie family. At the time, the property was known as Chateau Clos de la Tour. The modern era for Chateau Pey La Tour however begins quite recently.
It started in 1990 when the estate was purchased by the Dourthe group, which also owns the well-known negociant company, CVGB, and several other vineyards all over Bordeaux in the Left Bank, St. Emilion, and Pessac Leognan.
At the time, the property was only 25 hectares of vines. As you can see, the owners have dramatically increased their holdings.
Chateau Pey La Tour Vineyards, Terroir, Grapes, Winemaking
The massive 200-hectare vineyard of Chateau Pey La Tour is located in the Entre Deux Mers appellation, not too far from Chateau Reignac.
The vineyard is planted to 58% Merlot, 31% Cabernet Sauvignon and 11% Cabernet Franc.
The terroir is sand, clay, and limestone soils. However, as you would expect, with such a large surface area, the soils vary quite a bit. The vines are planted to a vineyard density of 5,500 vines per hectare.
The picking is done using a combination of machine harvesters and manual pickers. The wine of Chateau Pey La Tour is vinified in temperature-controlled, stainless steel tanks.
Malolactic fermentation takes place in vat. The wine is aged in 33% new, French oak barrels for between 12 to 15 months before bottling.
Chateau Pey Latour Reserve comes from the best parcels of vines. While Pey La Tour comes from their sandier terroir, where the gravel is also lighter, Pey La Tour Reserve uses grapes planted in their deeper clay, limestone soils, and gravel terroir, which has larger, rocks and stones.
The blend for the Pey La Tour Reserve is also different, as here, you usually find 90% Merlot, 5% Cabernet Franc and 5% Cabernet Sauvignon. However, there are also some vintages with a very small amount of Petit Verdot in the mix as well.
Chateau Pey La Tour produces three wines. Chateau Pey La Tour AOC Bordeaux, Chateau Pey Latour Reserve du Chateau Bordeaux Superieur (Their top wine) and a rose'.
The average annual production of Chateau Pey La Tour is quite large at close to 85,000 cases of wine per vintage.
The best vintages of Chateau Pey La Tour are: 2022, 2021, 2020, 2019, 2018, 2017, 2016, 2015, 2014, 2012, 2010 and 2009.
The wines of Chateau Pey La Tour are sold as Bordeaux, or Bordeaux Superieur.
When to Drink Chateau Pey La Tour, Anticipated Maturity, Decanting Time
Chateau Pey La Tour is better with at least 2-3 years of aging in good vintages. Young vintages can be decanted for up to 1 hour, helping the wine soften to help develop the aromatic character.
Older vintages might need very little decanting, just enough to remove the sediment. Chateau Pey La Tour offers its best drinking and should reach peak maturity between 3-10 years of age after the vintage.
Serving Chateau Pey La Tour with Wine, Food, Pairing Tips
Chateau Pey La Tour is best served at 15.5 degrees Celsius, 60 degrees Fahrenheit. The cool, almost cellar temperature gives the wine more freshness and lift.
Chateau Pey La Tour is best paired with all types of classic meat dishes, veal, pork, beef, lamb, duck, game, roast chicken, roasted, braised, and grilled dishes. Chateau Pey La Tour is also good when matched with Asian dishes, rich fish courses like tuna, mushrooms, and pasta.
Château Pey La Tour Wine Tasting Notes
13 Vintages 39,803 Views Sort by Vintage-Rating
2022
Château Pey La Tour Réserve du Château (Bordeaux Supérieur)

Medium-bodied, soft, red berry oriented wine with a touch of spice and freshness at the end. This will be ready to go on release, and will be at its best over the next few years. Drink from 2025-2030. 89-91 Pts.

830 Views

Tasted

May 8, 2023

2021
Château Pey La Tour Réserve du Château (Bordeaux Supérieur)

Light, bright, forward and fresh, with a core of red cherries and herbs, drink this medium-bodied wine on the young side for all of its early charm. Drink from 2023-2028. 86-88

1,420 Views

Tasted

May 20, 2022

2020
Château Pey La Tour Réserve du Château (Bordeaux Supérieur)

Flowers, espresso, cocoa, cherries, plums and a hint of chocolate greet your nose easily. Medium-bodied, fresh, round and supple, this is already delicious in your glass. Drink from 2023-2034.

939 Views

Tasted

Mar 21, 2023

Dark, juicy and fruity with a blast of black cherries on the nose. The wine is medium-bodied, round, ripe and lush with accents of chocolate, spice and espresso in the finish. This should drink just great on release. 89-91 Pts

1,963 Views

Tasted

May 20, 2021

2019
Château Pey La Tour Réserve du Château (Bordeaux Supérieur)

Floral in character with wet earth, smoke and plums, the wine is medium-bodied, soft, fresh, round and fruity with loads of sweet, ripe cherries and plums along with a touch of chocolate and coffee bean in the finish. Drink from 2022-2033.

820 Views

Tasted

Mar 29, 2022

Forward, medium-bodied, fresh and juicy, with stony, ripe, sweet cherries, licorice and espresso to finish it all off. 89-91 Pts

3,225 Views

Tasted

Jun 8, 2020

2018
Château Pey La Tour Réserve du Château (Bordeaux Supérieur)

Ripe, fruity, forward and loaded with licorice, chocolate, black cherries and dark plums, the wine is round in the mouth, soft in the finish and will be easy to enjoy on release. 89-91 Pts

2,554 Views

Tasted

Apr 19, 2019

2018
Château Pey La Tour (Bordeaux Supérieur)

Medium bodied, sweet, fresh and fruity with herbs, licorice and olive accents and a dusty finish. You can drink this on release, or wait a year or 2 before pulling a cork.

1,281 Views

Tasted

Mar 9, 2021

2017
Château Pey La Tour Réserve du Château (Bordeaux Supérieur)

Round, forward and fleshy with sweet fruits, soft tannins and a chocolate-covered plum finish. You can enjoy this on release.

2,498 Views

Tasted

Apr 26, 2018

2016
Château Pey La Tour (Bordeaux Supérieur)

Medium bodied, soft, elegant and silky, fresh and fruity, the wine has sweet red fruits with just a touch of licorice in the finish. You can drink this for pleasure on release.

2,142 Views

Tasted

Sep 21, 2019

Forward, open, plummy with fresh, juicy, dark cherries, licorice and a hint of cocoa in the medium bodied finish.

2,747 Views

Tasted

Apr 29, 2017

2015
Château Pey La Tour (Bordeaux Supérieur)

Fresh, forward and soft in character, the sweet, ripe, black raspberry and dark cherry core of fruit carries through from start to finish.

2,521 Views

Tasted

Apr 30, 2016

2014
Château Pey La Tour Réserve du Château (Bordeaux Supérieur)

Forward, early drinking, medium bodied styles wine, with sweet, ripe black cherries, cocoa, tobacco, thyme and earthy nuances.

1,645 Views

Tasted

Jul 10, 2017

2012
Château Pey La Tour (Bordeaux Supérieur)

Fresh, forward and soft in character, the sweet, ripe, black raspberry and dark cherry core of fruit carries through from start to finish.

2,375 Views

Tasted

May 25, 2016

For consumers looking for value, this Bordeaux Superieur packs a lot of flesh, ripe jammy berries, flavor and silky textures for the money. 87-89 Pts

3,724 Views

Tasted

Apr 26, 2013

2010
Château Pey La Tour Réserve du Château (Bordeaux Supérieur)

Pey La Tour is a fun, simple, uncomplicated easy to like 90% Merlot based wine available for a fair price. 86-88 Pts

4,518 Views

Tasted

Apr 22, 2011

2009
Château Pey La Tour Réserve du Château (Bordeaux Supérieur)

Simple, early drinking, value price, soft, medium bodied, Bordeaux Superieur that will be at its best during its black raspberry driven youth,

4,601 Views

Tasted

Jan 2, 2015