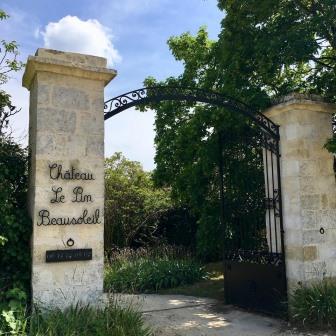 Learn everything about Chateau Le Pin Beausoleil Bordeaux Superieur with wine tasting notes, wine-food pairing tips, best vintages, a history of the property, and information on the vineyards and winemaking. If you want to read about other important, Bordeaux Chateaux: Links to all Bordeaux Wine Producer Profiles
Chateau Le Pin Beausoleil History, Overview
Chateau Le Pin Beausoleil has a long history in Bordeaux. The property dates back to the late 1600s when the small, stone, castle was originally built. By the later part of the 19th century, the vineyards were close to 100 hectares, all cultivated with vines.
But as a modern winery, Chateau Le Pin Beausoleil is a young Bordeaux vineyard. The winery was only born in 1997 when the vineyard was purchased by Michael and Ingrid Hallek.
The Hallek family changed the name of the chateau from Le Pin, (which was already famous in Pomerol) to Le Pin Beausoleil. Before fulfilling his dream of being a Bordeaux wine producer, Michael Hallek practiced medicine as a doctor of oncology in Germany.
After purchasing Chateau Le Pin Beausoleil, one of the first moves the new owner did after taking control of the estate was to hire the popular wine consultant, Stephane Derenoncourt to help with the vineyard management and winemaking. Their next decision was to completely renovate the entire estate of Chateau Le Pin Beausoleil from top to bottom.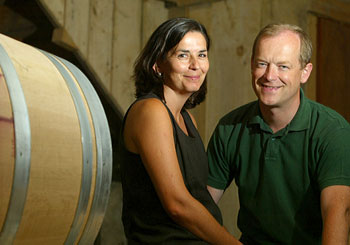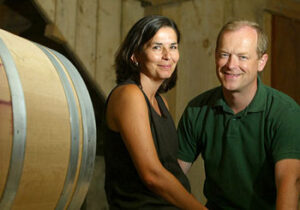 Chateau Le Pin Beausoleil Vineyards, Terroir, Grapes, Winemaking
The 5.8 hectare Right Bank vineyard of Chateau Le Pin Beausoleil is planted to 60% Merlot, 20% Cabernet Franc, 17% Cabernet Sauvignon and 3% Malbec. This is a unique makeup for a vineyard in the Entre Deux Mers appellation.
On average, the vines are old, at close to 35 years of age. The vineyard is planted to a vine density of 6,600 vines per hectare. The terroir is clay and limestone with gravel and sand in the soil.
The wine of Chateau Le Pin Beausoleil is whole berry fermented in temperature-controlled, concrete vats. Malolactic fermentation takes place in barrels. The wine is aged in an average of 50% new, French oak barrels. That is a lot of work to produce a Bordeau Superieur. But the results are clearly worth it.
The production of Chateau Le Pin Beausoleil is close to 2,000 cases of Bordeaux wine per vintage. There is a second wine, Le Petit Soleil. Chateau Le Pin Beausoleil is sold as a Bordeaux Superieur wine.
The best vintages of Chateau Le Pin Beausoleil are: 2022, 2021, 2020, 2019, 2018, 2017, 2016, 2015, 2014, 2012, 2010, 2009 and 2005.
When to Drink Chateau Le Pin Beausoleil, Anticipated Maturity, Decanting Time
Chateau Le Pin Beausoleil is better with at least 2-4 years of aging in good vintages. Young vintages can be decanted for up to 1 hour if desired.
Older vintages might need very little decanting, just enough to remove the sediment. Chateau Le Pin Beausoleil offers its best drinking and should reach peak maturity between 2-12 years of age after the vintage.
Serving Chateau Le Pin Beausoleil with Wine, Food, Pairing Tips
Chateau Le Pin Beausoleil is best served at 15.5 degrees Celsius, 60 degrees Fahrenheit. The cool, almost cellar temperature gives the wine more freshness and lift.
Chateau Le Pin Beausoleil is best paired with all types of classic meat dishes, veal, pork, beef, lamb, duck, game, roast chicken, roasted, braised, and grilled dishes. Chateau Le Pin Beausoleil is also good when matched with Asian dishes, rich fish courses like tuna, mushrooms, and pasta.
Le Pin Beausoleil Wine Tasting Notes
17 Vintages 39,114 Views Sort by Vintage-Rating
2022
Château Le Pin Beausoleil (Bordeaux Supérieur)

Bright, fresh, fruity, chewy and oaky, with a refreshing touch of citrus in the finish. This medium-bodied wine will be ready to go on release. Drink from 2025-2032. 90-92 Pts.

2,207 Views

Tasted

May 8, 2023

2021
Château Le Pin Beausoleil (Bordeaux Supérieur)

A light kiss of oak marries well with the juicy red plums and bright red cherries. There is a touch of cranberry with a hint of orange citrus in the endnote of this medium-bodied, forward wine. Drink from 2023-2029. 87-89

1,902 Views

Tasted

May 20, 2022

2020
Château Le Pin Beausoleil (Bordeaux Supérieur)

Elegant, soft, fresh and vibrant, with a palate packed with soft, lush, red berries, licorice, mocha and plums. Forward, medium-bodied, soft and fruity with a real sweetness to all the juicy fruits in the finish. You can enjoy this with pleasure, but with just a few years in the cellar, it will be even better. Drink from 2024-2037.

1,494 Views

Tasted

Mar 21, 2023

Forward, medium-bodied, soft and fruity with sweet, juicy dark red pit fruits, spice and mocha in the finish. You can enjoy this with pleasure on release as this will be best in its exuberant youth. 89-91 Pts

2,893 Views

Tasted

May 20, 2021

2019
Le Pin Beausoleil (Bordeaux Supérieur)

This lusciously textured wine is loaded with creamy, dark red fruits with, soft, polished tannins. The wine finishes with a juicy, fruity mid-palate and endnote. All that, and it sells for a song. This is a solid Bordeaux-value wine that will drink well on release and for at least a decade or so. 90-92 Pts.

2,139 Views

Tasted

Jun 26, 2020

2019
Château Le Pin Beausoleil (Bordeaux Supérieur)

Medium-bodied, floral, fresh, soft, and polished, there is a nice touch of spice and mint leaf that adds complexity to the finish here. Drink from 2023-2035.

2,100 Views

Tasted

Dec 28, 2022

2018
Château Le Pin Beausoleil (Bordeaux Supérieur)

Licorice and black cherries come alive in this medium-bodied, soft, forward, round, sweet, silky textured wine.

1,735 Views

Tasted

Mar 9, 2021

2018
Le Pin Beausoleil (Bordeaux Supérieur)

This outstanding, Bordeaux value wine is ripe, sweet, fresh, juicy, forward and on the black cherry and plum side with hints of licorice in finish. 90-92 Pts

2,284 Views

Tasted

Apr 19, 2019

2017
Le Pin Beausoleil (Bordeaux Supérieur)

Medium bodied, sweet, ripe and spicy, the tannins are soft, bringing you to a fruit-filled climax that is tantalizing. All this and it sells for less than $20!

1,476 Views

Tasted

Apr 26, 2018

2016
Le Pin Beausoleil (Bordeaux Supérieur)

A light kiss of oak, mocha, black plums and even darker cherries are what you'll find in this supple textured, fruit filled, round wine. This is a superb value that you can enjoy early, or age for a few years.

2,593 Views

Tasted

Sep 21, 2019

Flowers, sweet, ripe, juicy, fruits, polished textured and more, ripe fruit in the finish. What more can you ask for from a wine that sells for under $20?

2,102 Views

Tasted

Apr 29, 2017

2015
Le Pin Beausoleil (Bordeaux Supérieur)

Really great value wine here; the shows density, lift, ripe fruits, round textures and length, and it should sell for just over $20!

1,626 Views

Tasted

Apr 29, 2016

2014
Le Pin Beausoleil (Bordeaux Supérieur)

Sweet, juicy, fresh fruits topped with black raspberries, espresso bean, chocolate and packaged into an open, charming character. 87-88 Pts

1,793 Views

Tasted

May 1, 2015

2013
Le Pin Beausoleil (Bordeaux Supérieur)

With a blend of 70% Merlot, 20% Cabernet Franc and 10% Cabernet Sauvignon, from start to finish, there is a nice sensation of fresh, spicy cherries and polished textures with dark chocolate. Drink this easy to like wine on the young side. 86-88 Pts

1,560 Views

Tasted

May 1, 2014

2012
Le Pin Beausoleil (Bordeaux Supérieur)

With 85% Merlot and 15% Cabernet Franc in the blend, the wine is spicy and medium-bodied and ends with red berries and herbs. 85-87 Pts

1,326 Views

Tasted

Apr 26, 2013

2011
Le Pin Beausoleil (Bordeaux Supérieur)

Made from 80% Merlot, 15% Cabernet Franc and 5% Cabernet Sauvignon, planted in clay and limestone terroir opens to licorice, truffle and black cherry scents. This is a ripe, round, soft, open wine that will drink great on release. 88-89 Pts

1,299 Views

Tasted

Apr 20, 2012

2010
Le Pin Beausoleil (Bordeaux Supérieur)

Easy to drink, medium bodied, uncomplicated, fresh, round wine with ample ripe, sweet cherries and plum notes in the finish. Drink this on the young side.

2,025 Views

Tasted

Mar 11, 2014

2009
Le Pin Beausoleil (Bordeaux Supérieur)

Licorice, jammy red berries, spice and round textures can be found in this wine, finishing with an opulent black cherry filled finish.

1,788 Views

Tasted

Jul 18, 2011

2009 Le Pin Beausoleil is a Le Pin we all can finally afford. Even though it's the other Le Pin, this black cherry and dark berry scented wine offers supple textures and a soft, black cherry filled finish. 87-89 Pts

1,925 Views

Tasted

Aug 26, 2010

2005
Le Pin Beausoleil (Bordeaux Supérieur)

This charming value priced wine has paid dividends with its smoky, licorice and black cherry personality. Round textures and ripe fresh fruit make this a fun wine to pop, pour and taste.

2,847 Views

Tasted

Jan 19, 2013