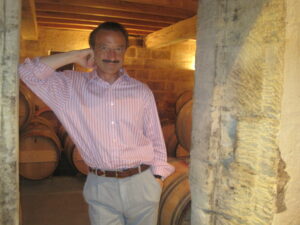 Learn everything about Chateau Soleil Puisseguin St. Emilion with wine tasting notes, wine and food pairings, best vintages, a history of the property, information on the vineyards, and winemaking. If you want to read about other important, Bordeaux Chateaux: Links to all Bordeaux Wine Producer Profiles
Chateau Soleil History, Overview
Chateau Soleil was created in 2005 when the vineyard was purchased by Stephan von Neipperg and Didier Miqueu. Chateau Soleil is located in what is known as the Saint Emilion Satellite Appellations. Starting with the 2016 vintage, Stephan von Neipperg was no longer involved with winemaking or vineyard management.
In 2018, GST Investissements purchased Chateau Soleil. GST Investissements was already familiar with the Bordeaux wine trade as they are the major shareholders of Vintex, a well-known negociant company headed by Philippe Larche.
Chateau Soleil Vineyards, Terroir, Grapes, Winemaking
The 20-hectare vineyard of Chateau Soleil is planted to 80% Merlot, 10% Cabernet Franc and 10% Cabernet Sauvignon. On average, the vines are on average, 30 years of age. The vineyard is planted to a vine density of 5,700 vines per hectare.
The terroir of Soleil is thin clay and gravel over limestone soil. The situation has their vines well placed on the peak of the plateau of Puisseguin. The vineyards are trellised using the traditional Guyot double system. Vineyard management techniques include cover-cropping, mechanical tilling of the soils, debudding, deleafing, and crop-thinning.
All these efforts help control the yields at Chateau Soleil. Stephan von Neipperg is a huge proponent of self-sustainable vineyard management, Chateau Soleil is no exception. They never use any types of chemical fertilizers, insecticides, or herbicides.
To produce the wine of Chateau Soleil, the grapes are whole berry fermented. Vinification takes place in either 50 hectoliter or 100 hectoliters, epoxy lined, cement vats. There, the whole berry grapes are kept at the low temperature of 10 degrees Celsius in a pre-fermentation, cold soak, to increase the color, depth, and extraction of the wine.
Microbullage is used both under the cap during fermentation and during the process of barrel aging. Malolactic fermentation is conducted in barrels. The wine is aged on its lees, which are regularly stirred.
The wine is aged in 50% new, French oak barrels for between 18 and 22 months. There are two second wines, Promesse Soleil and Croix du Rival. Close to 7,000 cases of Chateau Soleil are produced each vintage.
Soleil Le Rival
The Right Bank property also produces a special, high-end Cuvee, Chateau Soleil Le Rival which comes from a special 4-hectare block with old vines planted in 1952 and 1962. The vineyards are located in Lussac Saint Emilion.
This 4-hectare parcel is the oldest vines from the 20-hectare vineyard of Soleil. The terroir is similar to some of the best soil in Saint Emilion with its blend of clay, gravel, and limestone.
The winemaking is similar to what takes place at Soleil, but the yields are much lower for Le Rival. They can be under 20 hectoliters per hectare. Also, because the wine is much richer, the wine of Soleil Le Rival is aged in 100% new, French oak for between 18 and 24 months. On average, the production is close to 800 cases per year.
The production of both wines is ably managed by Stephan von Neipperg.
The best vintages of Chateau Soleil are: 2022, 2021, 2020, 2019, 2018, 2017, 2016, 2015, 2014, 2012, 2010, 2009 and 2005.
When to Drink Chateau Soleil, Anticipated Maturity, Decanting Time
Chateau Soleil is much better with at least 2-3 years of aging in good vintages. Young vintages can be decanted for 1 hour, allowing the wine to soften and open its perfume. Older vintages might need very little decanting, just enough to remove the sediment. Chateau Soleil offers its best drinking and should reach peak maturity between 3-10 years of age after the vintage.
Serving Chateau Soleil with Wine, Food, Pairing Tips
Chateau Soleil is best served at 15.5 degrees Celsius, 60 degrees Fahrenheit. The cool, almost cellar temperature gives the wine more freshness and lift. Young vintages can be decanted for up to 1 hour. This allows the wine to soften and open its perfume. Older vintages might need very little decanting, just enough to remove the sediment.
Chateau Soleil is best paired with all types of classic meat dishes, veal, pork, beef, lamb, duck, game, roast chicken, roasted, braised, and grilled dishes. Chateau Soleil is also good when matched with Asian dishes, rich fish courses like tuna, mushrooms, and pasta.
Château Soleil Wine Tasting Notes
18 Vintages 44,833 Views Sort by Vintage-Rating
2021
Château Soleil Le Rival (Lussac-St. Émilion)

Dark black plums, black cherry, cocoa, espresso beans, smoke and black cherries are all over the wine. On the palate, the licorice, dark red fruits, and coffee bean are round, sweet, and fruity. Drink from 2023-2037. 89-91

1,538 Views

Tasted

May 20, 2022

2021
Château Soleil (Puisseguin-St. Émilion)

Medium-bodied, soft, forward, sweet cherries, plums, licorice, chocolate, espresso and coffee bean come through, though you have to be able to look past the strong, oak influence. Drink from 2023-2028. 86-88

1,457 Views

Tasted

May 20, 2022

2019
Château Soleil (Puisseguin-St. Émilion)

Round, lush and juicy, with loads of dark cocoa, licorice, black cherry and espresso, the finish is fresh, fruit-filled and already delicious to taste. You can savor this on release, or enjoy it over the following decade. 89-91 Pts

2,175 Views

Tasted

Jun 8, 2020

2019
Château Soleil Le Rival (Lussac-St. Émilion)

A big gulp of ripe, juicy plums, blackberry, espresso and licorice on the nose and palate. Full, rich and concentrated, the wine is lush, round and forward, with a long fruity tail in the finish. 89-91 Pts

2,627 Views

Tasted

Jun 8, 2020

2016
Château Soleil (Puisseguin-St. Émilion)

Medium bodied, earthy and already displaying some truffle and earthy characteristics with all the ripe, red fruits, the wine is ripe, juicy, forward, round, polished and approachable.

1,301 Views

Tasted

Sep 21, 2019

2015
Château Soleil Le Rival (Lussac-St. Émilion)

Deep, dark in color, the wine shows off its mint, licorice, flint, black cherry and smoke aromatics easily. On the palate, the Merlot dominated wine is rich, ripe, round, forward and approachable, leaving with you juicy black cherries, licorice and dusty cocoa in the finish. This should be at its best over the next 5 years or so.

1,745 Views

Tasted

May 5, 2020

Dominated by 95% Merlot, with a strong licorice and black cherry nose. The wine is silky, lush and opulent, with a lively, spice filled, plum and fennel personality.

1,644 Views

Tasted

Apr 29, 2016

2015
Château Soleil (Puisseguin-St. Émilion)

Medium-bodied, ready to drink, soft, round, forward, smoky, black cherry and licorice filled wine that's perfect for easy-going pleasure.

1,786 Views

Tasted

Apr 24, 2020

Medium bodied with a floral, plummy character, soft textures, sweet, black raspberries, licorice and a round finish that should be great on release.

1,846 Views

Tasted

Apr 29, 2016

2014
Château Soleil (Puisseguin-St. Émilion)

Easy drinking, forward, soft textured, cherry centered wine, with an espresso, licorice and red berry finish.

1,795 Views

Tasted

Jul 10, 2017

2013
Château Soleil Le Rival (Lussac-St. Émilion)

Dominated by 95% Merlot, with an earth, plum and fennel personality, this round, open wine is ready for easy going, prime time drinking on release. 87-88 Pts

1,321 Views

Tasted

Apr 21, 2014

2013
Château Soleil (Puisseguin-St. Émilion)

Medium bodied with a nice, plummy character, this will be drinkable on release. 84-86 Pts

1,516 Views

Tasted

May 1, 2014

2012
Château Soleil Le Rival (Lussac-St. Émilion)

Dominated by Merlot, the wine opens with coffee, black cherry, licorice and cocoa. Sweet, round and forward, this will be fun to drink young. 88-90 Pts

1,918 Views

Tasted

May 11, 2013

2012
Château Soleil (Puisseguin-St. Émilion)

Licorice, coffee, black cherry and medium body opens into a light, cherry finish. 85-87 Pts

2,378 Views

Tasted

Apr 26, 2013

2011
Château Soleil Le Rival (Lussac-St. Émilion)

From 45 year-old vines planted on a 5-hectare bed of limestone terroir, this 90% Merlot and 10% Cabernet Franc blend reached 13.5% ABV. This wine is produced with the efforts of Stephan Von Neipperg. With deep color, floral, earth and kirsch aromas, luscious texture and a fresh, chocolate- and cherry-filled finish. 89-91 Pts

1,334 Views

Tasted

May 1, 2012

2011
Château Soleil (Puisseguin-St. Émilion)

Blending 80% Merlot, 10% Cabernet Franc and 10% Cabernet Sauvignon. The wine was aged in 30% new oak. From limestone and clay terroir, the wine offers black raspberry jam and cocoa, soft tannins and a medium-bodied plummy finish. This will drink well on release. 87-89 Pts

1,749 Views

Tasted

Apr 20, 2012

2010
Château Soleil Le Rival (Lussac-St. Émilion)

2010 Soleil Le Rival From 45 year old vines planted on a bed of limestone terroir, this 90% Merlot and 10% Cabernet Franc blend offers a complex perfume of truffle, earth, blackberry and stone aromas. Concentrated with intense dark cherries and chocolate, the wine ends with a long, fresh, mineral, cassis and cherry finish. This wine is produced with the efforts of Stephan Von Neipperg. 90-92 Pts

2,128 Views

Tasted

Apr 29, 2011

2010
Château Soleil (Puisseguin-St. Émilion)

Licorice tinged cherries and earth, forward, fresh, spicy, black cherry and herb notes with sweet cassis finish.

2,748 Views

Tasted

May 8, 2013

Soleil 80% Merlot, 10% Cabernet Franc, 10% Cabernet Sauvignon was used to create a wine with licorice, jammy black fruit and cassis with a milk chocolate covered, cassis finish. This wine is produced with the efforts of Stephan Von Neipperg. 86-88 Pts

2,505 Views

Tasted

Apr 22, 2011

2009
Château Soleil Le Rival (Lussac-St. Émilion)

Forward styled and already showing well, this plush, low acid, round, chocolate, boysenberry, truffle and black cherry filled wine is a lot of fun to drink.

2,825 Views

Tasted

May 10, 2010

2009
Château Soleil (Puisseguin-St. Émilion)

Coffee, coconut, black cherry and licorice scents open to a round, forward style of medium/full bodied wine that ends with a chocolate, fennel and black raspberry finish.

3,357 Views

Tasted

Aug 26, 2012

2009 Soleil opens with licorice and dark berries. This soft textured, easy drinking wine finishes with dark jammy berries. 5,000 cases were produced. 87-90 Pts

3,140 Views

Tasted

Jun 29, 2010