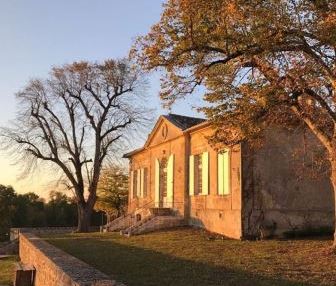 Learn everything about Chateau Marjosse, Entre Deux Mers with wine tasting notes, wine, and food pairing tips, best vintages, a history of the property, information on the vineyards, and winemaking. If you want to read about other important, Bordeaux Chateaux: Links to all Bordeaux Wine Producer Profiles
Chateau Marjosse History, Overview
Chateau Marjosse is the home estate for Pierre Lurton. Pierre Lurton is best known as the Managing Director of two First Growth Bordeaux estates. Chateau Cheval Blanc in St. Emilion and Chateau dYquem in Sauternes.
But Pierre Lurton is also well-known for producing some of the best red and white Bordeaux wine from the Entre Deux Mers appellation at his Chateau Marjosse estate.
The affable, charming, Pierre Lurton took over the responsibility of managing Chateau Marjosse in 1990. When Pierre Lurton began at Chateau Marjosse, the estate started out with only 12 hectares. Soon, his father gave Pierre 34 additional hectares and Chateau Marjosse was on the way.
Pierre Lurton has continued to increase his vineyard holdings and has made considerable renovations in the wine-making facilities. Under the care of Pierre Lurton, Chateau Marjosse updated their vinification facilities and built a new vat house.
Most of that work was completed by the 2000 vintage. However, the winery was once again updated in 2013. The design of the buildings is unique to the Entre Deux Mers appellation, with its Italian-looking frontage.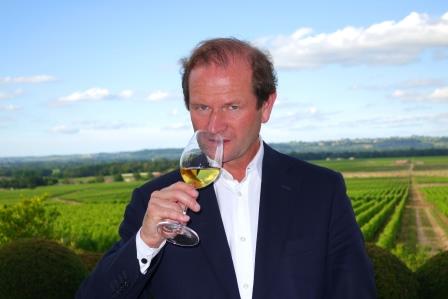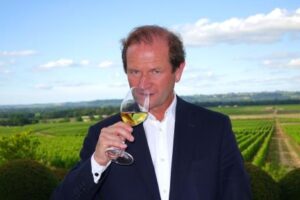 Chateau Marjosse Vineyards, Terroir, Grapes, Winemaking
The 50-hectare vineyard of Chateau Marjosse is planted to both red and white wine grapes. For the white wines, the vineyard is planted to 45% Semillon, 45% Sauvignon Blanc and 10% Muscadelle. However, there is also a small parcel of vines planted to Chardonnay.
For the production of their red wine, the vineyard of Chateau Marjosse is planted to 80% Merlot, 10% Cabernet Sauvignon and 10% Cabernet Franc. Here, the is also a small parcel of old vine Malbec planted.
The terroir of Chateau Marjosse is sand with clay and limestone soils on sloping hillsides that rise to 60 meters at their peak. In the vineyards, Pierre Lurton watched over a replanting of the vineyards and a much tighter spacing for the new vines.
Chateau Marjosse is vinified in temperature-controlled cement vats and aged in French oak barrels. Since 2016, they have added smaller tanks to allow for more parcel by parcel vinification. This also allows for more experimentation with the small plantings of Malbec and Chardonnay.
For the white Bordeaux wine of Chateau Marjosse, vinification and aging take place in a combination of large, used 500-liter oak barrels and egg-shaped cement vats.
The best vintages of Chateau Marjosse are: 2022, 2021, 2020, 2019, 2018, 2017, 2016, 2015, 2014, 2012, 2010 and 2009.
Starting with the 2018 vintages, Chateau Marjosse began releasing a few new blends and single varietal red and white wines that are a lot of fun to taste, including a 100% Chardonnay. Perhaps their most unique mono-varietal wine is Marjosse Cuvee Hirondelle, which is produced from 100% Muscadelle.
At least 4 new mono-varietal red wines are now being produced at Chateau Marjosse Cuvee Ortolan which is 100% Cabernet Franc and Cuvee Gros Bec which is produced from 100% Malbec. Chateau Marjosse Cuvée Les Truffiers and Chateau Marjosse Cuvée la Charmille are both produced from 100% Merlot. These are all very small production wines that average about 100 cases per vintage.
There is a second wine, Boisset la Chapelle. The estate also produces a third wine that is made from purchased grape sources, Lurton La Chapelle.
When to Drink Chateau Marjosse, Anticipated Maturity, Decanting Time
Chateau Marjosse is better with at least 1-2 years of aging in good vintages. Young vintages can be decanted and served if desired. Older vintages might need very little decanting, just enough to remove the sediment.
Chateau Marjosse offers its best drinking and should reach peak maturity between 1-8 years of age after the vintage.
Serving Chateau Marjosse with Wine, Food, Pairing Tips
The red wine of Chateau Marjosse is best served at 15.5 degrees Celsius, 60 degrees Fahrenheit. The cool, almost cellar temperature gives the wine more freshness and lift.
Chateau Marjosse is best paired with all types of classic meat dishes, veal, pork, beef, lamb, duck, game, roast chicken, roasted, braised, and grilled dishes. Chateau Marjosse is also good when matched with Asian dishes, rich fish courses like tuna, mushrooms, and pasta.
Chateau Marjosse Blanc can be served right out of the cellar at 14 degrees Celsius. The wine is perfect when paired with all types of seafood, shellfish, crab, lobster, sushi, sashimi, chicken, veal, and cheese.
Chateau Marjosse is a nice, early-drinking Bordeaux wine that sells for a very consumer-friendly price for wines of this character and level of quality. Chateau Marjosse is a wine to drink young, within the first few years after bottling.
Chateau Marjosse is a contender for one of the best wines from the Entre Deux Mers.
http://www.chateau-marjosse.fr
Château Marjosse Wine Tasting Notes
26 Vintages 65,328 Views Sort by Vintage-Rating
2022
Château Marjosse (Bordeaux)

Black cherries, currants and flowers show in the nose. On the palate, the wine is medium-bodied, soft, forward, elegant and fruity. This should deliver pleasure with ease on release. Drink from 2025-2030. 89-91 Pts.

916 Views

Tasted

May 8, 2023

2022
Château Marjosse Blanc (Entre-Deux-Mers)

Grapefruit, lemons, green apples and lime shine in this fresh, crisp. fruity, delicious, easy to like, Bordeaux Blanc. Drink from 2024-2029. 89-91 Pts.

635 Views

Tasted

May 8, 2023

2021
Château Marjosse Blanc (Entre-Deux-Mers)

Flowers, bright yellow citrus, green apple and bright, grapefruits shine in the nose and on the creamy, bright, crisp palate. Drink this young for all of its fruit and freshness. Drink from 2023-2027. 90-90

1,476 Views

Tasted

May 20, 2022

2021
Château Marjosse (Bordeaux)

Forward, soft, medium-bodied, charming, red cherry and currant filled, refined, soft-textured wine that will be perfect for early-drinking pleasure. Drink from 2023-2032. 88-90

1,910 Views

Tasted

May 20, 2022

2019
Château Marjosse Cuvée Canton du Loup (Bordeaux)

Produced from 100% Merlot and aged in new, French oak barrels, this parcel selection starts off with notes of espresso bean, smoke, chocolate and red plum notes. On the palate, the wine is round, fresh and plummy with a touch of salinity in the fruit filled finish. You can enjoy this soft, plush wine on release. Drink from 2022-2030.

840 Views

Tasted

Mar 29, 2022

2019
Château Marjosse (Bordeaux)

Medium-bodied, soft, ripe, and easy to like, this charming red cherry filled wine is earthy, fresh and sweet, with a touch of herbs and tobacco leaf in the finish. This will be best in its youth for all its fruits and freshness. Drink from 2022-2030.

1,595 Views

Tasted

Mar 29, 2022

2019
Château Marjosse Blanc (Entre-Deux-Mers)

Flowers, waxy lemon, dried pineapple and a bit of pomelo create the core of this fresh, forward, early-drinking, charmer. The wine finishes with a nice touch of sweet, lemons. Drink from 2022-2027.

1,198 Views

Tasted

Mar 29, 2022

2019
Château Marjosse Cuvée Gros Bec (Bordeaux)

It is not often I see Bordeaux from 100% Malbec, so this was a lot of fun to taste. The second vintage this Cuvee sports a deep color with hints of spice, grilled meat, dark red fruits and herbs on the nose and palate. The wine is soft, round and spicy, with a nice depth of ripe, earthy black cherries with a touch of cocoa on the palate and in the mildly dusty finish. Drink from 2022-2029.

683 Views

Tasted

Mar 29, 2022

2019
Château Marjosse Cuvée La Charmille (Bordeaux)

The second vintage of La Charmille is produced from a parcel selection of 100% Merlot. Quite floral on the nose, with a touch of spice to the sweet, ripe, red fruits, the elegantly textured, cherry and plum packed wine is ready to go on release. Drink from 2022-2029.

701 Views

Tasted

Mar 29, 2022

2018
Château Marjosse Blanc (Entre-Deux-Mers)

The wine is fresh, refreshing, bright, sweet and juicy, with green apple, lemon peel, pomelo and honeysuckle, making this a perfect wine for pairing with fresh seafood this summer. The wine is a blend of 40% Sauvignon Blanc, 35% percent Semillon, 20% Sauvignon Gris and 5% Muscadelle.

1,919 Views

Tasted

Apr 19, 2019

2018
Château Marjosse (Bordeaux)

Medium bodied, round, forward, charming and fruity, with a nice drizzle of licorice and cocoa in the finish. The wine will be delicious to enjoy on release for all its sweet, red berry charm. You can drink this value-priced Bordeaux on release. The wine was made from blending 80% Merlot, 10% Cabernet Franc, 5% Cabernet Sauvignon and 5% Malbec. 88-90 Pts

3,320 Views

Tasted

Apr 19, 2019

2017
Château Marjosse Blanc (Entre-Deux-Mers)

Flowers, pomelo, lemongrass and citrus combine perfectly with ample acidity to create a refreshing, lemony wine made from 40% percent Semillon, 30% Sauvignon Blanc, 25% Sauvignon Gris and 5% Muscadelle. Due to the frost, only the white wine was produced

2,013 Views

Tasted

Apr 26, 2018

2016
Château Marjosse Blanc (Entre-Deux-Mers)

Loads of fresh, juicy citrus here, with honeysuckle and melon notes. Medium bodied, with a pomelo coated finish. Easy to drink, this is a great summer wine for seafood, or just easy drinking pleasure.

1,764 Views

Tasted

Apr 29, 2017

2016
Château Marjosse (Bordeaux)

Medium bodied and forward in style, the wine is earthy, fresh and soft, with an open, friendly personality and a plummy finish. You can drink this on release. The wine was made from blending 80% Merlot, 10% Cabernet Franc and 10% Cabernet Sauvignon.

3,912 Views

Tasted

Apr 29, 2017

2015
Château Marjosse (Bordeaux)

With more density than usual, due to a reduction in the yields, the wine shows ripe, black cherries with a chocolate and licorice profile. The wine has depth and flavor. Produced in a forward style, there is a sweetness in the mouth that make this one of the top Bordeaux value wines in this vintage. Clearly, this is the best vintage ever produced by Pierre Lurton at Marjosse. The wine was produced from 80% Merlot, 10% Cabernet Franc and 10% Cabernet Sauvignon.

3,004 Views

Tasted

Apr 29, 2016

2015
Château Marjosse Blanc (Entre-Deux-Mers)

Floral notes, with lemon peel, pomelo and a touch of honeysuckle. Fresh, refreshing, well priced and perfect for a summer seafood meal. 45% Sauvignon Blanc, 45% Semillon and 10% Muscadelle create the blend.

1,798 Views

Tasted

Apr 29, 2016

2014
Château Marjosse Blanc (Entre-Deux-Mers)

Grapefruit and lemon wax, with a fresh, sweet, lively character that refreshes with its lemon accent. This is the perfect, easy drinking, summer wine. 45% Sauvignon Blanc, 45% Semillon and 10% Muscadelle. 87 Pts

4,622 Views

Tasted

May 1, 2015

2014
Château Marjosse (Bordeaux)

Earthy, dark cherry notes, medium bodied and showing an easy drinking, sweet, fruity character. The wine was produced from 75% Merlot, 15% Cabernet Franc and 10% Cabernet Sauvignon. 84-86 Pts

2,695 Views

Tasted

May 1, 2015

2013
Château Marjosse Blanc (Entre-Deux-Mers)

Grapefruit, lemon and lime, refreshing, lively and fun to drink. This well-priced Bordeaux Blanc is a perfect summer white wine for easy drinking. 87 Pts

2,516 Views

Tasted

May 1, 2014

2012
Château Marjosse Blanc (Entre-Deux-Mers)

With citrus and a touch of grapefruit, this fresh, bright, refreshing and well-priced Bordeaux Blanc is one of the better values from Entre deux Mers. 85-87 Pts

4,008 Views

Tasted

Apr 26, 2013

2012
Château Marjosse (Bordeaux)

Light red berries, herbs, soft textures and forward personality make this a fun, value-priced wine to drink in its first few years of life. 84-87 Pts

4,954 Views

Tasted

Apr 26, 2013

2011
Château Marjosse Blanc (Entre-Deux-Mers)

The home estate of Pierre Lurton, the director of Cheval Blanc and d'Yquem. 45% Semillon, 45% Sauvignon Blanc and 10% Muscadelle combine to produce a wine with floral lemon and grapefruit scents, good acidity and an easy-to-like lime and grapefruit finish. 87-88 Pts

2,790 Views

Tasted

Apr 20, 2012

2011
Château Marjosse (Bordeaux)

The home estate of Pierre Lurton, the director of Cheval Blanc and d'Yquem. Blended from 80% Merlot, 10% Cabernet Franc and 10% Cabernet Sauvignon and planted on limestone and clay terroir, the wine is aged in 30% new oak and reached 13.5% ABV. Cocoa, red berry and herbs with medium body and a fresh cherry finish. This will drink well on release. 86-87 Pts

3,245 Views

Tasted

Apr 20, 2012

2010
Château Marjosse (Bordeaux)

Simple, easy to drink quaffer with fresh, red berries and spice, this value Bordeaux wine is best consumed on the young side.

2,884 Views

Tasted

Mar 11, 2014

2009
Château Marjosse (Bordeaux)

A nice Bordeaux value wine with blackberry, plum, earth and forest scents, medium body and soft textures. This crowd pleasing style of wine is best enjoyed on the young side.

5,584 Views

Tasted

May 4, 2012

2005
Château Marjosse (Bordeaux)

With sweet black cherries, earth and tobacco, this soft textured, medium bodied wine has already reached its apogee and needs to be drunk up over the next few years before the fruit begins to fade.

4,346 Views

Tasted

Aug 21, 2011