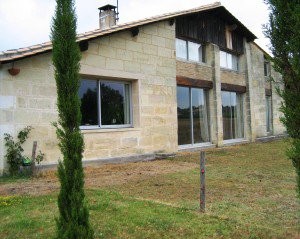 Learn everything about Chateau Gree Laroque Bordeaux Superieur with wine tasting notes and wine with food pairing tips, best vintages, a history of the property, and information on the vineyards and winemaking. If you want to read about other important, Bordeaux Chateaux: Links to all Bordeaux Wine Producer Profiles
Chateau Gree Laroque History, Overview
Chateau Gree Laroque was acquired by its current owners Patricia de Nyvenheim and Arnaud Benoit de Nyvenheim back in 1981. The name of the estate comes from a combination of geographical and personal names.
Gree is the maiden name of Patricia and Laroque is the name of the street where the owners live. The new owners of Chateau Gree-Laroque brought in the team of Stephane Derenoncourt starting with the 2000 vintage.
Chateau Gree Laroque Vineyards, Terroir, Grapes, Winemaking
The diminutive 2.5-hectare Chateau Gree-Laroque vineyard is planted to 90% Merlot, 7% Cabernet Franc and 3% Cabernet Sauvignon. The wine is a Bordeaux Superieur produced from vines planted in the Entre Deux Mers appellation in the Saint Ciers d'Abzac commune.
The vineyards are composed of two very different terroirs. You have molasse, which is a type of limestone mixed with sand and clay soil in one part of the vineyard. The other terroir is limestone and clay soils that you can often find in St. Emilion. The vineyards are surrounded by trees, parkland, and grazing land for sheep.
On average, the vines are old as many of their vines are close to 50 years of age. The vineyard is planted to a vine density of 6,500 vines per hectare. This Right Bank Bordeaux property is organically farmed with an eye to becoming fully biodynamic. In fact, little by little, Chateau Gree-Laroque continues its march to using 100% biodynamic farming techniques each vintage.
At Chateau Gree-Laroque, the grapes are destemmed, sorted, and the whole berries moved by conveyor belt into small, 25 hectoliter, stainless steel tanks for vinification. The alcoholic fermentation and maceration run 28 days on average. Malolactic fermentation takes place in barrels.
The wines are aged in an average of 60% new, French oak barrels for 12 months before bottling. Not much wine is made here, so it can be a bit hard to find with only 1,000 cases of wine produced here in a good vintage.
There is a second wine, Le Second de Gree. Chateau Gree Laroque is designated as a Bordeaux Superieur wine that combines value with quality and style.
The best vintages of Chateau Gree Laroque are: 2022, 2021, 2020, 2019, 2018, 2017, 2016, 2015, 2014, 2012, 2010, 2009 and 2005.
When to Drink Chateau Gree Laroque, Anticipated Maturity, Decanting Time
Chateau Gree Laroque is better with at least 1-3 years of aging in good vintages. Young vintages can be decanted for up to 1 hour, helping the wine soften to help develop the aromatic character.
Older vintages might need very little decanting, just enough to remove the sediment. Chateau Gree Laroque offers its best drinking and should reach peak maturity between 2-7 years of age after the vintage.
Serving Chateau Gree Laroque with Wine, Food, Pairing Tips
Chateau Gree Laroque is best served at 15.5 degrees Celsius, 60 degrees Fahrenheit. The cool, almost cellar temperature gives the wine more freshness and lift.
Chateau Gree Laroque is best paired with all types of classic meat dishes, veal, pork, beef, lamb, duck, game, roast chicken, roasted, braised, and grilled dishes. Chateau Gree Laroque is also good when matched with Asian dishes, rich fish courses like tuna, mushrooms, and pasta.
Château Gree Laroque Wine Tasting Notes
12 Vintages 29,390 Views Sort by Vintage-Rating
2022
Château Gree Laroque (Bordeaux Supérieur)

Medium bodied with black cherries, licorice, espresso and savory herbs on the nose and palate. The wine is forward, fruity and savory in the finish. Drink this on the young side. Drink from 2025-2031. 90-92 Pts.

756 Views

Tasted

May 8, 2023

2019
Château Gree Laroque (Bordeaux Supérieur)

Medium-bodied, soft, round and open, with loads of ripe juicy black cherries and dark cocoa that really hits the spot. Drink this young, or age it a few years. 88-90 Pts

2,631 Views

Tasted

Jul 8, 2020

2018
Château Gree Laroque (Bordeaux Supérieur)

Open, forward, fresh and fruity, with round textures, medium-body and a ripe, dark cherry and licorice-filled finish. This offers serious value drinking and it can be enjoyed on release. 89-91 Pts

4,177 Views

Tasted

Apr 19, 2019

2016
Château Gree Laroque (Bordeaux Supérieur)

Black cherry, licorice, and smoke, round out the nose. Medium bodied, fresh, delicate, but quite charming, for early drinking.

1,749 Views

Tasted

Apr 29, 2017

2015
Château Gree Laroque (Bordeaux Supérieur)

Smoky, and packed with licorice and sweet black cherries with fresh sensations in the finish; this shows great character at an affordable price.

1,594 Views

Tasted

Apr 29, 2016

2014
Château Gree Laroque (Bordeaux Supérieur)

Smoky, with round, ripe, fresh, red fruits and a spicy, sweet and a crisp, black raspberry finish. 86-88

1,864 Views

Tasted

May 1, 2015

2012
Château Gree Laroque (Bordeaux Supérieur)

90% Merlot and 10% Cabernet Franc produced a wine that reached 13.6% ABV and offers earth, black cherries and fennel in a lighter style of wine. 87-89 Pts.

2,010 Views

Tasted

Apr 26, 2013

2011
Château Gree Laroque (Bordeaux Supérieur)

95% Merlot with the remainder coming from Cabernet Franc. Deep ruby in color, licorice and black raspberry scents open to a supple-textured, sweet, round wine with a sweet ripe finish. 88-89 Pts

1,671 Views

Tasted

Apr 20, 2012

2010
Château Gree Laroque (Bordeaux Supérieur)

Already fun to drink, this delicious, forward blend of 90% Merlot and 10% Cabernet Franc offers up earthy, spicy black raspberries, cocoa, fennel and plum notes, soft textures and a fresh, polished finish. Plus, this wine sells for a fair price.

2,335 Views

Tasted

May 7, 2013

Gree-Laroque is mostly Merlot with the remainder coming from Cabernet Franc. Licorice, smoke and cassis, round textures and a finish of black cherry and cassis makes this one of the top value Bordeaux wines from the vintage. 88-90 Pts

2,398 Views

Tasted

Apr 22, 2011

2009
Château Gree Laroque (Bordeaux Supérieur)

From a blend of mostly Merlot and 5% Cabernet Franc, the wine offers a spice, mushroom, jammy dark berry and licorice filled perfume. Soft, round and packed with ripe fruit, this easy to like wine ends with layers of fresh blackberries.

2,120 Views

Tasted

Jul 16, 2011

2009 Gree Laroque comes from 95% merlot and 5% cabernet franc. It will be aged in 55% new oak. This supple, round, ripe berry and licorice flavored wine will deliver ample pleasure almost as soon as it's released. 85-88 Pts

2,211 Views

Tasted

Aug 26, 2010

2008
Château Gree Laroque (Bordeaux Supérieur)

08 Gree-Laroque (Bordeaux Superior), with its earthy, black cherry scents and pleasant texture, is a great value wine. Buyers will get a lot of bang for the buck in this early maturing wine. 87-90 Pts

1,813 Views

Tasted

Aug 1, 2009

2005
Château Gree Laroque (Bordeaux Supérieur)

Fennel, black cherry and smoke aromas, medium/full bodied with soft round textures, this crowd pleasing wine ends with licorice and cherries. This wine is ready to drink and should be consumed by the time it it hits its tenth birthday.

2,061 Views

Tasted

Oct 25, 2011