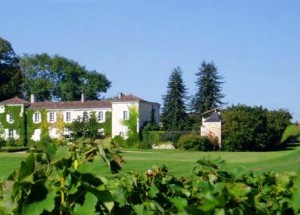 Learn everything about Chateau Rauzan Despagne Bordeaux Superieur, with wine tasting notes, wine and food pairings, best vintages, a history of the property, information on the vineyards and winemaking. If you want to read about other important, Bordeaux Chateaux: Links to all Bordeaux Wine Producer Profiles
Chateau Rauzan Despagne, History, Overview
In the 17th Century, before Chateau Rauzan Despagne earned fame as a Bordeaux vineyard, the chateau was used as a hunting lodge. Another owner who was a well known Bordeaux wine trader converted it into a summer residence. Today, that is clearly not the case. Located not far from the Bordeaux city center, Rauzan Despagne produces white and red Bordeaux wine.
Chateau Rauzan Despagne Vineyards, Terroir, Grapes, Winemaking
The 27.5 hectare vineyard of Chateau Rauzan Despagne is planted for red and white wine grapes. For the red wine grapes, the vineyard is planted to 80% Merlot, 10% Cabernet Sauvignon and 10% Cabernet Franc.
For the white wine grape varieties, the vineyards are planted to 50% Semillon and 50% Sauvignon Blanc. The best of their white wine is labeled as from Entre Deux Mers. For the generic AOC Bordeaux wine, the vines are planted to 100% Sauvignon Blanc.
On average the vines are planted to a density of 6,000 vines per hectare. The white wine of Rauzan Despagne comes from the Entre Deux Mers appellation. For the white wine, the vineyards are planted with Sauvignon Blanc, Semillon and Muscadelle.
Girolate
The Despagane family also produces a small of amount of wine made from 100% old vine Merlot called Girolate, which comes from their best parcels of old vine Merlot. The terroir is clay and limestone soil in the Entre Deux Mers appellation.
Not only are the vines old, but they Girolate is produced from fruit that comes from vines planted to a density of 10,000 vines hectare, which is much higher density than you find with the vines used to produce Chateau Rauzan Despagne.
The vine density was changed in 1999 and the new wine, Girolate made its debut in 2001. Girolate is fermented in small oak barrels. Malolactic fermentation also takes place in new, French oak barrels.
The wine is aged in 100% new, French oak barrels for about 16 months, prior to bottling. About 150 cases are produced Girolate. For many reasons, Girolate is the most expensive wine in its class.
When to Drink Chateau Rauzan Despagne, Anticipated Maturity, Decanting Time
Chateau Rauzan Despagne is better with at least 2-3 years of aging in good vintages. Young vintages can be decanted for up to 1 hour, helping the wine soften to help develop the aromatic character.
Older vintages might need very little decanting, just enough to remove the sediment. Chateau Rauzan Despagne offers its best drinking and should reach peak maturity between 3-9 years of age after the vintage.
The best vintages of Chateau Rauzan Despagne and Girolate are: 2020, 2019, 2018, 2017, 2016, 2015, 2014, 2012, 2010, 2009 and 2005.
Serving Chateau Rauzan Despagne with Wine, Food, Pairing Tips
Chateau Rauzan Despagne is best served at 15.5 degrees Celsius, 60 degrees Fahrenheit. The cool, almost cellar temperature gives the wine more freshness and lift. Chateau Rauzan Despagne is best paired with all types of classic meat dishes, veal, pork, beef, lamb, duck, game, roast chicken, roasted, braised and grilled dishes. Chateau Rauzan Despagne is also good when matched with Asian dishes, rich fish courses like tuna, mushrooms and pasta.
There is also a white wine version of Girolate made from 100% Sauvignon Blanc. Not much Girolate is made, making the wine quite difficult to find.
In addition, the owners of Chateau Rauzan Despagne also produce a few other Bordeaux value wines: Tour de Mirambeau, Bel Air Perponcher, Lion Beailieu and Mont Perat all make both red and white Bordeaux wine.
All told, Chateau Rauzan Despagne produces over 40,000 cases of Bordeaux wine per year.
Chateau Rauzan Despagne is a fine Bordeaux Superieur value Bordeaux wine made in a crowd pleasing style that drinks well on release and remains fairly priced.
Château Rauzan Despagne Wine Tasting Notes
15 Vintages 33,676 Views Sort by Vintage-Rating
2020
Girolate Blanc (Bordeaux)

Pomelo and fresh green apples with lemon peel on the nose and crispy zesty palate. This is ready to go for near-term drinking. 88 Pts

1,136 Views

Tasted

May 20, 2021

2018
Girolate (Bordeaux)

Deeply colored, with a nose of chocolate covered cherries, espresso, licorice, thyme, cinnamon and smoke, the wine is full-bodied, rich, round and lush with a chocolate covered, black cherry, espresso and licorice filled finish. 92 Points

1,012 Views

Tasted

Mar 9, 2021

2018
Girolate Blanc (Bordeaux)

Creamy green apples with touches of lemon peel and grapefruit that is ready for near-term drinking. 88 Points

973 Views

Tasted

Mar 9, 2021

Light, fresh, easy drinking, yellow citrus oriented wine for early drinking consumption. 88 Points

1,509 Views

Tasted

Apr 19, 2019

2017
Girolate (Bordeaux)

Dark in color with black cherry, flowers and chocolate, the wine is medium bodied, soft and forward with a polished finish. 88 Points

1,833 Views

Tasted

Apr 26, 2018

2017
Girolate Blanc (Bordeaux)

Easy quaffing white wine with a straight forward, fun already tasty bright, citrus personality. 87 Points

1,137 Views

Tasted

Apr 26, 2018

2016
Girolate (Bordeaux)

Dark in color, the wine is rich, deep, powerful and intense. The fruit, herbs, and freshness are all there in the right place. The lift in the finish keeps it interesting. 90 Points

1,380 Views

Tasted

Sep 21, 2019

Deep in color, with an oaky, dark chocolate, fennel, blackberry, and plummy character. The wine is round, lush and shows a strong oak/espresso component along with its sweet, red and black fruit profile. 90 Points

2,117 Views

Tasted

Apr 29, 2017

2015
Girolate (Bordeaux)

Forest aromas along with chocolate covered cherries, licorice and vanilla with a hint of mint to open the wine. On the palate, the wine is soft, approachable, round and loaded with sweet, ripe, juicy, dark red fruits. Drink it now, or age it for a bit. 90 Points

1,417 Views

Tasted

May 21, 2018

Produced from 100% Merlot, the wine is dark in color, with an oaky, blackberry, cocoa, licorice and chocolate character. Concentrated, round and lush, there is a definitive oak profile that is not going to please everyone. 89 Points

1,210 Views

Tasted

Apr 29, 2016

2015
Château Rauzan Despagne (Bordeaux Supérieur)

Medium bodied, forward, soft, bright and fresh, with a red berry character and hints of thyme, this is best for early drinking, well priced pleasure. 85-87 Pts

1,586 Views

Tasted

Apr 30, 2016

2014
Château Rauzan Despagne (Bordeaux Supérieur)

Medium bodied, with an oaky, cherry center, forward, round textured and an espresso, cocoa and red berry finish. 83-85 Pts

1,948 Views

Tasted

May 19, 2015

2012
Girolate (Bordeaux)

Produced from 100% Merlot, the wine offers, black raspberry, cocoa, thyme, chocolate and herbal notes on the nose, finishing with a lushly textured, cherry, espresso bean and vanilla finish, made for early consumption. 87 Points

1,395 Views

Tasted

May 15, 2015

2012
Château Rauzan Despagne (Bordeaux Supérieur)

Forward, easy drinking, round textured, cherry, cocoa, licorice and black raspberry filled, medium bodied, well priced, daily drinker is ready to go. 86 Points

1,577 Views

Tasted

May 19, 2015

2010
Château Rauzan Despagne Blanc (Bordeaux Supérieur)

Light, forward, simple, fresh, bright citrus flavors denote a wine made for early, uncomplicated drinking. 86 Points

1,437 Views

Tasted

Nov 2, 2014

2009
Château Rauzan Despagne (Bordeaux Supérieur)

A solid example of a Bordeaux value wine with soft textures, sweet, fresh blackberries, licorice and an easy going, crowd pleasing, uncomplicated finish. This will drink best on the young side. 88 Points

2,160 Views

Tasted

Aug 12, 2013

2005
Girolate (Bordeaux)

Licorice, coffee bean, blackberry jam, blue fruit, black cherry, truffle, earth and smoke get you going. On the palate, the wine is rich, round, fat, deep, long and with low acidity, finishing with sweet, lush, silky, black cherry liqueur sensations. If you can find a bottle, this would show better than many wines with a much higher level of classification. On the one hand, this could be the best example of a of very good wine made from a humble terroir I've ever tasted. On the other hand, it's a lot of money for a generic Bordeaux. 92 Points

3,541 Views

Tasted

Jan 25, 2013

2005
Château Rauzan Despagne (Bordeaux Supérieur)

2005 Rauzan Despagne is another wonderful unheralded, small Bordeaux wine that delivers the goods and gets you change for a $20. Blackberry, cassis, chocolate and oak aromas are coupled with a supple, blackberry jam and licorice infused palate. This offers a lot of bang for the buck. Wines like this are best enjoyed young for their upfront charms. 89 Points

3,424 Views

Tasted

Dec 12, 2012

Round, ripe, opulent textures, blackberry and licorice notes, with an elegant mouth feel are what you can expect from this wine. What you won't get are high prices. Selling for under twenty dollars, this is a steal for the money! I bet this does better than more expensive wines in a blind tastings. This is a wine to drink in its first decade of life. 90 Points

2,884 Views

Tasted

Jan 23, 2010