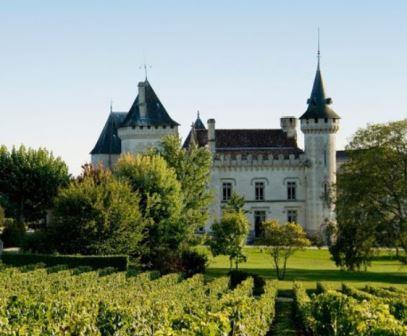 Learn everything about Chateau Carignan Bordeaux Superieur, with wine tasting notes, wine and food pairing tips, a history of the property, information on the vineyards and winemaking. If you want to read about other important, Bordeaux Chateaux: Links to all Bordeaux Wine Producer Profiles
Chateau Carignan History, Overview
Chateau Carignan is one of the older Bordeaux estates with a long history that dates back to the middle of the 1400's. There are parts of the impressive chateau that date back almost as far.
The modern age for Chateau Carignan begins in 2007, when the negociant, Andy Lench of Bordeaux Wine Locators purchased Chateau Carignan from Philippe Pieraerts. Louis Mitjaville of Chateau Tertre Roteboeuf consults the estate on their wine making and vineyard management programs.
Chateau Carignan Vineyards, Terroir, Grapes, Winemaking
The large, 65 hectare Bordeaux vineyard of Chateau Carignan is planted to 65% Merlot, 25% Cabernet Sauvignon and 10% Cabernet Franc. The vineyard has a terroir of clay, limestone and gravel soils.
The vines are on average 20 years of age. But they have old vines that are more than 40 years of age as well. The vineyard is planted to a vine density that ranges from 5,000 vines per hectare to 7,000 vines per hectare. The harvest is conducted using a combination of machine picking and hand harvesting.
To produce the wine of Chateau Carignan, whole berry vinification takes place in a combination of stainless steel vats and cement tanks. Malolactic fermentation takes place in tank and vat. The wine is aged in 15% new, French oak barrels for an average of 12 months.
Chateau Carignan also produces a high end cuvee, Chateau Carignan Prima which is sold as a Premieres Cotes de Bordeaux. Chateau Carignan Prima is a Merlot dominated wine that always comes from a specific 12 hectare parcel of the estates oldest Merlot vines. The wine is aged in 100% new, French oak barrels for 18 months.
The best vintages of Chateau Carignan are: 2022, 2021, 2020, 2019, 2018, 2017, 2016, 2015, 2014, 2012, 2010, 2009 and 2005.
When to Drink Chateau Carignan, Anticipated Maturity, Decanting Time
Chateau Carignan is better with at least 1 years of aging in good vintages. Young vintages can be decanted for less than 1 hour, helping the wine soften to help develop the aromatic character.
Older vintages might need very little decanting, just enough to remove the sediment. Chateau Carignan offers its best drinking and should reach peak maturity between 1-5 years of age after the vintage.
Serving Chateau Carignan with Wine, Food, Pairing Tips
Chateau Carignan is best served at 15.5 degrees Celsius, 60 degrees Fahrenheit. The cool, almost cellar temperature gives the wine more freshness and lift.
Chateau Carignan is best when paired with all types of classic meat dishes, veal, pork, beef, lamb, duck, game, roast chicken, roasted, braised and grilled dishes. Chateau Carignan is also good when matched with Asian dishes, hearty fish courses like tuna, mushrooms and pasta.
Chateau Carignan also makes a dry white Bordeaux wine from a blend of 50% Sauvignon Blanc and 50% Semillon. There is a second wine, L'Orangerie de Carignan. On average, the production of Chateau Carignan is about 32,500 cases of wine per year.
Château Carignan Wine Tasting Notes
9 Vintages 22,404 Views Sort by Vintage-Rating
2018
Château Carignan Prima (Premières Côtes de Bordeaux)

Medium bodied, forward, soft, early drinking with plums, olives, pepper, herbs on the backend. You can drink this on release.

644 Views

Tasted

Mar 9, 2021

Medium bodied, blending herbs, red currants, oak and olives in the finish. The wine was made from 100% Merlot. 86-88 Pts

1,588 Views

Tasted

Apr 19, 2019

2018
Château Carignan (Cadillac Côtes de Bordeaux)

Medium-bodied, soft, lighter styled, easy to drink wine that is fully ready to go on release.

639 Views

Tasted

Mar 9, 2021

2017
Château Carignan Prima (Premières Côtes de Bordeaux)

Soft, round and plummy with an easy drinking, red cherry and plum personality, you'll want to drink this in its first decade of life.

1,455 Views

Tasted

Apr 26, 2018

2016
Château Carignan Prima (Premières Côtes de Bordeaux)

Medium bodied, soft and with freshness in the fruit and soft tannins, there is a nice, round, fresh quality to the fruit in the finish. The wine was made from 100% Merlot.

2,420 Views

Tasted

Apr 29, 2017

2015
Château Carignan Prima (Premières Côtes de Bordeaux)

Produced from 100% Merlot, the wine is forward with round, open dark chocolate covered, black cherries and a kiss of herbs in the end note.

3,016 Views

Tasted

Apr 29, 2016

2014
Château Carignan Prima (Premières Côtes de Bordeaux)

Medium bodied, bright, crisp and very fresh red fruits with touches of olive, herbs and espresso in the soft, forward finish.

2,249 Views

Tasted

Jan 6, 2018

2012
Château Carignan Prima (Premières Côtes de Bordeaux)

From 100% Merlot, the wine is light in color, medium bodied and offers a cherry griotte personality that is for early drinking, with a slightly drying touch in the finish.

2,697 Views

Tasted

May 15, 2015

2010
Château Carignan Prima (Premières Côtes de Bordeaux)

Still showing youthful aromas of oak, blackberry, thyme and cocoa, another year or two in the cellar should add more softness to the medium bodied, black cherry finish.

4,086 Views

Tasted

Aug 13, 2015

2009
Château Carignan Prima (Premières Côtes de Bordeaux)

This ready to drink, medium bodied, round, Bordeaux value wine offers an espresso, black cherry, licorice and plummy personality. This is not a wine meant to make old bones. I'd drink this over the next 4-5 years.

3,610 Views

Tasted

Sep 12, 2014