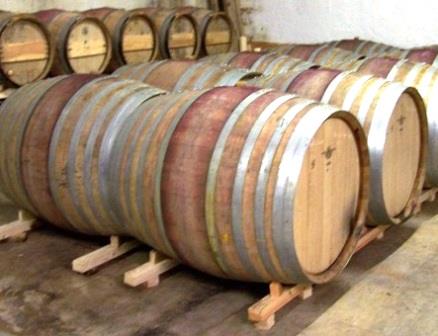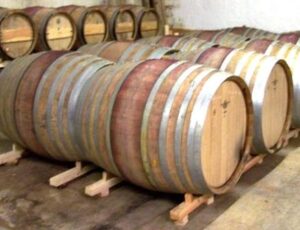 Learn everything about Domaine de l'Arnesque Chateauneuf du Pape, with wine tasting notes, wine, and food pairing tips, best vintages, wine ratings, a history of the property, information on the vineyards, and winemaking. If you want to read about other important wineries and winemakers from the Rhone valley: Links to all Rhone Valley Wine Producer Profiles
Domaine de l'Arnesque dates back to the 1800s as a vineyard in the Southern Rhone Valley. Previously, the estate was known as Domaine du Calongues. The current owners, the Biscarrat family have been actively working in the Chateauneuf du Pape appellation as growers for 5 generations.
Today, Domaine de l'Arnesque is managed by Julien Biscarrat and Marie Biscarrat. They began to run the Domaine starting in 2005. One of the first decisions made by Julien Biscarrat and Marie Biscarrat was to change the name of the property from Domaine du Calongues to Domaine de l'Arnesque. The inspiration for the new name came from one of the lieu-dit where their vines are located in Arnesque.
Domaine de l'Arnesque Vineyards, Wines, Winemaking
Domaine de l'Arnesque owns 4.5 hectares of vines in Chateauenuf du Pape. Much of their vineyard is located not too far from Mont Redon. Their vines are planted in a terroir of mostly sand, with some clay, limestone, and rocky soils.
Domaine de l'Arnesque produces one red Chateauneuf du Pape wine.
Domaine de l'Arnesque Chateauneuf du Pape is made from a blend of 80% old vine Grenache, 10% Mourvedre and 10% Syrah. The Grenache is at least 50 years of age. The terroir is pure galets. The wine is aged in a combination of demi-muids for the Grenache and French oak barrels for the Mourvedre and Syrah for 12 months.
All the grape varieties used in the blend are aged for an average of 12 months before blending and bottling. The production varies from year to year, but it averages about 3,000 cases per vintage.
When to Drink Domaine l'Arnesque, Anticipated Maturity, Decanting Time
Domaine l'Arnesque can be enjoyed on the young side. Young vintages can be popped and poured, or decanted for an hour so. This allows the wine to soften and open its perfume. Older vintages might need very little decanting, just enough to remove the sediment.
Domaine l'Arnesque is usually better with 2-4 years of bottle age. Of course, that can vary slightly, depending on the vintage. In the best vintages, the wine should be consumed within 8-10 years after the vintage.
Serving Domaine l'Arnesque with Wine, Food, Pairing Tips
Domaine l'Arnesque is best served at 15.5 degrees Celsius, 60 degrees Fahrenheit. The cool, almost cellar temperature gives the wine more freshness and lift.
Domaine l'Arnesque is best served with all types of classic meat dishes, veal, pork, beef, lamb, duck, game, roast chicken, roasted, braised, stewed dishes, sausage, eggplant, tomatoes, and cassoulet. Domaine l'Arnesque is also good with Asian dishes, hearty fish courses like tuna, mushrooms, and pasta.
Domaine de l'Arnesque Cuvee la Capelane is no longer produced.
The family also owns 50 hectares of vines in the Cotes du Rhone appellation for the production of both red and white wine.
Domaine de L'Arnesque Wine Tasting Notes
5 Vintages 8,833 Views Sort by Vintage-Rating
2017
Domaine de L'Arnesque (Châteauneuf-du-Pape)

A distinctive nose of garrigue and cherry, the wine is open, medium-bodied, elegant, soft and round on the palate. Juicy and fresh, this ends with sweet, spicy fruit in the finish.

1,388 Views

Tasted

Sep 21, 2019

2015
Domaine de L'Arnesque (Châteauneuf-du-Pape)

Medium bodied, lush, fresh, sweet cherries, elegant and stylish, the fruit has a purity and mineral quality I like a lot. This well-priced, kirsch, focused charmer will be ready to drink on release.

1,428 Views

Tasted

Aug 21, 2017

2014
Domaine de L'Arnesque (Châteauneuf-du-Pape)

Medium bodied, soft, light, forward, elegant style of wine, with a spicy, olive tinged, cherry note in the finish. This will be ready to drink on release.

1,055 Views

Tasted

Jun 23, 2016

2012
Domaine de L'Arnesque (Châteauneuf-du-Pape)

Medium bodied, early drinking, light, cherry centered wine with a fresh, herbal tinged finish.

1,680 Views

Tasted

Jun 18, 2016

2010
Domaine de L'Arnesque Capelane (Châteauneuf-du-Pape)

Licorice, jammy fruits and assorted, spicy berries are found in this forward styled, open wine.

3,282 Views

Tasted

May 29, 2013