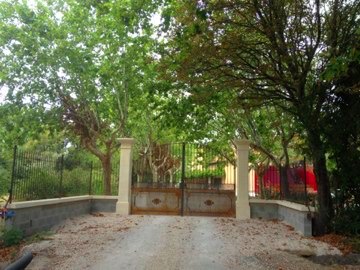 Learn everything about Domaine du Pegau Chateauneuf du Pape with wine tasting notes, wine, and food pairing tips, best vintages, a history of the property, and information on the vineyards and winemaking. If you want to read about other important wineries and winemakers from the Rhone valley: Links to all Rhone Valley Wine Producer Profiles
Domaine du Pegau History, Overview
Domaine du Pegau is an old name in Chateauneuf du Pape. The Feraud family is able to trace their roots all the way back to the middle of the 17th century in the Southern Rhone Valley. That is when the ancestors of the Feraud family first planted grapevines next to their olive trees and other assorted fruit trees in Chateauneuf du Pape.
The great, grandparents of Laurence Feraud were responsible for entering the family into the wine business with their initial purchases of vines. After their death, the vineyards were divided between their 4 children.
It was Paul Feraud, the father of Laurence Feraud that brought Domaine Pegau into the modern age when he began to bottle his own wine from the production of a small 5-hectare parcel of vines that he inherited in Chateauneuf du Pape. Prior to that date, the production was sold to negociants.
Domaine du Pegau The Modern Age
The next big step in the development of Pegau took place in 1987 when Laurence Feraud joined her father Paul Feraud at Domaine du Pegau. Under Paul Feraud and Laurence Feraud, the family was slowly able to continue increasing their vineyard holdings in size, in fact, by 1987, the family-owned 7 hectares of vines.
At the time, the wine was still be bottled under the name Domaine Feraud. They changed the name to Domaine du Pegau. "Pegau" is an old Provencal term for an ancient jug used for wine discovered during the excavations of the 14th century, at Avignon Pope's Palace.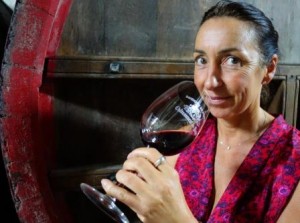 If you've wondered how to say Pegau, the daughter Laurence Feraud, who took over managing the property starting with the 2005 vintage, pronounces the name as Pay-Go. The father says it differently, Puh-Gow. That debate makes for a fun dinner conversation.
In 2012, Domaine Pegau added 60 hectares of land, including 40 planted hectares of vines in the Cotes du Rhone and Cotes du Rhone Villages appellations, with the best terroir located close to Sorgues.
The new wines will all be produced as coming from Chateau Pegau. Starting in 2012, they added a rose' to their portfolio, Pink Pegau. They also introduced a new white Cotes du Rhone, Cuvee Lone with the 2012 vintage.
The following year, in 2013, they changed the label for their Plan Pegau wine. The new label sports the image of a clock on the neck, with arrows pointing to different numbers, which represent the different years from which the wine was produced.
As Plan Pegau is sold as a Vin de France, the wine cannot by law, list the vintage. So this is going to be a helpful and fun way to inform consumers about the wine.
Starting in 2014, Domaine Pegau added a new, Chateauneuf du Pape Blanc to their portfolio, Cuvee A Tempo. Pegau Cuvee A Tempo.
Domaine du Pegau Vineyards, Wines, Winemaking
Domaine du Pegau owns 21 hectares of vines in Chateauneuf du Pape. 19.5 hectares are used for red wine grapes. 1.5 hectares of vines are reserved for growing white wine grapes. Due to the small size of the parcels used for the white wine grapes at Domaine Pegau, those grapes are farmed using 100% biodynamic farming techniques. The red wine grapes are not farmed biodynamically.
The vineyards for Domaine du Pegau are located in different areas of Chateauneuf du Pape in a total 11 different parcels. The best vines of Domaine du Pegau are located on the plateau of La Crau. They have old vines. Their oldest vines were planted in 1902.
They have a terroir of rocks, stones, clay, and limestone soils. They also own 5 hectares of vines in the Cotes du Rhone appellation, 20 hectares of vines in the Cotes du Rhone Villages, and 19 hectares of vines that are classified as Vin de France.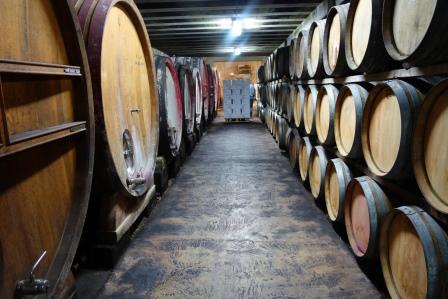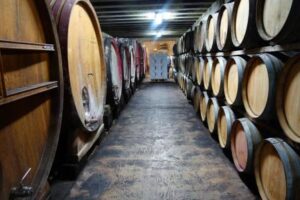 The best vintages of Domaine du Pegau are: 2022, 2021, 2020, 2019, 2018, 2017, 2016, 2015, 2012, 2010, 2009, 2007, 2005, 2003, 2001, 2000, 1998, 1990 and 1989.
Domaine du Pegau produces 4 red Chateauneuf du Pape wines and 2 Chateauneuf du Pape Blanc wines.
Domaine du Pegau Reserve is produced from 85% Grenache, 9% Syrah, and 4% Mourvedre, Counoise, and other varieties. Previous vintages had a bit more Syrah in the blend. To produce the wine of Domaine Pegau reserve, the grapes are not destemmed. Only natural yeasts are used.
The grapes are whole-cluster fermented in traditional, cement vats. The wine is aged on average for an average of 24 months in old foudres. At Pegau, they use a wide range of different old wood foudres.
The oldest is close to 90 years of age and was made from wood imported from Russia. The vessels come from a myriad of regions ranging from Eastern Europe to France, they range in size from 27 hectoliters to 60 hectoliters.
On average, close to 6,500 cases are produced of Domaine du Pegau each vintage. Older vintage of Pegau Reserve was often bottled at various times, due to their ability to bottle large quantities of wine at a fast pace, as well as wines could be bottled to order.
Vintages from 1990 and older could have three different bottling dates that were almost one year apart. That discrepancy has created bottle variations, and there is no way to know which bottling you have. Even the 2003 vintage was bottled over a 6 month period. Today, that is not the case as bottling dates have become more standardized.
Domaine du Pegau Cuvee Laurence is produced from the same blend as the reservee, 85% Grenache, 9% Syrah and 4% Mourvedre, Counoise, and other varieties. Previously, Cuvee Laurence was made from a specific barrel selection. Today, that is not the case. The wine is now the same as the Reserve, except it has been aged in barrel for a longer period of time.
For Domaine du Pegau Cuvee Laurence the grapes are not destemmed. The grapes are whole-cluster fermented in traditional, cement vats and aged in old, French oak barrels for an average of 40 months.
According to Laurence Feraud, the wine is aged to approximate what might happen with Pegau Reserve after ten years of aging. My personal preference is still for the Domaine du Pegau Reservee. On average, close to 650 cases are produced each vintage of Domaine du Pegau Cuvee Laurence.
Domaine du Pegau Cuvee da Capo is one of the most expensive and in-demand wines in the entire Rhone appellation! Pegau Cuvee da Capo is made from a blend of the estates oldest vine Grenache, which while it varies, as in some previous vintages it was close to about 90% of the blend.
Today, the Grenache is closer to 70% of the blend, along with Syrah, Mourvedre and the remainder comes from the various 13 other red grapes that are allowed to be planted in the Chateauneuf du Pape appellation.
For the wine of Pegau Cuvee da Capo, the grapes from mostly from old vines that are more than 100 years of age. The grapes are not destemmed. The wine is vinified in cement vats. Pegau Cuvee da Capo receives additional aging in old, large wood vats as the wine ages for on average between 24 to 26 months.
Pegau Cuvee da Capo is only made in the best vintages. So far, Pegau Cuvee da Capo wine has only been produced in 1998, 2000, 2003, 2007, and 2010. The wine is quite high in alcohol, often over 15%, but there is never any sensation of heat. The production of Pegau Cuvee da Capo is small, with an average of 500 cases produced each vintage.
Domaine du Pegau P.O.L.
The newest Cuvee from Pegau is P.O.L, produced in 2019. Cuvee POL comes from a blend that is roughly 50% old vine Grenache and 50% old vine Cinsault. Both grape varietals come from vines between 60-80 years of age which are planted in the sandy soils of La Crau. The grapes are whole bunch vinified. The wine is aged in used French oak barrels from Guigal for the initial 12 months. From there the wine rests in small fourdres for 4 months before the remainder of its aging which takes place in neutral oak barrels. The wine is still in barrel after 36 months. Very little of this gem is going to be produced. If you see it, buy it!
Domaine du Pegau Chateauneuf du Pape Blanc is made from a blend of 60% Grenache Blanc, 20% Clairette, 10% Roussanne and 10% Bourboulenc. Aged in steel tanks, the production is close to 250 cases per year.
Domaine Pegau Cuvee A Tempo is made from a blend of equal parts, Grenache Blanc, Clairette and Roussanne. The wine comes from parcels that are farmed using 100% organic farming techniques. The wine made its debut with the 2014 vintage.
The wine is vinified in a combination of French oak barrels, stainless steel tanks, and cement egg-shaped vats. The production is quite small, with about 100 cases of wine being produced in total. For a fun fact, if you use your phone to read the barcode on the back label, you will hear the theme music written for the wine, that is A Tempo.
When to Drink Domaine du Pegau, Anticipated Maturity, Decanting Time
Domaine du Pegau can be enjoyed on the young side, but the wine is better with age and decanting. Young vintages can be decanted for about 1 -2 or 3 hours. This allows the wine to soften and open its perfume. Older vintages might need very little decanting, just enough to remove the sediment.
Domaine du Pegau is usually better with 5-7 years of bottle age. Of course, that can vary slightly, depending on the vintage. In the best vintages, the wine should be consumed within 7-25 years after the vintage.
Serving Domaine du Pegau with Wine, Food Pairing Tips
Domaine du Pegau is best served at 15.5 degrees Celsius, 60 degrees Fahrenheit. The cool, almost cellar temperature gives the wine more freshness and lift. Young vintages can be popped and poured, or decanted for an hour so. Cuvée du Capo can be decanted 2-3 hours.
Domaine du Pegau is best served with all types of classic meat dishes, veal, pork, beef, lamb, duck, game, roast chicken, roasted, braised, grilled meats, stewed dishes, sausage, barbecue, and cassoulet. Domaine du Pegau is also good with Asian dishes, and hearty fish courses like tuna, mushrooms, cheese, pasta, eggplant, and tomatoes.
The white wine of Domaine de Pegau is best served with a myriad of different seafood dishes, shellfish, crab, lobster, sushi, sashimi, chicken, pork, and veal, as well as Asian cuisine.
Under the name of Chateau Pegau, the estate produces red Cotes du Rhone and white Cotes du Rhone as well as the value-priced, Plan Pegau, which is sold as a Vin de Table.
Laurence Feraud also entered into an agreement with Andre Brunel of Domaine Les Cailloux to produce wine from the Cotes du Rhone appellation that is sold under the name of Feraud Brunel. Pegau also produces an additional value, negociant wine, Selection Laurence Feraud.
Over the years. Domaine du Pegau has also produced a few one-off wines. A one-off wine is a wine that is only made in a single vintage. Two unique wines were produced in honor of their children, 1995 Maxime, and 1997 Justine. 1995 Domaine Pegau Cuvee Maxime and 1997 Domaine Pegau Cuvee Justine are made from a selection of the best lots, similar to what the estate does for the Cuvee da Capo.
In fact, in some ways, this can be seen as a precursor to the famous Pegau Domaine da Capo. The wines were vinified and aged using the same techniques the estate uses for the Domaine Pegau Reservee. The production is minuscule of both Maxime and Justine at close to 100 cases or less of each wine.
In 2003, 2010, and 2016, Domaine Pegau also produced a special Cuvee in magnum only, Pegau Inspiration. Pegau Inspiration is produced from a selection of the best barrels from their estate vineyards. Pegau Inspiration also receives a longer aging period in wood. Produced in minute quantities, each bottle is numbered as well. With a production of only 240 bottles, this is incredibly difficult to find.
Domaine du Pégaü Wine Tasting Notes
49 Vintages 460,537 Views Sort by Vintage-Rating
2020
Domaine du Pégau Cuvée Ella (Châteauneuf-du-Pape)

This is the first and last vintage of Cuvee Ella as it was made to celebrate the granddaughter of Laurence. Deeply colored, the wine is rich, supple, elegant, fresh, long and intense. The dark berries offer length, purity and expansiveness with a seamless finish that keeps on going long after the wine has left your glass. The grapes come from 3 different vineyards including La Crau. The grapes are whole bunch vinified. There is not much made as the production is only 900 bottles. The wine blends 90% old vine Grenache with various other varieties. Drink from 2028-2050.

659 Views

Tasted

Jan 27, 2023

2020
Domaine du Pégau Cuvée da Capo (Châteauneuf-du-Pape)

The first vintage since 2016 is dark ruby in color. With a nose packed with spice, dark red fruits, thyme, espresso and spice. This is the most powerful wine of the vintage, yet everything is in balance and harmony with its seamless layers of deep dark red fruits, pepper and black cherries. Bottling took place in December, 2022. Drink from 2028-2050.

771 Views

Tasted

Jan 27, 2023

2020
Domaine du Pégau Cuvée Réservée (Châteauneuf-du-Pape)

Dark garnet in color, the wine opens with flowers, kirsch, herb de Provence, and cherries. Vibrant, spicy and fresh, with loads of kirsch and plums on the palate and in the rich, yet elegant finish. Time in the cellar will help add depth, complexity and softness to this wine, allowing it to flesh and expand. The wine is a blend of 80% Grenache and various other AOC allowed grape varieties. Drink from 2026-2038.

2,416 Views

Tasted

Jan 27, 2023

2020
Domaine du Pégau Blanc Cuvée A Tempo (Châteauneuf-du-Pape)

Flowers, spice, bright yellow tropical fruits and minerality adorn the finish. On the palate, the wine is lush, fresh and lively, with the perfect balance between all of its ripe fruits, freshness, oily textures ad acidities. Drink from 2022 - 2031.

629 Views

Tasted

Jan 27, 2023

2019
Domaine du Pégau Cuvée P.O.L. (Châteauneuf-du-Pape)

Even though the wine is aged entirely in neutral barrels, you find the smell of incense, rose petals, black plums, smoke, licorice, spice, crushed rocks and red fruits. Deep in color, on the palate, the wine is equally massive and balanced. Full-bodied and fresh, the waves of fruit keep on coming in layers of black and red fruits, spice, touches of oceanic influences. As much power as this wine has, there is also incredible elegance and purity. The seamless finish completes the show as the wine remains with you for 60 seconds, or more. The debut vintage of Cuveé Pol comes from a blend that is roughly 50% old vine Grenache and 50% old vine Cinsault. Both grape varietals come from vines between 60-80 years of age which are planted in the sandy soils of La Crau. The grapes are whole bunch vinified and aged in used French oak barrels from Guigal for the initial 12 months. From there the wine rests in small fourdres for 4 months before the remainder of its aging which takes place in neutral oak barrels. The wine is still in barrel after 36 months. Very little of this gem is going to be produced. If you see it, buy it! Drink from 2030 - 2055.

1,788 Views

Tasted

Oct 6, 2022

2019
Domaine du Pégau Blanc Cuvée A Tempo (Châteauneuf-du-Pape)

Packed with crushed rocks, lemons, tropical fruits and flowers, at first, the wine appears shy. But it quietly sneaks up to you, and all of a sudden, you find that all of the sweet fruit continues building on your palate, leaving with you with seemingly endless waves of fresh, citrus, white peach, pineapple and the essence of minerality. Drink from 2022 - 2032

1,902 Views

Tasted

Jan 9, 2022

2019
Domaine du Pégau Cuvée Réservée (Châteauneuf-du-Pape)

Full-bodied, deep, and fresh, with layers of dark kirsch, thyme, flowers, olives, and herbs. The wine has density as well as freshness that lingers on the palate. There is peppery spice, dark red berries, and green olives that hit all the right notes in the finish. This is going to age and evolve for at least 2 decades or longer with ease. The wine is a blend of roughly 80% Grenache and various other AOC-allowed grape varieties. Drink from 2026 - 2040,

5,011 Views

Tasted

Oct 6, 2022

Richly colored, the wine exudes black hued, red fruits, licorice, flowers, herbs, olives and earthy nuances. Full-bodied, meaty, peppery and long, there is density matched with lift awarding you vibrancy, sweet, ripe, spicy wild fruits and a touch of garrigue in the ending, giving you more complexity. This is going to age and evolve for at least 2 decades or longer with ease. The wine is a blend of roughly 80% Grenache and various other AOC allowed grape varieties. Drink from 2026 - 2040

4,362 Views

Tasted

Jan 9, 2022

2019
Domaine du Pégau Blanc Cuvée Réservée (Châteauneuf-du-Pape)

Spicy white peaches, flowers, orange rind and spice notes get you involved with the wine. On the palate, things heat up with all its layers of crisp, bright, sweet, fresh, ripe, yellow citrus with a shot of green apple in the end note. Drink from 2022 - 2030

2,434 Views

Tasted

Jan 9, 2022

2018
Domaine du Pégau Cuvée Réservée (Châteauneuf-du-Pape)

Earthy, robust, animalistic, meaty, fruity and fresh, this is already a delight. The ripe berries are accompanied by layers of herbs, pepper, spice and garrigue. Full-bodied with layers of ripe plums and cherries, the wine is long, fresh and intense, with the ability to age and evolve for years. This is not a vintage that will require years of cellaring. Just a few years will add a lot to the wine. The wine is a blend of 80% Grenache and various other AOC allowed grape varieties. Because no Cuvee da Capo was produced in 2018, those grapes were added to flesh out the Reservee.

5,503 Views

Tasted

Oct 12, 2020

2018
Domaine du Pégau Blanc Cuvée A Tempo (Châteauneuf-du-Pape)

Rich, opulent blend of equal parts Clairette, Grenache Blanc, and Roussanne produces a delicious offering of white peaches, flowers, yellow tropical fruit, and lemon rind, with a mix of spices to liven things up. Drink from 2022-2028.

1,242 Views

Tasted

Oct 6, 2022

2018
Domaine du Pégau Blanc Cuvée Réservée (Châteauneuf-du-Pape)

Lush, ripe, creamy, oily textured wine with vivid citrus, flower, and honeydew notes on the nose and palate that is ready for drinking. Drink from 2022-2026.

1,310 Views

Tasted

Oct 6, 2022

2017
Domaine du Pégau Cuvée Réservée (Châteauneuf-du-Pape)

Deep in color, the wine offers one of the most concentrated sensations of the vintage. Here, you find a dark, spicy, ripe, sweet, fleshy, peppery intense wine that develops and expands on the palate. Long, fresh and juicy, the wine is going to require time before it is ready for drinking. . The wine is a blend of close to 80% Grenache along with various other AOC allowed grape varieties.

7,368 Views

Tasted

Sep 24, 2019

2016
Domaine du Pégau Cuvée da Capo (Châteauneuf-du-Pape)

The wine coats your palate with unreal levels of perfectly ripe cherries, herbs and peppery spices. Even though the wine is incredibly concentrated, almost dense in its richness, everything is in balance and harmony. The finish sticks with you for at least 60 seconds. As good as this is now, give it a decade in the cellar and it should provide thrilling drinking for at least 15-20 years after that.

6,150 Views

Tasted

Sep 17, 2021

Inky, dark, ruby in color, the combines insane levels of intensity with refinement and elegance. The black fruits has a surreal sense of purity. The wine is concentrated, deep and long, with peppery nuances and dark red berries in the finish. The endnote last 60 seconds. This is a remarkable wine and the best vintage of Cuvee da Capo to date. This is off the charts in all the right ways!

7,528 Views

Tasted

Sep 12, 2018

2016
Domaine du Pégau Cuvée Réservée (Châteauneuf-du-Pape)

A bit tight, and not quite as expressive as it was a few years ago, with coaxing, you find dried flowers, peppery red plums, black raspberries, and an array of spices, with a touch of smoke in the background. Full-bodied, meaty and intense, the finish displays ripe, dark kirsch with a peppery edge. Drink from 2024-2037.

6,326 Views

Tasted

Oct 6, 2022

With its distinctive, earthy, animalistic, herb de Provence, pepper and red berry nose, the wine is full bodied, fresh, intense, concentrated, deep and long. The fruit shows its character with little effort required. The peppery, spicy, garrigue notes that accompany all the dark red berries is really singing. This is one of the top vintages for Pegau and that is really saying something. Time in the cellar will help add depth, complexity and softness to this wine, allowing it to flesh and expand. The wine is a blend of 80% Grenache and various other AOC allowed grape varieties.

9,803 Views

Tasted

Sep 12, 2018

2015
Domaine du Pégaü Cuvée da Capo (Châteauneuf-du-Pape)

Intense black pepper aromas start thing off. From there you quickly move to dark black cherries, olives and Provencal herbs. Deep and dark in color, the wine is rich and intense with a purity of fruit that is hard to find. With this much density, you can eat this with a spoon! The wine is full bodied and long, balanced and fresh. The dark, peppery fruits in the finish coat your palate and stay there for over more than 40 seconds building in intensity. Off the charts in the right ways!

4,885 Views

Tasted

Aug 21, 2017

2014
Domaine du Pégaü Blanc Cuvée A Tempo (Châteauneuf-du-Pape)

Citrus peel, crushed stone and fresh lemon aromatics lead to a silky, fresh, richly textured, lemon, grapefruit and orange marmalade filled wine that combines richness, with opulence, sweet, ripe fruit, mineralty and freshness. This is the debut vintage for this new wine from Laurence Feraud.

3,727 Views

Tasted

Sep 17, 2015

2014
Domaine du Pégaü Cuvée Réservée (Châteauneuf-du-Pape)

Full bodied, spicy, fresh, peppery and already showing off its smoky, earthy, barnyard, plum, herb and kirsch profile. A few years in the cellar will help add depth, complexity and softness to this wine, allowing it to flesh and expand..

4,272 Views

Tasted

Jun 23, 2016

2014
Domaine du Pégaü Blanc Cuvée Réservée (Châteauneuf-du-Pape)

White peach, floral, citrus and orange scents, with a sweet, citrus and lively, oily, grapefruit core of fruit that will offer pleasure early.

2,192 Views

Tasted

Sep 17, 2015

2013
Domaine du Pégaü Cuvée Réservée (Châteauneuf-du-Pape)

A beautiful wine in this vintage. Packed with dark, spicy red fruits and earthy, peppery charms, this is a forward styled wine for the domaine that you can enjoy while aging the delicious 2009 and 2010 vintages as they slowly work their way to maturity.

5,167 Views

Tasted

Sep 8, 2015

2012
Domaine du Pégaü Cuvée Réservée (Châteauneuf-du-Pape)

Deep ruby in color, the wine pops with peppery, black raspberries, garrigue and kirsch. On the palate, the wine is full bodied, rich and deep, with a sweet, spicy, fresh, peppery character that adds to the plush textured, kirsch enriched finish.

8,138 Views

Tasted

Sep 17, 2015

2011
Domaine du Pégaü Cuvée Réservée (Châteauneuf-du-Pape)

Earthy, barnyard and wild cherry scents lead to you to a rich, warm, full bodied, spicy wine that is filled with garrigue, pepper and jammy strawberries in the finish.

6,943 Views

Tasted

Aug 11, 2014

2010
Domaine du Pégaü Cuvée da Capo (Châteauneuf-du-Pape)

Off the charts in the right ways! This was stunning from start to finish. The perfume explodes with scents of incredibly ripe cherries, plums, black raspberries, thyme, wet earth, garrigue and smoke. And that's just the appetizer. The main course is where the real action is, with its mouth filling, teeth staining levels of fruit, extract, the fruit is perfectly ripe, the levels of concentration are insane, yet everything is in balance. Nothing is too much. If you have the money want Chateauneuf du Pape at its best, this is worth cellaring a bottle of two.

5,777 Views

Tasted

Sep 17, 2015

2010
Domaine du Pégaü Cuvée Réservée (Châteauneuf-du-Pape)

Intense, thick, rich and filled to the brim with an array of sweet, perfectly ripe, black raspberries, cherries, plum and strawberries, complicated by fresh herbs, pepper and meaty aromas. The long finish paints your mouth with flavor that really lingers. This stunning wine is at the level of the 2003, which until I tasted this bottle, was my favorite vintage of Pegau. Now, it's a tie game!

15,195 Views

Tasted

Jan 20, 2014

2010
Domaine du Pégau Cuvée Réservée (Châteauneuf-du-Pape)

At the moment, the wine is quiet. Even with 1-2 hours of decanting, it took coaxing to find the peppery, earthy, garrigue and kirsch notes. Full-bodied, rich, classicly styled with good concentration, ripeness and purity in the fruits, perhaps a few more years of cellaring is needed before popping another cork.

8,240 Views

Tasted

Oct 20, 2020

2009
Domaine du Pégaü Cuvée Réservée (Châteauneuf-du-Pape)

Power and intensity, with luscious textures, fat, dense, ripe and very ripe red and dark red fruits, pepper and earth, with an animalistic touch. There is a lot of character to be enjoyed in this wine.

10,670 Views

Tasted

Aug 11, 2014

Rich in color and raw materials, this stunning example of Pegau roars from the glass with its intense nose of kirsch liqueur, pepper, fennel, spice, jam and meaty nose. Deep, full-bodied and intense, the powerful wine fills your mouth and palate with layers of ripe, extremely ripe and over ripe berries. Bravo Laurence!

11,356 Views

Tasted

May 12, 2013

2009
Domaine du Pégaü Cuvée Laurence (Châteauneuf-du-Pape)

Peppery, earthy, dark red berries are accompanied by a concentrated, thick layer of sweet, ripe fruit. There is a feeling of that is slightly drying on the palate in the finish that takes away from the wine before the finish of sweet and spicy, dark cherries kicks in.

4,878 Views

Tasted

Aug 11, 2014

2008
Domaine du Pégaü Cuvée Réservée (Châteauneuf-du-Pape)

Light, early drinking, fresh, bright cherry and wild strawberry, spicy character driven wine that will be best in its youth.

4,365 Views

Tasted

Aug 11, 2014

2007
Domaine du Pégaü Cuvée da Capo (Châteauneuf-du-Pape)

Peppery, jammy berries, incense, thyme and smoke on the nose. The fruit has this beautiful roasted quality. Silky, fresh, intensely concentrated and deep, with luscious, opulent textures, the wine fills your mouth, but isn't in way, hot, or over bearing. The finish makes itself right at home on your palate as if it never wants to leave. Everything is in balance.

6,772 Views

Tasted

Sep 17, 2015

2007
Domaine du Pégaü Cuvée Réservée (Châteauneuf-du-Pape)

Kirsch, cherry liqueur, black raspberry, earth and garrigue aromas, rich, lush textures and a long, fresh, pure, ripe fruit filled finish reminds me why I remain a fan of Chateauneuf du Pape and Pegau. Drink it now if you like them young, or let the wine age. This is simply delicious.

9,147 Views

Tasted

Aug 19, 2012

2006
Domaine du Pégaü Cuvée Réservée (Châteauneuf-du-Pape)

Bright, peppery and filled with strawberry, fresh cherries, earth and herbs, this rich, sweet, Chateauneuf du Pape needs a few more years to come around.

5,893 Views

Tasted

Nov 13, 2012

2005
Domaine du Pégaü Cuvée Réservée (Châteauneuf-du-Pape)

Krisch, garrigue, herbs, black raspberry and fresh herbal scents open to a medium bodied, fresh, acidic and still youthfully tannic Peagu. The wine needs a few more years before becoming fun to drink. This is the perfect Chateauneuf for people that find 2003 or 2007 too ripe or concentrated.

8,263 Views

Tasted

May 8, 2012

2005
Domaine du Pégaü Cuvée Laurence (Châteauneuf-du-Pape)

Packed with ripe, spicy, meaty, dark red berries, pepper, garrigue and earth, the wine is packed with deep flavors and lusty textures, ending with a still youthful finish.

3,537 Views

Tasted

Aug 11, 2014

2004
Domaine du Pégaü Cuvée Réservée (Châteauneuf-du-Pape)

Dark in color, with a nose packed with pepper, garrigue, kirsch, black raspberry, licorice and kirsch, this full bodied, concentrated, fresh, spicy, mouth filling Chateauneuf du Pape delivered the goods.

7,750 Views

Tasted

Jul 5, 2012

2003
Domaine du Pégaü Cuvée da Capo (Châteauneuf-du-Pape)

Mind blowing! It took just 1 sip to knock me over, forcing me to step back, think about it, and go back for another swirl, sniff and sip. This is more than decadent. The levels of concentration here are almost impossible to believe. The wine coats your palate, teeth and gums, and the best part is, it stays there for at least 60 seconds, or longer! Yet, as much as this wine has, everything is in balance, there is just a lot of weight on both sides of the scale. Still youthful, fresh and invigorating, this should drink well for at least 2-3 more decades. But life is short, so if you have a bottle, pop a cork and enjoy the ride!

5,985 Views

Tasted

Dec 14, 2017

Stunning in ever sense of the word, this wine has it all for Chateauneuf du Pape lovers. Waves of deep, rich, lush, ripe, sweet, spicy fruits are all over the place. There is a beauty to the fruits, symmetry, complexity and length here, with supple, hedonistic textures. This is drinking in the perfect place. I suspect this will age for quite a while, but why wait. This is exactly where it needs to be!

5,841 Views

Tasted

Oct 2, 2016

Mouth coating, palate staining and dense, rich does not express how much weight this wine has. No shy wall flower here. The wine packs a punch from the first sniff. On the palate, this is massive, yet there is prefect, velvety symmetry to the wine, as everything is in balance and harmony. The wine owns the room, and that's OK, because it's so damn good. This is a unique expression of Chateauneuf du Pape at its best.

6,382 Views

Tasted

Jun 2, 2015

Compelling! Each sip makes you want another, which is the sign of all great wines. The wine is incredibly concentrated, yet perfectly in balance. The fruit is perfectly ripe without heat or jammy qualities. The wine is rich, mouth coating, deep and long.

7,697 Views

Tasted

Jul 24, 2013

2003 Pegau da Capo has turned out so much different than I anticipated. Having tasted the wine in barrel and in bottle, I was expecting a massive, dark, jammy wine with more power than refinement. Nothing could be further from the truth. Served blind, this could have passed for a great vintage of Chateau Rayas! The beautiful fragrance was filled with earth, black cherries, kirsch, wild strawberries, pepper and spice. Elegant in texture, with a beautiful array of sweet, ripe, pure, juicy, red fruits in the finish, this suave Southern Rhone wine is a pleasure to drink now and it should remain at this level, or improve for many years to come.

8,557 Views

Tasted

Sep 27, 2011

2003
Domaine du Pégaü Cuvée Réservée (Châteauneuf-du-Pape)

This is a super wine and a contender for one of my favorite vintages of Pegau. Fat, rich, dense, lush and packed with layers of perfectly ripe, red and dark red fruits, barnyard, earth, garrigue and peppery spices, this is showing great today and should continue getting even better. The wine was popped and poured.

8,223 Views

Tasted

Aug 21, 2016

This majestic Chateauneuf du Pape gets better each time I taste it. With a perfume that pops the moment the wine hits your glass, jammy black raspberries, licorice, fresh earth, spice, kirsch and garrigue aromas are in full force. The texture is fat, lush, rich and full, ending with a long sensation of fresh, ripe, spice, dark, red berries. This wine of pleasure drinks great today. If you have some in your cellar, pop a cork and see for yourself.

9,091 Views

Tasted

Oct 17, 2013

Beautiful nose of barnyard, pepper, kirsch liqueur, strawberry, earth and spice capture your attention. Powerful, full bodied and concentrated, this voluptuous, rich, mouth filling wine coats your palate with layers of ripe, fresh, essence of black cherry, plum, black raspberry, spice and strawberry jam. This is a knockout Chateauneuf du Pape that can be enjoyed today and based on how well the 1990 is ageing, for at least another 15-20 more years.

13,834 Views

Tasted

Feb 27, 2012

If you're a fan of Chateauneuf du Pape, this sublime example belongs in your cellar. Explosive aromas of licorice, jammy black and red fruits, garrigue, pepper, spice, kirsch and fresh herbs. Powerful concentrated, rich, intense, pure and mouth filling. There is a lot to like with this wine. It's a fabulous expression of Chateauneuf du Pape.

11,387 Views

Tasted

Nov 27, 2011

Inky dark in color. Ripe and over ripe blackberry, strawberry and dark cherry along with pepper, licorice and spice, the perfume demands attention. Incredible levels of concentrated ripe fruit fill your mouth with ample freshness and purity. This has great character with the ability to age and evolve. This could end up better than the 90!

8,299 Views

Tasted

Nov 21, 2006

2003
Domaine du Pégau Cuvée Réservée (Châteauneuf-du-Pape)

Clearly at the top of the pyramid for the vintage, as the wine manages to avoid the pitfalls from the excessive heat, here you find a concentrated, lusciously styled, earthy, garrigue-filled wine with an array of spices, an herb garden and waves of ripe, sweet, peppery, red fruits with green olive tints and a finish that does not want to quit. Popped and poured, this is really playing at the top of its game.

5,246 Views

Tasted

Jul 13, 2021

Certainly a contender for the wine of vintage as this gem manages to avoid the excessive heat and overripeness found in many 03 Chateauneuf's. Rich, lush and captivating, the wine fills your palate with wild, earthy, peppery, herb, leaf and tobacco coated fruits. Ripe, but not too much, this is drinking beautifully today. If you have been waiting, pull a cork and enjoy the ride.

4,773 Views

Tasted

Oct 20, 2020

2001
Domaine du Pégaü Cuvée Réservée (Châteauneuf-du-Pape)

Barnyard scents are in full force, with this peppery, garrigue, black raspberry and earthy wine. Rich, full bodied, animalistic and filled with sweet, ripe, spicy fruit, this is drinking great today, and should be better tomorrow!

6,284 Views

Tasted

Dec 4, 2012

2000
Domaine du Pégaü Cuvée da Capo (Châteauneuf-du-Pape)

Powerful, concentrated and with depth of flavor, the wine is loaded with sweet, perfectly ripe, black raspberries, kirsch, pepper and herbs, all topped off with thyme. Dense, long and lush, with a purity of fruit, this is a stunner. Drink this now, or age it for a up to another decade, either way this is just great wine.

3,887 Views

Tasted

Dec 14, 2017

Ripe, rich, sweet, intense and in the sweet spot, there is a beautiful sensation of fruit, earth, spice, herbs and pepper that builds and expands, adding complexities to the waves of kirsch and black raspberries on your palate.

4,609 Views

Tasted

Jun 2, 2015

A very nice, stylish Chateauneuf du Pape, but it's not delivering as much pleasure as the 2000 Pegau Reserve. Especially when you compare the price difference. It has nice aromatics, ripe fruit and a good mouth feel, but something is missing at this stage of development.

4,660 Views

Tasted

Aug 19, 2013

Forward, jammy dark cherry and spice, this is not as good as the the previous benchmark, 1998. Fresh, balanced, complex and open, at the end of the day, it's not worth the money being asked.

3,356 Views

Tasted

Feb 23, 2009

2000
Domaine du Pégau Cuvée da Capo (Châteauneuf-du-Pape)

A massive wall of mouth-filling super ripe, sweet, peppery, deep red fruits with licorice, spice, jam and black cherries that keeps on coming. It is hard to believe this is almost 20 years of age. It seems immortal.

3,604 Views

Tasted

Feb 3, 2019

2000
Domaine du Pégau Cuvée Réservée (Châteauneuf-du-Pape)

Fully mature, the wine is on the elegant, soft, refined side on the palate. In the perfume, you find thyme, bouquet garni, dark, earthy kirsch, and meaty notes. This is completely developed and a pleasure to taste. Popped and poured, this delicious treat was the perfect match for Paella. This was my last bottle and I am sorry to see it go.

3,907 Views

Tasted

Oct 13, 2020

2000
Domaine du Pégaü Cuvée Réservée (Châteauneuf-du-Pape)

Plums, kirsch, pepper, garrigue, licorice and spice aromas are easy to find. Soft in texture with a lush character, this forward style of wine has been a pleasure to taste since the day it hit the stores. This bottle seems slightly more advanced than previous bottles. I'm not sure if that is just this bottle, or if the wine is developing at a rapid pace for Pegau. I'll try and pop another in the near future.

9,179 Views

Tasted

Nov 21, 2011

1998
Domaine du Pégaü Cuvée da Capo (Châteauneuf-du-Pape)

This stunner is packed with earthy, blackberries, cherries, garrigue, pepper, kirsch and licorice. Full bodied, long, sweet, ripe and intense, the pure, sweet, ripe fruits in the finish really stay with you.

5,622 Views

Tasted

Jun 2, 2015

1998 Pegau da Capo made from mostly old vine Grenache is so deep in color, it could pass for a 2007. With a nose packed with pepper, over ripe cherries, licorice, liquefied steak, garrigue, kirsch, spice, earth and fresh herbs, it's almost too much of a good thing. Please note I said, almost too much. Packed and stacked with multiple layers of sweet, jammy berries, the wine is obviously built to age and evolve for decades. The levels of concentration are almost off the charts. Perhaps I caught it at the wrong the wrong time, because the tannins were slightly obtrusive and the wine was not as expressive in the nose or mouth as I would have anticipated. From memory, the few times I've tasted the wine in the past offered a better tasting experience. I hope to try another bottle in another 5- 10 years.

5,942 Views

Tasted

Aug 2, 2012

Concentrated and freakishly ripe fruit. Peppery jam, this is incredibly rich and dense. Lovers of Chateauneuf need to to experience this wine at least once. The finish is well over sixty seconds!

5,947 Views

Tasted

Feb 23, 2008

1998
Domaine du Pégaü Cuvée Laurence (Châteauneuf-du-Pape)

Complex notes of black fruits, pepper, spices, griotte and jam. Rich, deep and palate pleasing. More structure, complexity, depth and fruit than the Reserve.

2,343 Views

Tasted

Nov 1, 2007

1998
Domaine du Pégaü Cuvée Réservée (Châteauneuf-du-Pape)

Hello Mr. Ed! You need a bath because you stink like a barn. This wine, or at least this bottle was very horsey. There was good quality to the fruit and texture, but the barnyard aromas bordered on the edge of too much.

7,133 Views

Tasted

Dec 26, 2013

Strawberry jam, kirsch, earth, Provencal herbs and pepper scents open to a medium/full bodied, round, ripe, sweet, mature Chateauneuf du Pape that is drinking great today. Full bodied, luscious and lusty, there is a lot to like in the wine and the best part is, there is no reason to delay popping a cork as it's drinking great today.

9,779 Views

Tasted

May 7, 2012

The wine opens with sweet kirsch, cherry, pepper, underbrush and black raspberry jam. This fresh, full bodied Chateauneuf seems to have matured quickly for Pegau. The wine finishes with a soft, jammy, pepper and cherry filled finish.

10,730 Views

Tasted

Aug 6, 2011

Cherry girotte, wild strawberry jam, fresh market herbs, underbrush, fennel and cracked black pepper start off the perfume. Full bodied, and filled with ripe, spicy, black cherry preserves, this sauvage style of Chateauneuf drinks well today and might improve a bit, but it's so much funto taste now, why wait?

10,460 Views

Tasted

Jul 17, 2010

Traditionally styled with ripe, red fruit, herbs, licorice and pepper. Concentrated with rich textures, this ripe wine packs a lot of ripe kirsch in the finish.

7,044 Views

Tasted

Nov 1, 2007

1995
Domaine du Pégaü Cuvée Réservée (Châteauneuf-du-Pape)

Animalistic, sauvage notes of ripe dark cherry and black raspberry jam with herbs and blackberry liqueur. Tannic, structured and slightly pitched. Needs time. Lacks some charm.

2,776 Views

Tasted

Oct 28, 2004

1990
Domaine du Pégaü Cuvée Réservée (Châteauneuf-du-Pape)

Beautiful in every sense of the word. The sweet, decadently ripe cherries, black raspberries, strawberry jam, spice and earth, along with the texture that only comes from the patina of age were in full force with this bottle. Popped and poured, this was a stunner.

3,284 Views

Tasted

Feb 2, 2016

Showing its age in color, with a boatload of roasted fruit, cherries, kirsch and earthy, forest scents, the wine is supple, round and fresh, with a beautiful core of sweet, ripe, spicy, black cherries that really leave a lasting impression. This was tasted from a pristine bottle at the property.

3,635 Views

Tasted

Sep 17, 2015

With an expressive nose of black cherry liqueur, kirsch, pepper, herbs and stone, we were in Chateauneuf du Pape. With beautiful textures and a sweetness to the fruit, this full mature Chateauneuf du Pape is a candidate for serious aging as it's still going strong at 22.

4,568 Views

Tasted

Mar 27, 2012

Spice, kirsch, black pepper, earth and garrigue scents open a full bodied, Grenache based wine that's filled with sweet, strawberry jam, spice and fresh cherries. Fully mature, this Chateauneuf du Pape should offer pleasure for another 5-10 years.

5,875 Views

Tasted

Jul 16, 2011

1990 Pegau, from a beautiful bottle with fill that looks like a 10 year old wine. Aromas of barnyard, Provencal herbs, cherry griotte, lavender, forest floor and white pepper start off the perfume. Full bodied, rich, luscious concentrated layers of spicy cherries and strawberry feel great as they coat your tongue with soft, flavors and lift. The peppery, cherry griotte and black raspberry finish could be a little longer, but this stylish wine gives so much pleasure, I'm not complaining. At close to 21 years of age, (sadly the wine, not me), there is no reason for more development. I'm going to finish my remaining bottles over the next 3-5 years. 96 Pts

5,496 Views

Tasted

Sep 11, 2010

Kirsch, iodine, herbs, olives, licorice, sweet black and red fruit are intoxicating to smell in this sublime Chateauneuf du Pape wine. In the mouth, layers of juicy, sweet, ripe fruit fill every nook and cranny of your plalate with layers of ripe srawberry, cherry and a hint of licorice.

4,369 Views

Tasted

Jul 1, 2009

Deeply colored with a potent perfume of spicy red and black fruit with jam. Very concentrated. Packed and stacked with ripe fruit and purity. The long clean finish will put a smile on any Chateauneuf du Pape fans face.

2,826 Views

Tasted

Nov 4, 2006

Red ruby with a tint of brick. The rim is definitely brick colored. Darker than many mature Chateauneuf's, but showing signs of maturity. Jammy, ripe black fruits along with herbs of Provence, wet earth and spices with a chocolate overtone which surprised me. Full bodied with ripe, lush cherry and strawberry notes. More interesting on the nose than the palate. :25-:30 second finish. Very dense mouth feel, extremely concentrated wine from very ripe fruit

2,766 Views

Tasted

Jan 24, 2004

1990
Domaine du Pégau Cuvée Réservée (Châteauneuf-du-Pape)

I was shocked this continues performing at the same high-level now that it is over 30 years of age. The attention-seeking perfume, with its spice, kirsch, cherries, plums, earth and herbal notes is right on. But the silky, luscious textural experience, with all its perfectly ripe fruits and its sublime purity sealed the deal. Popped and poured, there is no reason to age this any longer. That being said, this is about as good as mature Chateauneuf gets!

2,185 Views

Tasted

Feb 22, 2021

1990
Domaine du Pégaü Cuvée Laurence (Châteauneuf-du-Pape)

The finish showed a slight, dry, tart cherry flavor. I think this wine is starting to dry out. Owners should drink this sooner than later. The 90 Reserve is a much better wine.

3,840 Views

Tasted

Feb 20, 2007

Thick, beefy, dense and chewy in style with lots of herbs, strawberry, barnyard and black fruit on the nose.

1,650 Views

Tasted

May 3, 2005

Herbs, Spices, jammy fruit and incense notes filled the glass. The mouth feel on the Laurence was very elegant and in a wild way, as it is a Chateauneuf, elegant. Deep, rich tiers of decadent fruit fill your palate.

1,663 Views

Tasted

Feb 12, 2005

1989
Domaine du Pégaü Cuvée Réservée (Châteauneuf-du-Pape)

Sharp, peppery, bright and with a touch of brett, the wine lacks softness, leaving you with an earthy, chalky, spicy, red berry finish.

4,969 Views

Tasted

Sep 25, 2017

Strong, barn yard odors greeted you at the door. With time, that blew off and it morphed into a beefy, rustic, traditionally styled Chateauneuf lacking some charm.

1,811 Views

Tasted

Apr 25, 2005