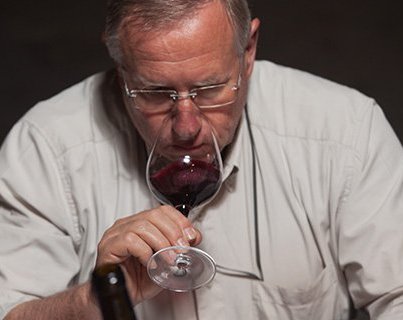 Learn everything about Andre Brunel Les Cailloux, Chateauneuf du Pape with wine tasting notes, wine, and food pairing tips, best vintages, a history of the property, and information on the vineyards and winemaking. If you want to read about other important wineries and winemakers from the Rhone valley: Links to all Rhone Valley Wine Producer Profiles
Andre Brunel Les Cailloux History, Overview
Andre Brunel owns Les Cailloux, a popular and well-known Chateauneuf du Pape property. He is the third generation of his family to manage the Southern Rhone Valley estate. Fittingly, Domaine Les Cailloux takes its name from the cailloux roules, which is the French term for the large stones found littered all over the Chateauneuf du Pape region, and of course, makes up an important component of their terroir.
The Brunel family has a long history in the Chateauneuf du Pape appellation. In fact, they've been in the area since the 1700s.
The first vintage for Les Cailloux was 1950, which remained in the barrel for almost 4 before it was finally bottled and shipped in 1954. Not much wine was made, so it is quite difficult to find these days. The entire production of their debut vintage was at best, 250 cases.
Andre Brunel took over the estate in 1971. His son, Fabrice Brunel is the next member of the family that began to manage the estate. Sadly, Andre Brunel passed away, on February 8, 2022. Fabrice Brunel is fully in charge of the property today.
Andre Brunel Les Cailloux Vineyards, Wines, Winemaking
Les Cailloux owns 21 hectares of vines. 19 hectares are devoted to red wine production and 2 hectares are used to make white Chateauneuf du Pape wine. The main grape variety they grow is Grenache. 70% of their vines are planted to Grenache followed by 17% Mourvedre, 10% Syrah, and 3% Cinsault.
Some of their vines are among the oldest in Chateauneuf du Pape. They have Grenache vines that are close to 120 years old! The terroir is filled with loam, limestone, rock, stone, and sandy soils.
For the production of their white wine, the vineyard is planted to 85% Roussanne and 15% Grenache Blanc. All vineyard practices include sustainable farming techniques. Many of their best parcels are located not far from Mont Redon.
The best vintages of Andre Brunel Les Cailloux are: 2022, 2021, 2020, 2019, 2018, 2017, 2016, 2015, 2012, 2010, 2009, 2007, 2005, 2003, 2001, 2000, 1998, 1990 and 1989.
Andre Brunel Les Cailloux produces 2 red Chateauneuf du Pape wines and one Chateauneuf du Pape Blanc.
Andre Brunel Les Cailloux Chateauneuf du Pape is usually a blend of 65% Grenache, 20% Mourvedre, 12% Syrah, and 3% of different grape varieties. Over the years, there has been a slow, but steady increase in the amount of Mourvedre added to the blend.
The vines are on average 60 years of age. The terroir is rocks stones and limestone. The vines are planted in the le Bois de la Ville, Cansaud, Farguerol les Reves and les Serres lieux-dits.
About 70% of the grapes are destemmed. Following fermentation, the Grenache is aged in enamel-coated, cement vats. The Syrah and Mourvedre are aged in 1 to 3-year-old small barrels.
On average, the wines remain in vat or barrel for between 15 to 20 months, depending on the character and grape varietal. About 5,000 cases are produced each vintage.
Andre Brunel Les Cailloux Cuvee Centenaire made its debut in 1989. Because 1889 was the first year their vines were planted in the Chateauneuf du Pape appellation, to celebrate the 100th anniversary, and as you might guess, this is where the inspiration to produce and name the wine came from.
Les Cailloux Cuvee Centenaire comes from their oldest Grenache from vines averaging over 100 years of age. About 10% Syrah and an equal portion of 10% Mourvedre are usually included in the blend.
Between 60% to 80% of the grapes are destemmed. For this special wine, the Grenache ages for 15 to 20 months in a combination of foudres and one to three-year-old barrels. The Syrah and Mourvedre are aged in demi-muids.
Not much of this special wine is made. The average annual production hovers close to 500 cases per vintage when the wine is produced. Les Cailloux Cuvee Centenaire is not produced in every vintage. The wine is only made in the best years.
Andre Brunel Cuvee Reservee Chateauneuf du Pape is the newest addition to their lineup of wine. The wine is a blend of young vine Grenache and purchased Syrah grapes. Andre Brunel uses this as a negociant wine. This is a nice, well-priced, Chateauneuf value wine that drinks well on release.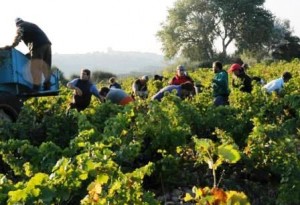 Les Cailloux also produces a white Chateauneuf du Pape from 90% Roussanne with some Grenache Blanc and Clairette to round out the blend. 400 cases are produced each year.
When to Drink Andre Brunel Les Cailloux, Anticipated Maturity, Decanting Time
Andre Brunel Les Cailloux can be enjoyed on the young side. Young vintages can be decanted for between 1-2 hours. This allows the wine to soften and open its perfume. Older vintages might need very little decanting, just enough to remove the sediment.
Andre Brunel Les Cailloux is usually better with 3-7 years of bottle age. Of course, that can vary slightly, depending on the vintage. In the best vintages, the wine should be consumed within 5-22 years after the vintage.
Serving Andre Brunel Les Cailloux with Wine, Food, Pairing Tips
Andre Brunel Les Cailloux is best served at 15.5 degrees Celsius, 60 degrees Fahrenheit. The cool, almost cellar temperature gives the wine more freshness and lift.
Andre Brunel Les Cailloux is best served with all types of classic meat dishes, veal, pork, beef, lamb, duck, game, roast chicken, roasted, braised, stewed dishes, sausage, barbecue, and cassoulet. Andre Brunel Les Cailloux is also good with Asian dishes, hearty fish courses like tuna, mushrooms, pasta, and cheese.
The white wine of Andre Brunel Les Cailloux is best served with a myriad of different seafood dishes, shellfish, crab, lobster, sushi, sashimi, chicken, pork, and veal, as well as Asian cuisine and a diverse array of hard and soft cheese.
Andre Brunel is also in a partnership with Laurence Feraud from Domaine Pegau. The wine they produce is called Feraud-Brunel. In addition Andre Brunel also owns 70 hectares of vines in the Cotes du Rhone appellation. They also produce wine from vines they own in the Vaucluse Vins de Pays. There is a negociant Cotes du Rhone wine, Cuvee' Sommelongue.
http://domaine-les-cailloux.fr
Les Cailloux (Lucien et André Brunel) Wine Tasting Notes
24 Vintages 141,020 Views Sort by Vintage-Rating
2019
Les Cailloux (Lucien et André Brunel) Cuvée Centenaire (Châteauneuf-du-Pape)

Wild strawberry and kirsch, with the right touch of garrigue hit the spot on the nose. Elegant, fresh, fruit-filled and soft. the lusciously textured silky wine sits perched between the corners of hot and sultry. The kirsch on the palate shows a fabulous purity of fruit with peppery herbs and green olives in the finish. The wine is made from 100% old vine Grenache from vines that are well over 100 years of age, which give this good concentration and depth of flavor. Drink from 2025 - 2040

2,755 Views

Tasted

Jan 9, 2022

2019
Les Cailloux (Lucien et André Brunel) Blanc (Châteauneuf-du-Pape)

Flowers, yellow tropical fruits, and honeydew melon come through easily in this rich, creamy, oily, fresh wine. Drink from 2022-2028.

1,253 Views

Tasted

Oct 6, 2022

2018
Les Cailloux (Lucien et André Brunel) (Châteauneuf-du-Pape)

Medium-bodied, soft, sweet, tart and fresh. The cherries are stained with peppery spice, olives, thyme and garrigue on the palate and in the finish.

1,723 Views

Tasted

Oct 12, 2020

2017
Les Cailloux (Lucien et André Brunel) Cuvée Centenaire (Châteauneuf-du-Pape)

Refinement, elegance and charm is what you find here among all the sweet, luscious, ripe, spicy cherries, kirsch and licorice. Silky and pure, this is not about power. Here the wine is focused on the freshness and purity in the fruit from start to finish. The wine is made from 80% old vine Grenache, 15% Mourvedre and 5% Syrah.

2,550 Views

Tasted

Sep 21, 2019

2017
Les Cailloux (Lucien et André Brunel) (Châteauneuf-du-Pape)

Medium-bodied, soft, sweet, fresh with a nice vibrancy to the cherries kirsch, you can enjoy this elegant wine early in life, while waiting for its more powerful 2016 wines to develop. The wine is made using a blend of 60% Grenache, 25% Mourvedre, 10% Syrah and 5% Cinsault.

2,633 Views

Tasted

Sep 21, 2019

2016
Les Cailloux (Lucien et André Brunel) Cuvée Centenaire (Châteauneuf-du-Pape)

This is just starting to show all of its charms. Opening with earthy kirsch, black raspberry, thyme, flowers, and strawberries. Supple and seductive, with silky tannins and a lush finish, you find a hint of cocoa and fig, along with all of its opulent red fruits in the finish. The wine is made from 100% old vine Grenache from vines that are well over 100 years of age, which give this good concentration and depth of flavor. Drink from 2023 - 2037.

1,782 Views

Tasted

Oct 6, 2022

What a gorgeous blast of kirsch, cherry, plum, spice, licorice and leafy herbs. Rich, concentrated, elegant and powerful, the wine hits all the right notes from start to finish, ending with wave after wave of sweet, ripe, pure red fruits. This will drink great young, but its true beauty will show up at about 10 years of age.

5,122 Views

Tasted

Oct 15, 2019

2016
Les Cailloux (Lucien et André Brunel) (Châteauneuf-du-Pape)

Just a superb wine that is a treat in your glass due to all of the nuances of flowers, kirsch, peppery spice, and leafy herbs. Medium-bodied, elegant, refined, and fresh, the supple-textured finish packs in a lot of sweet, ripe, kirsch. The wine is made from blending 70% Grenache, 15% Mourvedre, 10% Syrah, and 5% Cinsault. Drink from 2022-2031.

2,134 Views

Tasted

Oct 6, 2022

2015
Les Cailloux (Lucien et André Brunel) Cuvée Centenaire (Châteauneuf-du-Pape)

If silky textures and a purity of fruit are what you're seeking, you came to the right place. Soft, polished, sensuous textures and sweetness of flavor with peppery accents and loads of kirsch on the back end are going to keep you coming back for more.. The wine is made from 100% old vine Grenache.

4,252 Views

Tasted

Aug 21, 2017

2015
Les Cailloux (Lucien et André Brunel) (Châteauneuf-du-Pape)

Sweet cherries and pepper line right up for the perfume. On the palate, the wine is fresh, forward and polished, which is a good setting for the juicy kirsch in the finish. The wine is made using a blend of 70% Grenache, 15% Mourvedre, 10% Syrah and 5% Cinsault.

4,023 Views

Tasted

Aug 21, 2017

2014
Les Cailloux (Lucien et André Brunel) (Châteauneuf-du-Pape)

Light in style, the wine is fresh, elegant and easy to like. There is freshness and purity in the red berries along with a spicy component that adds to the wines early drinking pleasure.

2,467 Views

Tasted

Jun 23, 2016

2012
Les Cailloux (Lucien et André Brunel) (Châteauneuf-du-Pape)

5 spice and red fruits are quickly followed by a medium bodied, elegantly styled, sweet, ripe, spicy, kirsch filled wine. The wine was produced from a blend of 65% Grenache, 20% Mourvedre, 12% Syrah and 3% Cinsault.

1,676 Views

Tasted

Sep 10, 2014

2010
Les Cailloux (Lucien et André Brunel) Cuvée Centenaire (Châteauneuf-du-Pape)

Deep ruby in color, with garrigue, wild strawberry jam, kirsch and licorice, the wine is silky, luxurious, refined and ends with layers of sweet, pure, fresh red, spicy berries. This is such a great style of Chateauneuf du Pape.

6,999 Views

Tasted

May 31, 2013

2010
Les Cailloux (Lucien et André Brunel) (Châteauneuf-du-Pape)

Forward in style, with ample polished cherries, herbs and fennel, this kirsch filled wine is already delivering a lot of pleasure.

3,101 Views

Tasted

May 29, 2013

2009
Les Cailloux (Lucien et André Brunel) (Châteauneuf-du-Pape)

If you're seeking value, character and style in Chateauneuf du Pape, look no further as this is going to be hard to top. A blast of kirsch, pepper and jammy wild strawberry scents grabs you. On the palate, this lush, forward, fat, juicy wine packs a lot of pleasure into every sip. The wine has good freshness and intensityin the finish.

3,578 Views

Tasted

Dec 13, 2013

2007
Les Cailloux (Lucien et André Brunel) Cuvée Centenaire (Châteauneuf-du-Pape)

This is one sexy Chateauneuf du Pape. Drenched in velvet textured, ripe, red berries, kirsch, pepper and garrigue, this wine was built for pleasure. Drink it now, or in a decade, this is great juice!

5,899 Views

Tasted

Nov 27, 2011

2003
Les Cailloux (Lucien et André Brunel) Cuvée Centenaire (Châteauneuf-du-Pape)

This is a wonderful supple style of Chateauneuf du Pape at its best. Filled with black pepper, kirsch, licorice, liqueur of cherries and spice, it's a pleasure to experience. The pure fresh, soft textured, ripe, fruit filled finish is a pleasure to taste. That being said, this is already fully mature. I would not age this wine. I plan to finish my remaining bottles over the next 2-4 years.

4,560 Views

Tasted

Dec 30, 2011

03 Centenaire opens with an explosive perfume the moment the cork is popped. Blackberry and boysenberry jam, cracked black pepped, chocolate and dark cherries are all over the place. This big, intense, fat, full bodied wine is mouth filling. Some tannin remains that needs to be resolved. The wine ends with blackberry, prune, dark cherries and hints of raisins. This is a hedonistic style of Chateauneuf.

4,401 Views

Tasted

Aug 24, 2010

2001
Les Cailloux (Lucien et André Brunel) Cuvée Centenaire (Châteauneuf-du-Pape)

What happened to this wine? It looks like a 40 year old bottle of wine with its brownish hue. It's almost maderized. I did not finish my glass. I am going to pop another bottle in the moderate future.

4,770 Views

Tasted

Sep 21, 2014

It took about 30 minutes in the glass to open. Kirsch, earth, garrigue and wild strawberry notes led to a concentrated, powerful, tannic, structured style of Chateauneuf du Pape that will probably benefit from a few more years of bottle age. The finish combines spicy, sweet and tart cherries.

3,456 Views

Tasted

Nov 11, 2012

2000
Les Cailloux (Lucien et André Brunel) Cuvée Centenaire (Châteauneuf-du-Pape)

The nose pops with all those ripe, peppery red berries, pit fruits, herbs and kirsch. Medium-bodied, round, soft, sweet and spicy, the wine finishes with mildly jammy, sweet, exotic kirsch notes. This is fully developed and should be consumed over the next 5 years or so.

3,256 Views

Tasted

Oct 26, 2021

Best showing ever, this is at absolute peak. If you like pure kirsch liqueur with fresh black pepper, silky, sensuous textures, richness, concentration and a spicy, fresh, sweet, sultry ending to finish things off, you should enjoy this as much as I did. Popped and poured, decanting would add too much air.

4,443 Views

Tasted

Dec 11, 2016

Fresh cherries, herbs, spice, garrigue, pepper, kirsch and strawberry jam aromas entice you to discover more about this Chateauneuf du Pape. The round, supple, sexy texture is rich. The vibrant, opulent finish ends with layers of fresh, ripe, plush, spicy, red fruits. This delicious wine is drinking at peak today.

4,905 Views

Tasted

Nov 13, 2011

1998
Les Cailloux (Lucien et André Brunel) Cuvée Centenaire (Châteauneuf-du-Pape)

Elegant, fresh, soft, silky, and packed with a myriad of red plums, wild strawberries, kirsch, spice, herbs, and thyme, this is drinking at full maturity today. This is a gorgeous style of Chateauneuf du Pape produced from vines that are over 110 years of age.

2,662 Views

Tasted

Oct 26, 2021

The wine blends overripe qualities with juicy, sweet, ripe cherries, silky textures and a rich, mouth feel. The finish, with its earthy, spicy kirsch notes is clean, sweet, long and expansive. Fully mature, there is no hurry to drink it, but I would not be laying down cases of this either.

3,203 Views

Tasted

Dec 12, 2017

Not only is this one of the best wines 1998 Chateauneuf du Papes I've tasted yet, it's one of the best Rhone wines I've had all year! Potent aromatics packed with kirsch, earth and sweet, ripe, dark and red fruits are just the start. The wine has so much glycerin, it coats your mouth like it did the glass with an intensity that comes from very old vines. In this case, the Grenache comes from vines that are over 100 years of age. . The wine is not heavy, everything is in perfect balance. All of this is topped off by the long, fresh, pure, expansive, complex finish that lingers for close to 50 seconds.

3,991 Views

Tasted

Aug 29, 2012

Spicy cherry, raspberry, pepper and earthy notes made for a compelling perfume. Great sensuous mouth feel.

5,047 Views

Tasted

Feb 12, 2008

1995
Les Cailloux (Lucien et André Brunel) Cuvée Centenaire (Châteauneuf-du-Pape)

The color looked older than I would have thought, especially since I've had this bottle in my cold cellar since release. The showy nose delivered black pepper, kirsch, earth and garrigue. Silky, soft and smooth, with really good concentration, there was only a minor hint of the harsh tannins that had been there in its youth. The wine remained at the same level in the glass for over an hour. I would not bother aging it further, but there is probably no reason to hurry either.

3,611 Views

Tasted

Aug 12, 2013

1990
Les Cailloux (Lucien et André Brunel) Cuvée Centenaire (Châteauneuf-du-Pape)

This could be a ringer for Rayas in a blind tasting. Incredible purity of fruit, the kirsch pops and lingers. Silky and refined, the elegantly, sweet, delicately spiced fresh cherry finish tastes as good as it feels. At full maturity, if you have been waiting for the right moment, it is time to pop a cork. No decanted warranted here.

3,439 Views

Tasted

Oct 26, 2021

For a Chateauneuf approaching 30 years of age, this is just rockin'! The kirsch has a purity to it that stands out. Silky texture, full bodied, aromatic and sexy, this is at peak, and should deliver the goods for up to another decade.

3,402 Views

Tasted

Dec 12, 2017

Stellar in every way, this is a beauty, and an increasingly rare treat. With a beautiful purity of fruit, silky, sensuous textures, exotic nose of spice box, cherries, flowers and earth, and a true uniqueness of character. This is truly in its sweet spot.

4,770 Views

Tasted

Sep 13, 2015

Fresh, cherries, spice, earth, fennel and garrigue scents lead to a silky, smooth, polished, exotic display of kirsch that builds and expands.

3,611 Views

Tasted

Aug 18, 2014

I'm not sure if this is a good or bad omen for the coming year, but tasted January 2, 2014, I am positive this stunning wine is already in serious contention for the Rhone wine of year! This exotic beauty delivers every shade, flavor and color of cherry on the planet, along with garrigue, black pepper fresh strawberries. The purity of the fruit is hard to believe. The texture is pure silk. Not decanted, the wine delivered stunning sensations for as long as it remained in the glass. I was more than shell shocked to see what this trades for today. But knowing I grabbed a few for a song in the good old days made me quite happy.

5,868 Views

Tasted

Jan 3, 2014

perfume of red fruit along with barnyard notes, herbs and spices please the nose. The stunning, intense flavor and texture is bottled heaven.

4,839 Views

Tasted

Feb 23, 2006

1989
Les Cailloux (Lucien et André Brunel) Cuvée Centenaire (Châteauneuf-du-Pape)

The debut vintage for this cuvee is fully mature, and it's still going strong. Full bodied, with spicy, black raspberries, pepper, smoked meat and kirsch notes from start to finish. The peppery, cherry tones in the finish, taste and feel great!

2,753 Views

Tasted

Dec 12, 2017

With a beautiful floral note, that integrates into the thyme, kirsch and earthy, garrigue character, the wine has softened and fleshed out over the years. Fully mature, this is really in the perfect place for drinking pleasure.

3,797 Views

Tasted

Nov 6, 2015

Brutally tannic. This tightly wound wine offered doses of spicy fruit, but it's tannic nature made it hard to enjoy. At 17 years of age, I wonder if it will ever fully come around.

3,052 Views

Tasted

Feb 23, 2006

1989
Les Cailloux (Lucien et André Brunel) (Châteauneuf-du-Pape)

The fruit felt like it was fading. Medium bodied, with spicy red cherries, garrigue and herbs, the soft textured wine was a bit short in the finish. Drink up if you have any bottles as it's all downhill from here.

3,948 Views

Tasted

May 31, 2014

1950
Les Cailloux (Lucien et André Brunel) (Châteauneuf-du-Pape)

Barely hanging onto any fruit, but I was totally digging what it was holding onto! Light, sweet, ripe, raspberry, strawberry, earth, tobacco, and spice aromas meshed perfectly with the elegant, refined, light, red fruit on the palate and in the finish. Remarkable to taste, as this is close to 70 years of age, and it was still kicking.

1,289 Views

Tasted

Apr 14, 2017