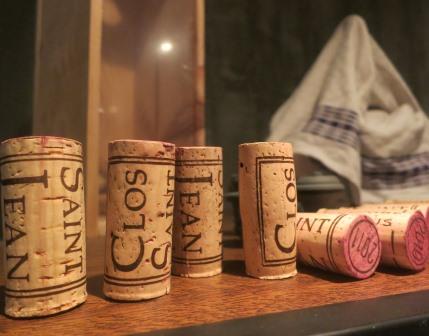 Learn everything about Clos Saint Jean, Chateauneuf du Pape with wine tasting notes, wine and food pairing tips, best vintages, a history of the property and information on the vineyards and winemaking. If you want to read about other important wineries and wine makers from the Rhone valley: Links to all Rhone Valley Wine Producer Profiles
Clos Saint Jean History, Overview
Clos Saint Jean has a history in Chateauneuf du Pape that can be dated all the way to the very start of the twentieth century. The estate was created by Edmund Tacussel in 1900. The Tacussel family also founded what later became Domaine Moulin Tacussel.
Within a decade of its creation, Clos Saint Jean was ready to begin producing. bottling and selling their own wine, which they've been doing since 1910. However, Clos Saint Jean did not begin to earn fame until the 2003 vintage, which caused the famous wine critic, Robert Parker to extol the estate's virtues, and the rest as they say, is history.
Today, Pascal Maurel and Vincent Maurel manage Clos Saint Jean. They brought in Philippe Cambie in 2002 as their consultant. Since 2003, the brothers have completely turned this previously unknown estate around.
Prior to 2003, the wines were fine, but undistinguished Southern Rhone wines. After 2003, with hard work and assistance of their consultant Philippe Cambie, they have never looked back.
Clos Saint Jean Vineyards, Wines, Winemaking
The vineyards of Clos Saint Jean are planted on 44 hectares located on the stony terroir of La Crau. 1 hectare of vines is reserved for grapes used in making white Chateauneuf du Pape wine.
Clos Saint Jean believes in complete destemming of the berries. The maceration period her is long and can last up to 35 days. The Grenache is never aged in any type of wood. But the Mourvedre and Syrah is aged in a combination of one year old and two year old oak barrels.
The best vintages of Clos Saint Jean are: 2022, 2021, 2020, 2019, 2018, 2017, 2016, 2015, 2012, 2010, 2009, 2007, 2006, 2005 and 2003.
Clos Saint Jean produces 5 red Chateauneuf du Pape wines and 1 Chateauneuf du Pape Blanc. The estate believes in complete destemming, long macerations and while Grenache is not aged in wood, other varietals are aged in one year old, French oak barrels.
The different Chateauneuf du Pape wines produced at Clos St. Jean are:
Clos Saint Jean Chateauneuf du Pape is made from 75% Grenache, 15% Syrah, 4% Mourvedre, 3% Cinsault, 2% Vaccarese and 1% Muscardin. The production is close to 7,000 cases per year.
Clos Saint Jean La Combe des Fous comes primarily from old vine Grenache planted at the start of the 20th century. The blend is usually 60% Grenache, 20% Syrah, 10% Cinsault and 10% Vaccarese.
The owners clearly have a sense of humor. The name, loosely translated into hill of fools earned its moniker for the difficult terroir as the rocks in and on the soils are huge! The production is only 500 cases per year.
Clos Saint Jean Deus ex Machina is made with 60% Grenache and 40% Mourvedre.The old vine Grenache is aged in vat and the Mourvedre is aged in 100% new and used French oak barrels. The production is limited to 500 cases per year.
Clos Saint Jean Sanctus Sanctorum is produced from 100% old vine Grenache that was planted over 100 years ago. This small production wine is available only in magnum. For 2007, the debut vintage, just 350 magnums were produced. Try finding a bottle, it is worth the effort a price.
Clos Saint Jean Chateauneuf du Pape Blanc is produced from equal parts Grenache Blanc, Roussanne and Clairette. The wine is aged in a combination of new, French oak barrels and vats. The production is quite small with than less than 350 cases made per year.
When to Drink Clos Saint Jean, Anticipated Maturity, Decanting Time
Clos Saint Jean is best with decanting in its youth of between 1-3 hours allowing the wine to soften and open its perfume. Older vintages might need very little decanting, just enough to remove the sediment.
Clos Saint Jean is usually better with 4-6 years of bottle age. Of course that can vary slightly, depending on the vintage. In the best vintages the wine should be consumed within 5-20 years after the vintage.
Serving Clos Saint Jean with Wine, Food Pairing Tips
Clos Saint Jean is best served at 15.5 degrees Celsius, 60 degrees Fahrenheit. The cool, almost cellar temperature gives the wine more freshness and lift.
Clos Saint Jean is best served with all types of classic meat dishes, veal, pork, beef, lamb, duck, game, roast chicken, roasted, braised, stewed dishes, sausage, barbecue and cassoulet. Clos Saint Jean is also good with Asian dishes, hearty fish courses like tuna, salmon, mushrooms, pasta, eggplant, tomatoes and cheese.
The white wine of Clos Saint Jean is best served with a myriad of different seafood dishes, shellfish, crab, lobster, sushi, sashimi, chicken, pork and veal, as well as Asian cuisine.
Clos Saint Jean Wine Tasting Notes
38 Vintages 199,836 Views Sort by Vintage-Rating
2017
Clos Saint Jean Deus-Ex Machina (Châteauneuf-du-Pape)

One of the darkest, most powerful, concentrated wines of the vintage, with just a pop and pour you easily find a wall of inky, deep, lusciously textured, dark red fruits, spice, wet earth and black pepper. Full-bodied and richly textured, the wine demands at least 7 years or so before it really starts to show its true essence. This is one of the wines of the vintage. The wine is made from blending 60% Grenache and 40% Mourvedre.

5,837 Views

Tasted

Nov 23, 2019

2017
Clos Saint Jean La Combe des Fous (Châteauneuf-du-Pape)

Deep in color, the wine explodes with its dark red fruits, fresh cracked black pepper, earthy garrigue, crushed rocks and flowers. Rich and intense, with ample, sweet, ripe, kirsch and cherries that go on and on, this supple blend of 60% Grenache, 20% Syrah, 10% Cinsault and 10% Vaccarese is quite strong, especially considering the vintage.

4,392 Views

Tasted

Nov 23, 2019

2017
Clos Saint Jean Vieilles Vignes (Châteauneuf-du-Pape)

Dark cherries, black raspberry, juicy plum and black pepper nuances get you focused on the round, lush, fruity, rich wine. Forward, with the ability to age for at least 12 years or more. There is a slight touch of heat in the finish, but there is so much fruit, it doesn't really stand out that much. This is already starting to show well.

3,915 Views

Tasted

Nov 23, 2019

2017
Clos Saint Jean (Châteauneuf-du-Pape)

Medium/full-bodied, forward, ripe, lush, fresh, sweet and juicy, the red cherries, thyme and herb nuances taste and feel great. You can drink this as soon as it hits the shelf while waiting for its bigger stablemates to evolve and mature.

3,415 Views

Tasted

Nov 23, 2019

2016
Clos Saint Jean La Combe des Fous (Châteauneuf-du-Pape)

Full, rich, deep, dark, and loaded with black raspberries, spice box, black plums, smoke, and licorice, the wine is a textural experience with its layers of lush, opulent, dark red fruits. Long and lingering on the palate, this is ready to go. Drink from 2022-2037.

3,305 Views

Tasted

Aug 16, 2022

2015
Clos Saint Jean Deus-Ex Machina (Châteauneuf-du-Pape)

Love this wine. Power and complexity, purity and freshness, lushness and length, there are all here. The wine is mouth filling, and still perfectly balanced, which is a good thing as you really want more of the juicy kirsch, plum and peppery black raspberry that keeps on coming. The wine was made from blending 60% Grenache and 40% Mourvedre.

4,841 Views

Tasted

Aug 21, 2017

2015
Clos Saint Jean La Combe des Fous (Châteauneuf-du-Pape)

Lots to love here, with its luscious, rich, dense, sensuous hedonistic textured red fruits. Speaking of fruit, there are multiple layers of red, and dark red berries that paint your palate with layers of freshness and juice.

3,215 Views

Tasted

Aug 21, 2017

2015
Clos Saint Jean (Châteauneuf-du-Pape)

Earthy, with plush, polished, ripe tannins, fresh, sweet, ripe, red fruits and a nice, purity in the soft textured, pure, kirsch finish.

3,905 Views

Tasted

Aug 21, 2017

2014
Clos Saint Jean (Châteauneuf-du-Pape)

Early drinking, round, medium bodied, forward charmer, with a kirsch filled, core of fruit.

2,109 Views

Tasted

Feb 28, 2019

2013
Clos Saint Jean Vieilles Vignes (Châteauneuf-du-Pape)

A really good wine for the vintage with an abundance of fresh, sweet black cherries, licorice and fresh herbs. The wine has a softness and polish that feels great as it delivers its sensation of pure fruits.

1,805 Views

Tasted

Sep 7, 2015

2013
Clos Saint Jean (Châteauneuf-du-Pape)

Lush, soft textures, sweet and spicy red fruits and freshness are the hallmarks of this elegantly styled wine.

2,944 Views

Tasted

Sep 7, 2015

2013
Clos Saint Jean Blanc (Châteauneuf-du-Pape)

2013 is a better vintage for the white wines of Chateauneuf du Pape than for the red, which is perfectly illustrated here. Filled with notes of flowers, citrus and white peach, the wine is soft, luscious and leaves with you fresh, sweet citrus fruits.

2,012 Views

Tasted

Sep 17, 2015

2012
Clos Saint Jean Deus-Ex Machina (Châteauneuf-du-Pape)

It is hard to believe this is already a decade old, and it's from 2012 as the wine remains youthful, but it's the truth. Full-bodied, concentrated and jam-packed with dark red fruits, earth, thyme, herbs, smoke, and peppery spices. Rich, robust, and mouth-filling, this is drinking beautifully today. The length and intensity of fruit in the finish get your attention.

2,988 Views

Tasted

Nov 28, 2021

Sublime example of Chateauneuf du Pape. Mineral driven, with garrigue, pepper, dark red fruits and just a hint of oak, the wine is mouth filling, long and fresh, leaving you with the opulent, fat sensation of fresh, spicy, black raspberries that lingers. This is pure deliciousness in a bottle, which is what you'd expect when you blend some of the best old vine Grenache and Mourvedre in the appellation. This could be a contender for the best wine of the vintage.

4,689 Views

Tasted

Sep 17, 2015

2012
Clos Saint Jean La Combe des Fous (Châteauneuf-du-Pape)

Clos Saint Jean is clearly on a roll. And this vintage of La Combe de Fous is no exception. Thyme, black cherry, earth and tapenade on the nose. With lush, round, fat, juicy textures, full body and a rich, kirsch and black cherry blast in the end note. The wine is sweet, yet retains its freshness.

3,248 Views

Tasted

Sep 17, 2015

2012
Clos Saint Jean Vieilles Vignes (Châteauneuf-du-Pape)

Already showing its charms, there is good weight, freshness, lush, sweet, cherries and soft, refined tannins. Not a wine I woud age for more than a decade, give or take a few years. But so what, it's really tasty today.

3,656 Views

Tasted

Mar 12, 2017

2012
Clos Saint Jean (Châteauneuf-du-Pape)

Garrigue, pepper and kirsch filled nose, with soft textures and a fresh, peppery, ripe, black raspberry and sweet, thyme infused, kirsch fruit finish.

3,192 Views

Tasted

Sep 17, 2015

2011
Clos Saint Jean (Châteauneuf-du-Pape)

Medium bodied, with a fresh, red fruit, herbal and olive tapenade center that seems to have a dusty texture in the finish.

2,694 Views

Tasted

Sep 17, 2015

2010
Clos Saint Jean Deus-Ex Machina (Châteauneuf-du-Pape)

Deep, incredibly concentrated and almost overflowing with everything that is great about Chateauneuf, this massive, yet perfectly balanced wine fills your mouth with layer after layer of fresh, sweet, perfectly ripe fruits. The finish lasts for at least 40 seconds!

7,638 Views

Tasted

May 31, 2013

2010
Clos Saint Jean La Combe des Fous (Châteauneuf-du-Pape)

Powerful, rich and intense, the nose gets you going with its earthy red berries, spice, jam and peppery aromas. On the palate, the wine is rich, fresh, concentrated lushly textured, finishing with layers of spicy, fresh red and black fruits.

7,204 Views

Tasted

May 31, 2013

2010
Clos Saint Jean Vieilles Vignes (Châteauneuf-du-Pape)

Floral, spice, licorice and kirsch notes with scents of earth are all over the place. On the palate, the wine is filled with dense layers of silky, rich and peppery black and red cherries.

4,402 Views

Tasted

May 31, 2013

2010
Clos Saint Jean (Châteauneuf-du-Pape)

A terrific, forward styled wine packed with sweet, round, peppery, jammy cherries, soft textures and garrigue.

5,170 Views

Tasted

May 29, 2013

2009
Clos Saint Jean Sanctus Sanctorum (Châteauneuf-du-Pape)

Stunning in every sense of the word. This incredibly concentrated, dense, richly textured wine serves up layer after layer of sweet, ripe, peppery juicy, plush fruits. The wine coats your palate with flavor, the finish sticks with you for close to 50 seconds. Even with all this heft, and ABV, the wine never tastes or feels hot, or over the top. Everything is in balance and harmony. Only made in magnum, I might not see another bottle, but one can dream.

4,037 Views

Tasted

Dec 11, 2017

2009
Clos Saint Jean Deus-Ex Machina (Châteauneuf-du-Pape)

Blending 60% old vine Grenache and 40% Mourvedre created a beauty of a wine. It's incredibly rich, with decadent, lush, silky textures, waves of liquefied kirsch, velvet tannins and a mouth coating finish that does not quit. Yeah, it's young. But it's so good, it's hard not to want to pop a bottle.

4,934 Views

Tasted

May 18, 2015

2009
Clos Saint Jean Vieilles Vignes (Châteauneuf-du-Pape)

Round, fleshy, rich and ripe, with opulent textures and loads of dark, juicy, red fruits, licorice and pepper with just a bit of black raspberry jam, this is drinking well today.

2,376 Views

Tasted

Feb 28, 2019

2009
Clos Saint Jean (Châteauneuf-du-Pape)

Opulent in texture and already great in the glass, the wine is packed with an array of fresh cherries, herbs, pepper, garrigue and black raspberries. This luscious wine is fresh, clean and delicious.

5,013 Views

Tasted

Jun 9, 2013

2007
Clos Saint Jean Deus-Ex Machina (Châteauneuf-du-Pape)

Speechless, yes, that is how I felt after my first sniff and sniff. From 60% old vine Grenache and 40% Mourvedre, this is thick, fat, rich, lush, luscious and lusty. It's also mouth filling and intense filling every nook and cranny in your mouth and on your palate. The finish remains for close to 60 seconds! I only wished I owned a few bottles of this magic elixir.

7,815 Views

Tasted

Feb 27, 2014

2007
Clos Saint Jean La Combe des Fous (Châteauneuf-du-Pape)

Full bodied, deep, rich and intense, with serious concentration of flavor, the wine coats your palate with beautiful ripe, sweet, pure fruits and silky, opulent textures. The finish lingers for close to 50 seconds. The wine could be even better than this note, but being opened during Thanksgiving, I did not have time to focus on it.

4,755 Views

Tasted

Nov 27, 2015

2007 Clos St. Jean La Combe des Fous is made from a blend of 60% Grenache, 20% Syrah, 10% Vaccarese and 10% Cinsault. It's obvious that the wine is off the charts from the first whiff. Super ripe aromas of black raspberry, black cherry liqueur, licorice, blueberries, herbs, pepper, earth and spice might start the show. But the massive layers of perfectly ripe berries with the texture of polished motor oil take over every nook and cranny of your mouth, teeth, gums and palate. Yet, with all its density and structure, everything is in perfect balance and harmony. Lush, opulent and expansive, this is a stunning wine with serious intensity of flavor and depth. Still young and primary, this should hit triple digits in a few years, and if someone wanted to give it 100 Pts today, why not. Tasted blind, this Chateauneuf du Pape showed itself to be a remarkable wine. I wish I owned some.

7,387 Views

Tasted

Aug 2, 2012

2007
Clos Saint Jean Vieilles Vignes (Châteauneuf-du-Pape)

I was really disappointed in how this wine has developed. It is figgy, hot and a bit flabby. There is plenty of fruit, but the raisin character is far too prevalent for me. Drink up if you have them, as I doubt this will improve.

3,534 Views

Tasted

Dec 4, 2019

This deeply colored, explosion of flavor is packed with fresh, sweet, ripe, jammy black raspberry, kirsch liqueur, fennel, pepper and garrigue. Full bodied and concentrated with a blast of sweet, ripe, old vine Grenache, there is a lot to like in this attention seeking, Chateauneuf du Pape. Drink it young, or age it, it's a very hedonsitic style of Southern Rhone.

4,967 Views

Tasted

Jun 12, 2012

2007
Clos Saint Jean (Châteauneuf-du-Pape)

It's hard to believe that I've happily enjoyed 11, out of the 12 bottles from my original case already. And each wine bottle has been just delicious! That is, if you like layers of ripe, deep, juicy, sweet, fresh, dark red fruits, luscious textures, a bit of licorice, earth, herbs and a sexy, fruit filled finish. A slight chill adds more freshness to the wine. Popped and poured, this wine is a winner!

3,774 Views

Tasted

Aug 28, 2017

A true wine of pleasure, this tasty treat is drinking in the sweet spot. Luscious, round textures, black cherry liqueur, licorice, black raspberry, leaf, mint and spicy strawberries make up the nose. The finished is packed with sweet, spicy, dark red fruits and just a hint of chocolate. You can age it for a few years, but why wait? Popped and poured, this is really showing well today.

3,632 Views

Tasted

Sep 29, 2016

This is a pure wine of pleasure. It's rich, ripe, spicy, round and frankly delicious. Popped and poured, it really delivered the goods. There is so much great stuff in every sniff, swirl and sip, I am not sure there is any reason to age this much longer.

3,658 Views

Tasted

Aug 28, 2015

Value, quality, character and style that is drinking great today. The voluptuous finish really feels great with all its sweet, perfectly ripe fruit.

3,775 Views

Tasted

Feb 27, 2014

Better than it was 2 years ago, the wine is rich, sexy and filled with fresh ripe, sweet, opulent fruit, jam and spice. Drink it now or age it. Either way it's a treat.

4,779 Views

Tasted

May 20, 2013

Pepper, kirsch, gravel, garrigue, spice and licorice aromas play well with the fresh, lusty, spicy, black cherry, fennel and sweet kirsch filled finish. Do not decant. Just pop, pour and enjoy this tasty Chateauneuf du Pape. Drink before it hits 10 years of age for all its fresh, ripe, up-front fruit filledl character.

7,273 Views

Tasted

Jul 31, 2011

2006
Clos Saint Jean Deus-Ex Machina (Châteauneuf-du-Pape)

Dense, almost edible, the wine is concentrated with layer after of ripe, sweet, fresh, peppery, juicy, dark red fruits, jam and garrigue. Plush and polished, the fruit offered a sensation of purity, along with old vine intensity. This powerful wine is not for the timid.

4,080 Views

Tasted

May 19, 2017

Super wine with a rich, concentrated, deep, vibrant personality. Kirsch, garrigue, olives and stone create the complex aromatics. On the palate, the wine is long, luscious and drenched with peppery kirsch and black raspberries. Make no mistake, this is balanced, lively and very Chateauneuf du Pape.

3,996 Views

Tasted

Oct 9, 2014

2006
Clos Saint Jean La Combe des Fous (Châteauneuf-du-Pape)

Damn this is good juice! Young, fresh, vibrant, concentrated and rich, this wine is stuffed with ripe black raspberries, kirsch liqueur, black pepper, herbs and black cherry jam. This is intense, luscious, balanced and frankly, delicious.

3,165 Views

Tasted

Jun 7, 2013

2005
Clos Saint Jean Deus-Ex Machina (Châteauneuf-du-Pape)

WOW! Mouth-coating, teeth staining levels of concentration here. The texture is pure velvet. As big as this is, there is freshness, balance, and complexity. The ripe, dark red fruit shows a beautiful purity. The finish goes on for over 50 seconds. This is no shy sister of a wine. It leaves a serious impression. There is nothing old school about this blend of 60% Grenache and 40% Mourvedre. But I loved it!

4,886 Views

Tasted

Jul 20, 2018

2005
Clos Saint Jean La Combe des Fous (Châteauneuf-du-Pape)

Full bodied, powerful, deep and concentrated, yet elegant, pure, clean and fresh. The purity of the fruit, combined with power and grace and a long finish that does not quit is what you'll find here. Decanted perhaps 30 minutes, the wine got better and better in the glass.

3,270 Views

Tasted

May 30, 2017

I'm happy this was popped at the end of the night, but it was so intense, every other wine would have been overwhelmed by it. This has so much fruit packed into the bottle, you can almost eat it with a spoon! But don't let that put you off. Each berry is perfectly ripe, sweet, fresh and pure. The wine is not heavy, but it is full bodied, intense, long and remains with you for more than 60 seconds! This might not be for everybody, but I loved it! Still young, this should age for at least 2 more decades!!!

3,582 Views

Tasted

May 5, 2016

WOW! Full bodied, rich, intense and mouth filling, with layers of sweet, ripe, fat, juicy dark berries, black cherry, earth, pepper and spice. Everything is perfect balance. The wine offers intensity of flavor coupled with purity of fruit and even though this is incredibly concentrated, there is ample lift in the long, rich, fleshy, dense finish that really makes this wine come alive!

3,681 Views

Tasted

Jan 6, 2013

2005
Clos Saint Jean (Châteauneuf-du-Pape)

Truffle, earth, garrigue and dark red fruits with a leafy presence in the nose. The wine is fully mature, showing a dark cherry character that is probably drinking at its peak.

2,479 Views

Tasted

Sep 17, 2015

2004
Clos Saint Jean Deus-Ex Machina (Châteauneuf-du-Pape)

From magnum, this is showing well, so I imagine 750's are peak. There is a distinctive olive and thyme component that rides on top of all the ripe, earthy kirsch. Soft and with a polished feeling, this is ready to go.

3,395 Views

Tasted

Aug 24, 2017

2003
Clos Saint Jean Deus-Ex Machina (Châteauneuf-du-Pape)

Drinking perfectly, this powerful, rich, intense, thick, fat, juicy expression of Chateauneuf du Pape coats your palate with ripe, jammy, red and black berries, pepper, spice and kirsch liqueur. This is no wallflower of a wine.

4,895 Views

Tasted

May 20, 2013

2003
Clos Saint Jean La Combe des Fous (Châteauneuf-du-Pape)

Really drinking great today, the wine is rich, ripe, fat and loaded with sweet, ripe red fruits, jam, pepper and garrigue. Full bodied and round, this is a hedonistic bottle of Southern Rhone ready for its prime time drinking window.

1,910 Views

Tasted

Apr 16, 2016

1989
Clos Saint Jean (Châteauneuf-du-Pape)

Earthy, a touch of brett, barnyard and a dab of red fruit remaining, the wine is much more on the secondary, earthy, herb side of the style range. This requires drinking.

2,212 Views

Tasted

Sep 17, 2015