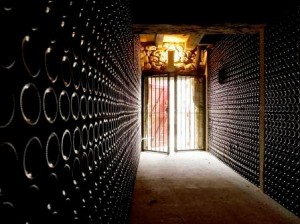 Learn everything about Sanctus St. Emilion with wine tasting notes, wine and food pairing tips, wine ratings, a history of the property, information on the vineyards, and winemaking. If you want to read about other important, Bordeaux Chateaux: Links to all Bordeaux Wine Producer Profiles
Sanctus Vineyards, Terroir, Grapes, Winemaking
Sanctus is produced from a true parcel selection. The vines used to produce Sanctus comes from a three-hectare portion of the Chateau La Bienfaisance vineyard. The terroir is clay and limestone mixed with iron deposits in the soil. With old vines that are on average 40 years of age, the Right bank vineyard is planted to 70% Merlot and 30% Cabernet Franc.
At Sanctus, a lot of work takes place as the vines go through debudding, deleafing, and crop-thinning of the second-generation bunches. This is to allow for more uniform ripening and it will also help to reduce yields. Yields can be very low to produce Sanctus.
To give you a scary example to illustrate my point, for the legendary 2009 Bordeaux vintage, the effective yields for Sanctus were only 9 hectoliters per hectare! That could set the record for low yields from any top vineyard in Bordeaux.
To produce the wine of Sanctus, following triple sortings, which take place both in the vineyards and at the winery, the berries are next moved by gravity flow to large, truncated, French oak tanks for the alcoholic fermentation and a 32-day maceration. Microbullage under the cap takes place during the fermentation process.
Malolactic fermentation takes place in 90% new, French oak barrels. The wine is then aged on its fine lies for the first eight months. Finally, the wine is aged in 90% new, French oak barrels for up to 18 months before bottling.
The Best Vintages of Chateau Sanctus are: 2022, 2021, 2020, 2019, 2018, 2017, 2016, 2015, 2014, 2010, 2009 and 2005.
The production is quite small as an average of 650 cases of wine are produced here each vintage.
When to Drink Sanctus, Anticipated Maturity, Decanting Time
Chateau Sanctus is better with at least 4-6 years of bottle age. Of course, that can vary slightly, depending on the vintage. Sanctus is best in its first 5-20 years of life.
Young vintages can be decanted for about 1 hour to 90 minutes. This allows the wine to soften and open its perfume. Older vintages might need very little decanting, just enough to remove the sediment.
Serving Sanctus with Wine, and Food Pairing Tips
Sanctus is best served at 15.5 degrees Celsius, 60 degrees Fahrenheit. The cool, almost cellar temperature gives the wine more freshness and lift.
Sanctus is best served with all types of classic meat dishes, veal, pork, beef, lamb, duck, game, roast chicken, roasted, braised, and grilled dishes. Sanctus is a perfect match with Asian dishes, hearty fish courses like tuna, mushrooms, and pasta as well as cheese.
Château la Bienfaisance Wine Tasting Notes
15 Vintages 48,317 Views Sort by Vintage-Rating
2021
Château la Bienfaisance Sanctus (St. Émilion Grand Cru)

Take red cherries, strawberries and squeeze some orange juice and flowers you find the perfume. Silky, fresh and vibrant with more of that juicy citrus with red plums on the palate. Drink from 2021-2036. 89-91

1,154 Views

Tasted

May 20, 2022

2020
Château la Bienfaisance Sanctus (St. Émilion Grand Cru)

Deep ruby in color, the wine offers it floral, licorice and spicy plummy profile easily. Medium-bodied, soft, silky and fruity with a forward approach and a touch of savory herbs on the backend, you can enjoy this on just a year or two after release. 91-93 Pts

2,482 Views

Tasted

May 27, 2021

2019
Château la Bienfaisance Sanctus (St. Émilion Grand Cru)

Lush, round, silky and soft, with dark red fruits, espresso, licorice and earthy nuances. Plushy textured with loads of ripe, sweet fruits and licorice in the finish, give this a few years and it's going to be very good wine. 91-93 Pts

2,108 Views

Tasted

Jun 28, 2020

2018
Château la Bienfaisance (St. Émilion Grand Cru)

Licorice, espresso, smoke, dark red pit fruits fuse nicely on the nose and palate. Soft, silky, medium-bodied and elegant, this will offer its charms early in life.

704 Views

Tasted

Mar 9, 2021

Medium-bodied, elegant soft and forward with a juicy, cherry and licorice profile and a round, supple-textured, plummy finish. 90-92 Pts

1,290 Views

Tasted

Apr 19, 2019

2016
Château la Bienfaisance Sanctus (St. Émilion Grand Cru)

Smoke, espresso, licorice and ripe juicy plums open the nose. On the palate, the wine is round, plush, sweet, fresh and polished.

2,574 Views

Tasted

Sep 21, 2019

Stony, mineral-driven fruits, salty, earthy tannins, there is richness and depth here, but this is not for early drinking -- the wine will need time to develop.

2,194 Views

Tasted

Apr 29, 2017

2015
Château la Bienfaisance Sanctus (St. Émilion Grand Cru)

Flowers and black raspberries, this wine is medium bodied with a sweet, red berry, softly-textured finish.

1,979 Views

Tasted

Apr 29, 2016

2014
Château la Bienfaisance Sanctus (St. Émilion Grand Cru)

With flowers and black raspberries on the nose, this wine is smooth, elegant and easy to drink due to its fresh cherry-filled character. 88-89 Pts

1,880 Views

Tasted

Apr 27, 2015

2012
Château la Bienfaisance Sanctus (St. Émilion Grand Cru)

Sanctus reached one of the higher degrees of ripeness in the vintage at 14.37% ABV. Blending the 70% Merlot with 30% Cabernet Franc, the wine has silky tannins, sweet, dark red berries and a soft, cherry-filled finish. 90-92 Pts

2,918 Views

Tasted

Apr 26, 2013

2012
Château la Bienfaisance (St. Émilion Grand Cru)

85% Merlot and 15% Cabernet Franc produced a wine with coffee bean, fennel and black plums. Soft, forward and round, the wine ends with sweet cherries and strawberry. 89-91 Pts

2,671 Views

Tasted

Apr 26, 2013

2011
Château la Bienfaisance Sanctus (St. Émilion Grand Cru)

75% Merlot and 25% Cabernet Franc was aged in 90% new oak to produce plush, round textures with licorice, chocolate and minerality, ending with a bitter chocolate-covered, plum-filled finish. 91-93 Pts

2,943 Views

Tasted

Apr 24, 2012

2010
Château la Bienfaisance Sanctus (St. Émilion Grand Cru)

2010 Sanctus de La Bienfaisance opens with stone, spice, licorice, espresso and ripe berries. Soft textured, with minerality and opulent textures, this fleshy and fresh wine will be aged in 90% new oak. 91-93 Pts

5,983 Views

Tasted

Apr 22, 2011

2009
Château la Bienfaisance Sanctus (St. Émilion Grand Cru)

Sanctus de la Bienfaisance Produced from 65% Merlot and 35% Cabernet Franc from a small parcel located in the St. Emilion vineyards of La Bienfaisance, the wine is packed with black licorice, jammy berries, crushed stone, spice and sweet juicy plums. With character and complexity, this 14.8% ABV wine does not show any sensation of heat in the long, mineral driven, licorice and dark berry filled finish.

5,598 Views

Tasted

Jul 16, 2011

2009
Château la Bienfaisance (St. Émilion Grand Cru)

Smoke, earth, gravel, jammy berries and anise, soft textures, medium bodied and produced in an early drinking style.

3,159 Views

Tasted

Jul 18, 2011

2008
Château la Bienfaisance Sanctus (St. Émilion Grand Cru)

08 Château Sanctus, from clay and limestone soils, achieved good ripeness in this vintage. Blue and black fruits and coffee, along with earthy notes, make up the bouquet, while the palate offers a rich finish. A solid wine for the money. 88-90 Pts

3,821 Views

Tasted

Jul 1, 2009

2005
Château la Bienfaisance Sanctus (St. Émilion Grand Cru)

Licorice, chocolate covered plums, black cherry and espresso scents lead to a rich, round, full bodied St. Emilion. This opulent, showy. Bordeaux wine is just starting to drink well. A few more years will add additional complexity to the chocolate covered, black and blue fruit filled finish.

4,859 Views

Tasted

Aug 1, 2011