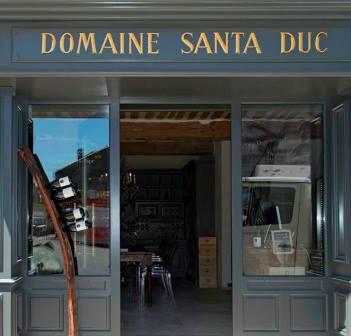 Learn everything about Domaine Santa Duc Chateauneuf du Pape with wine tasting notes, wine and food pairing tips, best vintages, a history of the property and information on the vintage and winemaking. If you want to read about other important wineries and wine makers from the Rhone valley: Links to all Rhone Valley Wine Producer Profiles
Domaine Santa Duc History, Overview
Even though Domaine Santa Duc has a long history for being one of the top producers in the Gigondas appellation, as well as being one of the biggest negociants in the Southern Rhone Valley, they are fairly new to Chateauneuf du Pape.
The creation of Santa Duc dates back to 1874, when the fledgling company was founded.The seemingly odd name was not what the company was originally called. It was "Canta Duc," which can be loosely translated to mean a singing owl.
In time, the name morphed into Santa Duc. Santa Duc has remained a family run company. The company headquarters is located in Dentelles de Montmirail. Yves Gras, who was been in charge of Santa Duc since 1985 and he will be followed by the by his children as well.
Domaine Santa Duc began purchasing vineyard land in the Chateauneuf du Pape appellation back in 2009, when they found a small, 1.23 hectare of vines. Since then, they have increased their holdings with further purchases in the La Font du Pape vineyard and in the top terroirs of the La Crau lieu-dit.
Beginning with the 2012 vintage, Domaine Santa Duc, they were certified for being being biodynamic in their farming practices. The first vintage for Domaine Santa Duc in Chateauneuf du Pape was 2010. By 2018, they owned almost 4 hectares of vines in Chateauneuf du Pape.
Domaine Santa Duc Vineyards, Wines, WinemakingValley Wine Producer Profiles
Domaine Santa Duc produces 4 red, Chateauneuf du Pape wines.
Domaine Santa Duc La Crau Ouest is made from 100%, old vine Grenache. The vines are at least 80 years of age and are planted in sand and clay terroir found in the la Crau Ouest vineyard. The wine is aged in Terracotta jars for 18 months before bottling. The production is quite small, as only 200 cases are produced here each vintage.
Domaine Santa Duc Les Saintes Vierges is made from a blend of 90% Grenache, 9% Mourvedre and 1% Counoise. The terroir is pure sandy soil in the les Saintes Vierges lieu-dit. The wine is aged in foudres for 18 months.
Domaine Santa Duc Habemus Papam – The name of the wine can be translated into "We Have a Pope." This was done as an hommage to Pope Jean XXII, who was a native from Cahors, in the Northern Rhone Valley. It was Pope Jean XXII who became the first Pope to reside in Avignon.
The wine is produced blending 64% Grenache, 25% Syrah, 10% Mourvedre and 1% Counoise. The terroir is sand, rock and stone soils in the la Crau, la Font du Pape, le Pied de Baud, Pradel and les Saintes Vierges lieux-dits. The grapes are whole bunch fermented. The wine is aged in foudres for 18 months before bottling.
Domaine Santa Duc Pied de Baud comes from vines planted in the Le Pied de Baud vineyard. The wine is made with 100% Grenache. The grapes are not destemmed. The wine is aged vinified in cement tanks. The aging takes place first in demi-muids for 12 months and then for 6 months in cement vats. Production is limited as only 250 cases are produced each vintage.
Domaine Santa Duc as we mentioned previously, is best known for their Gigondas where they produce: Gigondas 66, Gigondas Aux Lieux Dits, Gigondas Clos Derriere Vieille, Gigondas Cuvee Classique, Gigondas Grand Grenache 66, Gigondas Gauter Garrigues and Gigondas Prestige des Hautes Garrigues, which are all stellar wines.
They also make wines in Vacqueyras, Rasteau, Cotes du Rhone and Cotes du Rhone Villages, as well as a fine value priced IGP and Vin de France.
When to Drink Domaine Santa Duc, Anticipated Maturity, Decanting Time
Domaine Santa Duc can be enjoyed on the young side. But the wine is better with some bottle age. Young vintages can be decanted for 1-2 hours allowing the wine to soften and open its perfume. Older vintages might need very little decanting, just enough to remove the sediment.
Domaine Santa Duc is usually better with 3-5 years of bottle age. Of course that can vary slightly, depending on the vintage. In the best vintages the wine should be consumed within 5-15 years after the vintage.
Serving Domaine Santa Duc with Wine, Food Pairing Tips
Domaine Santa Duc is best served at 15.5 degrees Celsius, 60 degrees Fahrenheit. The cool, almost cellar temperature gives the wine more freshness and lift.
Domaine Santa Duc is best served with all types of classic meat dishes, veal, pork, beef, lamb, duck, game, roast chicken, roasted, braised, stewed dishes, sausage, barbecue and cassoulet. Domaine Santa Duc is also good with Asian dishes, hearty fish courses like tuna, mushrooms, cheese, pasta, eggplant and tomatoes.
The white wine of Domaine Santa Duc is best served with a myriad of different seafood dishes, shellfish, crab, lobster, sushi, sashimi, chicken, pork and veal, as well as Asian cuisine.
Domaine Santa Duc Wine Tasting Notes
28 Vintages 67,322 Views Sort by Vintage-Rating
2020
Domaine Santa Duc Pied de Baud (Châteauneuf-du-Pape)

Green leafy herbs and flowers get the wine going before you get to all the olives and kirsch. Supple, rich and polished with an elegance and refinement to the layers of sweet, showy, red fruits on the palate, there is length, purity and complexity in every sniff and sip. The wine was produced from moistly old vine Grenache, with Mourvedre and Cinsault. Drink from 2023-2038.

814 Views

Tasted

Jan 27, 2023

2020
Domaine Santa Duc Habemus Papam (Châteauneuf-du-Pape)

Dark in color, the wine pops with its peppery plums, cherries, smoke and spice on the nose. Lush, polished and refined, the supple textured fruit and creamy tannins taste as good as they feel. The wine was made from blending close to 64% Grenache 25% Syrah, 10% Mourvedre and 1% Counoise. Drink from 2023 - 2037.

857 Views

Tasted

Jan 27, 2023

2020
Domaine Santa Duc Les Saintes Vierges (Châteauneuf-du-Pape)

It is the purity in the kirsch and all those flowers on the nose that stands out initially. But the silky tannins, and elegance on the palate with all of its length and refinement steal the show. The wine blends close to 90% Grenache, with 9% Mourvedre and 1% Counoise. Drink from 2023-2037.

831 Views

Tasted

Jan 27, 2023

2020
Domaine Santa Duc La Crau Ouest (Châteauneuf-du-Pape)

The flowers, garrigue and peppery kirsch in the nose screams Grenache. There is ample flesh and richness on the palate with layers of black cherries, plums, spice and cocoa on mid-palate and in the opulent, silky finish. Give it a couple of years to fill out and it could score even higher. The wine was made from 100% old vine Grenache from the La Crau lieu-dit, and was aged in terra cotta, Amphora jars. Drink from 2023-2036.

757 Views

Tasted

Jan 27, 2023

2019
Domaine Santa Duc Les Saintes Vierges (Châteauneuf-du-Pape)

Silky, elegant, soft and polished, with layers of sweet, ripe, red cherries, kirsch, raspberries, spice and olives which show up on the nose and palate. Pure, energetic, fresh and vibrant, the finish lingers, which is a good thing because all of that ripe Grenache hits all the right notes. The wine was made from 100% old vine Grenache from the La Crau lieu-dit and was aged in terra cotta, Amphora jars. Drink from 2023 - 2037

1,552 Views

Tasted

Jan 9, 2022

2019
Domaine Santa Duc Habemus Papam (Châteauneuf-du-Pape)

Elegant, dark, deep, rich, full and spicy, the wine has a solid depth of flavor due to its blend of Grenache, Syrah. and Mourvedre The fruit is dark, meaty, a touch spicy and fresh with touches of peppery spices on top of the ripe black raspberries, and red plums in the long finish. This should age and develop quite nicely. Drink from 2024 - 2036

2,212 Views

Tasted

Jan 9, 2022

2019
Domaine Santa Duc Pied de Baud (Châteauneuf-du-Pape)

With loads of black raspberries, spicy kirsch, thyme and herbs the wine is soft, silky, fresh and lively. The purity in the fruits stands out here on the mid-palate and in the lush, fruit filled, elegant finish. This can be difficult to find as less than 400 cases were produced this year. The wine was produced from 80% Grenache, 15% Mourvedre and 5% Cinsault. Drink from 2024 - 2035

1,598 Views

Tasted

Jan 9, 2022

2018
Domaine Santa Duc Les Saintes Vierges (Châteauneuf-du-Pape)

This gem hits all the right notes. The floral, spice, kirsch, herb and thyme nose lets you know something is really going on here. But the it is the silky, soft, lusciously textured, sweet, red fruits and refined textures that seals the deal!

1,535 Views

Tasted

Oct 12, 2020

2018
Domaine Santa Duc Pied de Baud (Châteauneuf-du-Pape)

One of the wines of the vintage, this is just great with all its layers of sweet, lush, ripe, juicy red fruits, flowers and kirsch. The wine offers concentration as well as refined elegance and a vibrant, lifted, pure red fruit character in the finish. The wine is a blend of 80% Grenache, 15% Mourvedre and 5% Cinsault.

1,720 Views

Tasted

Oct 12, 2020

2018
Domaine Santa Duc Habemus Papam (Châteauneuf-du-Pape)

Round, lush, fresh and fruity, the peppery red berries, with their floral accents on the nose, is just great. And the show is even better on the palate with its ripe, sweet, silky, round, spicy, pepper red fruits. You can enjoy this in its youth, or age it a few years for more complexity.

2,379 Views

Tasted

Oct 12, 2020

2017
Domaine Santa Duc Clos Derrière Vieille (Gigondas)

Garrigue, pepper, black cherry and kirsch are impossible to ignore. Layers of sweet, supple, silky-textured, elegant fruits with an incredible sense of purity, this is a fabulous expression of Gigondas. The approximate blend of 80% Grenache, 10% Mourvedre and 10% Syrah is aged in a combination of old foudres and terra cotta jars.

2,136 Views

Tasted

Feb 23, 2021

2017
Domaine Santa Duc Aux Lieux-Dits (Gigondas)

Jammy red fruits, peppery spice, herbs, wet earth, charcoal and kirsch with a meaty character is what you find in the nose and on the rich, fresh palate. Length and purity are the hallmarks of this ready to go beauty. Santa Duc Aux Lieux-Dits is as the name implies, a multi vineyard bend which is about 75% Grenache, 13% Mourvedre, 10% Syrah and 2% Cinsault and is aged in old foudres and large terra cotta jars.

1,817 Views

Tasted

Feb 23, 2021

2017
Domaine Santa Duc Les Saintes Vierges (Châteauneuf-du-Pape)

Silky, fresh and pure defines the wine. The red fruits are sweet, lively, long and polished, with purity and depth of flavor. The wine was produced from blending 90% Grenache, 9% Mourvedre and 1% Counoise.

2,354 Views

Tasted

Sep 24, 2019

2017
Domaine Santa Duc Les Hautes Garrigues (Gigondas)

Garrigue, wet earth, thyme, truffle and peppery red fruits pop right off the bat. The wine is medium bodied, soft, fresh, elegant and juicy. The gorgeous kirsch notes keep on coming. The wine is long and complex with a loads of ripe cherry and strawberry in the finish.

2,362 Views

Tasted

Feb 23, 2021

2017
Domaine Santa Duc Habemus Papam (Châteauneuf-du-Pape)

Black pepper, herbs, red pit fruits and floral notes pop with little effort. On the palate the wine is soft, silky and polished with layers of sweet, ripe, juicy, fresh red fruits. The wine was made from blending 64% Grenache 25% Syrah, 10% Mourvedre and 1% Counoise.

2,981 Views

Tasted

Sep 24, 2019

2017
Domaine Santa Duc La Crau Ouest (Châteauneuf-du-Pape)

Layers of ripe, sweet, fresh, lush, soft, polished, juicy red fruits paired purity, length and freshness. The wine is elegant, cherry filled and a pleasure to drink. The wine was made from 100% old vine Grenache from the La Crau lieu-dit and was aged in terra cotta, Amphora jars.

1,941 Views

Tasted

Sep 24, 2019

2016
Domaine Santa Duc Pied De Baud (Châteauneuf-du-Pape)

With a whisper of smoke, the spicy red fruit, licorice, peppery, earth and herbs are paired with red berries that are bright, vibrant and fresh. The wine offers a lifted, red fruit character in the finish. The wine was produced from 80% Grenache, 15% Mourvedre and 5% Cinsault.

4,466 Views

Tasted

Sep 15, 2018

2016
Domaine Santa Duc Les Garancières (Gigondas)

The blend of 65% old vine Grenache and 35% Mourvedre is aged in a combination of foudres and terra cotta jars.

2,170 Views

Tasted

Sep 21, 2019

2016
Domaine Santa Duc Habemus Papam (Châteauneuf-du-Pape)

Flowers, black pepper, herbs and dark red fruits are the first thing you note, but not the last. Here, you also enjoy density, richness, length and supple textured, sweet, deep, red fruits that last. The wine was made from blending 64% Grenache 25% Syrah, 10% Mourvedre and 1% Counoise.

3,782 Views

Tasted

Sep 15, 2018

2016
Domaine Santa Duc Les Saintes Vierges (Châteauneuf-du-Pape)

Light on its feet, the wine is elegant, refined, soft and fresh, The fruits have energy. The tannins are gentle, allowing you to focus on the purity in the red fruits in the finish. The wine was produced from blending 90% Grenache, 9% Mourvedre and 1% Counoise.

3,028 Views

Tasted

Sep 15, 2018

2016
Domaine Santa Duc Clos Derrière Vieille (Gigondas)

Elegant silky and fresh, the wine feels just great on your palate with all its layers of licorice, spicy deep, red fruits and peppery spices. Long and intense, this is a super wine from Gigondas. The blend of 80% Grenache, 10% Mourvedre and 10% Syrah is aged in a combination of old foudres and terra cotta jars.

3,147 Views

Tasted

Sep 21, 2019

2016
Domaine Santa Duc La Crau Ouest (Châteauneuf-du-Pape)

Offering silky textures, purity of fruit, vibrant, freshness and length. The kirsch shows a purity and freshness in its elegant nature. Give it a couple of years to fill out a bit more. The wine was made from 100% old vine Grenache from the La Crau lieu-dit, and was aged in terra cotta, Amphora jars.

2,258 Views

Tasted

Sep 15, 2018

2016
Domaine Santa Duc Les Hautes Garrigues (Gigondas)

Earthy, dark, dense, lush and full-bodied with a bushel of black cherry and blackberry accompanied by herbs and bitter cocoa. There is so much going on here, it is going to need some time to come around, Perhaps 3-5 years will be about right.

3,790 Views

Tasted

Sep 21, 2019

2016
Domaine Santa Duc Aux Lieux-Dits (Gigondas)

Ripe and fruity, with a focus on its freshness and peppery, spice characteristics, the wine is vigor, bite and juicyness. Santa Duc Aux Lieux-Dits is as the name implies, a multi vineyard bend which is about 75% Grenache, 13% Mourvedre, 10% Syrah and 2% Cinsault and is aged in old foudres and large terra cotta jars.

3,249 Views

Tasted

Sep 21, 2019

2015
Domaine Santa Duc Habemus Papam (Châteauneuf-du-Pape)

With a distinctive, floral, herbal and mineralistic edge, the red fruits are fresh, ripe and pure. There is a nice stony quality you can sense, that really adds to the sweet, cherry fruits.

2,938 Views

Tasted

Aug 21, 2017

2015
Domaine Santa Duc Les Saintes Vierges (Châteauneuf-du-Pape)

Medium bodied, soft, forward and crisp, with sweet, red fruits and earthy components. This should drink quite well on release.

2,711 Views

Tasted

Aug 21, 2017

2015
Domaine Santa Duc Pied De Baud (Châteauneuf-du-Pape)

Full bodied, soft, silky and polished in texture, with a juicy center of fruit. Kirsch, cherry and wild strawberry all blend together with a melange of cracked peppers, rocks and a judicious hint of thyme in the cherry filled, end note.

1,892 Views

Tasted

Aug 21, 2017

2014
Domaine Santa Duc Les Saintes Vierges (Châteauneuf-du-Pape)

This is a producer I normally see from Gigondas, so it was fun to taste their Chateauneuf du Pape. Medium bodied, light in style, elegant, fresh and on the forward, bright, red berry side of the style range with a blast of thyme that comes though in the finish.

1,657 Views

Tasted

Jun 23, 2016