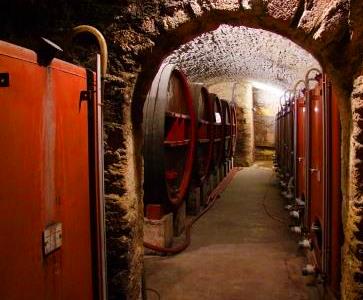 Learn everything about Domaine Durieu Chateauneuf du Pape with wine tasting notes, wine, and food pairing tips, best vintages, a history of the property, and information on the vineyards and winemaking. If you want to read about other important wineries and wine makers from the Rhone valley: Links to all Rhone Valley Wine Producer Profiles
Domaine Durieu is a relatively new estate in the Southern Rhone Valley. It was created in 1976 when Lucile Avril, the mother of Paul Durieu gave him a few hectares of vines as a wedding present to get his career as a wine producer going.
Shortly after that, Paul Durieu added an additional 5 hectares of vines, built a cellar and wine-making facilities and Domaine Durieu was born. Since 1976, Paul Durieu has managed to continue to expand its vineyards to their current 37-hectare size.
Domaine Durieu Vineyards, Wines, Winemaking
Today, Domaine Durieu owns 37 hectares of vines in Chateauneuf du Pape. The vineyard has old vines with the oldest vines being Grenache which was planted all the way in 1914. Their best terroir features very rocky soils that is perfect for Grenache. 36 hectares are devoted to the production of red wine and one hectare is used to grow grapes for white wine.
Domaine Durieu makes 3 red Chateauneuf du Pape wines and 1 Chateauneuf du Pape Blanc wine.
Domaine Durieu Chateauneuf du Pape – The grapes are not destemmed. The wine is often produced from a blend of 80% Grenache, 12% Mourvedre and 8% Syrah. But that can vary from vintage to vintage year, as in some years, they can also include small amounts of Cinsault and Counoise. The wine is aged for about 12 months in concrete vats before bottling. About 2,000 cases are produced each year.
Domaine Durieu Cuvee Reserve Lucile Avril made its debut in 1999. The estate's top wine is named after the mother of the owner. The grapes used for this cuvee come from their oldest vines. On average, the wine is usually made from a blend that is close to 90% old vine Grenache, 6% old vine Mourvedre and 4% Syrah. However, that varies slightly from year to year.
To produce the wine, the grapes are not destemmed. The Grenache is aged in traditional concrete vats for 16-18 months. The Mourvedre and Syrah are aged for an equal amount of time in new, French oak barrels. Not much wine is made as the production averages close to 800 cases per vintage.
Domaine Durieu Lieu-dit Bois Lauzon takes its name from the vineyard where the grapes are planted, which is located in the cooler terroir found in the far north of the Chateauneuf du Pape appellation. The wine is produced from 100% old vine Grenache.
Domaine Durieu Chateauneuf du Pape Blanc – The wine is produced from 80% Roussanne, with the remainder of the blend coming from Grenache Blanc and Clairette. Only 250 cases are produced each year.
When to Drink Domaine Durieu, Anticipated Maturity, Decanting Time
Domaine Durieu can be enjoyed on the young side. Young vintages can be popped and poured, or decanted for 1-2 hours allowing the wine to soften and open its perfume. Older vintages might need very little decanting, just enough to remove the sediment.
Domaine Durieu is usually better with 3-5 years of bottle age. Of course that can vary slightly, depending on the vintage. In the best vintages the wine should be consumed within 4-18 years after the vintage.
Serving Domaine Durieu with Wine, Food Pairing Tips
Domaine Durieu is best served at 15.5 degrees Celsius, 60 degrees Fahrenheit. The cool, almost cellar temperature gives the wine more freshness and lift.
Domaine Durieu is best served with all types of classic meat dishes, veal, pork, beef, lamb, duck, game, roast chicken, roasted, braised, stewed dishes, sausage, barbecue and cassoulet. Domaine Durieu is also good with Asian dishes, hearty fish courses like tuna, mushrooms pasta, eggplant, tomatoes and cheese.
The white wine of Domaine Durieu is best served with a myriad of different seafood dishes, shellfish, crab, lobster, sushi, sashimi, chicken, pork and veal, as well as Asian cuisine.
Domaine Durieu also owns 68 hectares in the Cotes du Rhone and Cotes du Ventoux appellations where they produce both red and white wine.
Domaine Durieu Wine Tasting Notes
12 Vintages 28,912 Views Sort by Vintage-Rating
2020
Domaine Durieu Lieu Dit Bois Lauzon (Châteauneuf-du-Pape)

The wine takes its name from the lieu-dit where the grapes are planted is rich, creamy, silky and fresh. Produced from 100% old vine Grenache, here you find elegance, purity, balance, freshness and layers of sweet kirsch that doesn't want to quit. Drink from 2022 - 2033.

544 Views

Tasted

Jan 27, 2023

2020
Domaine Durieu (Châteauneuf-du-Pape)

Sweet cherries, herbs and strawberries with freshness, refinement and a forward approach makes this a perfect candidate for loads of early drinking, refined pleasure. Drink from 2022 - 2029.

598 Views

Tasted

Jan 27, 2023

2020
Domaine Durieu Cuvée Lucile Avril (Châteauneuf-du-Pape)

Ripe, lush, round and packed with crushed rocks, herbs and spice, is already easy to taste. The majority of the blend is Grenache with a bit of Syrah and Mourvedre and is a selection from various parcels. Drink from 2022-2031.

615 Views

Tasted

Jan 27, 2023

2019
Domaine Durieu (Châteauneuf-du-Pape)

Peppery kirsch, strawberry and herbs make themselves right away. On the palate the wine is medium-bodied, soft, round, bright and spicy, leaving you with a blast of black cherry, plums and more cherries in the endnote. Drink from 2022 - 2032

1,304 Views

Tasted

Jan 9, 2022

2019
Domaine Durieu Blanc (Châteauneuf-du-Pape)

Medium-bodied, fresh, bright and crisp, with nice lift on the medium-bodied, lighter palate. Drink this in its youth for all its up-front, juicy, sweet, fresh citrus character. Drink from 2022 - 2027

1,561 Views

Tasted

Jan 9, 2022

2018
Domaine Durieu Cuvée Lucile Avril (Châteauneuf-du-Pape)

Jammy kirsch and pepper is the first thing you notice on the palate. The wine is sweet, fresh, elegant and refined with a good sense of purity in the sweet cherry packed finish.

1,505 Views

Tasted

Oct 12, 2020

2016
Domaine Durieu Cuvée Lucile Avril (Châteauneuf-du-Pape)

Floral, peppery, spicy and smoky accents ride on top of the fresh, ripe, red fruits in the nose and on the palate. Medium-bodied, elegant and forward, with a blast of ripe, spicy, sweet kirsch in the finish. The wine is a blend of 85% old-vine Grenache, 10% old vine Mourvedre and 5% Syrah.

4,839 Views

Tasted

Feb 11, 2020

2014
Domaine Durieu Cuvée Lucile Avril (Châteauneuf-du-Pape)

Lushly textured, silky, polished and fresh, there is plenty of licorice and sweet, dark cherry notes with a spicy edge to keep you interested.

1,593 Views

Tasted

Mar 5, 2018

2012
Domaine Durieu (Châteauneuf-du-Pape)

Still young, as you would expect, this medium bodied, kirsch filled, traditionally made charmer offers loads of sweet, spicy, black raspberries, earth and black pepper with lush textures. Although OK to drink today, give it another year or two and it should be even better.

3,470 Views

Tasted

May 17, 2016

2010
Domaine Durieu Cuvée Lucile Avril (Châteauneuf-du-Pape)

A super Chateauneuf du Pape at a great price is getting harder to find these days. But this wine wine delivers both value and great style. Dominated by old vine Grenache, the wine pops with fresh kirsch, jam, herbs and spice box aromatics. Open, opulent, fleshy and already delicious, this is a winner!

3,006 Views

Tasted

Jan 3, 2014

2009
Domaine Durieu Cuvée Lucile Avril (Châteauneuf-du-Pape)

Full bodied, plush, open and displaying ripe black cherries, kirsch liqueur, garrigue and spice in the nose, the wine is lush and carries it's ripe, old vine fruit intensity all the way through.

5,339 Views

Tasted

Feb 21, 2015

2007
Domaine Durieu Cuvée Lucile Avril (Châteauneuf-du-Pape)

Pepper, garrigue, jammy black raspberry and earth aromas were easy to find, But the wine felt flat on the palate.. This cherry dominated finish was short and to the point. This is an OK wine, but there is nothing that makes it special.

4,538 Views

Tasted

Feb 2, 2011