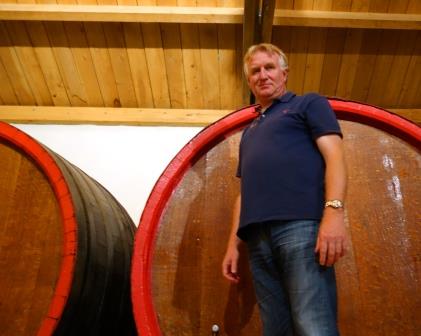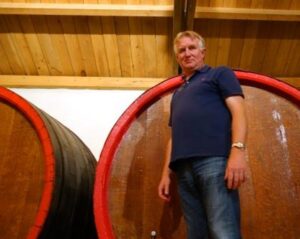 Learn everything about Clos des Papes, Chateauneuf du Pape with wine tasting notes, wine and food pairing tips, best vintages, a history of the property and information on the vineyards and winemaking. If you want to read about other important wineries and wine makers from the Rhone valley: Links to all Rhone Valley Wine Producer Profiles
Clos des Papes History, Overview
Clos des Papes (Paul Avril) has a long history in the region thanks to the first Paul Avril. Avril was born in 1873 and passed away after 91 great years in the appellation. In fact, Avril was one of the key people responsible for the official birth of the Chateauneuf du Pape appellation. Avril began producing and selling Clos des Papes all the way back in 1896.
However, the Avril family has a much longer history in Chateauneuf du Pape that can be traced back to the 18th century. During the second half of the 1700's historical records show references to members of the Avril family having acted as treasurers and municipal consuls.
Clos des Papes was one of the first estates in Chateauneuf du Pape, as well as in all of the Rhone Valley to produce, bottle and sell their own wine. Their first wine bearing the Clos des Papes label was released in 1896!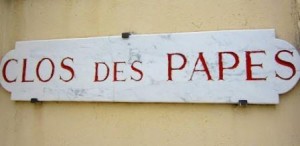 The second Paul Avril joined Clos des Papes in 1963. He passed away in 2009.
Clos des Papes The Modern Age
The current owner and director is Paul Vincent Avril, who was born in 1965. He started to work at Clos des Papes in 1988. Paul Avril trained at several other wineries before joining the family business at Clos des Papes. Paul Vincent Avril even had a stint at Chateau Mouton Rothschild in Bordeaux where he learned more about winemaking and the trade.
It could be said that Paul Avril is a modern traditionalist. On the one hand, he destems the grapes, seeks low yields and does not filter. On the other hand, Paul Vincent Avril eschews new oak and would not consider producing a high end cuvee.
His staunch philosophy is that would only serve to harm their main brand, which is Clos des Papes, a wine that has been produced for more than a century. In 2002, it was the idea of Paul Vincent Avril to start using the unique embossed bottle you see for Clos des Papes to this day.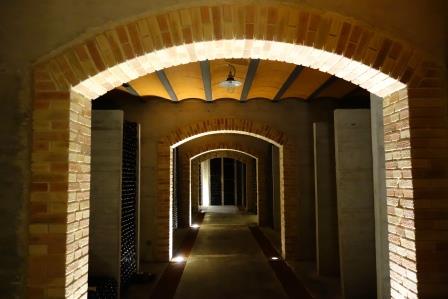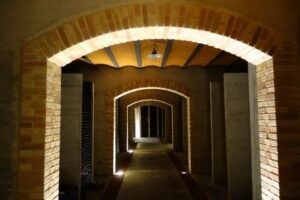 Clos des Papes Vineyards, Wines, Winemaking
The vineyard of Clos des Papes consists of 35 hectares of vines that are spread over 24 separate parcels in the Chateauneuf du Pape appellation for the production of their wine. 4 hectares in their cooler terroir are reserved for grapes used in the production of Clos des Pape Blanc, their white Chateauneuf du Pape wine.
31 hectares are used to plant grapes for their red Chateauneuf du Pape. Part of what makes the wine of Clos des Papes special is the range of different terroirs and soils their vineyards are located in.
The vineyards of Clos des Papes have a wide array of terroirs ranging from the rocky soils of La Crau to areas of sand, limestone and gravel soil. Perhaps some of the complexities found in Clos des Papes are in the wine due to different soils their vines are planted in.
They also have some of their best Grenache vines planted in sandy soils in the west and and southeastern part of the appellation. In the northeastern part of the appellation, you find they have more of their vines planted in the on soils littered with rocks, stones, clay and limestone.
It is the blending of these diverse terroirs and the different grape varieties that create Clos des Papes.
Most of these vines are devoted to red wines. Only 10% are reserved for production of the white wine. The white wine of Clos des Papes made its debut in 1955. At Clos des Papes, they practice biodynamic farming. In 2010, the property was certified "Agriculture Biologique."
Clos des Papes remains one of the top wines in the region. Prices have risen, but so has the quality. The wine has the ability to age and evolve for 2 decades or more. 2016 is perhaps the finest wine they have produced. But with so many great vintages produced here, it is really hard to pick a favorite.
However, a recently tasted bottle of 1945 Clos des Papes showed just how well this wine ages! That bottle was the greatest fully mature Southern Rhone wine I have yet tasted.
The best vintages of Clos des Papes are: 2022, 2021, 2020, 2019, 2018, 2017, 2016, 2015, 2012, 2010, 2009, 2007, 2006, 2006, 2004, 2003, 2001, 2000, 1998, 1995, 1990, 1989, 1979, 1978, 1961, 1959 and 1945.
If an award for the most consistent producer in Chateauneuf du Pape were given out for wines made over the past 60 years, or even longer, surely, Clos des Papes would be a contender to win the prize! This is easily borne out when looking at the list of top vintages from the property since the 1940's.
Clos des Papes produces 2 wines, a red Chateauneuf du Pape and a Chateauneuf du Pape Blanc.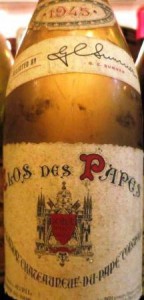 Clos des Papes Rouge is produced from about 65% Grenache, 20% Mourvedre, 10% Syrah and 5% from other varietals that range from Muscardin, Vaccarese to Counoise. It is the goal of Clos des Papes to always include a large portion of Mourvedre in the blend whenever possible, for its spicy qualities and structural backbone.
On average, the vines are at least 50 years or older. Yields are kept low. For an example, the young vines are on average 28 hectoliters per hectare while the older vines often have yields of less than 21 hectoliters per hectare. They have some of their best vines planted close to the village, and in the La Crau and Courthezon lieux-dits.
The grapes are 100% destemmed at Clos des Papes. The first vintage they began destemming their grapes 100% was 1991. Clos des Papes co ferments all their different grape varietals.
Vinification takes place in temperature controlled, stainless steel tanks. The wines are fined and not filtered. The wine is aged in old foudres for about 15 months before bottling. The production of Clos des Papes is close to 7,100 cases per year.
Clos des Papes Blanc which made its debut in 1955 is produced from a blend of 20% Roussanne, 20% Grenache Blanc, 20% Clairette, 20% Bourboulenc and 20% Picpoul. The wine is vinified and aged in stainless steel tanks for 6 months. The average annual production is close to 1,000 cases per vintage.
Character and Style of Clos des Papes At its best, the wine combines intensity, concentration, complexity, purity of fruit and elegance. The texture as the wine ages ranges from silk to luscious velvet.
When to Drink Clos des Papes, Anticipated Maturity, Decanting Time
Clos des Papes can be enjoyed on the young side. But this is a wine that is much better with cellaring. Young vintages can be decanted for about 1-2 hours or so. This allows the wine to soften and open its perfume. Older vintages might need very little decanting, just enough to remove the sediment.
Clos des Papes is usually better with 5-8 years of bottle age. Of course that can vary slightly, depending on the vintage. In the best vintages the wine should be consumed within 7-25 years after the vintage.
Serving and Decanting Clos des Papes with Wine, Food Pairing Tips
Clos des Papes is best served at 15.5 degrees Celsius, 60 degrees Fahrenheit. The cool, almost cellar temperature gives the wine more freshness and lift.
Clos des Papes is best served with all types of classic meat dishes, veal, pork, beef, lamb, duck, game, roast chicken, roasted, braised, stewed dishes, barbecue, sausage and cassoulet. Clos des Papes is also good with Asian dishes, hearty fish courses like tuna, mushrooms pasta, eggplant, tomatoes and cheese.
The white wine of Clos des Papes is best served with a myriad of different seafood dishes, shellfish, crab, lobster, sushi, sashimi, chicken, pork and veal, as well as Asian cuisine.
Clos des Papes also produces the value priced, Southern Rhone wine, Petit Vin d'Avril.
Clos des Papes Wine Tasting Notes
31 Vintages 385,490 Views Sort by Vintage-Rating
2020
Clos des Papes (Châteauneuf-du-Pape)

Flowers are the first thing you notice before discovering all the spice, cloves, kirsch, and dark cherries on the nose. On the palate, the wine is silky, elegant, fresh, supple, and refined. The kirsch shows a beautiful purity and spicy character, along with its refined tannins and peppery strawberries that kick in at the end of the finish. The wine is a blend of 55% Grenache, 30% Mourvedre, and 10% Syrah with the remaining 5% consisting of various, allowable grape varieties. The grapes are as always 100% destemmed. The production is quite low this year at only 25 hectoliters per hectare. The wine is 15.2% ABV, but you do not sense any heat. Drink from 2024-2038. 98 Pts

4,388 Views

Tasted

Feb 23, 2023

2020
Clos des Papes Blanc (Châteauneuf-du-Pape)

Flowers, white peach, honeydew, orange rind, pineapple and spice. Fresh, lush, round, oily, elegant and polished, the sweetness in the fruit, especially the whit peach notes stand out on the palate and in the finish. The wine is a complex blend of close to equal percentages of all 6 allowable, white wine grape varietal. The wine was produced from yields of 25 hectoliters per hectare. Drink from 2023-2033.

768 Views

Tasted

Jan 27, 2023

2019
Clos des Papes (Châteauneuf-du-Pape)

It is the sublime sense of symmetry and richness on the palate, along with the sensuous texture that hit all the right notes. There is a gorgeous purity to the sweet kirsch, length, and silky tannins that make this vintage stand out. This wine should age and evolve for 2-3 decades with ease. The yields were only 22 hectoliters per hectare. The wine is a blend of 45% Grenache, 40% Mourvedre, 10% Syrah, and the remaining 5% consists of various, allowable grape varieties. The grapes are as always 100% destemmed. Drink from 2025 - 2040.

9,751 Views

Tasted

Oct 4, 2022

Rich, supple, deep, intense and complex, this is stunning from the get go. One sniff of all that gorgeous, spicy kirsch, herbs, peppery spice and mélange of red fruits and you're hooked. If that wasn't enough, the silky, supple, elegant, fresh palate presence will seal the deal, finishing with its layers of deep, red fruits. This wine should age and evolve for 2-3 decades with ease. The wine is a blend of 45% Grenache, 40% Mourvedre, 10% Syrah and the remaining 5% consists of various, allowable grape varieties. The grapes are as always 100% destemmed. Drink from 2025 - 2040

7,441 Views

Tasted

Jan 9, 2022

2019
Clos des Papes Blanc (Châteauneuf-du-Pape)

Lusciously textured with a focus on its tropical fruit, flowers, white peach, yellow citrus peel, almonds, apricot, and orange. On the palate, the wine is fresh, racy, and vibrant with a crispness to the fruits and an oily texture in the sweet finish. Made from close to equal percentages of all 6 allowable, white wine grape varietals. Drink from 2023-2035.

1,764 Views

Tasted

Oct 4, 2022

2018
Clos des Papes (Châteauneuf-du-Pape)

Dark in color, the wine shows a black fruit character with accents of spice, white flowers, and pepper. Black raspberries and herb-tipped kirsch create the core of the wine, which is lush, supple, deep, and fleshy. The wine is full-bodied, concentrated and there is a flamboyance to the character that gives this vintage a uniqueness of character. The hedonistic nature of the finish makes this a joy to taste, with a palate-staining finish leaving you with black cherries, licorice, cocoa, chalk, and peppery kirsch. The wine is a blend of 60% Grenache, 35% Mourvedre, and a bit of Syrah, and various, allowable grape varieties. The grapes are as always 100% destemmed. Due to attacks of mildew in the spring, the yields were the lowest in the history of the estate at only 9 hectoliters per hectare. Drink from 2023-2038.

3,270 Views

Tasted

Oct 4, 2022

2018
Clos des Papes Blanc (Châteauneuf-du-Pape)

The wine opens with a blast of white peaches, white nectarines, almonds, apricots, honeysuckle, and pineapple. Luscious, fresh, long, and loaded with supple textured topical accented fruits, you can enjoy this now for all of its primary fruits and sweetness, or age it a bit more and allow the minerality to take a more active role. Drink from 2022-2032.

1,388 Views

Tasted

Oct 4, 2022

Made from close to equal percentages of all 6 allowable, white wine grape varietals, the wine leads off with aromatics of roasted nuts, orange, peach, flowers and spice. Luscious, opulent and richly textured, the wine is sweet, fresh and fruity. The wine was produced from yields of only 10 hectoliters per hectare.

2,707 Views

Tasted

Oct 19, 2020

2017
Clos des Papes (Châteauneuf-du-Pape)

On the nose you find a spicy blend of dark cherries, strawberry, Asian spice, cloves and licorice. On the palate, the wine soft, elegant, fresh and juicy, with sweet, peppery kirsch in the finish. The wine is a blend of 45% Grenache, 40% Mourvedre, 10% Syrah and the remaining 5% consists of various, allowable grape varieties. The grapes are as always 100% destemmed. The production is quite low this year at only 15 hectoliters per hectare.

6,058 Views

Tasted

Sep 21, 2019

2016
Clos des Papes (Châteauneuf-du-Pape)

The spicy cherries might be the first thing you notice, but it only gets better from there with all the flowers, pepper, herbs and kirsch that kicks in from there. Full bodied, rich, concentrated and luxurious in texture, the sensuous layers of cherry, plum and kirsch seem endless as they build and expand in the finish. The fruit has a beautiful purity and intensity that makes you want to taste it again and again. There is a hint of licorice and salinity in the finish that comes out with air. The wine is a blend of 55% Grenache, 30% Mourvedre, 10% Syrah and the remaining 5% consists of various, allowable grape varieties. This is a monumental vintage for Clos des Papes that should not be missed by fans of this wine.

12,402 Views

Tasted

Sep 18, 2018

2015
Clos des Papes (Châteauneuf-du-Pape)

Elegance, purity of fruit, silky tannins and the ability to harness power, concentration, and freshness, keeping everything in balance is what takes place here. Perhaps this is the most consistent wine of the appellation for the past 5 decades. But I digress. This is really a fabulous, sensuous, sexy wine, with velvet textured tannins and ripe, sweet red fruits and spice that does not want to quit. The wine was made using 65% Grenache, 20% Mourvedre, 10% Syrah and the remaining 5% consists of various, allowable grape varieties.

8,910 Views

Tasted

Aug 21, 2017

2014
Clos des Papes (Châteauneuf-du-Pape)

Elegance, purity of fruit, freshness and energy are at a very level for this semi difficult vintage. The wine serves up ripe, sweet, pure red fruits and spicy berries in suave, polished, sexy finish.

4,693 Views

Tasted

Aug 7, 2014

2013
Clos des Papes Blanc (Châteauneuf-du-Pape)

Apricot, orange, melon and floral scents are coupled with a spicy, oily, fat, ripe, nutty, sweet wine.

2,443 Views

Tasted

Aug 7, 2014

2012
Clos des Papes (Châteauneuf-du-Pape)

Violets, red cherries, raspberry and spicy plum scents make up the perfume. On the palate, the wine is silky, lively and fresh, expressing sweetness in the fruit, round, voluptuous textures and purity of flavor.

10,302 Views

Tasted

Aug 7, 2014

2011
Clos des Papes (Châteauneuf-du-Pape)

Just about to enter the other side of maturity, you can still find ample, fresh, ripe, red fruits, spice, bouquet garni, pepper, and floral notes, but the fruit has started to lose some of its intensity. This wine requires drinking in the near future. Drink from 2022-2025.

3,562 Views

Tasted

Nov 28, 2022

Medium bodied, but not light, the nose kicks in with 5 spice, kirsch and peppery scents. The wine offers soft, round textures and a spicy, fresh, cherry, fennel and black raspberry finish that is further complicated by a hint of spearmint on the endnote.

5,369 Views

Tasted

Aug 7, 2014

2010
Clos des Papes (Châteauneuf-du-Pape)

Full bodied, packed and stuffed with sweet, spicy berries, red fruits and floral notes. The wine is sweet, concentrated and dense. There is a lot of volume and depth in this wine. At 16% ABV ,there is no sensation of heat at any point in the experience. I could be short changing this wine on the 98 Pt score, it's sublime and really leaves a lasting impression. A few years in the bottle should add a lot to this elixir.

10,226 Views

Tasted

Aug 7, 2014

Move on over 2007 and make room for the 2010. Until now, I was sure the best vintage of Clos des Papes was the sublime 2007. As good as that wine is, the 2010 is even better! This is intense, pure, rich, mouth coating and long, yet everything is in balance and harmony with its decadent layers of perfectly ripe, lush, opulent layers of fruit. There is so much depth and focus to this wine, it's close to off the charts! At close to 16% ABV, there is no sensation of heat as it's buried under the avalanche of fruit.

10,491 Views

Tasted

May 27, 2013

2009
Clos des Papes (Châteauneuf-du-Pape)

Black raspberries, cherry, floral and bay leaf on the nose, with silky textures, freshness, cherry griotte and raspberry flavors that feel soft, fresh and silky on the medium bodied palate. The wine leave you with sweet cherries on the end note.

7,451 Views

Tasted

Aug 7, 2014

2008
Clos des Papes (Châteauneuf-du-Pape)

Earthy, smoky, red plums, medium bodied, lighter style of Clos des Papes with a focus on freshness, elegance, bright red fruits and spice. Drink this Burgundian styled wine on the young side. If you are thinking Parker is off his game on all the high scoring years, due to too much ABV and fruit, you will like this wine a lot.

4,210 Views

Tasted

Aug 7, 2014

2007
Clos des Papes (Châteauneuf-du-Pape)

No decanting needed, just pop, pour and enjoy all the layers, of rich, supple textured, spicy, peppery red fruits, wet earth, and garrigue with touches of flowers and grilled steak. Drink from 2022-2030.

4,398 Views

Tasted

Sep 5, 2022

Popped and poured, it took no time or effort for all the sensuous, lusciously textured, perfectly ripe, spicy cherries, herbs, pepper, and red berries to show what they had to offer. Concentrated, deep, long and with fabulous richness and staying power, the wine avoids any touch of heat, jam, or overripe flavors found in some 07 Rhône wines.

5,454 Views

Tasted

Sep 27, 2021

Sexy, sensuous, and lusciously textured, this beauty is ready to go with all the perfectly ripe, spicy cherries, herbs, pepper and red berries you could ever ask for. Concentrated, deep, long and with fabulous richness and staying power, the wine avoids any touch of heat, jam or overripe flavors.

6,222 Views

Tasted

May 6, 2020

Luscious, supple, rich, concentrated and focused on its purity of fruit. Ripe, sweet and yet, no heat, or jammy character, just silky, pure fruit here. This is really drinking well today. With time, this will even be better...

9,034 Views

Tasted

Feb 9, 2017

Showing some lightness in the color, the complex nose offers garrigue, kirsch, licorice, cherry, mint and forest scents that work perfectly with the silky, luscious, fresh, berries. There is a beautiful sense of sweetness, purity and freshness in the fruit that stays with you and lingers in the mouth.

10,760 Views

Tasted

Aug 7, 2014

This wine has been a beauty since I first tasted it in tank! What more could you ask for in a Chateauneuf du Pape? A complex nose packed with kirsch liqueur, garrigue, jam, spice and earth, sexy, lush, sensuous textures and a long, fresh, sweet, dark, black raspberry and cherry filled finish.

14,978 Views

Tasted

Nov 18, 2012

With a rich, deep color, the perfume exhibits pepper, black raspberry jam, grenadine, garrigue, licorice and raspberry liqueur. The opulent, silky textured fruit coats your mouth and palate, ending in a long, peppery, sweet, pure, red cherry liqueur finish. This is one of the most sensuous Chateauneuf du Pape wines I've ever tasted. WOW!

19,830 Views

Tasted

Dec 14, 2011

2006
Clos des Papes (Châteauneuf-du-Pape)

This is really drinking in the sweet spot. the showy nose, with its ripe and over ripe cherries, kirsch, pepper and garrigue starts you up, and the boatload of perfectly ripe, red fruits, spice and herbs, coupled with wild, silky textures finishes the job.

6,071 Views

Tasted

Jan 17, 2016

Just a lovely example of everything that makes Clos des Papes such a pleasure to drink. Combining freshness, opulence, ripe fruit, spicy notes and a complex nose, there is ample structure to age and a vibrant quality in the finish giving the lift and length. Still young, this is drinking well today, but a few more years will add more to the wine.

7,373 Views

Tasted

Jul 27, 2015

Thick, dense, yet light on its feet, the wine is packed with delicious, sweet, spicy red berries, kirsch, wet earth and floral scents with just a hint of sweet jam. Silky, plush and mouth filling, you can drink now, or age it. This is a beauty!

7,293 Views

Tasted

Aug 7, 2014

2005
Clos des Papes (Châteauneuf-du-Pape)

Fresh, bright, sweet, peppery kirsch from start to finish is found here. Elegant, juicy and fresh, with good concentration, energy, length and purity.

5,579 Views

Tasted

Nov 24, 2018

Bright, fresh, peppery, black raspberry, kirsch, garrigue and fennel scents open to a rich, sweet, spicy plum and black cherry jam filled wine this is still young. But if you like your Chateauneuf du Pape on the young side like I do, it's showing nicely.

10,552 Views

Tasted

Dec 9, 2012

2004
Clos des Papes (Châteauneuf-du-Pape)

A beautiful nose with peppery red cherries and black cherries, earth, black raspberry jam and fresh herbs open to a soft textured, kirsch filled wine that is already drinking well.

6,842 Views

Tasted

Nov 25, 2012

2003
Clos des Papes (Châteauneuf-du-Pape)

Concentrated, lush and full bodied, the powerful wine kicks off with jammy black cherries, pepper, figs and Provencal herbs. Not exactly delicate, this is more focused on the volume and stylistic character. There is a touch of dryness in the finish that is not off putting, but part of the wines character. There is no touch of heat or over-ripeness here. Still young, this is not your grandmother's Clos des Papes.

4,929 Views

Tasted

Jan 10, 2018

Much better than a bottle tasted a few months ago, still, while there was a lot to like here, with its jammy kirsch, spice, earth and peppery profile, this is not a wine I'd hold for more development. Drink up over the next few years is my advice.

6,385 Views

Tasted

May 18, 2017

Hopefully, as my instincts say, this was an off bottle. Much of the freshness and red fruit were missing, and instead, the wine showed an intense jammy, fig like quality that was far too overripe, and flabby. This was from the same case as other bottles that have been stunning. So, sadly, your guess was as good as mine.

4,937 Views

Tasted

Feb 10, 2017

Not as robust as it was during the prime of its youth, but then who is? Layers of sweet, ripe, very ripe and over ripe dark red fruits, licorice, spice, earth, herbs and kirsch liqueur are all over the place. Rich, lusty, but not over the top, this is not a wine to hold from here.

6,407 Views

Tasted

Oct 2, 2016

Perfectly ripe cherries, lavender, pepper and garrigue, with a faint hint of prune in the nose. Silky, soft and plus, with a great sense of purity, there is nothing over the top, or out of place in this wine. The sweet, ripe, cherries and kirsch carry all the way through. One could quibble and with the minor sense of heat in the finish, but that does not detract from the experience. At 11 years of age, this could be in the sweet spot.

6,945 Views

Tasted

Apr 27, 2014

Ripe scents of black cherry liqueur, raisins, pepper, black raspberry, spice and kirsch lead to a full bodied, packed youthful Chateauneuf du Pape. This is a very ripe, concentrated, powerful style of Clos des Papes that some tasters like more than others.

10,955 Views

Tasted

May 24, 2013

Smokey black cherry, garrigue, lavender, all spice, kirsch liqueur, fresh cut herbs and intense black raspberry scents create the compelling perfume. Dense, corpulent, concentrated and packed with layers of sweet, ripe, juicy fruit, this wine grabs your attention without an apology.The wine fills your mouth and coats your palate with layers of fruit and flavor. This seems young and should only get better over the next decade or two... This is not a wine of finesse. But it is a delicious wine of Chateauneuf du Pape.

12,306 Views

Tasted

Feb 27, 2012

When this wine was first delivered to the states, it stirred an intense controversy over the Internet. Awarded a high score by Robert Parker, some tasters called the wine a mess. I've enjoyed stunning bottles of this wine at times. On other occasions, the wine seemed like it suffered heat damage at some point. One specific friend has opened it numerous times and everyone of his bottles have been flawed. All my bottles have been sublime. At dinner last night, a guest brought a bottle and clearly, the wine endured damage along the way. The wine was light in color, flavor and density. There was an enjoyable level of kirsch, garrigue and herbs, but that is not what the wine delivers at its best. It was not a bad tasting experience, but this bottle was at best average.

11,033 Views

Tasted

Dec 30, 2011

This sports one of the darkest colors I've seen in a young Chateauneuf. Intensely concentrated with massive layers of ripe, dark and peppery, ripe red fruit. Full bodied, ABVic and richly concentrated, I'm not sure why this wine invites all the controversy.

7,175 Views

Tasted

Oct 15, 2007

2001
Clos des Papes (Châteauneuf-du-Pape)

Rich, intense, full-bodied, concentrated, spicy, sweet, fresh, vibrant layers of kirsch, black pepper, licorice, herbs and meaty nuances, as well as a touch of VA pop as soon as the cork leaves the bottle. The wine exudes spicy kirsch notes from start to finish. Popped and poured there is no reason to wait if you are holding on to any bottles.

3,939 Views

Tasted

Apr 13, 2020

If you're seeking to get seduced by a mature, Chateauneuf, look no further The purity in the sweet cherries is perfectly matched by its earthy floral and spicy quality, soft textures and sensuous, red fruit filled finish.

4,369 Views

Tasted

Nov 13, 2017

What a super wine and in the perfect sweet spot too. Complex aromatics are in synch with the rich, sweet, concentrated, pure black cherries, earth, plum and spice notes that take up most of the room in your mouth. Fresh, long and clean, with great purity of fruit, what are you waiting for? Pop a cork!

4,388 Views

Tasted

Aug 23, 2014

A rich perfume of fresh black pepper, kirsch, 5 spice, fennel and black raspberry jam open to a wine filled with soft, velvet like tannins. The wine ends with a juicy mouthful of ripe Grenache, spice and kirsch. This is drinking great today.

8,010 Views

Tasted

Jan 24, 2012

2001
Clos des Papes Blanc (Châteauneuf-du-Pape)

Good rich character, ripe, full bodied in an exotic style. Already showing well. Might not be long lived.

1,911 Views

Tasted

Jun 6, 2004

2000
Clos des Papes (Châteauneuf-du-Pape)

Refined, elegant, soft and silky, the sweet red fruits are spicy, vibrant, clean and pure. Fully mature, medium-bodied, charming and fresh, the peppery, earthy, herbal strawberry cherry and raspberry finish hit the spot. There is no reason to hold this any longer.

3,915 Views

Tasted

Jul 28, 2021

All good things must eventually come to an end, which is this wine is going. At weeks before its 14th birthday, the wine does not have the same freshness, level of fruit or vivacity it displayed in its youth. It was easy to find the kirsch, licorice and garrigue character, along with its trademark supple textures, but the wine is clearly fading. I'm going to finish my few remaining bottles over the next year or two.

4,882 Views

Tasted

Dec 4, 2013

Lush textures and a perfume packed with kirsch, Provencal herbs, earth, strawberry jam and pepper. Elegant, charming, sensuous, fresh, pure and drinking perfectly today.

6,986 Views

Tasted

Jun 4, 2012

Jammy blackberries, raspberries, cherry liqueur, Provencal herbs and black pepper are easy to find. The texture melds power with Chateauneuf styled elegance. Very concentrated wine. The long, pleasurable, multi-faceted finish is a treat.

3,969 Views

Tasted

Dec 17, 2008

1999
Clos des Papes (Châteauneuf-du-Pape)

On the fresh, bright, crisp and floral side, the cherries are still sweet, crisp, floral and elegant. The finish offers an elegant, bright, kirsch filled note. Not the deepest or more concentrated wine from the estate, but it is among the more refined and charming vintages produced here.

4,043 Views

Tasted

Oct 6, 2018

1998
Clos des Papes (Châteauneuf-du-Pape)

Elegant in style, there is good freshness to all the sweet, ripe, kirsch, cherries and black raspberries, accompanied by spice, herbs and black pepper aromatics. Medium bodied, silky and refined, this is already fully mature. There is no reason to hold it for further aging.

3,713 Views

Tasted

Sep 23, 2016

1995
Clos des Papes (Châteauneuf-du-Pape)

Kirsch, pepper, fresh herbs, strawberries and ripe cherries open to a soft, ripe, elegant expression of Grenache. At close to 20 years of age, this seems to be a fully mature Chateauneuf du Pape that is right on top of its game.

5,168 Views

Tasted

Aug 11, 2014

Black cherry, kirsch, earth, truffle and fresh market herbs. Robust, concentrated black cherry and herb flavors end with a dense melange of dark cherry, jam and plum flavors. This fully mature Chateauneuf du Pape might have been a little more interesting a year or two ago. There is no reason to age this any longer.

5,361 Views

Tasted

May 15, 2011

1990
Clos des Papes (Châteauneuf-du-Pape)

This fully mature Chateauneuf du Pape offered a lot of excitement on the nose. Fresh black cherry, garrigue, kirsch, herbs, camphor and anise made up the perfume. Full bodied with soft textures, concentration and finesse. If the spicy, kirsch filled finish was a bit longer, it would have earned a higher score. This is not going to improve. I'm going to enjoy my two remaining bottles over the next year or two.

5,046 Views

Tasted

Jun 10, 2010

Calling it a mini version of Rayas is an accurate description. The nose exploded from the glass with spicy cherry tones, herbs, jammy black fruits and pepper. As good as the nose was, the palate might even have been better! Dense, thick, full bodied fruits filled your mouth with layers of elegant red and black fruits. The finish lasted at least :35.

2,535 Views

Tasted

Feb 12, 2005

1979
Clos des Papes (Châteauneuf-du-Pape)

Every time I have this wine, I walk away impressed and this bottle was no exception. Still vibrant, fresh, lusty and full of life, the fruit were there in abundance and the delicious finish really sticks with you.

2,777 Views

Tasted

Apr 16, 2016

Tasted blind, I was sure this was several years younger than its true age. The attention grabbing aromatics with their earthy, pepper, kirsch, garrigue and spice don't let go. The silky, ripe, array of ripe fruits on the palate are even better. There is no reason to hold back from popping a cork if you are lucky enough to own this wine.

4,225 Views

Tasted

May 21, 2013

1945
Clos des Papes (Châteauneuf-du-Pape)

Cloudy, red in color, ample scents of kirsch liqueur, truffle, grilled steak, cherry wood, cherry pipe tobacco, spice and black cherry caught your attention and kept it. Soft, sweet, pure and intense, with time in the glass, the elegant, spice, red berry filled wine began to fade. On the other hand, a wine like this is a time machine. World War Two had just ended. The Nazis were defeated in and much of Europe was in shambles, needing to be rebuilt. Knowing that was taking place while this wine was alive, once again, wine became the only working time machine!

4,020 Views

Tasted

Mar 29, 2012

1937
Clos des Papes (Châteauneuf-du-Pape)

The oldest Rhone I have ever tasted was the color of light tea. The smoky, mineral and herbal perfume had no hints of fruit. Soft, rustic herbs and tart cherries were found in the finish. While this was not a great or even good wine, tasting bottled history is always a treat.

3,181 Views

Tasted

May 7, 2014