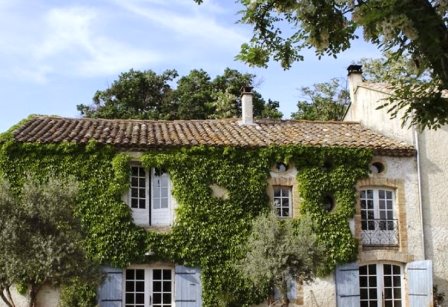 Learn everything about Domaine Galevan Chateauneuf du Pape with wine tasting notes, wine and food pairings, best vintages,a history of the property, information on the vineyards and winemaking. If you want to read about other important wineries and wine makers from the Rhone valley: Links to all Rhone Valley Wine Producer Profiles
Domaine Galevan is one of the older estates in the Southern Rhone Valley, as it can date itself back to 1780. For much of that, like many smaller vineyards, they sold all their wine to negociants until 1968. Today, Domaine Galevan is managed by Coralie Goumarre, who began to manage the estate in 1995. Coralie Goumarre is the ninth generation of her family to be involved with Domaine Galevan.
In 2005, the first vintage of La Ferme du Mont was produced at the estate with Stephane Vedeau.
Domaine Galevan Vineyards, Wines, Winemaking
Domaine Galevan owns 2 hectares of vines in Chateauneuf du Pape. 1.5 hectares are used for the production of red wine grapes. Only .5 hectares of vines are dedicated to growing white wine grape varieties. Domaine Galevan owns more land in the Cotes du Rhone appellation.
In fact, they also own 47 hectares of vines in the Cotes du Rhone appellation. Domaine Galevan has been exclusively farming their vineyards using only biodynamic techniques for several years. In fact, they earned their Agriculture biologique certification in 2011.
Domaine Galevan produces 3 wines, 2 red Chateauneuf du Pape wines and 1 white Chateauneuf du Pape wine.
Domaine Galevan Chateauneuf du Pape comes from a blend of 90% Grenache and 10% Mourvedre. The grapes are completely destemmed. The wine is aged in French oak barrels for between 10-15 months before bottling.
Domaine Galevan Saint Georges – This is the estates newest wine. The first release was the 2009 vintage The wine is produced from 100% old vine Grenache that has vines that are close to 100 years of age. Yields for this cuvee are low, ranging for as low as 5 hectoliters per hectare, up to 18 hectoliters per hectare. The terroir is mostly rocks, stone, chalk and clay soils. The wine is aged in 500 liter new, French oak barrels for 15 months before bottling.
Domaine Galevan Chateauneuf du Pape Blanc comes from a blend of 80% Grenache Blanc and a mix of Roussanne, Bourboulenc and Clairette. The wine is aged in stainless steel tanks.
When to Drink Domaine Galevan, Anticipated Maturity, Decanting Time
Domaine Galevan can be enjoyed on the young side. Young vintages can be popped and poured, or decanted for about 1 hour, give or take. This allows the wine to soften and open its perfume. Older vintages might need very little decanting, just enough to remove the sediment.
Domaine Galevan is usually better with 2-4 years of bottle age. Of course that can vary slightly, depending on the vintage. In the best vintages the wine should be consumed within 3-8 years after the vintage.
Serving and Decanting Domaine Galevan with Wine, Food Pairing Tips
Domaine Galevan is best served at 15.5 degrees Celsius, 60 degrees Fahrenheit. The cool, almost cellar temperature gives the wine more freshness and lift.
Domaine Galevan is best served with all types of classic meat dishes, veal, pork, beef, lamb, duck, game, roast chicken, roasted, braised, stewed dishes, sausage, barbecue and cassoulet. Domaine Galevan is also good with Asian dishes, hearty fish courses like tuna, mushrooms pasta, eggplant, tomatoes and cheese.
The white wine of Domaine Galevan is best served with a myriad of different seafood dishes, shellfish, crab, lobster, sushi, sashimi, chicken, pork and veal, as well as Asian cuisine.
Domaine Galévan Wine Tasting Notes
5 Vintages 10,018 Views Sort by Vintage-Rating
2016
Domaine Galévan St. Georges (Châteauneuf-du-Pape)

Forward, soft, earthy and loaded with garrigue along with ripe, juicy red fruits. The wine was made from 100% old vine Grenache.

1,472 Views

Tasted

Sep 18, 2018

2016
Domaine Galévan (Châteauneuf-du-Pape)

Licorice, herbs, deep red fruits all combine to produce an opulent, round, richly textured wine with freshness, length and character. The wine was produced using 91% Grenache with 9% Mourvedre.

2,066 Views

Tasted

Sep 18, 2018

2013
Domaine Galévan St. Georges (Châteauneuf-du-Pape)

From 100% Grenache, the wine really delivers black raspberries, kirsch and peppery aromatics, soft textures and a smooth, easy to like, spicy, fresh, fruit filled finish.

1,364 Views

Tasted

Sep 7, 2015

2013
Domaine Galévan (Châteauneuf-du-Pape)

Peppery black fruit, medium bodied, fresh, rich, clean, pure fruits and a sweet cherry finish.

1,695 Views

Tasted

Sep 7, 2015

2010
Domaine Galévan St. Georges (Châteauneuf-du-Pape)

Another great wine from the 2010 Southern Rhone vintage. This is filled with ripe, sweet, juicy, fat, dark red fruits, garrigue, jam, fennel, smoke and pepper. Lush, round and long, the kirsch in the finish really stays with you.

3,421 Views

Tasted

Oct 9, 2015