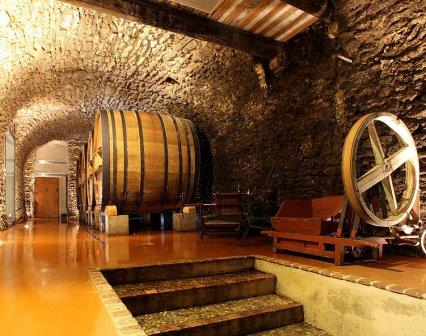 Learn everything about Vignobles Mayard Chateauneuf du Pape with wine tasting notes, wine, and food pairing tips, best vintages, a history of the property, information on the vineyards, and winemaking. If you want to read about other important wineries and winemakers from the Rhone valley: Links to all Rhone Valley Wine Producer Profiles
Vignobles Mayard History, Overview
Vignobles Mayard has a long history in the Southern Rhone Valley that dates back to 1898, the year the estate was created. The vineyards were replanted after the Phylloxera crisis destroyed much of Europe's vines.
While the family of Gratien Mayard immigrated to America following the devastation of their vineyards, Gratien Mayard remained in Chateauneuf du Pape.
The son of Gratien Mayard, Alphonse Mayard founded Clos du Calvaire, which earned fame as they were one of the first wineries in Chateauneuf du Pape to produce, bottle, and sell wine under their own name.
To celebrate that fact, the Mayard family created a special wine as an homage to their achievement. Vignobles Mayard is still owned by the direct descendant of the founder today and is managed by Marie Louise and Alphonse Mayard.
Vignobles Mayard Vineyards, Wines, Winemaking
Vignobles Mayard is a large estate with 43 hectares of vines in the Chateauneuf du Pape appellation. Their vineyards include 8 hectares of vines planted in the famous La Crau lieu-dit.
40 hectares are used for red wine grapes. 3 hectares are reserved for the growing of white Chateauneuf du Pape grape varieties. Vignobles Mayard also owns a small parcel of vines in the Cotes du Rhone appellation. As well as being wine producers, the Mayard family also owns a negociant company.
Vignobles Mayard completed a massive renovation of their wine-making facilities, cellars, offices, and tasting room in 2011. That same year, Vignobles Mayard brought in Philippe Cambie to help consult on their winemaking and vineyard management.
Vignobles Mayard produces 3 red Chateauneuf du Pape wines and 1 white Chateauneuf du Pape wine.
Vignobles Mayard Clos du Calvaire is a blend of 80% Grenache, 10% Syrah and 10% Cinsault from vines that are 40 years of age on average. The terroir is galets and limestone. The wine is aged in cement vats. Close to 3,500 cases are produced each vintage.
Vignobles Mayard Domaine du Pere Pape is produced from a blend of 60% Grenache, 20% Syrah, 15% Cinsault, and 5% Mourvedre. The vines are more than 50 years of age on average. The wine is aged in foudres for 12-18 months before bottling. The annual production is close to 5,500 cases per vintage.
Vignobles Mayard Domaine du Pere Pape In The Groove is clearly the most interesting, or oddest wine I have seen in ages. The wine is exactly the same as the regular Pere Pape, except that one of the vats was vinified with a waterproof speaker in the vat allowing the wine to listen to Jazz whilst fermenting for a 45 day period of time.
Vignobles Mayard La Crau de Ma Mere is their top wine. The blend is usually 60% old vine Grenache, 30% Mourvedre, and 10% Syrah. As you can surmise, the vines are planted in the famous La Crau vineyard.
The grapes are 100% destemmed. The wine is aged in foudres for 12-18 months before bottling. The Mourvedre and Syrah can be aged in French oak barrels while the Grenache is always aged in foudres. Production is close to 750 cases per year.
Vignobles Mayard Chateauneuf du Pape Blanc Crau de Ma Mere is a blend of 30% Grenache Blanc, 30% Clairette, 30% Bourboulenc, 8% Roussanne and 2% Picpoul. The wine is aged in a combination of 50% stainless steel tanks and the remainder is aged in French oak barrels and demi-muids.
When to Drink Vignobles Mayard, Anticipated Maturity, Decanting Time
Vignobles Mayard can be enjoyed on the young side. Young vintages can be decanted for about 1 hour, give or take. This allows the wine to soften and open its perfume. Older vintages might need very little decanting, just enough to remove the sediment.
Vignobles Mayard is usually better with 3-5 years of bottle age. Of course, that can vary slightly, depending on the vintage. In the best vintages, the wine should be consumed within 5-15 years after the vintage.
Serving Vignobles Mayard with Wine, Food Pairing Tips
Vignobles Mayard is best served at 15.5 degrees Celsius, 60 degrees Fahrenheit. The cool, almost cellar temperature gives the wine more freshness and lift.
Vignobles Mayard is best served with all types of classic meat dishes, veal, pork, beef, lamb, duck, game, roast chicken, roasted, braised, stewed dishes, sausage, grilled meats, barbecue, and cassoulet. Vignobles Mayard is also good with Asian dishes, hearty fish courses like tuna, mushrooms, cheese, pasta, eggplant, and tomatoes.
The white wine of Vignobles Mayard is best served with a myriad of different seafood dishes, shellfish, crab, lobster, sushi, sashimi, chicken, pork, and veal, as well as Asian cuisine.
http://www.vignobles-mayard.fr/en
Vignobles Mayard Wine Tasting Notes
24 Vintages 52,106 Views Sort by Vintage-Rating
2020
Vignobles Mayard La Crau de ma Mère (Châteauneuf-du-Pape)

Lush, fruity, silky and polished with a base of ripe juicy, sweet kirsch, and black cherry with touches of cocoa and pepper. Vibrant and refined, with a polish to the tannins in the finish, this should show well on release and age for at least a decade. The wine was made from a blend of 60% Grenache, 20% Syrah, 15% Cinsault and 5% Mourvedre. Drink from 2022-2032.

1,133 Views

Tasted

Jan 27, 2023

2020
Vignobles Mayard Clos du Calvaire (Châteauneuf-du-Pape)

Flowers, herbs and peppery kirsch notes pop in the nose. The wine s fresh, vibrant and racy with a bright character in the finish. The wine blends mostly Grenache with Syrah, % Cinsault and 5% Mourvedre. Drink from 2022-2029.

1,203 Views

Tasted

Jan 27, 2023

2019
Vignobles Mayard Clos du Calvaire (Châteauneuf-du-Pape)

Roses, olives and spice box notes add nuances to all the ripe, red fruits. Earthy, with garrigue and spice. Luscious, soft and silky on the palate, the wine is long, fresh and vibrant on the palate and in the finish. The wine is made from a blend of 70% Grenache, 15% Syrah, 10% Cinsault and 5% Mourvedre. Drink from 2022 - 2033

1,441 Views

Tasted

Jan 9, 2022

2019
Vignobles Mayard La Crau de ma Mère (Châteauneuf-du-Pape)

Luscious, soft, polished sweet cherries wine hints of chocolate and herbs. The wine finishes with elegantly textured red fruits and a nice spicy note on the backend. This should drink well on release. The wine was made using 70% Grenache, 20% Mourvedre and 10% Syrah. Drink from 2022 - 2034

1,401 Views

Tasted

Jan 9, 2022

2019
Vignobles Mayard Pape in the Groove (Châteauneuf-du-Pape)

The interesting thing here is that the wine for most intents and purposes is the same as the standard Pere Pape, except that inside one vat, they placed a waterproof speaker allowing the wine to listen to Jazz during its first 45 days of life during the fermentation process. At the end of day, a musically inclined medium-bodied, sweet, fresh, red berry filled wine with a silky finish. Drink from 2023 - 2033

2,943 Views

Tasted

Jan 9, 2022

2019
Vignobles Mayard Domaine du Père Pape (Châteauneuf-du-Pape)

Medium-bodied, elegant, sweet and fresh, the red berries and pit fruits are soft, refined and silky, leaving with layers of ripe, juicy cherries on the nose and palate. Sweet and silky, with freshness and purity, the wine was made from a blend of 60% Grenache, 20% Syrah, 15% Cinsault and 5% Mourvedre. Drink from 2023 - 2033

1,481 Views

Tasted

Jan 9, 2022

2018
Vignobles Mayard La Crau de ma Mère (Châteauneuf-du-Pape)

Medium-bodied, spicy and fresh, with an earthiness and touch of brett on the nose, clearly the wine offers depth, richness and layers of ripe, red, peppery fruit on the palate and in the finish to end things quite nicely.

1,271 Views

Tasted

Oct 13, 2020

2018
Vignobles Mayard Clos du Calvaire (Châteauneuf-du-Pape)

Fruity and fresh with black raspberries, herbs, cherries and earthy notes, the wine is medium-bodied, herbal, olive-stained and leafy, ending with a sweet, juicy, silky kirsch note in the finish.

1,853 Views

Tasted

Oct 12, 2020

2018
Vignobles Mayard Domaine du Père Pape (Châteauneuf-du-Pape)

Round, fruity, lush and forward, all the luscious red fruits and spice here taste as good as they feel thanks to all the ripe Grenache, Mourvedre, Syrah and the large amount of Cinsault in the blend.

2,383 Views

Tasted

Oct 12, 2020

2017
Vignobles Mayard La Crau de ma Mère (Châteauneuf-du-Pape)

Soft, silky, juicy and fresh, with an appealing jolt of cherries, spice, garrigue and earth, the finish is all about the fresh, juicy, cherries that linger. The wine was made using 70% Grenache, 20% Mourvedre and 10% Syrah.

3,023 Views

Tasted

Sep 24, 2019

2017
Vignobles Mayard Cuvée du Père Pape (Châteauneuf-du-Pape)

The garrigue is strong here, and so are the sweet, dark, plush cherries and spice on the lushly textured palate and perfume. The wine was made from a blend of 60% Grenache, 20% Mourvedre, 10% Syrah and 10% Cinsault.

2,005 Views

Tasted

Sep 24, 2019

2017
Vignobles Mayard Cuvée Alex (Châteauneuf-du-Pape)

Medium-bodied, soft, refined and juicy, with a nice core of sweet, peppery red cherries on the nose and palate. The wine was made using 65% Grenache, 15% Mourvedre, 15% Syrah and 5% Cinsault.

2,306 Views

Tasted

Sep 24, 2019

2017
Vignobles Mayard Clos du Calvaire (Châteauneuf-du-Pape)

Spicy dark red fruits, spice and earthy notes with a nice sweetness to the fruits, herbs and olives, along with early drinkability make this quite a spicy, little charmer. The wine is made from a blend of 70% Grenache, 15% Syrah, 10% Cinsault and 5% Mourvedre.

2,504 Views

Tasted

Sep 24, 2019

2015
Vignobles Mayard La Crau de ma Mère (Châteauneuf-du-Pape)

Polished, sweet and fresh, there is an elegant texture to the juicy, sweet kirsch that is complicated by spicy notes and soft, round tannins. The finish delivers a bowl of fresh, juicy, cherries. The wine was made using 70% Grenache, 20% Mourvedre and 10% Syrah.

3,456 Views

Tasted

Aug 21, 2017

2015
Vignobles Mayard Domaine du Père Pape (Châteauneuf-du-Pape)

A nice mineral note pops right up, just before you find the lush, red fruits. Sweet and silky, with freshness and purity, the wine was made from a blend of 60% Grenache, 20% Syrah, 15% Cinsault and 5% Mourvedre.

2,926 Views

Tasted

Aug 21, 2017

2015
Vignobles Mayard Clos du Calvaire (Châteauneuf-du-Pape)

Earthy, with garrigue and spice. There is a sweetness and elegance to the fruit, polished tannins and freshness in the finish, making this a really fine wine. The wine is made from a blend of 70% Grenache, 15% Syrah, 10% Cinsault and 5% Mourvedre.

2,947 Views

Tasted

Aug 21, 2017

2014
Vignobles Mayard Cuvée du Père Pape (Châteauneuf-du-Pape)

A success for the vintage, the wine is medium bodied, finesse styled, and shows a strong kirsch note, spicy red fruits and pepper in its already open and drinkable character. The wine was made from a blend of 60% Grenache, 20% Syrah, 15% Cinsault and 5% Mourvedre.

1,651 Views

Tasted

Jun 23, 2016

2014
Vignobles Mayard Clos du Calvaire (Châteauneuf-du-Pape)

Medium bodied, soft, forward, fresh, sweet, round, textured wine that is going to be ready to drink on release. The red berry filled wine leaves you with a spicy, black raspberry note in the finish.

1,753 Views

Tasted

Jun 23, 2016

2013
Vignobles Mayard Domaine du Père Pape (Châteauneuf-du-Pape)

Baked cherries and spice, with soft textures and a forward attitude, ending with a splash of kirsch and pepper accompanied by lush textures.

1,693 Views

Tasted

Sep 8, 2015

2013
Vignobles Mayard La Crau de ma Mère (Châteauneuf-du-Pape)

Flashy, lusty, red fruits, with freshness and a peppery, floral, thyme and cherry nose, this is tasty from start to finish. This wine was a new discovery for me. I'm looking forward to tasting future vintages of it.

1,733 Views

Tasted

Sep 8, 2015

2013
Vignobles Mayard Clos du Calvaire (Châteauneuf-du-Pape)

With a nice shot of fresh, sweet cherries in the nose, this forward, silky, smooth medium bodied wine.

1,875 Views

Tasted

Sep 8, 2015

2012
Vignobles Mayard La Crau de ma Mère (Châteauneuf-du-Pape)

Medium bodied, forward, fresh blend of 60% Grenache, 30% Mourvedre and 10% Syrah delivers a spicy, floral, black raspberry and thyme infused character that drinks well young.

2,407 Views

Tasted

May 19, 2016

2010
Vignobles Mayard La Crau de ma Mère (Châteauneuf-du-Pape)

Richly textured, luscious, sweet, fresh, ripe, red fruits, coupled with aromas of flowers, licorice and peppery spices are easy to find. There is no reason to wait to pop a cork with this beauty.

2,282 Views

Tasted

Mar 8, 2018

2009
Vignobles Mayard La Crau de ma Mère (Châteauneuf-du-Pape)

Just a super wine with loads of fleshy, sweet, ripe, plums, cherries, spice and thyme. The wine offer good concentration, supple textures, freshness and a blast of fruit in the finish.

3,317 Views

Tasted

Mar 8, 2018