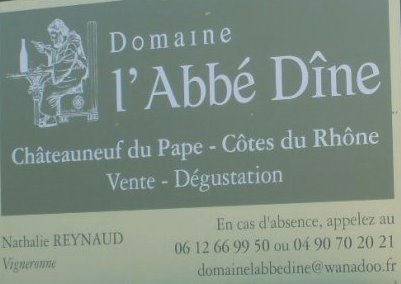 Learn everything about Domaine l'Abbe Dine Chateauneuf du Pape with wine tasting notes, wine and food pairing tips, a history of the property and information on the vineyards and winemaking. If you want to read about other important wineries and wine makers from the Rhone valley: Links to all Rhone Valley Wine Producer Profiles
Domaine l'Abbe Dine History, Overview
Domaine l'Abbe Dine is a new domaine in the Southern Rhone Valley. They are located in Courthezon. While the vineyards have been owned by the same family for close to 140 years, 2012 marks the debut vintage for the wines of Domaine l'Abbe.
The Reynaud family began planting vines in Chateauneuf du Pape in the 1880's in the Les Berdines lieu dit. The name, l'Abbe Dine can be translated into "The Abbot's Dinner".
With the 2012 vintage, Nathalie Reynaud brought in Philippe Cambie to consult on the wines and vineyard management. Prior to the 2012 vintage, the harvest of Domaine l'Abbe Dine was sold to another Chateauneuf du Pape producer and family friend as well as Cellier des Princess, the local cooperative.
Once their final contract expired in 2017, you are going to see more wine from Domaine l'Abbe Dine.
Domaine l'Abbe Dine owns 4 hectares of vines in the Chateauneuf du Pape appellation that are planted for the production of red wine grapes. The estates uses only organic farming techniques. Domaine l'Abbe Dine produces 1 Chateauneuf du Pape Rouge wine.
Domaine l'Abbe Dine Chateauneuf du Pape is made from a blend of 80%, old vine Grenache, 15% Syrah and 5% Mourvedre. Some of the vines used in this wine are more than 120 years of age!
The vine are well placed in the Les Bedines vineyard. Vinification takes place in stainless steel tanks. The wine is aged in cement vats.
When to Drink Domaine l'Abbe Dine, Anticipated Maturity, Decanting Time
Domaine l'Abbe Dine can be enjoyed on the young side. Young vintages can be popped and poured, or decanted for about 1 hour, give or take. This allows the wine to soften and open its perfume. Older vintages might need very little decanting, just enough to remove the sediment.
Domaine l'Abbe Dine is usually better with 2-4 years of bottle age. Of course that can vary slightly, depending on the vintage. In the best vintages the wine should be consumed within 3-12 years after the vintage.
Serving Domaine l'Abbe Dine with Wine, Food Pairing Tips
Domaine l'Abbe Dine is best served at 15.5 degrees Celsius, 60 degrees Fahrenheit. The cool, almost cellar temperature gives the wine more freshness and lift.
Domaine l'Abbe Dine is best served with all types of classic meat dishes, veal, pork, beef, lamb, duck, game, roast chicken, roasted, braised, stewed dishes, sausage, barbecue, grilled meats and cassoulet. Domaine l'Abbe Dine is also good with Asian dishes, hearty fish courses like tuna, mushrooms, cheeese pasta, eggplant and tomatoes.
Domaine l'Abbe Dine also produces red and white wine from 14 hectares of vines they own in the Cotes du Rhone appellation. They also make a rose', Vin de Pays de Vacluse
Domaine L'Abbé Dîne Wine Tasting Notes
12 Vintages 28,170 Views Sort by Vintage-Rating
2020
Domaine L'Abbé Dîne (Châteauneuf-du-Pape)

Fresh, earthy, medium-bodied, fruity and loaded with plums, kirsch and garrigue, the wine is going to be easy to enjoy on release and it is also able to age for at least a decade. Drink from 2022-2031.

676 Views

Tasted

Jan 27, 2023

2019
Domaine L'Abbé Dîne La Reserve des Cieux (Châteauneuf-du-Pape)

Soft, supple, fresh and pure, the wine is medium-bodied, silky, refined and vibrant with a gorgeous, peppery tinged, red cherry finish. The delicious wine will be ready just about on release. The wine is always produced using 100% old vine Grenache. Drink from 2023 - 2034

1,447 Views

Tasted

Jan 9, 2022

2019
Domaine L'Abbé Dîne (Châteauneuf-du-Pape)

Cherries with a touch of spice are on the nose and palate of this earthy, medium-bodied, forward, lusciously textured, early drinking charmer. The wine is made from 90% Grenache, 8% Mourvedre and 2% Syrah. Drink from 2023 - 2034

1,532 Views

Tasted

Jan 9, 2022

2019
Domaine L'Abbé Dîne Blanc (Châteauneuf-du-Pape)

On the orange side of the style range with all its tangerine, mango and orange rind accents on the nose. On the palate, the wine is bright, fresh, citrusy and lush, forward in style, with a white peach and citrus finish, you can enjoy this on release. Drink from 2022 - 2028

1,426 Views

Tasted

Jan 9, 2022

2018
Domaine L'Abbé Dîne La Reserve des Cieux (Châteauneuf-du-Pape)

Round, supple, juicy and spicy with cherries, licorice, earth and herbs in the finish. The delicious wine will be ready on release. The wine is always produced using 100% old vine Grenache.

920 Views

Tasted

Oct 12, 2020

2017
Domaine L'Abbé Dîne La Reserve des Cieux (Châteauneuf-du-Pape)

Round, supple, ripe, juicy and medium-bodied, the soft black cherries, licorice and herbs in the finish come through with little effort. The wine is always produced using 100% old vine Grenache.

1,841 Views

Tasted

Sep 20, 2019

2017
Domaine L'Abbé Dîne (Châteauneuf-du-Pape)

Leafy, earthy cherries, with an animalistic bent to the fruit. Medium bodied, elegant and fresh, you can enjoy this young. The wine was made from 90% Grenache, 8% Mourvedre and 2% Syrah.

2,077 Views

Tasted

Sep 21, 2019

2016
Domaine L'Abbé Dîne La Reserve des Cieux (Châteauneuf-du-Pape)

Dark, black cherries, licorice, spice and pepper notes shine quickly here. The wine is round, soft, forward and while it can age, it should also offer pleasure early, due to the all the ripe, sweet fruits and soft tannins. The wine was made from 100% old vine Grenache.

2,624 Views

Tasted

Sep 18, 2018

2016
Domaine L'Abbé Dîne (Châteauneuf-du-Pape)

Elegantly textured, pure cherries and garrigue with a soft, refined, medium bodied, character that you can enjoy young or age a few years. The wine was made from 90% Grenache, 8% Mourvedre and 2% Syrah.

2,995 Views

Tasted

Sep 10, 2018

2015
Domaine L'Abbé Dîne (Châteauneuf-du-Pape)

Medium bodied, fresh and with ample, sweet, red cherry and wild strawberry to get things started. The wine is soft, polished and peppery, with just the right garrigue accent to hit the spot.

3,840 Views

Tasted

Aug 21, 2017

2014
Domaine L'Abbé Dîne (Châteauneuf-du-Pape)

Garrigue, spice, black cherry and incense on the nose moves you to a wine with sweet, red fruits, elegant, soft textures and an already open, peppery finish.

2,218 Views

Tasted

Jun 23, 2016

2012
Domaine L'Abbé Dîne (Châteauneuf-du-Pape)

Spicy, peppery and filled with ripe red fruits, the soft, forward wine ends with a cherry griotte finish.

2,854 Views

Tasted

Sep 10, 2014

The debut release for this domaine offers spicy, peppery and filled with ripe red fruits, the soft, forward wine ends with a cherry griotte finish. The wine, made from mostly old vine Grenache is something worth keeping your eye on. 89 Pts

2,762 Views

Tasted

Sep 9, 2014