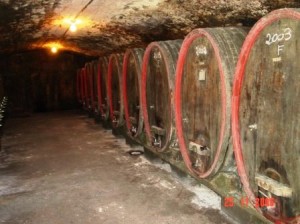 Learn everything about Domaine Eddie Feraud Chateauneuf du Pape with wine tasting notes, wine and food pairing tips, best vintages, a history of the property, information on the vineyards and winemaking. If you want to read about other important wineries and wine makers from the Rhone valley: Links to all Rhone Valley Wine Producer Profiles
If the name Eddie Feraud sounds familiar, it's not just because he produces a very good Chateauneuf du Pape wine. He is also the first cousin of Laurence Feraud of Domaine Pegau. With his family heritage, clearly, Eddie Feraud knows a thing or two about making wine in the Southern Rhone Valley.
Interestingly, the first vintage for the wine of Eddie Feraud was 1980, although the domaine was not officially created until 1983. Today, the domaine is managed by the son of Eddie Feraud, Yannick Feraud. Yannick Feraud has been in charge since 2012.
Domaine Eddie Feraud Vineyard, Wines, Winemaking
Domaine Eddie Feraud owns 5 hectares of vines in the Chateauneuf du Pape appellation devoted to the production of red Chateauneuf du Pape wine. The vines are located in good terroir as they are located not too far from Chateau Rayas and Vaudieu. The terroir is mostly sandy soils situated close to the commune of Courthezon.
Domaine Eddie Feraud produces 2 red Chateauneuf du Pape wines as of today, a standard wine and a special cuvee from their oldest vines.
Domaine Eddie Feraud Chateauneuf du Pape is made from 90% old vine Grenache, 5% Mourvedre and 5% Syrah. The terroir is sand and clay soil. The terroir is sand and clay in the le Pointu and le Rayas lieux-dits.
The grapes are not destemmed. The wine is vinified in traditional cement tanks. The wine is aged in old foudres for 18 months before bottling. The average annual production is on average 1,250 cases of wine per year.
Domaine Eddie Feraud Cuvee Raisins Bleus is produced from 95% old vine Grenache and the remainder comes from other assorted grape varieties. The wine is made from their oldest parcel of vines planted in the sandy soils of the Le Pointu lieu-dit.
The wine is aged in a combination of old foudres and small, used, French oak barrels for close to 18 months. The wine made its debut with the 2012 vintage.
When to Drink Domaine Eddie Feraud, Anticipated Maturity, Decanting Time
Domaine Eddie Feraud can be enjoyed on the young side. Young vintages can be popped and poured, or decanted for about 1 hour, give or take. This allows the wine to soften and open its perfume. Older vintages might need very little decanting, just enough to remove the sediment.
Domaine Eddie Feraud is usually better with 2-4 years of bottle age. Of course that can vary slightly, depending on the vintage. In the best vintages the wine should be consumed within 3-10 years after the vintage.
Serving Domaine Eddie Feraud with Wine, Food Pairing Tips
Eddie Feraud is best served at 15.5 degrees Celsius, 60 degrees Fahrenheit. The cool, almost cellar temperature gives the wine more freshness and lift.
Domaine Eddie Feraud is best served with all types of classic meat dishes, veal, pork, beef, lamb, duck, game, roast chicken, roasted, braised, stewed dishes, sausage, barbecue and cassoulet. Eddie Feraud is also good with Asian dishes, hearty fish courses like tuna, mushrooms pasta, eggplant, tomatoes and cheese.
Domaine Eddie Feraud et Fils Wine Tasting Notes
8 Vintages 14,369 Views Sort by Vintage-Rating
2020
Domaine Eddie Feraud et Fils (Châteauneuf-du-Pape)

Garrigue, kirsch, strawberry and black raspberries with a light touch of spice are what you find here on the soft, fresh, medium-bodied, easy to like palate. Elegant in style, forward and already approachable, the wine is made from blending 85% Grenache, 10% Mourvedre and an array of various AOC allowable grapes. Drink from 2022-2031.

786 Views

Tasted

Jan 27, 2023

2016
Domaine Eddie Feraud et Fils Cuvée Raisins Bleus (Châteauneuf-du-Pape)

The licorice covered, spicy kirsch and cherries just rock. The wine is rich, supple, forward and sexy. The finish offers lift, silky textures and fresh, spicy fruits that do not want to quit. The wine is produced from blending 95% old vine Grenache with 5% coming from various, assorted, other grape varieties.

1,679 Views

Tasted

Sep 18, 2018

2016
Domaine Eddie Feraud et Fils (Châteauneuf-du-Pape)

Peppery red fruits stand out here. The wine is lush, peppery, fresh and finishes with Herbs de Provence, spicy red berries and soft, textures. The wine is made from blending 85% Grenache, 10% Mourvedre and an array of various AOC allowable grapes.

1,945 Views

Tasted

Sep 18, 2018

2015
Domaine Eddie Feraud et Fils Cuvée Raisins Bleus (Châteauneuf-du-Pape)

Supple, round and forward, the wine is spicy, peppery and vibrant. The earthy, spicy black raspberries are clean and fresh. With 95% old vine Grenache, the remainder of the blend comes from assorted, different varieties.

1,727 Views

Tasted

Aug 21, 2017

2015
Domaine Eddie Feraud et Fils (Châteauneuf-du-Pape)

Forward, medium bodied, sweet and fresh, with peppery, red fruit and luscious textures you can have fun with right away, this should drink well on release. The wine is made from blending 85% Grenache, 10% Mourvedre and an array of various AOC allowable grapes.

2,557 Views

Tasted

Aug 21, 2017

2012
Domaine Eddie Feraud et Fils Cuvée Raisins Bleus (Châteauneuf-du-Pape)

Supple, clean and fresh, there is a sweetness in the ripe kirsch and licorice finish that stands out. With 95% old vine Grenache and the remainder of the wine coming from different varieties, the wine reached 15% ABV.

1,378 Views

Tasted

Sep 17, 2014

2012
Domaine Eddie Feraud et Fils (Châteauneuf-du-Pape)

Medium bodied, with a light fresh, cherry character, this spicy wine will drink well on release.

1,758 Views

Tasted

Sep 10, 2014

2010
Domaine Eddie Feraud et Fils (Châteauneuf-du-Pape)

Medium bodied, forward, early drinking, easy to like, red berry, herb and spice dominated wine.

2,539 Views

Tasted

Oct 16, 2015