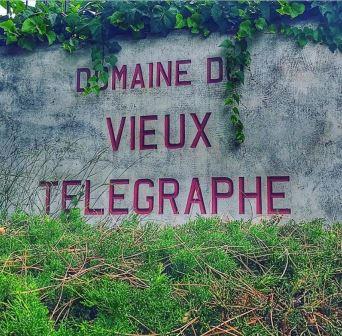 Learn everything about Domaine du Vieux Telegraphe, Chateauneuf du Pape with wine tasting notes, wine, and food pairing tips, best vintages, a history of the property, and information on the vineyards and winemaking. If you want to read about other important wineries and wine makers from the Rhone valley: Links to all Rhone Valley Wine Producer Profiles
Domaine du Vieux Telegraphe History, Overview
Domaine du Vieux Telegraphe is one of the better-known names in Chateauneuf du Pape. The Brunier family has been producing wines in the Southern Rhone Valley for over 100 years. Vieux Telegraphe was founded in 1898 by Hippolyte Brunier, the great, grandfather of the current owners.
At the time the estate was founded, only 1 hectare of vines was cultivated with grapes. The remaining land was used for growing fruit and vegetables, which in those days, made a lot more money than grapes used for wine.
They chose the name Vieux Telegraphe from an aging signal tower built in 1792 by Claude Chappe. Chappe is the inventor of the optical telegraph, so as you can see, Vieux Telegraphe is a very fitting name. The first vintage to be produced and bottled at Vieux Telegraphe was 1900.
Henri Brunier took over managing Vieux Telegraphe by the late 1940s. It was Henri Brunier that was responsible for expanding their vineyards and promoting the brand outside of France. Beginning in 1988, the sons of Henri Brunier, Frederic Brunier and Daniel Brunier took over management of Vieux Telegraphe.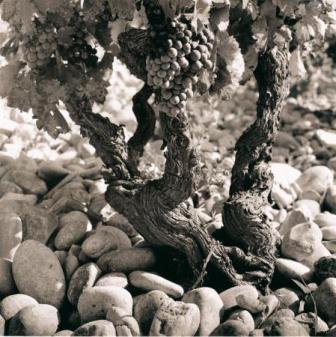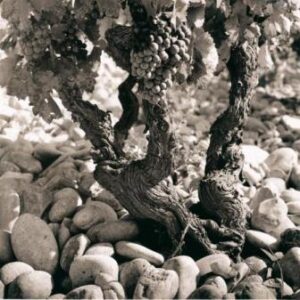 The best vintages of Domaine du Vieux Telegraphe are: 2022, 2021, 2020, 2019, 2018, 2017, 2016, 2015, 2012, 2010, 2009, 2007, 2006, 2005, 2001, 2000, 1998, 1990, 1989 and 1978.
Domaine du Vieux Telegraphe Vineyards, Wines, Winemaking
Domaine du Vieux Telegraphe owns 60.5 hectares of vines located in Chateauneuf du Pape. One of the largest landholders in the Chateauneuf du Pape appellation, they use 54 hectares for the production of red wine. 6.5 hectares are used to grow white wine grapes.
The best parts of the Vieux Telegraphe vineyards are situated in the La Crau sector, with its terroir of very, rocky soils with small pebbles, stones, red clay, and sand. In fact, the surface of the vineyard is made from pure rocks and stones. It's amazing to see!
Domaine du Vieux Telegraphe produces 2 red Chateauneuf du Pape wines and 2 Chateauneuf du Pape white wines.
Domaine du Vieux Telegraphe is the flagship wine of Les Vignobles Brunier. Vieux Telegraphe is always produced from the estate's oldest vines. Vieux Telegraphe comes from fruit planted in La Crau with a terroir that as we said, is littered with nothing but various, large and small rocks and stones in the soil.
The vineyard is one of the largest with contiguous parcels in the La Crau lieu-dit. Vieux Telegraphe is usually a blend of 65% Grenache, 15% Mourvedre, 10% Cinsault, and 10% Syrah. Although the blend can vary, depending on the character of the vintage.
The production of Vieux Telegraphe remains traditional. The grapes are destemmed in the majority of cases, which comes out to being close to 60% or more of the harvest most of the time. One consideration they are concerned with is if destemming could break the skins.
If the skins are fragile, that impacts the amount of destemming they would perform that vintage. The grapes are hand harvested and moved by gravity flow into the vatting room for fermentation where the young and old vines are separated and placed into short, 100 hectoliter, oak tanks for maceration and fermentation.
While fruit younger than 25 years is fermented separately from older vines, all the varietals are fermented in the same vats. Next, the wine is moved into concrete vats for 9 months before their being aged in 70 hectoliter foudres.
The production of Vieux Telegraphe is one of the largest in the entire Chateauneuf du Pape appellation producing more than 16,000 cases of wine per year
Le Telegramme is a blend of 90% Grenache with 10% Mourvedre. Le Telegramme is made predominantly from the estate's youngest vines, which are on average close to 40 years of age. The wine is aged in vat and foudres for 15 months before bottling. Prior to the 2002 vintage, Le Telegramme was named Vieux Mas de Papes.
Domaine du Vieux Telegraphe Blanc is made from a blend of 40% Clairette, 30% Grenache Blanc, 15% Roussanne and 15% Bourboulenc. The wine is aged in a combination of foudres, demi muids, and new, French oak barrels for 9 months. The production is close to 2,000 cases per year.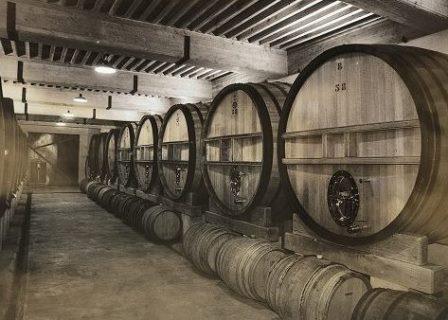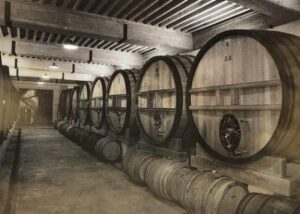 Domaine du Vieux Telegraphe Le Telegramme Blanc is produced for the American market. The wine is a blend of 40% Roussanne, 30% Grenache Blanc, 20% Bourboulenc and 10% Picpoul. The wine is aged in tank for 7 months. The production is limited to about 350 cases per year.
When to Drink Domaine du Vieux Telegraphe, Anticipated Maturity, Decanting Time
Domaine du Vieux Telegraphe is a wine that shows truly better wine age. Young vintages can be decanted for about 1-3 hours, give or take. This allows the wine to soften and open its perfume. Older vintages might need very little decanting, just enough to remove the sediment.
Domaine du Vieux Telegraphe is usually better with 4-6 years of bottle age. Of course, that can vary slightly, depending on the vintage. In the best vintages, the wine should be consumed within 8-25 years after the vintage.
Serving Domaine du Vieux Telegraphe with Wine, Food Pairing Tips
Domaine du Vieux Telegraphe is best served at 15.5 degrees Celsius, 60 degrees Fahrenheit. The cool, almost cellar temperature gives the wine more freshness and lift.
Domaine du Vieux Telegraphe is best served with all types of classic meat dishes, veal, pork, beef, lamb, duck, game, roast chicken, roasted, braised, stewed dishes, sausage, barbecue and cassoulet. Domaine du Vieux Telegraphe is also good with Asian dishes, hearty fish courses like tuna, mushrooms pasta, eggplant, tomatoes and cheese.
The white wine of Domaine du Vieux Telegraphe is best served with a myriad of different seafood dishes, shellfish, crab, lobster, sushi, sashimi, chicken, pork, and veal, as well as Asian cuisine.
The Brunier family also owns another vineyard in the Chateauneuf du Pape appellation, La Roquete, which produces "Piedlong". In addition, Domaine Vieux Telegraphe has vines in the Gigondas appellation where they own Domaine Les Pallieres in a partnership with Kermit Lynch, the well-known American importer.
Les Pallieres makes 2 wines, Les Racines, which comes from their oldest vines, and Terraces de Diable, which is produced from vines located on the limestone terraces in the appellation.
Their Le Vieux Telegraphe Pigeoulet de Brunier is a Vin de Pays that comes from unclassified vines in the Vaucluse appellation and is made with both red wine grapes and white wine grape varieties. In the Cotes du Ventoux they produce Vieux Telegraphe Megaphone.
The industrious Brunier family also makes wine in the Bekaa Valley of Lebanon with Massaya.
Domaine du Vieux Télégraphe Wine Tasting Notes
27 Vintages 171,260 Views Sort by Vintage-Rating
2020
Domaine du Vieux Télégraphe La Crau (Châteauneuf-du-Pape)

Flowers and cherries with a touch of spice form the core of the wine. On the palate. there is softness and elegance that you feel instantly. The fruit is polished, silky and elegant with a purity to the fruit on the mid-palate and in the finish. Produced from a blend of 60% Grenache, 15% Syrah, 15% Mourvedre and 5% Cinsault, along with other, assorted red and white grape varieties. 60-70% of the harvest is destemmed. Drink from 2023-2037.

1,520 Views

Tasted

Jan 27, 2023

2019
Domaine du Vieux Télégraphe La Crau (Châteauneuf-du-Pape)

Dark cherries, plums, garrigue, pepper, and kirsch create the nose. Rich, lush, polished, and silky with length, energy, and freshness, the sweetness in the kirsch, with its spice-box, peppery herbs, and cherries with a touch of mint-leaf lingers on the palate. Produced from a blend of 60% Grenache, 15% Syrah, 15% Mourvedre, and 5% Cinsault, along with other, assorted red and white grape varieties. 60-70% of the harvest is destemmed. Drink from 2024-2040.

3,232 Views

Tasted

Oct 4, 2022

2018
Domaine du Vieux Télégraphe La Crau (Châteauneuf-du-Pape)

The sweet, juicy, peppery kirsch on the palate hits the spot. Opulent, silky, and fresh with peppery black raspberries, herbs, and spice, along with green olives and crushed rocks, the wine is drinking quite well at the moment. But as good as it is, it is only going to get better from here, Produced from a blend of 60% Grenache, 15% Syrah, 15% Mourvedre, and 5% Cinsault, along with other, assorted red and white grape varieties. 60-70% of the harvest is destemmed. Drink from 2022-2035.

3,150 Views

Tasted

Oct 4, 2022

Spicy, fruity, floral, and fresh, there is a gorgeous, refined, elegant character to the red fruits that stands out here on the nose and palate, leaving you with ample, kirsch, raspberries, and cherries in the vibrant, silky finish. Drink from 2022-2038.

3,299 Views

Tasted

Aug 16, 2022

2017
Domaine du Vieux Télégraphe La Crau (Châteauneuf-du-Pape)

Garrigue, green olive, leafy herb, and peppery, bright red fruits create the nose. On the palate, the wine is soft, polished, and fresh with a lean to the peppery, red fruit side of the style range. It is already showing quite well, so you can easily drink this now with pleasure, or age it for all of its future, secondary development. Produced from a blend of 50% Grenache, 20% Syrah, 20% Mourvedre, and 5% Cinsault, along with other, assorted red and white grape varieties. 60-70% of the harvest is destemmed. The wine is a product of very low yields as close to 35% of the crop was lost due to colure. Drink from 2022-2037.

2,582 Views

Tasted

Oct 4, 2022

2016
Domaine du Vieux Télégraphe La Crau (Châteauneuf-du-Pape)

The kirsch, black raspberry, dried flower, and herb-filled nose is a turn on. The silky, soft, lush, sweet red berries in the finish seal the deal. Drink from 2022-2040.

5,152 Views

Tasted

Oct 4, 2022

Quite floral in nature, from there you find thyme, garrigue and a plethora of fresh red fruits. Elegant, with ample weight and lift, the finish hits you with its mix of earth, herbs and kirsch with a hint of salty rocks in the endnote. Hang on this for 5-8 years and you'll have a beauty in your cellar.

8,438 Views

Tasted

Feb 22, 2020

2015
Domaine du Vieux Télégraphe La Crau (Châteauneuf-du-Pape)

Silky, ripe, sweet and fresh, the wine offers a classic, elegant profile of Grenache, with a focus on its ripe, sweet, cherry core of fruit. Soft polished, long, fresh and pure, the wine is not about power. Instead, what you have is an elegant, fresh sweet expression of fruit. Produced from a blend of 65% Grenache, 15% Syrah, 15% Mourvedre and 5% Cinsault.

4,311 Views

Tasted

Aug 21, 2017

2015
Domaine du Vieux Télégraphe Télégramme (Châteauneuf-du-Pape)

Elegant, refined, forward, medium bodied and focused on its red fruits and silky textures, over concentration and power. This charmer is already quite taste and easy to drink.

2,627 Views

Tasted

Aug 21, 2017

2014
Domaine du Vieux Télégraphe La Crau (Châteauneuf-du-Pape)

Medium bodied, soft, elegant, fresh and forward, there is good sweetness ad purity to the red fruits, with quite a bit of lift, and an earthy, floral note to complicate matters. This is already showing well, and while it should improve with age, if you like then young, go ahead and pop a cork.

3,174 Views

Tasted

Aug 23, 2017

2014
Domaine du Vieux Télégraphe Télégramme (Châteauneuf-du-Pape)

Light in style, easy drinking, forward, medium bodied, softly textured and with, sweet, red cherries and raspberries from start to finish, this is fully ready for near term drinking. This would be a nice find on a restaurant list.

3,051 Views

Tasted

Aug 23, 2017

2013
Domaine du Vieux Télégraphe La Crau (Châteauneuf-du-Pape)

Really strong for the vintage, there is wealth of black raspberries, herbs and kirsch, paired with silky smooth textures and a fresh, sweet, peppery, kirsch finish. Produced from a blend of 65% Grenache, 15% Syrah, 15% Mourvedre and 5% Cinsault.

3,444 Views

Tasted

Sep 7, 2015

2013
Domaine du Vieux Télégraphe Télégramme (Châteauneuf-du-Pape)

Wild strawberry with herbs, smooth tannins and a soft, short and sweet, fresh, cherry note in the finish. The wine was made using a blend of 80% Grenache, 10% Syrah, 6% Mourvedre and 4% Cinsault.

3,079 Views

Tasted

Sep 7, 2015

2012
Domaine du Vieux Télégraphe La Crau (Châteauneuf-du-Pape)

Medium/full bodied, fresh, bright, lively wine which is still young and a little tight. With air, and effort, the kirsch, black raspberry, tapenade, thyme and garrigue began to develop and show itself. This needs a few more years in the bottle.

5,555 Views

Tasted

Jun 2, 2016

2011
Domaine du Vieux Télégraphe La Crau (Châteauneuf-du-Pape)

Medium bodied, forward and quite easy to taste today. The elegant, fresh kirsch, garrigue, peppery strawberry and olive character is already coming through loud and clear. Not a wine to age, this is perfect for early drinking pleasure.

7,097 Views

Tasted

May 22, 2017

2010
Domaine du Vieux Télégraphe La Crau (Châteauneuf-du-Pape)

With ripe, juicy, red plum, black raspberry, pepper, earth and green olive notes, this full bodied, concentrated, beefy Southern Rhone has a lot to offer. With time, when the tannins soften and the wine evolves, this should offer a much better tasting experience.

9,336 Views

Tasted

Jan 2, 2014

2009
Domaine du Vieux Télégraphe La Crau (Châteauneuf-du-Pape)

Youthful, medium bodied, fresh, dominated by its cherry and garrigue nose, the wine is well made, but it lacks that extra special something that really carries through.

6,453 Views

Tasted

Aug 11, 2014

2008
Domaine du Vieux Télégraphe La Crau (Châteauneuf-du-Pape)

Fairly on the herbal, garrigue, and peppery side of the style range with a core of crisp, leafy red berries on the palate and in the olive, tinted finish. Drink from 2022-2028.

2,205 Views

Tasted

Oct 4, 2022

2007
Domaine du Vieux Télégraphe La Crau (Châteauneuf-du-Pape)

Dark ripe berries, cherry, jam and spicy aromatics open to a lush, forward styled Chateauneuf du Pape with the structure to age and ample, soft, ripe, red fruits that make it fun to drink today.

14,619 Views

Tasted

Mar 11, 2015

Tight and hard to get a handle on, with air and intense swirling, spicy black cherry aromatics could be found, Medium bodied and bright, the strawberry filled finish felt light and short. This is not a bad wine. It just lacked excitement.

16,641 Views

Tasted

Jan 21, 2011

2006
Domaine du Vieux Télégraphe La Crau (Châteauneuf-du-Pape)

Concentrated, tannic and structured, this classic styled wine has a core of fresh, peppery, red berries, earth and herbs. A few more years should help the wine develop more nuances.

5,577 Views

Tasted

Nov 21, 2014

2005
Domaine du Vieux Télégraphe La Crau (Châteauneuf-du-Pape)

Strong wine here, with ample ripe dark red fruits, spice, garrigue, jam and kirsch. The wine is rich, round and full bodied, leaving with a finish packed with fresh red and black cherries.

6,852 Views

Tasted

May 31, 2014

2004
Domaine du Vieux Télégraphe La Crau (Châteauneuf-du-Pape)

Medium bodied, fresh, lively, earthy, kirsch, black cherry and herbs are right where they need to be in the nose, and on the palate. You can definitely enjoy this wine with pleasure.

4,577 Views

Tasted

Dec 31, 2016

2003
Domaine du Vieux Télégraphe La Crau (Châteauneuf-du-Pape)

Avoiding the jammyness that afflicts so many wines from the vintage, you find ample amounts of spice, licorice, pepper, garrigue and red fruits. Soft, supple, round and easy to drink, this is definitely ready to go.

3,380 Views

Tasted

Aug 24, 2017

2001
Domaine du Vieux Télégraphe La Crau (Châteauneuf-du-Pape)

Strawberry, kirsch and earth, rustic and peppery, full bodied and structured, this can be drunk now or held for potential further development.

5,809 Views

Tasted

May 11, 2012

1998
Domaine du Vieux Télégraphe La Crau (Châteauneuf-du-Pape)

So much better than the previous bottle, tasted years ago. This is a beauty! All the sweet, juicy kirsch, peppery, black raspberry, earth, herbs and weight, density, length and complexity you could ask for in a Chateauneuf du Pape.

5,110 Views

Tasted

Feb 24, 2017

Dark ruby color with earthy, tar, jammy black fruit and fresh cracked pepper scents. Concentrated, dense but without any special reason to like the wine. At the end of the day, it was dull.

4,297 Views

Tasted

Dec 15, 2004

1995
Domaine du Vieux Télégraphe La Crau (Châteauneuf-du-Pape)

Medium weight, simple and boring.

2,983 Views

Tasted

Oct 28, 2005

1993
Domaine du Vieux Télégraphe La Crau (Châteauneuf-du-Pape)

Based on the vintage, this fully mature Chateauneuf du Pape is showing much better than expected. Medium bodied, and lacking the intensity of a great vintage, the red berries are fresh, clean feminine. This is not a wine to hold.

5,427 Views

Tasted

Nov 29, 2014

1988
Domaine du Vieux Télégraphe La Crau (Châteauneuf-du-Pape)

Vegetative aromas with green pepper, herbs, mushrooms and white pepper scents. Full bodied with a slightly chalky bitter finish. Some fruit, but mostly disappointing.

2,491 Views

Tasted

Aug 4, 2004

1978
Domaine du Vieux Télégraphe La Crau (Châteauneuf-du-Pape)

Compelling and eternally youthful, at close to 40, this certainly competes with any Southern Rhone for the wine of the vintage. The nose grabs you with its sweet, deep, red fruits, black pepper and garrigue. Full bodied, wild and long, the finish sticks with you, with its layers of ripe, peppery, dark red berries.

3,629 Views

Tasted

Nov 13, 2017

Filled with fresh cracked pepper, gariggue, kirsch, herbes, fennel and black raspberries with a melange of spice, this rich, full bodied, charmingly, rustic, spice filled wine ends with a long, fresh, powerful, pure, cherry liqueur finish. This fully mature Chateauneuf du Pape remains a sublime tasting experience for lovers of old Chateauneuf du Pape. Believe it or not, this has at least another decade of life to look forward to. This is best vintage of Vieux Telegraph I've ever tasted! It's almost impossible to fathom how young this wine was showing after more than 3 decades of aging.

5,147 Views

Tasted

Sep 27, 2011

From the color, aromatics and taste, I would have thought this wine was at least 10 years younger. The perfume blended garrigue with dark cherries, pepper and earth. The finish was long, clean and pure. While the wine did not improve with air, it remained at the same level for 2 hours. This might be one of the best 78 Chateauneuf du Papes available today.

3,594 Views

Tasted

Aug 6, 2007

Birckish ruby color. Notes of spice, cinnamon, pepper, jammy blackberries, cherries, raspberries and herbs. Full bodied, silky entry. Very Burgundian in style. Soft, elegant plummy fruit on the palate. Continued improving in the glass. Wow, what a treat! Steve Levin purchased this on release for $6.00

3,422 Views

Tasted

Aug 4, 2004