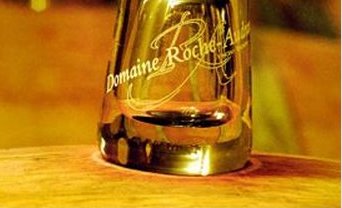 Learn everything about Domaine Roche Audran Chateauneuf du Pape with wine tasting notes, wine and food pairing tips, best vintages, a history of the property, information on the vineyards and winemaking. If you want to read about other important wineries and wine makers from the Rhone valley: Links to all Rhone Valley Wine Producer Profiles
Domaine Roche Audran History, Overview
Domaine Roche Audran has a history in the Southern Rhone Valley as a vineyard. But until 1998, the estate was selling their entire harvest to the local cooperative.
In 1998 things changed when Vincent Rochette made the decision to begin to produce, bottle and sell wines under their own name, Domaine Roche Audran. Vincent Rochette remains in charge of the domaine today.
Domaine Roche Audran also produces red wine and white wine from the Cotes du Rhone Villages appellation, where they own vines planted in Buisson, Courthezon and Visan.
Domaine Roche Audran Vineyards, Wines, Winemaking
Domaine Roche Audran owns a very small parcel of vines in the Chateauneuf du Pape region. At least that's the situation for the time being. They produce one red wine from .33 hectares of vines that are situated in good terroir in the lieu-dit of Cristia. The vines are getting old, as they were planted in 1962.
The vineyard has a terroir of mostly sand, along with small rocks and stones in the soils. The vines are not that far from Chateau Rayas in the northeast part of the appellation.
All vineyard farming techniques used at Domaine Roche Audran have been 100% biodynamic since the 2009 vintage. They adhere to the full range of biodynamic farming ideas including follow the lunar cycles and planetary alignments as set forth by Rudolf Steiner.
Domaine Roche Audran produces 1 Chateauneuf du Pape Rouge wine.
Domaine Roche Audran Chateauneuf du Pape is made from 100% Grenache. The wine is aged in a combination of French oak barrels and demi muids for 12 months before bottling.
The estate follows the biodynamic calendar when it comes to aging process as well as the racking and bottling are set to lunar cycles. As you can imagine, with only .33 hectares of vines, the wine is quite difficult to find.
When to Drink Domaine Roche Audran, Anticipated Maturity, Decanting Time
Domaine Roche Audran can be enjoyed on the young side. Young vintages can be popped and poured, or decanted for about 1 hour. Older vintages might need very little decanting, just enough to remove the sediment.
Domaine Roche Audran is usually better with 3-4 years of bottle age. Of course that can vary slightly, depending on the vintage. In the best vintages the wine should be consumed within 3-12 years after the vintage.
Serving Domaine Roche Audran with Wine, Food Pairing Tips
Domaine Roche Audran is best served at 15.5 degrees Celsius, 60 degrees Fahrenheit. The cool, almost cellar temperature gives the wine more freshness and lift.
Domaine Roche Audran is best served with all types of classic meat dishes, veal, pork, beef, lamb, duck, game, roast chicken, roasted, braised, stewed dishes, sausage, grilled meats, barbecue and cassoulet. Domaine Roche Audran is also good with Asian dishes, hearty fish courses like tuna, mushrooms, cheese, pasta, eggplant and tomatoes.
Domaine Roche-Audran Wine Tasting Notes
4 Vintages 6,843 Views Sort by Vintage-Rating
2015
Domaine Roche-Audran (Châteauneuf-du-Pape)
Fresh, spicy, round, forward, medium bodied and with a sweet kirsch and black raspberry center, making the wine an early drinking charmer.
1,869 Views
Tasted

Aug 21, 2017
2012
Domaine Roche-Audran (Châteauneuf-du-Pape)
Medium bodied, soft, almost lushly textured, kirsch and assorted red berry filled wine with loads of pepper, garrigue and thyme to flesh things out.
1,468 Views
Tasted

Jun 18, 2016
2010
Domaine Roche-Audran (Châteauneuf-du-Pape)
Slightly drying, with more stone, peppery and herbs than fruits at this stage. It could improve. The fruit is ripe and tasty. But I'd drink this over the next few years.
1,871 Views
Tasted

May 29, 2013
2009
Domaine Roche-Audran (Châteauneuf-du-Pape)
From 100% Grenache, the wine feels great, with its lush, soft, ripe, sweet, fresh fruits. The floral, garrigue, kirsch, spice and licorice nose is just what the doctor ordered.
1,635 Views
Tasted

Sep 16, 2015