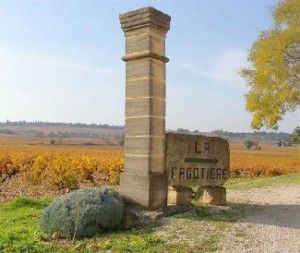 Learn everything about La Fagotiere Chateauneuf du Pape with wine tasting notes, wine and food pairing tips, best vintages, a history of the property, information on the vineyards and winemaking. If you want to read about other important wineries and wine makers from the Rhone Valley: Links to all Rhone Valley Wine Producer Profiles
La Fagotiere is an old property in the Southern Rhone Valley. It was founded all the way back in 1889. Located in the northern part of the Chateauneuf du Pape appellation, La Fagotiere is still owned and managed by the same family today. Pascal Chastan, the current owner is the 5th generation of his family to run the domaine.
La Fagotiere Vineyards, Wines, Winemaking
La Fagotiere owns 17 hectares of vines in Chateauneuf du Pape. 16.2 hectares are used to grow grapes for making red wine. .7 hectares are reserved for white wine grapes. The family produces wine in the Cotes du Rhone from 15 hectares of vines they have planted there. La Fagotiere also produces outstanding olive oil from organically farmed trees.
In 2012, La Fagotiere has been certified as Agriculture Biologique. Customers can order unique, customized bottles of La Fagotiere from the domaine.
La Fagotiere produces 1 Chateauneuf du Pape red wine, and 1 Chateauneuf du Pape Blanc.
La Fagotiere Chateauneuf du Pape is produced from a blend of 80% Grenache, 10% Mourvedre and 10% Syrah. The grapes are not destemmed. Vinification takes place in cement vats.
The wine is aged for between 12 to 18 months in used, French oak barrels and foudres. The length of time for the aging depends on the character of the vintage. On average, 1,000 cases of wine are produced here each year.
La Fagotiere Chateauneuf du Pape Blanc is produced from a blend of 30% Grenache Blanc, 30% Clairette, 30% Roussanne and 10% Picpoul. The wine is aged in tank for 6 months. Close to 150 cases are produced each year.
When to Drink La Fagotiere, Anticipated Maturity, Decanting Time
La Fagotiere can be enjoyed young. Young vintages can be popped and poured, or decanted for about 1 hour, give or take. This allows the wine to soften and open its perfume. Older vintages might need very little decanting, just enough to remove the sediment.
La Fagotiere is usually better with 2-3 years of bottle age. Of course that can vary slightly, depending on the vintage. In the best vintages the wine should be consumed within 3-8 years after the vintage.
Serving and Decanting La Fagotiere with Wine, Food Pairing Tips
La Fagotiere is best served at 15.5 degrees Celsius, 60 degrees Fahrenheit. The cool, almost cellar temperature gives the wine more freshness and lift.
La Fagotiere is best served with all types of classic meat dishes, veal, pork, beef, lamb, duck, game, roast chicken, roasted, braised, stewed dishes, sausage, barbecue and cassoulet. La Fagoriere is also good with Asian dishes, hearty fish courses like tuna, mushrooms pasta, eggplant, tomatoes and cheese.
The white wine of La Fagoriere is best served with a myriad of different seafood dishes, shellfish, crab, lobster, sushi, sashimi, chicken, pork and veal, as well as Asian cuisine.
La Fagotière Wine Tasting Notes
8 Vintages 12,064 Views Sort by Vintage-Rating
2019
La Fagotière (Châteauneuf-du-Pape)

Medium-bodied, elegant, soft, fresh and forward, this already open, charming, spicy, red berry filled wine finishes with a nice touch of peppery green olives and cherries on the palate and in the endnotes. You can enjoy this on release. Drink from 2022 - 2031

1,167 Views

Tasted

Jan 9, 2022

2017
La Fagotière (Châteauneuf-du-Pape)

Medium bodied, soft, forward, and with a hint of pepper and garrigue to the red berries, this is going to fine to drink on release. The wine was produced from 50% Grenache, 30% Syrah and 20% Mourvedre.

1,613 Views

Tasted

Sep 21, 2019

2016
La Fagotière Le Rigodon (Châteauneuf-du-Pape)

Medium bodied, elegant, forward, soft, fresh and sweet, there is a polish to the tannins and a peppery character to the ripe, black raspberry and kirsch notes. The wine is made from blending 70% Grenache with 30% Mourvedre.

1,267 Views

Tasted

Sep 18, 2018

2016
La Fagotière (Châteauneuf-du-Pape)

Soft textured, medium bodied, spicy and loaded with garrigue on the palate and the nose, the finish offers olives and kirsch in the endnote. The wine was produced from 70% Grenache, 25% Syrah and 5% Mourvedre.

1,664 Views

Tasted

Sep 18, 2018

2014
La Fagotière (Châteauneuf-du-Pape)

Spicy, with a blast of garrigue to compliment the kirsch core of fruit. Medium bodied, forward and ready to drink tonight.

1,255 Views

Tasted

Jun 23, 2016

2012
La Fagotière (Châteauneuf-du-Pape)

Sweet, fresh raspberries in a lighter style of wine that will show best in its youth.

1,742 Views

Tasted

Sep 10, 2014

2011
La Fagotière (Châteauneuf-du-Pape)

Fresh, short and sweet, the wine is spicy with red plum and cherry tones.

1,734 Views

Tasted

Aug 19, 2014

2010
La Fagotière Le Rigodon (Châteauneuf-du-Pape)

Medium bodied, focused on bright, red fruits with a slight drying sensation in the finish.

1,622 Views

Tasted

May 31, 2013