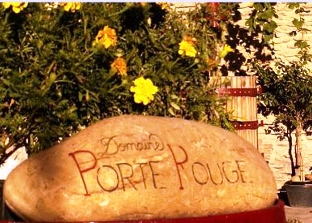 Learn everything about Domaine Porte Rouge Chateauneuf du Pape with wine tasting notes, wine ratings, a history of the property, the best vintages, information on the vineyards and winemaking. If you want to read about other important wineries and wine makers from the Rhone valley: Links to all Rhone Valley Wine Producer Profiles
Domaine Porte Rouge History, Overview
Domaine Porte Rouge is one of the newer estates in the Southern Rhone Valley. In fact, it only dates back to 2001, when Bernard Friedmann created the estate.
However, the name of domaine has a history. The estate, located in the village of Chateauneuf du Pape took its name, which is translated into Red Gate, from the previous entrance that led to the village of Chateauneuf du Pape.
Prior to owning Domaine Porte Rouge, Bernard Friedmann knew about the wine trade, but on the retail end, not as a wine maker, as he worked for a negociant for years. The first bottling for Domaine Porte Rouge was produced from the very hot, 2003 vintage.
One of the first decisions the new owner, Bernard Friedmann did was to bring in the well-known consultant, Philippe Cambie. The vineyards of Domaine Porte Rouge are farmed completely organically. They were certified as Agriculture Biologique in 2014 by Ecocert.
Domaine Porte Rouge Vineyards, Wines, Winemaking
Domaine Porte Rouge owns a tiny, 2.5 hectare parcel of vines in the Chateauneuf du Pape appellation. The vineyard is spread out among 6 different parcels. The vines are old, with an average age of close to 60 years. However, they have some old vines that are approaching 90 years of age, which is quite respectable. The vineyard is planted to 85% Grenache and 15% Syrah.
Domaine Porte Rouge produces one red Chateauneuf du Pape wine.
Domaine Porte Rouge Chateauneuf du Pape is often close to 100% Grenache. Small amounts of Syrah and Mourvedre can also become part of the blend, depending on the vintage. Young vine Grenache and other varietals are destemmed. Old vine Grenache is always whole cluster fermented.
The wine is aged in a combination of used oak barrels and stainless steel tanks for between 18 months and 24 months prior to bottling. The production is close to 750 cases of wine per vintage.
When to Drink Domaine Porte Rouge , Anticipated Maturity, Decanting Time
Domaine Porte Rouge can be enjoyed on the young side. Young vintages can be popped and poured, or decanted for about 1 hour. Older vintages might need very little decanting, just enough to remove the sediment.
Domaine Porte Rouge is usually better with 2-4 years of bottle age. Of course that can vary slightly, depending on the vintage. In the best vintages the wine should be consumed within 3-10 years after the vintage.
Serving Domaine Porte Rouge with Wine, Food, Pairing Tips
Domaine Porte Rouge is best served at 15.5 degrees Celsius, 60 degrees Fahrenheit. The cool, almost cellar temperature gives the wine more freshness and lift.
Domaine Porte Rouge is best served with all types of classic meat dishes, veal, pork, beef, lamb, duck, game, roast chicken, roasted, braised, stewed, and grilled dishes, smoked meats, barbecue, grilled meats, barbecue, sausage, cassoulet, eggplant and tomatoes. Domaine Porte Rouge is also good with Asian dishes, hearty fish courses like tuna, mushrooms, cheese, pasta and cheese.
Domaine Porte Rouge Wine Tasting Notes
6 Vintages 10,400 Views Sort by Vintage-Rating
2018
Domaine Porte Rouge (Châteauneuf-du-Pape)

Medium bodied, spicy and focused on its thyme and cherry core with its additional notes of strawberry and red cherries. The wine is fresh, pure and clean with sweet kirsch in the endnote. This will definitely be best in its youth.

1,561 Views

Tasted

Oct 12, 2020

2015
Domaine Porte Rouge (Châteauneuf-du-Pape)

Medium-bodied, soft, lush, round-styled wine with a red cherry and strawberry mid-palate finish. This is fully ready to go and will be at its best over the next few years. Drink from 2022-2025.

1,410 Views

Tasted

Nov 20, 2022

2014
Domaine Porte Rouge (Châteauneuf-du-Pape)

Light in color and in fruit, the wine is dominated by its red berry center. Soft and forward, the ripe, bright kirsch and wild strawberries are already accessible. This will definitely be best in its youth.

1,622 Views

Tasted

Jun 23, 2016

2012
Domaine Porte Rouge (Châteauneuf-du-Pape)

Medium bodied, soft and accessible, the sweet red fruits are easy to find in this Grenache dominated blend.

2,077 Views

Tasted

Sep 10, 2014

2011
Domaine Porte Rouge (Châteauneuf-du-Pape)

Medium bodied, soft and forward, this easy drinking wine ends with a spicy, kirsch filled finish.

1,384 Views

Tasted

Aug 19, 2014

2010
Domaine Porte Rouge (Châteauneuf-du-Pape)

Medium bodied, fresh, red fruits, herbs and pepper creates an open, bright, raspberry filled, spicy wine that drinks well young.

2,346 Views

Tasted

Jan 13, 2015