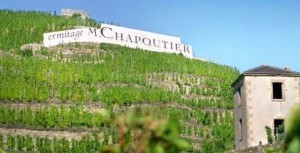 Learn everything about Chapoutier Chateauneuf du Pape with wine tasting notes, wine and food pairing tips, best vintages, wine ratings, a history of the property and information on the vineyards and winemaking. If you want to read about other important wineries and wine makers from the Rhone valley: Links to all Rhone Valley Wine Producer Profiles
Chapoutier History, Overview
Chapoutier is a massive company and producer in the Rhone valley. Chapoutier is both a negociant and wine maker. They are active all over the Rhone valley in every major appellation from north to south and in all price ranges.
The truth is, Chapoutier makes great wine at every price level, from very expensive wines at the top end, to value wines from Cotes du Rhone. Their best wines are their single vineyard wines from Hermitage. They also make top quality Chateauneuf du Pape.
Chapoutier has been active in Chateauneuf du Pape for more than 100 years. Chapoutier is one of the oldest names in the Rhone valley. Founded in 1808 by the Calvet family, it was sold to the Chapoutier family in 1855. The Calvet family sold the company to focus on their large, expanding negociant firm in Bordeaux.
Polydore Chapoutier was the first of the Chapoutier family to head the company, and the only head of the firm not to have a name that started with the letter M. That tradition began with the next generation, started by Marius Chapoutier. Today, Chapoutier is a massive negociant and winery located in the Rhone valley.
Their offices are situated in the small community of Tain Hermitage. Chapoutier is both a negociant and wine maker. They are active all over the Rhone valley in every major appellation. Chapoutier makes great wine at every price level, from very expensive wines at the top end, to value wines from Cotes du Rhone.
Michel Chapoutier and his brother Marc took over managing the estate in the late 80's. Prior to that time, the domaine was known for producing light styled wines. That changed in 1989 for their Hermitage wines. The following year, in 1990, they turned around their Chateauneuf du Pape wines and began making stellar wines of character.
The year after that, in 1991 their Cote Rote property Mordoree was at the top of their game as well. The 1990 Chapoutier Barbe Rac remains a stunning Chateauneuf du Pape wine, even at close to 25 years of age. The wines made by Chapoutier today are even better. Much of this has to do with the move bio-dynamic farming the domaine began employing in 1991.
In 1995, Chapoutier made changes in their vineyard techniques and on the label. In 1995, Chapoutier insisted all their labels contain braille transcriptions as well as English. That same year saw an even bigger change when they began to farm all their Northern Rhone and Southern Rhone Valley vineyards 100% biodynamically.
Since that point in time, there was no looking back for the estate or their wines. In 2008, Chapoutier added to their holdings in Chateauneuf du Pape when they purchased Domaine de Bois Dauphins, which they later renamed Domaine Pierre Henri Morel, after the Directeur commercial at Chapoutier.
Chapoutier Vineyards, Wines, Winemaking
Chapoutier owns 30 acres in the appellation. They are one of the four producers that only plants 100% Grenache for use in their red wine. Michel Chapoutier feels that with low yields, the use of only one grape in this regions allows for the best expression of their terroir.
Since 1989, Chapoutier has been making strong wines in the Chateauneuf du Pape appellation. The 1990 Chapoutier Barbe Rac is one of the top wines of the vintage and it's still going strong as it closes in on its 23rd birthday.
Chapoutier produces 5 red Chateauneuf du Pape wines and 1 Chateauneuf du Pape Blanc.
Chapoutier La Bernadine, the entry level Chateauneuf du Pape is made from a blend of 60% Grenache, 20% Syrah and 20% other grape varieties. The wine is aged mostly in vat, with a small portion aged in barrel. Close to 7,000 cases are made every year.
Chapoutier Pie VI is a recent addition of the growing Chapoutier empire in the Southern Rhone Valley. The debut vintage is 2017. Made from an average blend of 65% old Vine Grenache and 35% Syrah, the wine comes from vines planted in stony, rock strewn soils. The grapes are completely destemmed. Vinification takes place in concrete tanks and is aged in cement vats for 16-18 months before bottling.
Chapoutier Collection Bio is produced from almost 100% Grenache, varying amounts of Syrah can also be added to the blend. The wine is vinified in concrete vats and aged in foudres for between 15-18 months. The annual production ranges from 3,000 to 4,000 cases of wine per vintage.
Chapoutier Croix de Bois, is made from 100% Grenache with vines that are between 60-80-years-old. The terroir is sand and rock soils. The wine is aged in vat for 14-16 months. The vines are planted in a terroir of rocks, stones and clay soil. The annual production is close to 600 cases per vintage.
Chapoutier Barbe Rac, is their top Chateauneuf du Pape. Prior to being managed by Michel Chapoutier, Barbe Rac was sold not only as a vintage specific Chateauneuf du Pape, but there were also bottlings produced from multiple years that were marked Barbe Rac MC3 on the label.
Chapoutier Barbe Rac is produced from 100% old vine Grenache that is close to 100 years old. Many of the vines were planted in 1901. The vines are planted in the a terroir of galets. The wine is aged in steel tanks for 12 months and is produced from very low yielding fruit.
This stellar wine has an annual production of close to 500 cases per year. This is one of the longest lived wines in the appellation as recent tastings of the 1990 display a lot fruit and freshness at close to 23 years of age.
2016 Chapoutier Barbe Rac is on target to be the best Chateauneuf du Pape wine from Chapoutier. Who knows, perhaps 2009 or 2010 or 2007 could be even better!
In 2014, Michel Chapoutier was named The Wine Personality of the Year by the two most important wine, French critics, Michel Bettane and Thierry Desseauve.
The best vintages of Chapoutier Chateauneuf du Pape are: 2016, 2015, 2012, 2010, 2009, 2007, 2005, 2003, 2001, 2000, 1998 and 1990.
Chapoutier also makes a white Southern Rhone wine, La Bernadine Blanc, produced from blending 90% Grenache Blanc and assorted other, allowable Southern Rhone grape varieties. The production is close to 900 cases per year.
When to Drink Chapoutier Chateauneuf du Pape, Anticipated Maturity, Decanting Time
Chapoutier can be enjoyed on the young side. Young vintages can be popped and poured, or decanted for between 1-2 hours. This allows the wine to soften and open its perfume. Older vintages might need very little decanting, just enough to remove the sediment.
Chapoutier Chateauneuf du Pape is usually better with 3-5 years of bottle age. Of course that can vary slightly, depending on the vintage. In the best vintages the wine should be consumed within 5-25 years after the vintage.
Serving Chapoutier Chateauneuf du Pape with Wine, Food, Pairing Tips
Chapoutier Chateauneuf du Pape is best served at 15.5 degrees Celsius, 60 degrees Fahrenheit. The cool, almost cellar temperature gives the wine more freshness and lift.
Chapoutier Chateauneuf du Pape is best served with all types of classic meat dishes, veal, pork, beef, lamb, duck, game, roast chicken, roasted, braised, stewed, dishes, sausage, barbecue, and cassoulet. Chapoutier Chateauneuf du Pape is also good with Asian dishes, hearty fish courses like tuna, mushrooms pasta, eggplant, tomatoes and cheese.
The white wine of Domaine des Chanssaud is best served with a myriad of different seafood dishes, shellfish, crab, lobster, sushi, sashimi, chicken, pork and veal, as well as Asian cuisine.
M. Chapoutier Wine Tasting Notes
87 Vintages 497,839 Views Sort by Vintage-Rating
2020
M. Chapoutier Les Granits (St. Joseph)

I like the crushed rock essence that you find along with all the polished, ripe elegant, silky, sweet, ripe, spicy, concentrated, red fruits and touches of black pepper in the endnote. Drink from 2023-2037

1,574 Views

Tasted

Oct 4, 2022

2020
M. Chapoutier La Bernardine (Châteauneuf-du-Pape)

The entry level Chateauneuf du Pape from Chapoutier is medium bodied, fresh, sweet and creamy with ripe, spicy, red fruits, a touch of spice and herbs and a nice vibrancy in the finish. The wine is made from a Grenache dominated blend with some Syrah. Drink from 2022-2030.

1,012 Views

Tasted

Jan 27, 2023

2019
M. Chapoutier Barbe Rac (Châteauneuf-du-Pape)

Vibrant, rich, lush and silky, this elegant, concentrated, supple wine serves up seemingly endless waves of sweet, ripe, spicy kirsch, black raspberries and cherries with a floral accent. This is the top Southern Rhone wine from Chapoutier. Produced from 100% old vine Grenache, the wine should drink well young, yet age for 15 or more years with ease. Drink from 2024 - 2038

2,408 Views

Tasted

Jan 9, 2022

2019
M. Chapoutier Croix de Bois (Châteauneuf-du-Pape)

Full-bodied, elegant, rich and forward the wine is silky, fresh and pure with layers of sweet, ripe kirsch, cherries, flowers and a peppery, vibrant finish. You only need to give it just a few years to come around before it begins to show its stuff. Drink from 2024 - 2037

2,097 Views

Tasted

Jan 9, 2022

2019
M. Chapoutier Pie VI (Châteauneuf-du-Pape)

Produced from a blend of Grenache with a big splash of Syrah, the wine is deep, dark, rich, showy and packed with loads of ripe, sweet, luscious, dark, red fruits, peppery herbs, thyme, smoke and cocoa which all come together in the almost opulently textured finish. Drink from 2023 - 2034

2,136 Views

Tasted

Jan 9, 2022

2019
M. Chapoutier Les Granits (St. Joseph)

Full-bodied, concentrated, ripe, crunchy, and loaded with salty, oceanic nuances that add to the dark red fruits, smoke, espresso, and spices. Drink from 2026-2039.

1,742 Views

Tasted

Oct 4, 2022

2019
M. Chapoutier Coteau de Chéry (Condrieu)

Fleshy, ripe, sweet, oily white peaches, melon, citrus, yellow tropical fruits, and stones are what you find here. The wine is rich, sweet, vibrant, fresh, and fully ready to go. Drink from 2022-2026.

1,203 Views

Tasted

Sep 26, 2022

2019
M. Chapoutier Blanc La Bernardine (Châteauneuf-du-Pape)

Crushed rock, spice, yellow citrus and floral notes crowd for attention in the nose. On the palate, the wine is forward, fresh and fruity with silky textures and a crisp, lush, juicy finish. Drink from 2022 - 2030

1,247 Views

Tasted

Jan 9, 2022

2018
M. Chapoutier Barbe Rac (Châteauneuf-du-Pape)

The purity in the old vine Grenache really stands out. It takes no effort to dig into the sweet, juicy, ripe black raspberries and cherries. Elegantly textured, the wine is rich, full, fleshy and refined, leaving you with layers of, sweet, juicy, red berries that linger. This will drink well young and it will age for years.

1,946 Views

Tasted

Oct 12, 2020

2018
M. Chapoutier Croix de Bois (Châteauneuf-du-Pape)

Elegant, sweet and fresh, the wine is vibrant, floral, pure and clean with fabulous balance and lift on the palate leaving you with loads of sweet, red fruits in the finish. The wine is made using 100% old vine Grenache.

1,616 Views

Tasted

Oct 12, 2020

2018
M. Chapoutier Les Granilites (St. Joseph)

The minerality cuts right through the ripe, fresh, sweet red berries like a knife with its salty essence. Full-bodied, crisp, spicy, rich and character driven, give this at least 5 years before pulling a cork.

1,244 Views

Tasted

Feb 19, 2021

2018
M. Chapoutier Temenos (Cornas)

Dark in color, the nose comes alive with espresso, smoke, crushed rock, black cherry and truffle scents. Full-bodied, powerful and intense, with layers of dark cherries, plums, a wall of tannin and a palate of crushed stones, hold off on this for 6-8 years and this will be just great to imbibe.

1,441 Views

Tasted

Feb 23, 2021

2018
M. Chapoutier Les Meysonniers (Crozes-Hermitage)

Spicy red fruits, cracked black pepper, flowers and herbs create the nose. The wine is soft, bright, crisp, fresh and juicy with a bright, energetic, red pit fruit finish with touches of espresso and bitter cocoa in the end notes. This requires at least 5-7 years in the cellar before it fills out and comes together..

1,906 Views

Tasted

Feb 22, 2021

2018
M. Chapoutier Pie VI (Châteauneuf-du-Pape)

Lusciously textured, rich and fruity, this is delicious right out of the gate. The ripe cherries and plums are accompanied by a touch of smoke, thyme and garrigue. This is a rich, full wine that is good now and promises to be even better with just a bit of aging.

1,264 Views

Tasted

Oct 12, 2020

2018
M. Chapoutier La Sizeranne (Hermitage)

Flowers, smoke, licorice, dark red fruits, espresso bean, herbs, pepper and spice fill your nose. Big, juicy, full-bodied, rich and balanced, the wine is soft, almost lush and really leaves a beautiful impression on your palate and in the finish.

1,375 Views

Tasted

Feb 22, 2021

2018
M. Chapoutier Les Arenes (Cornas)

Medium-bodied, tart, fresh and crisp, the piquant red berries are as lively as they are tannic and bright. The finish is quite stony. This is not a fun wine to enjoy young. So age it for at least 5-8 years.

1,525 Views

Tasted

Feb 23, 2021

2018
M. Chapoutier Les Bécasses (Côte-Rôtie)

Medium-bodied, soft, silky and fresh, the wine is forward and easy to like. Though I like the fruit, this is not very concentrated and will be best over the next 8-10 years.

2,014 Views

Tasted

Feb 23, 2021

2017
M. Chapoutier Barbe Rac (Châteauneuf-du-Pape)

The top of the line Southern Rhone wine from Chapoutier blasts off with pepper, kirsch, herbs and earth. Sweet, soft and polished, with an elegantly texture in the cherry filled finish, this will drink well young.

3,293 Views

Tasted

Sep 20, 2019

2017
M. Chapoutier Croix de Bois (Châteauneuf-du-Pape)

Forward, soft and approachable, the fruit is ripe, silky and sweet. The kirsch is peppery, round and lush. Opulently textured and needing time to show its all, give it a few years to come around.

2,626 Views

Tasted

Sep 20, 2019

2017
M. Chapoutier Pie VI (Châteauneuf-du-Pape)

The debut vintage for this new wine comes from a blend of 65% old vine Grenache and 35% Syrah. Deep in color, the wine exudes black cherries, kirsch, herbs, black licorice and dark cocoa. There is good weight, lots of fleshy density, richness and round tannins. Give this a few years to develop in the cellar.

3,147 Views

Tasted

Dec 22, 2019

2016
M. Chapoutier Barbe Rac (Châteauneuf-du-Pape)

The top of the line Southern Rhone wine from Chapoutier shows layers of refined, elegant, silky, pure red fruits. The freshness, purity and length found here, with all its ripe, si;ky textured kirsch is a turn on. I can attest personally to the ageability of this wine, so give it time as it can age for up to 3 decades! The wine is produced from 100% old vine Grenache.

3,783 Views

Tasted

Sep 18, 2018

2016
M. Chapoutier Croix de Bois (Châteauneuf-du-Pape)

Peppery, with loads of thyme, garrigue, kirsch and black raspberry, the wine is fresh, pure and silky with a luscious, velvety textured, spicy, red, fruit filled finish. The wine is made using 100% Grenache grapes.

2,720 Views

Tasted

Sep 18, 2018

2016
M. Chapoutier (Gigondas)

Dark in color, here the grapes are always 100% destemmed. Made from a blend of 70% Grenache, 10% Syrah, 10% Mourvedre and 10% Cinsaut, the wine is spicy, fresh and bright with earthy, crisp berries, and an overtone of kirsch with a hint of smoke in the finish and on the nose. There is a round, luscious character to the wine that carries through to the dark cherry, thyme and olive finish.

2,208 Views

Tasted

Sep 21, 2019

2016
M. Chapoutier Domaine de Bila-Haut L'Esquerda (Côtes du Roussillon Villages)

It is difficult to believe you can buy wine this good, for such little money. But this delivers the goods for about $22. Dark in color, the earthy, smoky, jammy strawberry, pepper, flint, plum and garrigue are open with pop and pour. Supple, plush and generous, the sweet, fruity, herbal finish tastes and feels great. Drink it before it reaches 5-7 years of age and enjoy it for its easy drinking pleasure.

3,609 Views

Tasted

Feb 19, 2019

2016
M. Chapoutier La Bernardine (Châteauneuf-du-Pape)

The entry level Chateauneuf from Chapoutier is medium bodied, open and forward, with loads of ripe, spicy, sweet, juicy, red fruits, pepper and vibrancy. This is perfect for early drinking Grenache. The wine is made from a Grenache dominated blend with some Syrah.

2,664 Views

Tasted

Sep 18, 2018

2015
M. Chapoutier La Mordorée (Côte-Rôtie)

This is so freakin' sexy! The texture is off the hook with its opulence. The wine just glides across your palate like pure, exotic silk. Yes, there is an oaky component that needs to integrate, but there is so much fruit, and the palate feel is surreal you barely notice it. A decade in the cellar is going to bring everything together here.

3,539 Views

Tasted

Feb 9, 2019

2015
M. Chapoutier Nève (Côte-Rôtie)

Lusciously textured, dark red fruits, sensuous, silky tannins, and smoky, floral accents with an exotic palate presence is what you will find here. The wine is full bodied, deep, long, rich, pure and most importantly, it really grabs you. And keeps you! This is too good to spit, especially since I have not tasted this wine before.

1,326 Views

Tasted

Feb 9, 2019

2015
M. Chapoutier Barbe Rac (Châteauneuf-du-Pape)

Elegant, fresh and silky, with lush, sweet fruits, the kirsch has this outstanding purity to the cherry oriented fruit. The wine smells, feels and tastes of spicy, peppery, fresh kirsch from start to finish. Produced from 100% old vine Grenache, the wine has the backbone to age and develop quite well. This is just a fabulous style of wine.

4,348 Views

Tasted

Aug 21, 2017

2015
M. Chapoutier Quatuor (Côte-Rôtie)

This is my first time tasting this stunning cuvee. Oak, smoke and pepper might be out in front, but its the sexy, silky tannins, the purity of the red fruits and the seamless entry that will keep you coming back for more of the decadent Cote Rotie. Perhaps this will increase in score as the wine ages.

2,034 Views

Tasted

Feb 9, 2019

2015
M. Chapoutier Croix de Bois (Châteauneuf-du-Pape)

The thyme and Provencal herbs stick out here. That bushel of herbs is quickly followed by luscious, silky, sweet, ripe, peppery red fruits, finishing with a velvet textured layer of more red fruits. The wine is made using 100% Grenache grapes.

3,151 Views

Tasted

Aug 21, 2017

2015
M. Chapoutier Les Bécasses (Côte-Rôtie)

Elegant, refined, supple and sexy, this forward charmer serves up everything you need in a Cote Rotie, and it drinks well young too!

1,638 Views

Tasted

Feb 9, 2019

2015
M. Chapoutier La Bernardine (Châteauneuf-du-Pape)

The entry level Chateauneuf from Chapoutier offers a medium bodied, forward, sweet, cherry profile. Focused on its fruits ad freshness, over additional nuances, there is still enough peppery goodness with a dose of marjoram in the finish to keep things interesting.

2,345 Views

Tasted

Aug 21, 2017

2014
M. Chapoutier Barbe Rac (Châteauneuf-du-Pape)

There is a good purity of fruit here, with soft, silky tannins and freshness. This 100% Grenache based wine is produced in an elegant, fresh, forward, sensuous, kirsch dominated style. Drink this young while waiting for the 2015 to come around.

3,563 Views

Tasted

Jun 24, 2016

2014
M. Chapoutier Croix de Bois (Châteauneuf-du-Pape)

Fresh, sweet, soft and spicy, with an elegant charm to all the spicy red fruits. The wine is medium bodied, and polished with a finish filled with peppery, kirsch fruits.

2,376 Views

Tasted

Jun 24, 2016

2013
M. Chapoutier Barbe Rac (Châteauneuf-du-Pape)

Earthy, with a smoky, thyme and cherry note that stands out, the wine is silky, soft and polished with freshness and sweetness to the fruit. The wine is made with 100% old vine Grenache.

4,218 Views

Tasted

Sep 7, 2015

2013
M. Chapoutier Croix de Bois (Châteauneuf-du-Pape)

Soft and spicy, with polished textures, medium body and sweet, red fruits, this should be drinkable on release.

2,949 Views

Tasted

Sep 7, 2015

2013
M. Chapoutier La Bernardine (Châteauneuf-du-Pape)

Medium bodied, red fruits, spice and kirsch are easy to find in this forward styled wine of pleasure.

4,456 Views

Tasted

Sep 7, 2015

2012
M. Chapoutier Ermitage l'Ermite (Hermitage)

This feels like an entire magnum of wine was somehow, crammed into a single bottle. Inky in color, this is so dense, it fills your mouth, coats your palate, staining your teeth and palate with a massive wall of fruit, tannin and crushed stones. There is a fabulous purity to the fruit and a lushness to the texture that lets you know, this wine means business. 2-3 decades are needed for this to really come around. But it will get there. However, unless you're young, you might be laying this down for your kids.

4,724 Views

Tasted

Oct 3, 2018

2012
M. Chapoutier Ermitage Le Pavillon (Hermitage)

Full-bodied, dense, powerful, tannic and packed to the gills with waves of ripe, forceful layers of cassis, blackberries, crushed rocks, licorice, smoke, thyme, espresso and pepper, this will demand at least 2 decades of aging before it begins offering its peak experience.

2,757 Views

Tasted

Oct 3, 2018

2011
M. Chapoutier Barbe Rac (Châteauneuf-du-Pape)

Pure, sweet, vibrant and silky, the supple textured wine delivers a lot of polished ripe, lush fruit in the finish. Produced from 100% old vine Grenache, the wine reached 14.5% ABV.

3,029 Views

Tasted

Aug 26, 2014

2011
M. Chapoutier Croix de Bois (Châteauneuf-du-Pape)

Anise and fresh cherries on the nose lead you to a medium bodied, forward, fresh, elegant kirsch filled wine from 100% Grenache that is ready for drinking today.

2,849 Views

Tasted

Aug 26, 2014

2011
M. Chapoutier La Bernardine (Châteauneuf-du-Pape)

Straight forward, open, medium bodied, pleasant, focused on its cherry core, but lacking in complexity.

1,747 Views

Tasted

Aug 19, 2014

2010
M. Chapoutier Ermitage Le Pavillon (Hermitage)

Inky, black on color, with a sense of richness, density and raw material, that makes it seem like you can eat or drink this. Because of the perfect level of ripeness, the wine has both sweetness and lift, length and vibrancy. But patience is the name of the game here. Having recently tasted 89, 90 & 91, which are are still young, this requites at least 20 or or more years to come around.

4,530 Views

Tasted

Jan 12, 2017

2010
M. Chapoutier Barbe Rac (Châteauneuf-du-Pape)

Filled with spicy berries, kirsch liqueur, lush, flamboyant black cherries and a round, polished, sweet finish. This stylish wine has a great track record for aging.

5,131 Views

Tasted

May 31, 2013

2010
M. Chapoutier Croix de Bois (Châteauneuf-du-Pape)

Jammy, ripe and over ripe sweet fruits are in abundance. Medium bodied, elegant and polished, this poised wine is already drinking well.

3,799 Views

Tasted

May 31, 2013

2009
M. Chapoutier Ermitage l'Ermite (Hermitage)

Massive, powerful, concentrated, intense, frightfully tannic and still young. Yet, once you dig your way through its youth, the wine screams to get noticed. The textures are like molten syrah that oozes all over your palate, teeth and gums, staining everything in its path. Extreme patience is required here. Based on previous vintages, this should require, if not demand another 20-25 more years before it sheds its youth, and morphs into the mature stage of life.

4,597 Views

Tasted

Nov 30, 2017

2009
M. Chapoutier Ermitage Le Pavillon (Hermitage)

Inky, black with purple in color, this massive, concentrated, dense, thick, tannic wine is as you would expect, young and offering only promise of what is to come at this stage. The licorice, espresso, blackberry liqueur and smoke filled nose is surpassed by the intense, mouth coating waves of dense fruit and ripe tannins. Based on recent tastings of older vintages, this will demand at least 20 more years in the cellar before it really starts to open up.

6,154 Views

Tasted

Jul 29, 2015

2009
M. Chapoutier Crozes-Ermitage Les Varonniers (Crozes-Hermitage)

Quite modern, with its espresso, smoke, licorice and black raspberry and jam filled perfume. Rich, round, ripe, forward and already fun to drink, with good levels of concentration and length, this is quite a nice value wine from the Northern Rhone.

4,294 Views

Tasted

Jun 12, 2013

2008
M. Chapoutier La Mordorée (Côte-Rôtie)

Elegant, refined and fresh, with soft, polished tannins, ripe, red fruits, spice and earthy accents, the floral character really comes through in the nose. On the palate, the blend of fresh and fruit charms you. The wine is just now entering its drinking window.

2,176 Views

Tasted

Nov 12, 2017

2007
M. Chapoutier Barbe Rac (Châteauneuf-du-Pape)

What lush, sexy pleasure machine this is! With an ocean of ripe, very ripe and over cherries, the wine is complicated by black raspberry jam, earth, pepper and herbs. Thick, rich, opulent and intense, with a beautiful sense of purity, this is Southern Rhone, Chateauneuf hedonism at its best.

3,830 Views

Tasted

Feb 11, 2013

2005
M. Chapoutier Barbe Rac (Châteauneuf-du-Pape)

The wine pops with an intense nose of kirsch, garrigue, pepper, strawberry jam and spice. Silky, soft and polished, this stylish, sweet, cherry filled wine is already drinking well.

4,033 Views

Tasted

May 19, 2013

2005
M. Chapoutier Ermitage l'Ermite (Hermitage)

Bright, lifted, stony, fresh and vibrant, with a peppery red fruit profile, texturally, the wine is fine. It is concentrated, clean and youthful. At least another decade or more of cellaring is warranted.

3,591 Views

Tasted

Oct 20, 2020

2003
M. Chapoutier Ermitage l'Ermite (Hermitage)

Black raspberry puree, wet forest floor, stone, floral notes and fresh herbs permeate the aromatics. Intense minerality, sweet, ripe black cherries, lush, dense, powerful and tannic. Tthe fruit shows a beautiful sense of purity. The tannins are ripe. You'll find waves of each as the wine fills your palate. Thick, rich, amazingly concentrated and intense. The wine builds and expands with each taste.

6,684 Views

Tasted

Oct 24, 2013

Inky in color, this wine is incredibly rich, deep and concentrated with layer after layer of plush, velvety fruits. Due to its inviting, mineral driven, luxurious, hedonistic style, with a few hours of air, you can drink this stunning Hermitage now. But I'm waiting on mine for 5-10 years.

4,738 Views

Tasted

Dec 19, 2012

2003
M. Chapoutier Ermitage Le Pavillon (Hermitage)

Inky in color, espresso bean, roasted, jammy dark berries and black cherry liqueur notes create the perfume. The wine is incredibly dense, yet balanced, rich and packed with flavor. There is a very ripe and over ripe, thick jammy component that some tasters are not going to like as much as others. Tannic, young and full bodied, this needs another decade or two, for the oak to integrate, the jam to dissipate and for the complexities to emerge.

5,559 Views

Tasted

Oct 23, 2013

This Hermitage literally oozes from the bottle into your glass. This is so rich, dense and concentrated with fruit, it has to be tasted to believe! The fruit is spectacularly ripe, rich and decadent. The wine, at least at this stage has a beautiful profile with a strong black and blue fruit accent. When this wine matures, look out! By the way, the bottles in 03 have a new, more elegant and sophisticated label. The braille is gone.

5,755 Views

Tasted

Jun 25, 2006

2003
M. Chapoutier Ermitage Le Méal (Hermitage)

Spicy, blackberry liqueur, cedar chest and olive tapenade notes combine with intense flavors, crushed stone and a wall of tannin. This will need at least 10, and probably closer to 15 more years to come together. There is a regal quality to the fruit and tannins that is sublime. But wine will require patience.

2,836 Views

Tasted

Oct 23, 2013

2003
M. Chapoutier Barbe Rac (Châteauneuf-du-Pape)

Chapoutier Barbe Rac remains of my favorite go to Chateauneuf du Pape wines. It is remarkably consistent and 2003 does not break that chain of consistency. From vines that are over 100 years of age. this 100% Grenache is loaded with sweet, ripe fresh kirsch,black cherry liqueur, earth, pepper, herbs and spicy, jammy black raspberries. Opulent and full bodied, this intense wine is ready to drink.

1,967 Views

Tasted

Feb 26, 2012

2003
M. Chapoutier La Mordorée (Côte-Rôtie)

Smoke, blackberry, blueberry, charcoal and earthy aromas were easy to spot. Full bodied, plush and round in texture, the wine feels good on the palate. Perhaps it's too young and the oak has not become fully integrated into the wine yet. The finish showed a bit to much oak and left a minor drying sensation. I would have liked a touch more freshness in the mouth. While this was a good wine, that was clearly well made, it lacked excitement.

3,263 Views

Tasted

Jan 12, 2012

2003
M. Chapoutier Ermitage Blanc De L'Orée (Hermitage)

As interesting as these are to taste, I am obviously not their market as I never understand them. Golden yellow in color, toast, stone, honeysuckle, apricot, mango, peach and petrol scents create the aromatic profile. The wine is thick, sweet, fat and dense, with an odd, or is that unique oxidized quality.

3,902 Views

Tasted

Jun 7, 2013

2001
M. Chapoutier Barbe Rac (Châteauneuf-du-Pape)

Most of my friends focus on the Hermitage from Chapoutier, glossing over their Chateauneuf du Pape's. Big mistake. This luscious, silky, fresh, clean, pure expression of kirsch, garrigue and wild black raspberries perfectly balances its level of concentration, freshness and ripe, pure red fruits. While there is weight, you also find freshness and purity. The wine is clearly hitting its strides today.

3,975 Views

Tasted

Jan 14, 2020

This is all about the pure, sweet, perfectly ripe, cherries, raspberries and wild strawberries, with their freshness, elegant textures and earthy, spice, pepper, brown sugar and dark cherry liqueur filled characteristics. Silky in texture, medium bodied and a treat in your glass, this is drinking perfectly today. I'm not sure why this wine does not get more attention, it's a very nice style of Chateauneuf du Pape.

3,508 Views

Tasted

Aug 3, 2016

2001
M. Chapoutier Ermitage l'Ermite (Hermitage)

Dark in color, youthful, intense and rich, this concentrated wine is tannic, yet the tannins are refined. The earthy, mineral driven, fresh, ripe, black and dark red fruits, licorice and smoky notes, coupled with the concentrated, deep of fruit are starting to show with decanting. However, another 5 years will add more softness and complexity to the wine.

3,846 Views

Tasted

Nov 29, 2014

2000
M. Chapoutier Barbe Rac (Châteauneuf-du-Pape)

The last bottle from a full case, and each has been a beauty. There is so much elegance here, and the sweet, red cherries offer intensity and purity. Silky in texture, with garrigue, licorice earth and Christmas spice, every sniff, sip and swallow is a treat. I am certain this will last another 5-8-10 years, but this is not a wine to hold. If you have a bottle hanging around, pop a cork. You'll be happy you did.

4,248 Views

Tasted

Oct 20, 2017

11 down and 1 more to go. This is fully mature, but it feels like it should its black cherry, spice, peppery, earth and fig character for at least another 5-7 years. Round, soft, and almost plush, the sweet, black cherry and kirsch in the finish sticks with you.

3,479 Views

Tasted

Dec 24, 2016

Expressing deep spicy kirsch, black cherry, spice, pepper and earthy aromas, this luscious wine with its round textures and depth of flavor finishes with layers of supple spicy, black and red cherries with fresh strawberry jam. This sexy style of Chateauneuf du Pape is drinking perfectly today.

4,047 Views

Tasted

Mar 25, 2011

2000
M. Chapoutier Ermitage Le Pavillon (Hermitage)

Surprisingly charming at a young age for Chapoutier. Vanilla, licorice, fresh cherries and black raspberry notes, tannins that had clearly softened and a fruit filled finish placed everything right where they were supposed to be. Still young, but fun to drink at this early stage.

5,673 Views

Tasted

May 27, 2014

2000
M. Chapoutier Croix de Bois (Châteauneuf-du-Pape)

Concentrated, lush and lusty, this full bodied wine is filled with ripe cherry, strawberry and pepper. It's ready to drink.

3,735 Views

Tasted

Jun 1, 2006

1999
M. Chapoutier Ermitage Le Pavillon (Hermitage)

As this creeps closer to its 20th birthday, the wine has added a lot of depth, volume and complexity. The nose moves from earthy, smoky fruit to crushed rock and stone with a few hours of air. Concentrated, deep and long, the fruit is fresh and vibrant, cutting a nice line on your palate, with its balance between density, fruit and acidity. Having had older Chapoutier Pavillon vintages, 5-10 more years will make this even better!

3,595 Views

Tasted

Oct 18, 2017

1999
M. Chapoutier La Mordorée (Côte-Rôtie)

Coffee bean, plum liqueur, smoke, boysenberry and spice open to a round, fat, lush, modern style of Cote Rotie that finishes with oak, licorice and spicy black cherries.

3,623 Views

Tasted

May 17, 2012

With a nose filled with bacon fat, pepper, kirsch, flowers and fresh herbs, this round, ripe, fresh wine felt great as it slid over your palate with its layers of sweet, silky red fruit. This is drinking great today and its only going to get better with a few more years.

3,783 Views

Tasted

Feb 2, 2011

This wine showed black and blue fruit, bacon fat and mild hints of smoke and chocolate. Richly textured, this plush wine finishes with black cherry and licorice flavors. Still young, this will provide pleasure for several years, but I am not sure how much more complexity it is going to develop.

3,930 Views

Tasted

Aug 17, 2010

This Cote Rotie offers smoky, black cherry liqueur aromatics. Rich, soft and opulent on the palate, the wine finishes with chocolate covered cherries. This wine would have scored higher if the perfume was more complex and the finish lingered for a while longer. This is a very good wine, but it is not a Cote Rotie you need to purchase.

3,941 Views

Tasted

Jan 8, 2010

The color of black, shiny raspberries. Blackberry, raspberry liqueur, pepper, bacon fat and floral scents flow from the glass. Huge, full-bodied, dense, chewy texture. Mouth drying tannins. Layers of black fruit with cherry kirsch accents overcome your palate. The finish lasts at least :40 seconds. Infanticide to drink at this stage. Try again in 5-10 years. 95 Pts

3,903 Views

Tasted

Oct 7, 2004

1999
M. Chapoutier Ermitage Le Méal (Hermitage)

Dense, thick, rich and very concentrated. Dark cherry, spice, vanilla, blackberry and herbs make for an intoxicating perfume. Elegant textures and a long silky, dark fruit finsh are a treat. Structured and tannic, this will only get better after a 10 year nap.

2,938 Views

Tasted

Nov 14, 2004

1999
M. Chapoutier Ermitage Blanc Le Méal (Hermitage)

Deep, dark, yellow, orange in color, the wine tastes and feels like it's still coming out of a long slumber. Silky, rich and fresh, with apricot, petrol and floral aromas, complicated by honeysuckle accents, perhaps, more cellaring will allow the wine to open more, as this bottle, took a while at the table to unfurl.

3,399 Views

Tasted

Feb 11, 2017

1998
M. Chapoutier Ermitage l'Ermite (Hermitage)

With 2 hours of double decanting under its belt, everything was in play. The wine is thick, rich, plush and polished, with layers of sweet, perfectly ripe dark berries, licorice, stone and earthy notes. The wine is long and fresh. The wine was even better with another hour or two in the glass.

3,717 Views

Tasted

Mar 9, 2015

1998
M. Chapoutier Barbe Rac (Châteauneuf-du-Pape)

Last bottle from my case. All good things have to come to an end sooner or later. Luscious textures, low in acidity, with a kirsch liqueur, herb, licorice and fig nose, the fruit was showing riper flavors than I recall from earlier bottles. The texture really add much more silk. At close to 20, if you're sitting on a lot of this wine, I'd pop your remaining bottles over the next few years.

2,824 Views

Tasted

Nov 2, 2016

In the perfect spot, with silky, soft, lush textures, ripe, fresh strawberries, cherry, kirsch and spice, this elegant Chateauneuf du Pape does not need more time as it's ready to go.

3,000 Views

Tasted

Dec 30, 2013

In the nose, fresh, ripe sweet cherries, flowers, kirsch, licorice, barnyard and jammy scents. Elegantly textured, with copious amounts of fresh, ripe, red fruit, the wine ends with sensations of jammy black raspberries, kirsch and wild strawberries.

3,402 Views

Tasted

Aug 6, 2010

A complex filled with fresh, jammy black cherries, licorice, raspberry, Provencal herbs, licorice, black pepper, chocolate mint and strawberry tart kept your senses occupied. Full bodied and filled with ripe fruit, this richly textured wine ends with a long cherry griotte sensation. This is probably close to fully mature. It should remain at this level for another 5-8 years.

3,587 Views

Tasted

Jul 23, 2010

A big, wonderful, ripe, rich, dense, peppery, Krisch dominated Chateauneuf. Lots of personality in every sip, sniff and swirl. Well balanced. Good structure with a long, pure finish. It was a lot of fun watching the wine improve and evolve in the glass.

3,788 Views

Tasted

Nov 1, 2007

The deep ruby color entices you, but it's the nose that sucks in you in. Scents of ripe cherries, strawberries, raspberries, herbs, spices and burnt leaves excite your nose. Your palate is awash in concentrated layers of ripe, lush, kirsch and raspberries. Although high in ABV, 15.5%, there was no sign of heat in the long, rich finish.

2,619 Views

Tasted

Dec 27, 2005

1998
M. Chapoutier Ermitage Le Pavillon (Hermitage)

It's been over 5 years since I last popped a cork on this wine, and time has been good this one. Dense, concentrated, full-bodied, dark and intense, the fruit is ripe, lusty, round, polished and mouth-filling. Long and rich, the fruit hangs with you on the palate. Decanted about 90 minutes, the wine improved in the glass for another few hours. Most of the oak has fully integrated into the wine.

3,057 Views

Tasted

Jul 24, 2019

Young, firm, tannic, fresh and concentrated, there is a polish and softness to the ripe fruit that makes it feel good on your palate. Still young, this needs at least a decade to come around before it comes together.

5,389 Views

Tasted

May 22, 2014

This stylish wine, while still primary is very plush, rich and packed and stacked with mountains of ripe, decadent fruit. But, opening them at this stage is infanticide.

4,236 Views

Tasted

Apr 25, 2005

1998
M. Chapoutier Ermitage Le Méal (Hermitage)

This is still quite young. It took at least 4 hours in the decanter before the wine began to open and soften and provide its, spicy, mineral, peppery, ripe, black and red fruit charms. It's hard to believe, but it could take 5-10 more years in the cellar, or 4-6 hours in the decanter, if you want to enjoy the wine.

3,824 Views

Tasted

Jul 7, 2015

Meaty, beefy, big and bouncy is great record from The Who, That title also describes this Hermitage from Chapoutier. Big, dense, powerful and filled with layers of ripe , black fruit, minerals, pepper, earth and truffles, this young, masculine wine has barely budged from the day it was released, Give it another 7-10 years before popping a bottle.

4,758 Views

Tasted

Mar 8, 2011

1997
M. Chapoutier Ermitage Le Pavillon (Hermitage)

An hour of decanting helped this come together. Fresh, bright, lively and filled with ripe fruit, thyme, rocks, stones and underbrush. The wine is full-bodied, concentrated and seems to have moved to the brighter, stonier side. The oak has faded away, and the fruit is starting to assert itself. This should continue getting better wine age.

3,385 Views

Tasted

Feb 18, 2019

3 hours of decanting woke this puppy up. Smoke, kirsch, pepper, garrigue, cassis and barbecue aromas popped with no effort. On the palate the wine was rich, deep and concentrated, with a delicious black cherry and bright cassis note that kept going and going. Good now, better later.

5,084 Views

Tasted

May 18, 2014

Spicy black fruit, bbq, minerality, tobacco and peppery scents start the off. Full bodied, powerful and concentrated with suave, dense, dark fruit, this wine will only get better with time. For Chapoutier Pavillon, a wine that normally takes more than 20 years to develop, this is already showing well.

4,939 Views

Tasted

Aug 21, 2012

Light ruby in color, with a fragrance filled with spice, iron, black cherry liqueur, sharp black pepper, iodine, smoke and black raspberries with a hint of oak. Pure silky cherries flow over your palate with voluptuous textures and a long, fresh, smoky cherry and strawberry finish.

4,487 Views

Tasted

Oct 20, 2011

The 1997 Chapoutier Pavillon biodynamically produced Hermitage, opens with a blast of fresh ground black pepper which gently fades as scents of jammy black raspberries, oak, ripe cherries and sweet vanilla become more apparent. Dense, rich and supple in texture, this opulent wine finishes with ripe black raspberries and a hint of oak. 94 Pts

4,850 Views

Tasted

Nov 17, 2010

1997
M. Chapoutier Ermitage l'Ermite (Hermitage)

Deeply colored with a nice perfume, this elegantly styled wine offers immense pleasure. Like many 97 Northern Rhone's, this offers a rich, plush, elegant personality. Decanted 3 hours before serving, there was a lot to like about this wine.

3,302 Views

Tasted

Apr 15, 2007

1995
M. Chapoutier Ermitage Le Pavillon (Hermitage)

Incredibly young, but it's impossible to miss the quality here. Intensely concentrated, powerful, tannic, fresh and lively, with a wall of fruit and a nose that combines ripe fruits, earth, smoke, thyme and mint, 3 hours of decanting was not enough. Time and air are needed for this wine to deliver the goods.

3,966 Views

Tasted

May 29, 2016

Double decanted about 4 hours before serving helped soften the wine. Still youthful in appearance, and not fully developed in the nose, with some tannins left to soften, the concentrated, lush, dense wine is loaded with sweet, ripe fruits, earth, smoke, licorice and black cherries. The wine is starting to open, but it promises to be better in 5-10 years. This bottle, from the same case as the previous bottles tasted was a markedly better tasting experience.

4,086 Views

Tasted

Jul 29, 2015

I own several bottles of this wine. I wanted to like it more. No. I needed to like it more. But I couldn't. Double decanted for 2-3 hours, it was still holding on tight. With effort, mineral driven, blackberry, cherry, smoke and herbal scents popped up. But the palate was still firm. There is ample concentration and by the end of the night, it started to soften, but that was not enough to make magic. I'm hoping that time will bring this around. My hope is fading at 20 years of age. But let's take a look in another 5 years.

3,897 Views

Tasted

Feb 10, 2015

Firm, tannic, bright, structured and even stern, to some extent, the wine is very young. It's also very concentrated and tannic. There is an intensity to fruit that makes you pay attention. The complex nose serves up a melange ot thyme, cherries, earth, garrigue, kirsch and pepper, with a touch of mint. Give this 4-6 hours in the decanter, or wait a decade for it to soften and really come together.

3,322 Views

Tasted

May 22, 2014

Sweet dark kirsch, crushed stone, fresh Provencal market herbs, plums, smoke, earth and thyme aromas pair well the rich, luxurious textures and fresh, ripe, round black and red fruit filled finish. Enjoyed over 2 hours, I was pleasantly surprised how well this was starting to show. Like all the better vintages of Chapoutier Hermtiage, this has a long future.

4,632 Views

Tasted

Jul 22, 2012

Deep in color with gobs of fresh black pepper, earth, blackberry, cassis, oak and spice scents made up the perfume. Powerful, packed and stacked with layers of concentrated dark fruit, this round textured wine remains a baby at 16 years of age. Another 5-10 years will add a lot of complexity and texture to this outstanding Hermitage wine.

4,890 Views

Tasted

Jun 2, 2011

1995 Chapoutier Pavillon opens with tobacco, pepper, blue and black fruit, spices and a hint of oak in the perfume. This concentrated, round, opulent, powerful Hermitage keeps your attention with it's rich textures and purity of flavor. This is still very young. Give it another 10 years and watch it evolve from there. This is a sexy, suave style of Hermitage. It's not trying to be anything else. If you're looking for Chave, which I adore, buy Chave. If you want an opulent expression of Hermitage, this is the ticket. 97 Pts

5,370 Views

Tasted

Dec 8, 2010

This wine is filled with blackberry, fresh cracked pepper, cassis, spice, smoke, earth and iron aromas. Powerful, concentrated and brawny in style, this large Hermitage requires an other 5-10 years before coming around.

5,396 Views

Tasted

Aug 2, 2010

A beautiful, sexy wine. This lush, fat, concentrated wine is a pleasure to taste. When this wine matures, watch out as it will be at or close to the levels of the 89, 90 & 91! Absolutely compelling wine!

3,898 Views

Tasted

Feb 18, 2006

1995
M. Chapoutier La Mordorée (Côte-Rôtie)

There is nothing better than catching a wine in the sweet spot, which is exactly where this charmer is today. Bright, fresh, polished, soft, concentrated and aromatic, the feels as good as it tastes. A splash decanting is all this needs to get going.

4,562 Views

Tasted

Jan 24, 2014

Elegant, refined, pure kirsch, garrigue, oak, smoke, licorice, coconut, spice and nut aromas introduce you to a round, silky, sexy,ripe cherry, plum and black rasbberry filled wine that is close to fully mature. I'd drink this over the next 10-15 years.

4,259 Views

Tasted

Oct 25, 2011

With coaxing, pepper and smoky black fruit could be found. Great texture. Long mouth coating finish.

3,877 Views

Tasted

Jul 12, 2009

1994
M. Chapoutier Ermitage Blanc De L'Orée (Hermitage)

94 Chapoutier L'Oree Is spun honey in color. Butterscotch, butter, oak, floral and citrus aromas. Fat and flabby in texture. The wine needs more acidity to give it better lift. It's a good wine, but more freshness would make it much more refreshing and interesting.

4,233 Views

Tasted

Aug 22, 2010

Thick, ripe, rich, viscous, mouth filling wine with an opulent taste and texture. It had aromatics to match. However, its style is extreme and not for everyone.

3,480 Views

Tasted

Apr 25, 2005

1992
M. Chapoutier Ermitage Blanc De L'Orée (Hermitage)

This massive wine was almost sweet due to its ripe fruit component. Aromas of Vanilla, lemon, rocks and flowers leapt from the glass ending with a beautiful finish. Matt Raney called the wine "a Crappy Sauterne, labeling it, Chateau De Suck!"

2,791 Views

Tasted

Aug 17, 2003

1991
M. Chapoutier Ermitage Le Pavillon (Hermitage)

This is really coming on strong now. The fruit is loaded with rocks, stones, spice, earth and herbs. Full-bodied, concentrated and deep, with power, tannins and length, 90 minutes in the decanter added all the right stuff.

2,818 Views

Tasted

Nov 12, 2018

A touch of oak, smoke, dark fruits, tobacco, wet soil, and coffee on the nose. Powerful, big, full bodied, rich and deep, the wine still shows just a hint of oak in the incredibly long, mouth filling finish. Believe it or not, I think it needs more time to develop to its full potential. This is really such a super wine.

5,252 Views

Tasted

Jan 12, 2017

Stunning in every sense of the word with its intense display of sweet black cherry liqueur, crushed rocked, licorice, smoke and black raspberry jam. The was coats your palate, teeth and gums with flavor that does not quit. Double decanted about 4 hours in advance, the wine is the real deal. Still youthful, this promises to be even better in the years to come.

5,772 Views

Tasted

Jul 29, 2015

Regardless of how many times I taste this wine, I'm never bored. The licorice, smoke, vanilla, kirsch, pepper, wild strawberry, herbs and wet earth capture your attention. Thick, rich and intense, at close to 22 years of age, it's still young. I would not be surprised to see this sublime wine age for decades.

4,690 Views

Tasted

Dec 20, 2012

1991 Chapoutier Pavillon retains is deep, dark color. Coffee, smoke, crushed stone, licorice, blackberry jam, pepper, spice, truffle, earth and tobacco notes explode from the glass the moment the bottle is opened and poured. Powerful, rich, intense and concentrated, everything is in balance and harmony. The wine ends with a long, pure, seamless finish filled with truffle coated, molten, cherry liqueu that remained on your palate for over one full minute!

5,418 Views

Tasted

Oct 7, 2011

1991 Chapoutier Pavillon is filled with fresh ground black pepper, blackberry, cherry, crushed stone and spice aromas. Intense, dense, fat, round and mouth filling, the wine ends with a long sensation of fresh blackberry, sweet and sour dark cherry and spice flavors.

4,691 Views

Tasted

Dec 8, 2010

Once poured, the aromatic fireworks kicks off with intense scents of ripe black fruits, minerals and spice. On the palate, this elixir of Hermitage coats every nook and cranny of your mouth with waves of deep, ripe, powerful black fruit. This has incredible concentration. But, everything is in perfect balance. The texture is plush, fat, rich and opulent. The finish lasts close to :60! Still youthful, this magical wine should continue to improve offering hedonistic thrills for another 20 years or more. This wine is an E ticket ride!

6,040 Views

Tasted

Apr 5, 2008

1991
M. Chapoutier La Mordorée (Côte-Rôtie)

Drinking in the sweet spot, with bricking at the edges, the wine is fully mature. Smoke, Asian spice, earth, flowers, cigar ash and black cherries are all over the place. The wine is soft, supple and sensuous. I'd drink it over the next 5-8 years.

4,354 Views

Tasted

Dec 19, 2012

1991 Chapoutier Mordoree is filled with pepper, licorice, barnyard, sweet jammy cherries, barnyard, blackberry, bacon fat and smoky aromas. Mouthfilling, with textures of exotic silk, this fully mature Cote Rotie ends with sweet, spicy, peppery, jammy, black cherries and fennel.

3,715 Views

Tasted

Oct 7, 2011

Rumors of this wines untimely demise are as unfounded as those about Mark Twain when he was still alive. A powerful nose of fresh blackberry, coconut, black cherry, truffle, jam, violets and smoky bacon make this wine come alive. Full bodied and filled with decadent ripe fruit, the wine ends with a long, ripe, opulent, black raspberry, strawberry and kirsch filled finish.

4,630 Views

Tasted

Jun 10, 2010

Silky, lush red and black fruit, spice and fresh herbs pop from the glass. The perfume is off the charts. Fully mature, this ends with an exotic, texture and rich, kirsch laden note.

4,371 Views

Tasted

Oct 20, 2006

Notes of sandlewood, herbs, coffee and endless amounts of black and red fruits. The texture is pure elegance. Very exotic. This is probably fully mature and there is no reason to hold it any longer.

4,107 Views

Tasted

Jul 25, 2005

1991
M. Chapoutier La Sizeranne (Hermitage)

Served blind, I was quite surprised to find out what it was, as I would not expect this wine to have aged so well. Lots of earth, smoke, and ripe black raspberries paired with elegant textures and a sweet, soft finish. This is much better than the last bottle tasted.

4,682 Views

Tasted

Aug 12, 2013

Tart, short and unpleasant. And those were the positive traits!

3,863 Views

Tasted

May 26, 2010

1990
M. Chapoutier Ermitage Le Pavillon (Hermitage)

Full-bodied, concentrated, dark, olive, and peppery herb-packed wine was bright, crunchy red fruits. Still tannic, dense, long, and slightly rustic, the spicy, muscular, red currant and spicy plum endnotes come along with green olives, leafy herbs, and smoked earth. This is still quite good, but it did not live up to its anticipated potential.

2,429 Views

Tasted

Dec 8, 2021

Purity, intensity, incredible length, minerality, freshness and uniqueness of character shine though with this stunner. Powerful, yet graceful, double decanted 4 hours in advance of serving, this beauty shows a floral, peppery, earthy, black cherry and crushed rock character that does not quit.

4,348 Views

Tasted

Jul 29, 2015

Flashy, sexy, opulent dark, ripe berries, forrest, truffle, BBQ and peppery scents dominate the wine. Full bodied, intense and rich, this powerful wine leaves a lasting impression with its long, sensous, black fruit filled finish.

4,142 Views

Tasted

Oct 1, 2007

1990
M. Chapoutier Barbe Rac (Châteauneuf-du-Pape)

Beautiful, elegant, polished, silky textures and good concentration of ripe, dark and light red fruits are the highlight of the wine. Over the years, the nose has developed an intense barnyard aromatic quality that was almost too much for me. This was not quite as present in previous examples. This is fully mature. There is no reason to hold off popping your corks if you are sitting on a bottle. This was my last bottle from its original case.

4,026 Views

Tasted

Aug 29, 2016

This has been one of those great cases where every bottle has been terrific. This penultimate bottle was no exception. The nose opened with intense barnyard notes which faded after 20 minutes, when kirsch, garrigue, pepper, licorice, earth and mint notes came into play. Soft, round and packed with silky, lush cherries, this is drinking perfectly today.

4,213 Views

Tasted

Mar 27, 2013

With an intense perfume made of up ripe, fresh cherries, red raspberries, wild strawberries, black pepper and earth, this is a very silky expression of old vine Grenache. Plush, elegant and sensuous, this fully matrue Chateauneuf du Pape delivers a long, polished, pure, ripe, red berry and spice filled finish.

3,734 Views

Tasted

Feb 14, 2012

90 Chapoutier Barbe Rac "Holy cow Batman, this smells like a barn. Or is it fresh cow chips"? " You're right Robin. It's like the Penguins lair, if he lived on land". Once you move past the strong Farmville scents, licorice, tar, herbs, cherries, garrigue, rhubarb and fennel are easy to find. This Chateauneuf du Pape is fully mature, soft in texture and ends with kirsch flavors. 95

4,006 Views

Tasted

Aug 22, 2010

Fresh market herbs, black pepper, crushed strawberry and cherry and earthy scents make the perfume. Multiple layers of lush red plum, kirsch and raspberries. Full bodied, sweet and round, this mature Chateauneuf is a treat for the sense.

4,396 Views

Tasted

Mar 7, 2006

1990
M. Chapoutier Vin de Paille (Hermitage)

Packed with delicate, ripe, honeyed fruit. Orange, pineapple, peach and floral aromas. Medium bodied, with ample sweet flavors.

2,772 Views

Tasted

May 14, 2005

1990
M. Chapoutier La Sizeranne (Hermitage)

Spicy, earthy aromas aided by black fruit tones made this interesting. The wine ended in a simple, clean black fruit finish

2,512 Views

Tasted

Aug 10, 2004

1989
M. Chapoutier Ermitage Le Pavillon (Hermitage)

Incense, smoke, sweet, ripe, fresh blackberries on the nose are made even better with earth and tobacco aromatics. Rich, supple, fat and dense, the wine is sweet and packed with loads of ripe, dark fruits. The wine coats your mouth and palate with richness, and intensity leaving you with a long, finish.

2,652 Views

Tasted

Jan 12, 2017

Picture sitting around an open campfire, with wet earth, cracked pepper, roasted herbs, fennel and sweet black currants and you get the idea on the nose. On the palate, the wine is intensely concentrated, powerful and almost dense, yet all of this is in harmony. The fruit is ripe, soft, fresh and sweet, the tannins are polished and the finish is long. Double decanted for 4 hours prior to serving, this was a great showing for the first wine from Michel Chapoutier that announced things were changing at his winery.

3,506 Views

Tasted

Jul 29, 2015

Ripe black fruits, barnyard, gun metal, herbs and coffee scents tickle your nose. This very concentrated wine is, full bodied, rich, silky, polished and opulent.

4,283 Views

Tasted

Jul 12, 2009

Enticing bouquet of black fruits, spices, wood, herbs and flowers. Very sensual, this is like sipping on dense velvet! Very rich, sexy, silky, ripe black fruit fills your palate. The long seamless finish ends in waves of fruit. Absolutely compelling wine

4,170 Views

Tasted

Oct 3, 2008

This is a rich, opulent, sexy, exotic style of Syrah that fills your mouth with spicy, ripe black fruit. There is some oak in the nose, but there's so much going on in the wine, I barely noticed it. Needs more time.

3,781 Views

Tasted

Aug 1, 2007

1969
M. Chapoutier La Sizeranne (Hermitage)

This comes in an old fashioned antique styled bottle. Just looking at it was cool. Unfortunately, the bottle shape was the best part of the experience. The wine was not dead. But, it was close offering a very light, simple, one note tasting experience. Other than some cherries in the finish, it was not interesting. The wine did not last long in the decanter before fading.

2,959 Views

Tasted

Oct 7, 2006

1955
M. Chapoutier (Hermitage)

This wine was labeled as coming from Bessards, which was quite a surprise, meaning I had no idea a single vineyard wine was being made during the 1950's in Hermitage. In fact, I lost a bet on this one, but that's another story. Fully mature, with some fruit remaining, most of the wine focused on its stone, pepper and cigar box personality. The bright raspberries that amazingly still remained made this all work. This is one of those wines I'm never going to see again, but I am sure glad I was able to taste it!

1,289 Views

Tasted

Apr 16, 2016