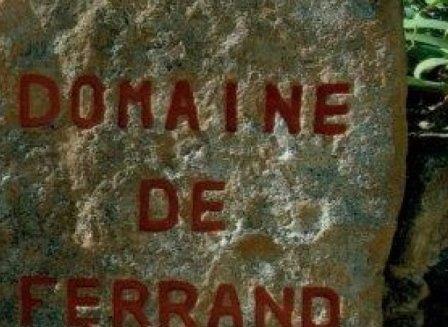 Learn everything about Domaine de Ferrand Chateauneuf du Pape with wine tasting notes, wine, and food pairing tips, best vintages, a history of the property, and information on the vineyards and winemaking. If you want to read about other important wineries and winemakers from the Rhone valley: Links to all Rhone Valley Wine Producer Profiles
Domaine de Ferrand History, Overview
Domaine de Ferrand, like many producers in the Southern Rhone Valley, is a relatively new winery. That is because prior to 1995, the majority of their wine was sold in bulk to negociants.
However, the property is rather old, as it can be dated all the way back to at least 1760. 200 years later, Charles Bravay officially founded the Domaine. The Domaine is located in Orange, which is to the north of Chateauneuf du Pape.
Things quickly changed at Domaine de Ferrand when Philippe Bravay took over the responsibilities of managing the estate. It was under the direction of Philippe Bravay that they began producing, bottling, and selling their own wine.
Domaine de Ferrand Vineyards, Wines, Winemaking
Domaine de Ferrand owns 7.5 hectares of vines in the Chateauneuf du Pape appellation. Most of their vineyards are well placed in the cooler terroir in the northern part of the appellation. Though, their vines are not contiguous as they are found in 6 diverse parcels in 4 separate lieux dits,
They have plantings located in the Cabrieres and La Gardiole lieux-dits, which is where they have their oldest vines. Some of their really old vines are more than 100 years of age.
Their terroir is mostly clay, limestone, and rock-littered soils. Domaine de Ferrand also owns 10 hectares of vines in the Cotes du Rhone appellation that are used to produce red wine.
The best vintages of Domaine de Ferrand are: 2022, 2021, 2020, 2019, 2018, 2017, 2016, 2015, 2012, 2010, 2009, 2007, 2005, 2003, 2001, 2000 and 1998.
Domaine de Ferrand makes 1 red Chateauneuf du Pape wine.
Domaine de Ferrand Chateauneuf du Pape is made from mostly Grenache, which takes up to about 90% of the blend. The remainder of the blend is made from varying amounts of Cinsault, Mourvedre, and Syrah.
The grapes are partially destemmed. Vinification takes place in a combination of concrete vats and stainless steel tanks. The traditionally made wine is aged in concrete tanks for between 12 to 14 months before bottling. The annual production is close to 1,250 cases of wine per vintage.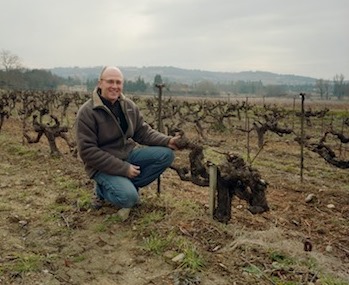 When to Drink Domaine de Ferrand, Anticipated Maturity, Decanting Time
Domaine de Ferrand can be decanted for about 1-2 hours, give or take. This allows the wine to soften and open its perfume. Older vintages might need very little decanting, just enough to remove the sediment.
Domaine de Ferrand is usually better with 3-7 years of bottle age. Of course, that can vary slightly, depending on the vintage. In the best vintages, the wine should be consumed within 5-15 years after the vintage.
Serving Domaine de Ferrand with Wine, Food Pairing Tips
Domaine de Ferrand is best served at 15.5 degrees Celsius, 60 degrees Fahrenheit. The cool, almost cellar temperature gives the wine more freshness and lift.
Domaine de Ferrand is best served with all types of classic meat dishes, veal, pork, beef, lamb, duck, game, roast chicken, roasted, braised, stewed dishes, sausage, barbecue, and cassoulet. Domaine de Ferrand is also good with Asian dishes, hearty fish courses like tuna, mushrooms pasta, eggplant, tomatoes, and cheese.
The white wine of Domaine de Ferrand is best served with a myriad of different seafood dishes, shellfish, crab, lobster, sushi, sashimi, chicken, pork, and veal, as well as Asian cuisine.
Domaine de Ferrand produces wines from vines they own in the Cotes du Rhone and in the Cotes du Rhone Villages appellations: Cuvee Antique, Cuvee Antique Vieilles Vignes, Cuvee des Demoiselles and Cuvee la Ferrande.
Domaine de Ferrand Wine Tasting Notes
11 Vintages 35,781 Views Sort by Vintage-Rating
2020
Domaine de Ferrand (Châteauneuf-du-Pape)

Supple, soft, silky, polished and fresh with a solid sense of purity to all of the sweet, ripe, spicy, vibrant kirsch and red plums on the palate. The wine blends 90% Grenache, 8% Syrah and 2% Mourvedre. Drink from 2022-2033.

589 Views

Tasted

Jan 27, 2023

2019
Domaine de Ferrand (Châteauneuf-du-Pape)

Flowers and herbs de Provence with layers of sweet, fresh, pure, ripe, red fruits on the nose and its silky textured, lush palate already pop with pleasure. The wine is layered, complex and energetic. This is so good now and it is only going to get better from here. The wine blends 90% Grenache, 8% Syrah and 2% Mourvedre. Drink from 2024 - 2036

2,128 Views

Tasted

Jan 9, 2022

2018
Domaine de Ferrand (Châteauneuf-du-Pape)

Lush, round, fruity and fresh, this is already showing well. The dark cherries are ripe, sweet, spicy and fleshy with loads of fruit on the nose, palate and end. The wine blends 90% Grenache, 8% Syrah and 2% Mourvedre.

2,512 Views

Tasted

Oct 12, 2020

2016
Domaine de Ferrand (Châteauneuf-du-Pape)

Full bodied, lush, rich, ripe, round and fresh, the peppery, sweet, red fruits offer sweetness, purity, character and length. The wine was made from blending 90% Grenache, 8% Syrah and 2% Mourvedre.

4,007 Views

Tasted

Sep 18, 2018

2015
Domaine de Ferrand (Châteauneuf-du-Pape)

Elegant, medium-bodied, soft and silky, with a core of ripe, fresh kirsch, strawberry, flowers and wild herbs. Made from 90% old vine Grenache and assorted other allowable grape varieties, you can enjoy this now for all its delicious red berries or age it 5-7 years for more tertiary development.

4,138 Views

Tasted

Dec 11, 2019

2014
Domaine de Ferrand (Châteauneuf-du-Pape)

Forward, medium-bodied, elegant, soft, silky and ready to go wine with a focus on ripe, sweet, spicy, cherries, kirsch, strawberry and cherry notes.

2,498 Views

Tasted

Dec 11, 2020

2013
Domaine de Ferrand (Châteauneuf-du-Pape)

Soft and approachable, medium bodied and fresh, the red cherry notes show a nice sense of purity and freshness.

2,859 Views

Tasted

Sep 7, 2015

2012
Domaine de Ferrand (Châteauneuf-du-Pape)

Obviously young, but this is such a great style of wine, who cares? Lushly textured, with supple layers of sweet, ripe, juicy kirsch, black raspberry, wet earth, spice and garrigue. The wine is long, concentrated and fresh. Drink it now, if you like your Grenache young, or age it for secondary character and more softness.

3,137 Views

Tasted

May 23, 2016

2010
Domaine de Ferrand (Châteauneuf-du-Pape)

Even better than the 2009, this super wine has it all. The fruit is fabulous. It's ripe, sweet and fresh, with layers of cherries, black raspberries and kirsch. The texture is pure lushness. The wine is balanced, rich and like all great Southern Rhone wines, you can enjoy it now, or age it for more of a secondary, evolved experience. There is no touch of heat, this is just pure Chateauneuf pleasure.

4,492 Views

Tasted

Sep 17, 2015

2009
Domaine de Ferrand (Châteauneuf-du-Pape)

Really nice wine, with loads of juicy ripe, kirsch flavors, olives and herbs, rich, seductive textures and a fresh, sweet, peppery cherry finish.

3,403 Views

Tasted

Sep 17, 2015

2007
Domaine de Ferrand (Châteauneuf-du-Pape)

The nose, with its licorice, cherry, black raspberry, herb and wild strawberry profile is beautiful. On the palate, the wine is rich, full, deep and with darker fruit than expected. Lush and long, with ample, silky, ripe, but not overripe fruit in the finish, this is in its sweet spot.

2,216 Views

Tasted

Oct 13, 2020

Vibrant ruby in color, the wine pops with aromatics of kirsch, jam, charcoal, licorice and pepper. Richly textured, the sweet, fresh, strawberry, and black raspberry notes are pure and precise. Expressive, lively and supple, this is really singing at the top of its lungs today. This is a super wine in a really nice style.

3,802 Views

Tasted

May 15, 2016