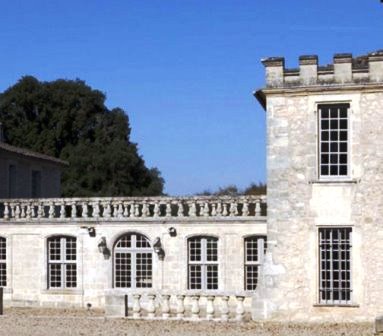 Learn everything about Chateau de Ferrand St. Emilion with wine tasting notes, wine and food pairings, best vintages, a history of the property, and information on the vineyards and winemaking. If you want to read about other important, Bordeaux Chateaux: Links to all Bordeaux Wine Producer Profiles
Chateau de Ferrand History, Overview
Chateau de Ferrand has a long history in St. Emilion as it was founded in the 17th century.de Ferrand has one of the oldest chateaus in the appellation. In fact, it too can be dated back to the 1600s, when it was built by the Marquis de Mons de Dunes.
Chateau de Ferrand is one of the few Bordeaux properties to have remained in almost the same family's hands since inception. In fact, as of today, Chateau de Ferrand has only been owned by two families throughout its entire history.
Chateau de Ferrand was purchased by the Bich family in 1978. If the name Bich seems familiar, it should. The family is famous for creating and owning the Bic pen company. Chateau de Ferrand is now also owned by a member of the Chandon Moet family, a name that might also sound familiar to you from their Champagne house, as they produced Dom Perignon.
Today, Pauline Bich Chandon-Moet and her husband, Philippe Chandon-Moet are responsible for managing Chateau de Ferrand.
Since the purchase by the Bich family, Chateau de Ferrand has been completely renovated and modernized. The entire winemaking facilities were completely rebuilt, including the vat room, cellars, and vineyards. In 2018, a second modernization was completed which included a new, tasting room and refurbishment of the chateau.
Chateau de Ferrand Vineyards, Terroir, Grapes, Winemaking
The 32-hectare vineyard of Chateau de Ferrand is planted with 70% Merlot, 29% Cabernet Franc and 1% Cabernet Sauvignon. This shows a continuing increase in the Cabernet Franc as well as a decrease in the Merlot. The Cabernet Sauvignon has almost been completely removed. The plan is to continue planting more Cabernet Franc.
Located in the eastern portion of the Saint Emilion appellation, the vineyard is planted in one large block of vines. POne of the key features here is their slopes and elevation, which rises to almost 100 meters at its peak.
The vineyard is planted to a vine density of 6,500 vines per hectare. Though newer plantings are done at much higher levels of density at 8,50 vines per hectare. The terroir is mostly limestone and clay soils. The soil can vary here quite a bit in-depth, depending on the parcel.
This diversity of soils can make it difficult for some vintages to achieve the same level of ripeness across their different parcels. On average, the vines range from 25 to 30 years of age. Chateau de Ferrand was certified as being 100% organic in 2024.
While the entire estate is 32 hectares, it is important to note that at least 10 hectares of their property is devoted to forest land, parks, and greenery.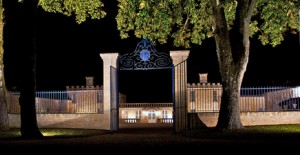 To produce the wine, the vinification takes place on a plot by plot basis in cement vats. The wines are aged in 30% new, French oak barrels for 12 months before bottling. This is a major reduction in the amount of oak being used here, which has really helped add more freshness and purity to the wines. In addition, a portion of the harvest is now being aged in neutral amphora.
Chateau de Ferrand is a large Saint Emilion estate. On average, they produce close to 13,500 cases of wine per vintage. There is a second wine, Chateau St. Poly, which was previously sold under the name of Chateau des Grottes.
The best vintages of Chateau de Ferrand are: 2022, 2021, 2020, 2019, 2018, 2017, 2016, 2015, 2010, 2009 and 2005. However, it is important to note that starting with the 2018 vintage, the wine being produced here made a big leap up in quality!
Prior to the 2010 vintage, Chateau de Ferrand was one of the few Bordeaux wine producers to age their wine in their cellars before it was sold to their clients. That is no longer the case as the wine is now sold as futures.
Selling the wine as a future is not all that is new at the property, one of the reasons for the recent spike in wine quality is due to bringing on Hubert de Bouard of Chateau Angelus as their consultant who works with the estate on their vineyard management, winemaking, and marketing. After de Bouard, they brought in Thomas Duclos as their consultant.
When to Drink Chateau de Ferrand, Anticipated Maturity, Decanting Time
Chateau de Ferrand is better with at least 2-4 years of bottle age. Of course, that can vary slightly, depending on the vintage. Chateau de Ferrand is best enjoyed in the first 4-12 years of life.
Young vintages can be decanted for about 1 hour or so. This allows the wine to soften and open its perfume. Older vintages might need very little decanting, just enough to remove the sediment.
Serving and Decanting Chateau de Ferrand with Wine and Food Pairings
Chateau de Ferrand is best served at 15.5 degrees Celsius, 60 degrees Fahrenheit. The cool, almost cellar temperature gives the wine more freshness and lift.
Chateau de Ferrand is best paired with all types of classic meat dishes, veal, pork, beef, lamb, duck, game, roast chicken, roasted, braised, and grilled dishes. Chateau de Ferrand is also good when it is matched with Asian dishes, rich fish courses like tuna, mushrooms, and pasta.
Château de Ferrand Wine Tasting Notes
13 Vintages 44,819 Views Sort by Vintage-Rating
2022
Château de Ferrand (St. Émilion Grand Cru)

Licorice, plums, black cherries, chocolate, and espresso open the wine with ease. Silky, soft, lush, and polished on the palate, the finish delivers ample layers of sweet, ripe, fruits, supple-textured red fruits with chocolately, espresso in the endnotes. The wine blends 66% Merlot with 34% Cabernet Franc. Drink from 2026-2042. 92-94 Pts.

619 Views

Tasted

May 8, 2023

2021
Château de Ferrand (St. Émilion Grand Cru)

Espresso, licorice, cocoa and red plums form the aromas. Bright, crisp, fresh, red berries with a touch of spice and underbrush are found in the energetic, bright, fresh, medium-bodied palate. Drink from 2023-2035. 89-91

1,208 Views

Tasted

May 20, 2022

2020
Château de Ferrand (St. Émilion Grand Cru)

Easily offering up its floral bouquet in the nose, the wine is soft, silky and fresh with a vibrant, medium-bodied core of soft, polished, fresh, red fruits, spice, chocolate, coffee bean and wet earth. Elegant and refined, with endnotes of licorice, espresso and plums, this is the finest vintage I have ever tasted from de Ferrand. Drink from 2024-2038.

2,008 Views

Tasted

Mar 21, 2023

The wine opens with licorice, flowers, espresso, wet earth, smoke and spicy plum aromas. Supple-textured, elegant, fresh, refined and lifted on the palate and in the mineral driven, spicy finish, this is a big step up here in richness, depth and complexity. In fact, this is the finest vintage I have ever tasted from de Ferrand. 91-93 Pts

1,389 Views

Tasted

May 20, 2021

2019
Château de Ferrand (St. Émilion Grand Cru)

Showing much better in the bottle than it did from the barrel, the nose, with its display flowers, mint, espresso, coco and red fruits gets you ready for all the silky-textured, sweet, soft, polished, refined fruits with a touch of chocolate on the palate and in the finish. You can enjoy this on release or age it a few years before opening a bottle. de Ferrand has been kicking up the quality here over the past few years, which is nice to see. Drink from 2022-2035.

753 Views

Tasted

Mar 29, 2022

My second time with this wine, as either I, or the initial sample was off that day. Right off the bat, aromatically, this seems like a better wine. Now, I find flowers, espresso, smoke, bitter chocolate, plums and oceanic influences Medium-bodied, with elegant textures and good freshness to the ripe fruits and a strong sensation of minerality, the wine is forward and should be easy to drink with just a few years of aging. 89-91 Pts

2,797 Views

Tasted

Jul 20, 2020

Medium-bodied, sweet and tart red fruits with an herbed, olive note in the bright finish. 87-89 Pts

1,864 Views

Tasted

Jun 8, 2020

2018
Château de Ferrand (St. Émilion Grand Cru)

Elegant soft, fresh and sweet, medium-bodied, silky, red berry focused charmer that is showing much better in bottle than it showed in barrel. You can enjoy this on the young side.

1,488 Views

Tasted

Mar 9, 2021

Floral in nature, the red fruits are fresh, spicy, earthy and bright. The wine is medium bodied with lift and vibrant red plums in the finish. 89-91 Pts

2,262 Views

Tasted

Apr 19, 2019

2017
Château de Ferrand (St. Émilion Grand Cru)

Medium bodied, soft red fruits and thyme are there from start to finish. This will be easy to drink on release.

2,822 Views

Tasted

Apr 26, 2018

2016
Château de Ferrand (St. Émilion Grand Cru)

Kicking off with a touch of oak, the wine moves to its medium bodied, elegant, polished, spicy, red berry side with ease. The finish is bright, sweet, tart and spicy.

2,515 Views

Tasted

Sep 21, 2019

Mineral driven with black raspberries, medium body and bright fruits in the finish, you can drink this on the young side

3,193 Views

Tasted

Apr 29, 2017

2015
Château de Ferrand (St. Émilion Grand Cru)

Forward, medium bodied, bright, almost tangy -- red fruits. For complexity you find thyme, earth and coffee bean nuances. You should drink this in its youth.

3,052 Views

Tasted

May 21, 2018

Medium-bodied with crisp, bright, fresh, spicy -- almost tangy -- red fruits with coffee bean and thyme accents.

2,441 Views

Tasted

Apr 29, 2016

2014
Château de Ferrand (St. Émilion Grand Cru)

Cigar box, smoke and dark red fruits with a sweet, slightly oaky, red fruit finish. 86-88 Pts

2,850 Views

Tasted

Apr 27, 2015

2013
Château de Ferrand (St. Émilion Grand Cru)

Light, sharp, bright red fruits and dusty tannins are coupled with the fresh, crisp, red fruit finish. 83-85 Pts

2,408 Views

Tasted

Apr 28, 2014

2012
Château de Ferrand (St. Émilion Grand Cru)

Simple, dry, short, crowd-pleasing wine. 85-87 Pts

3,778 Views

Tasted

Apr 26, 2013

2010
Château de Ferrand (St. Émilion Grand Cru)

Medium bodied, on the fresh, dark, red fruit side of the style range, this early drinking wine focuses you on its fresh, cherry, spice, earth and crisp, plum personality.

3,211 Views

Tasted

Dec 1, 2015

2009
Château de Ferrand (St. Émilion Grand Cru)

Forward, easy drinking, lighter in style, with a fresh, cherry, plum, licorice, espresso and spicy profile.

4,161 Views

Tasted

Nov 7, 2016