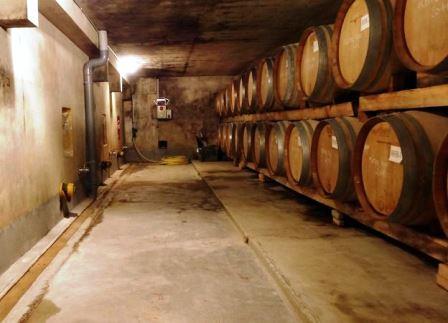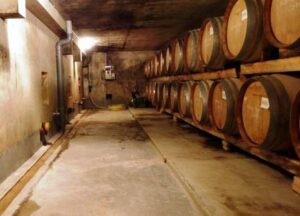 Learn everything about Chateau Saint Roch Chateauneuf du Pape with wine tasting notes, wine and food pairing tips, best vintages, a history of the property, and information on the vineyards and winemaking. If you want to read about other important wineries and wine makers from the Rhone valley: Links to all Rhone Valley Wine Producer Profiles
Chateau Saint Roch History, Overview
Chateau Saint Roch has been an active property in Chateauneuf du Pape for quite a while. In 1955, the estate, located in Roquemaure was purchased by the Verda family.
In 1998, the Verda family sold the vineyards to the Brunel family. The Brunel family are a well-known, established family in the Southern Rhone Valley as they have owned and managed the popular Chateau de la Gardine since 1948.
Ere Brunel, who is the wife of Patrick Brunel, is in charge of the estate. She is in charge of making the wine at Chateau Saint Roch.
Chateau Saint Roch Vineyards, Wines, Winemaking
The vineyards of Chateau Saint Roch cover 2 hectares in the Chateauneuf du Pape appellation.
Chateau Saint Roch produces 1 Chateaunef du Pape Rouge wine.
Chateau Saint Roch is made from a blend of 55% Grenache, 22.5% Mourvedre and 22.5% Syrah. On average, the vines are more than 30 years of age. The grapes are destemmed.
Vinification takes place in cement tanks. The wine is aged for 12-14 months before bottling in a combination of used French oak barrels and cement vats. The production of Chateau Saint Roch is on average, 600 cases per vintage.
When to Drink Chateau Saint Roch, Anticipated Maturity, Decanting Time
Chateau Saint Roch can be enjoyed on the young side. Young vintages can be popped and poured, or decanted for about 1 hour, give or take. This allows the wine to soften and open its perfume. Older vintages might need very little decanting, just enough to remove the sediment.
Chateau Saint Roch is usually better with 2-4 years of bottle age. Of course that can vary slightly, depending on the vintage. In the best vintages the wine should be consumed within 3-10 years after the vintage.
Serving Chateau Saint Roch with Wine, Food Pairing Tips
Chateau Saint Roch is best served at 15.5 degrees Celsius, 60 degrees Fahrenheit. The cool, almost cellar temperature gives the wine more freshness and lift.
Chateau Saint Roch is best served with all types of classic meat dishes, veal, pork, beef, lamb, duck, game, roast chicken, roasted, braised, stewed dishes, sausage, barbecue and cassoulet. Chateau Saint Roch is also good with Asian dishes, hearty fish courses like tuna, mushrooms, pasta, eggplant, cheese and tomatoes.
Chateau Saint Roch also produces red and white wine from 36 hectares of vines planted in the Cotes du Rhone and Lirac appellations.
Château Saint-Roch (Rhone) Wine Tasting Notes
5 Vintages 5,903 Views Sort by Vintage-Rating
2014
Château Saint-Roch (Rhone) (Châteauneuf-du-Pape)

Polished, and sweet, the wine is medium bodied, fresh and loaded with lush, cherries and olives. Forward, round and ready to go, this is already fun to drink.

902 Views

Tasted

Jun 23, 2016

2012
Château Saint-Roch (Rhone) (Châteauneuf-du-Pape)

Sweet and silky, this medium bodied wine delivers freshness in its cherry and plum finish. Produced from 40% Grenache and equal parts Mourvedre and Syrah, the wine reached 14.5% ABV.

1,623 Views

Tasted

Sep 10, 2014

2011
Château Saint-Roch (Rhone) (Châteauneuf-du-Pape)

Fennel and garrigue, complicated by spearmint and red berries develop into a soft, medium bodied, spicy, red kirsch filled wine.

1,157 Views

Tasted

Aug 19, 2014

2010
Château Saint-Roch (Rhone) (Châteauneuf-du-Pape)

Easy drinking, medium bodied, kirsch and herb filled wine with an earthy, spicy, cherry finish topped with licorice notes.

1,220 Views

Tasted

Nov 19, 2015

2009
Château Saint-Roch (Rhone) (Châteauneuf-du-Pape)

Forward, lush, spicy peppery and ripe, with loads of juicy, sweet, fresh, round, red cherries, licorice and herbs.

1,001 Views

Tasted

Mar 6, 2018