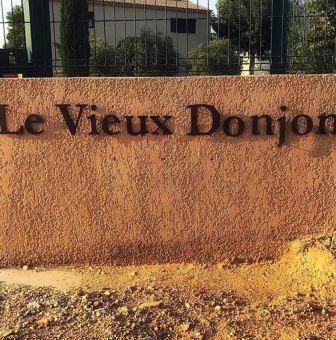 Learn everything about Le Vieux Donjon, Chateauneuf du Pape with wine tasting notes, wine and food pairing tips, best vintages, a history of the property and information on the vineyards and winemaking. If you want to read about other important wineries and wine makers from the Rhone valley: Links to all Rhone Valley Wine Producer Profiles
Vieux Donjon History, Overview
Le Vieux Donjon is a fairly new winery. Especially if you use European standards. Vieux Donjon was formed in 1966 by Marcel Michel. Prior to that date, their harvest was sold in bulk to negociants. Since 1979, Vieux Donjon has been managed by Lucien Michel and Marie Michel.
Following in the footsteps of their families young tradition, their daughter Claire Michel, (who is now Claire Fabre, as she changed her name when she married Adrien Fabre of Domaine la Florane and Domaines de l'Echevin), manages Vieux Donjon along with her brother François Michel.
Claire Fabre, like many young winemakers all over the world, learn their part of the wine making trade by working as an intern at a different winery. That tradition often takes place with the aspiring intern moving to another country for a period of time.
Claire Fabre worked as an intern at one of the top wineries in Napa California, Harlan Estate to learn more about the wine trade. So, when you meet her, do not be surprised about her love of Cabernet Sauvignon and other wines from California and the Napa Valley!
Since taking over, the brother and sister team has slowly modernized the estate. In 2013 they inaugurated a new tasting room as well as updated the entire winery.
Vieux Donjon Vineyards, Wines, Winemaking
The 18 hectare Southern Rhone vineyard of Vieux Donjon is divided as follows. 17 hectares of vines are devoted to the production of red Chateauneuf du Pape wine grapes. 1 hectare of vines is used for white wine grapes. The best parts of the Vieux Donjon vineyards are planted to old vine Grenache.
Many of those vines are close to 100 years old. In fact, more than 33% of their vines are more than 100 years of age! They have vines placed in different parts of the Chateauneuf du Pape appellation in the Le Pied Long, Bois de Boursan, Le Mourre de Gaud, Champigne and Cabrieres lieux-dits.
They also own vines planted in sandy soils not too far from Chateau Rayas. As you can see from their vineyards, Vieux Donjon is not far from Cabrieres and Mont Redon.
Le Vieux Donjon is an organically farmed, traditional style of Chateauneuf du Pape that ages well and sells for a fair price. Vieux Donjon is mostly traditional in their wine making as they only partially destem the grapes, a practice they began in 1993.
Vieux Donjon is another important estate that does not produce a special high-end wine. With all their old vines, this is something they could easily do, but they chose not to, as they think it will harm the blend for their main wine. Philippe Cambie works as the consultant.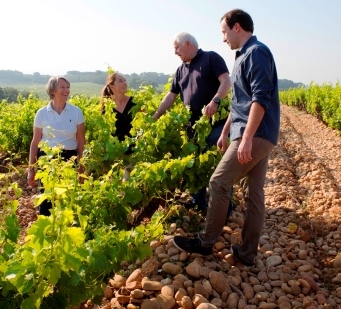 The best vintages of Le Vieux Donjon are: 2022, 2021, 2020, 2019, 2018, 2017, 2016, 2015, 2012, 2010, 2009, 2007, 2005, 2001, 2000, 1998 and 1990.
Le Vieux Donjon produces 2 Chateauneuf du Pape wines, a Chateauneuf du Pape Rouge and a white Chateauneuf du Pape wine. However, a special cuvee was produced by Vieux Donjon in 1990 and 1998. This was limited to between 25 and 100 cases. The bottles display a gold sticker that is marked; "Vieux Donjon Cuvee Especiale".
Le Vieux Donjon Rouge is usually a blend of 75% Grenache, 10% Mourvedre, 10% Syrah and 5% Cinsault, along with various other grape varieties added in small amounts. On average, the vines are more than 50 years of age, with many of the vines being older than 100 years.
The grapes are destemmed to various percentages, depending on the vintage. During fermentation at Vieux Donjon, all the grape varieties are vinified together, with the exception of the Mourvedre. The winemaking here is traditional.
Vinification takes place in traditional, square shaped, red concrete vats and aged for 18 months in a combination of 80% foudres and the remaining 20% is aged in cement vats before bottling. The production is close to 4,200 cases per vintage.
Le Vieux Donjon Blanc which made its debut in 1993, is made from 50% Roussanne and 50% Clairette. The wine is completely aged in stainless steel tanks for 6 months. With only 1 hectare of vines, the production is quite small, on average, they produce about 300 cases of wine per vintage.
When to Drink Le Vieux Donjon, Anticipated Maturity, Decanting Time
Le Vieux Donjon can be enjoyed on the young side. However, it is better for young vintages to be decanted for 1-2 hours. This allows the wine to soften and open its perfume. Older vintages might need very little decanting, just enough to remove the sediment.
Le Vieux Donjon is usually better with 4-5 years of bottle age. Of course that can vary slightly, depending on the vintage. In the best vintages the wine should be consumed within 5-20 years after the vintage.
Serving Le Vieux Donjon with Wine, Food Pairing Tips
Le Vieux Donjon is best served at 15.5 degrees Celsius, 60 degrees Fahrenheit. The cool, almost cellar temperature gives the wine more freshness and lift. Vieux Donjon is best served with all types of classic meat dishes, veal, pork, beef, lamb, duck, game, roast chicken, roasted, braised, stewed dishes, barbecue, sausage, cassoulet and cheese. Vieux Donjon is also good with Asian dishes, hearty fish courses like tuna, mushrooms pasta, eggplant and tomatoes.
The white wine of Vieux Donjon is best served with a myriad of different seafood dishes, shellfish, crab, lobster, sushi, sashimi, chicken, pork and veal, as well as Asian cuisine.
Le Vieux Donjon also produces wine from vines they own outside of Chateauneuf du Pape in the Minervois and Languedoc Roussillon appellations.
Le Vieux Donjon Wine Tasting Notes
16 Vintages 128,698 Views Sort by Vintage-Rating
2020
Le Vieux Donjon (Châteauneuf-du-Pape)

Plums, flowers, cherries, spice and kirsch shine in the nose and it gets even better as you dig in to all the layers of supple-textured, creamy, ripe, plus, ripe, sweet, pure fruits on the palate and in the finish. The wine blends mostly old vine Grenache with Mourvedre, Syrah and Cinsault. Drink from 2023-2036.

2,389 Views

Tasted

Jan 27, 2023

2019
Le Vieux Donjon (Châteauneuf-du-Pape)

Dark, meaty red berries, black pepper, wet earth and garrigue take no effort to find. Rich, lush, fresh and sweet red fruits glide over your palate with a long, hit of dark red cherries and spice with more of that black pepper creates the finish. Give it a few years in the cellar and it promises to be even better. The wine was made from a blend of usually about 75% Grenache, with Mourvedre, Syrah and Cinsault. Drink from 2025 - 2035

6,517 Views

Tasted

Jan 9, 2022

2016
Le Vieux Donjon (Châteauneuf-du-Pape)

Garrigue, thyme and oceanic notes create the nose, before you begin getting into the ripe, peppery, red fruits. On the palate the wine is rich, lush, long and sings with a real depth of flavor that holds on through the long finish. Give it a few years in the cellar and it promises to be even better. The wine was made from a blend of 75% Grenache, 10% Mourvedre, 10% Syrah and 5% Cinsault.

7,185 Views

Tasted

Sep 15, 2018

2015
Le Vieux Donjon (Châteauneuf-du-Pape)

Forward, medium bodied, earthy, cherry filled wine with kirsch, flowers and raspberry notes. Open, soft and if you like young Grenache, drinkable today, else give it 3-5 years.

6,902 Views

Tasted

Mar 1, 2019

2012
Le Vieux Donjon (Châteauneuf-du-Pape)

Roses, kirsch and spice create the nose. The wine is fresh, supple and invigorating with its peppery, kirsch and spicy blackberry essence. The wine was made from a blend of 75% Grenache, 10% Mourvedre, 10% Syrah and 5% Cinsault.

4,248 Views

Tasted

Sep 10, 2014

2010
Le Vieux Donjon (Châteauneuf-du-Pape)

Blackberry, licorice, truffle and black raspberry scents emerge with little effort. In the mouth, the wine is lush, round and concentrated. With tannins and structure to age, give it a few years before popping a bottle.

9,067 Views

Tasted

May 29, 2013

Blackberry, licorice, truffle and black raspberry scents emerge with little effort. In the mouth, the wine is lush, round and concentrated. With tannins and structure to age, give it a few years before popping a bottle.

7,928 Views

Tasted

Mar 21, 2012

2009
Le Vieux Donjon (Châteauneuf-du-Pape)

Surprisingly forward and open, as the wine is often late in offering pleasure, the combination of kirsch, black raspberry, pepper and garrigue scents paired with luscious, ripe, sweet, peppery, fruits made this quite nice indeed.

5,181 Views

Tasted

Aug 11, 2013

2007
Le Vieux Donjon (Châteauneuf-du-Pape)

Much better than my previous bottle from the same case, this was rockin'! With loads of sweet, ripe, juicy, peppery, red berries, the wine offers richness on the palate and a peppery, garrigue, kirsch and black raspberry complexity on the nose. Splash decanted, this was a treat the moment it made its way from my glass to my palate.

4,736 Views

Tasted

Nov 12, 2018

This seems to have changed since the last time, I recall tasting it. There is a pronounced fig, and jam note in the otherwise, delightful perfume. But those over ripe notes take away from the truffle, earth, garrigue, wet earth and hard to find, dark cherry fruits. Fat, round and not exactly low in acid, but lacking the freshness I want. If you are sitting on any my instincts is to finish them sooner than later.

5,275 Views

Tasted

Apr 24, 2017

Enticing aromas of earth, black pepper, plums, kirsch and fresh herbs get you going. The wine is rich, soft, sweet, lusty and open for business.

7,288 Views

Tasted

Feb 27, 2014

Deep in color, the wine required coaxing to bring out its licorice, pepper, garrigue, cherry and black raspberry scents. Rich, fat and concentrated, this rich Chateauneuf du Pape ends with a long, spicy, kirsch filled finish.

11,506 Views

Tasted

Nov 16, 2011

2006
Le Vieux Donjon (Châteauneuf-du-Pape)

Medium bodied, traditionally styled Chateauneuf du Pape showing kirsch, earth and spice characteristics. This is already starting to show well.

5,603 Views

Tasted

May 11, 2012

2005
Le Vieux Donjon (Châteauneuf-du-Pape)

Powerful, fresh, long, ripe, structured and tannic, this is now out of its shell and displays its wealth of ripe red fruit, black pepper, herbs and spice. Good now, this could even be better with more age.

4,044 Views

Tasted

May 31, 2014

2004
Le Vieux Donjon (Châteauneuf-du-Pape)

Ready to go, medium bodied, with a fresh, kirsch, spice and garrigue nose, there is a lot of freshness in the sweet, ripe, spicy, peppery, red berry finish.

3,514 Views

Tasted

Aug 9, 2016

2001
Le Vieux Donjon (Châteauneuf-du-Pape)

Wild strawberry, mint, licorice, kirsch and peppery chocolate on the nose focuses you on what comes next. Layers of sweet, spicy, creamy cherries and spice which roll from the glass in layers. This is at perfect maturity today. Pop, pour and enjoy. Drink from 2023-2028.

2,753 Views

Tasted

Jan 10, 2023

If barnyard is not your thing, you came to the wrong place as this wine is loaded with barnyard stink. On top of that you find, garrigue, pepper, kirsch, lavender and wild strawberry notes. Full bodied, with a gentleness to the texture, there is an appealing rustic charm to the fresh, spicy, red fruits in the. At 15 years of age, this is in the sweet spot.

3,496 Views

Tasted

Mar 5, 2016

Winner, winner, winner, chicken dinner here! The nose explodes with its earthy, barnyard, kirsch, tobacco and licorice personality. The wine is rich, full bodied, concentrated, lush and packed with sweet, juicy fruit. Drinking at perfection, if you have a bottle, pop a cork.

3,463 Views

Tasted

Nov 14, 2015

Kirsch, garrigue, earth, jam, pepper and raspberry aromatics mesh well with the concentrated, deep, ripe flavors, supple textures and long, fresh, spicy, black cherry finish. This is drinking great today and it should remain at this level for at least another 5-10 years.

5,649 Views

Tasted

Jun 14, 2011

2000
Le Vieux Donjon (Châteauneuf-du-Pape)

I love hitting wines in the sweet spot. Looking slightly older than its true age, the wine pops with kirsch, garrigue, spice box, earth, sea water, (but in a good, briney way) with a bit of licorice in the end of the bouquet. Luscious, fresh textures with a lingering, sweet, pure kirsch note in the finish. There is no reason to wait any longer to pop a cork on this beauty. Do not decant, this is really ready to go.

3,044 Views

Tasted

May 3, 2015

Pepper, jammy black cherries, licorice and garrigue add to the aromatics. Soft, smooth and round in the mouth, the wine ends with spicy, sweet cherries. This is drinking in the perfect sweet spot, there is no reason to hold off popping a cork.

3,614 Views

Tasted

Jan 2, 2013

Jammy blackberry, pepper, kirsch. Provencal herbs, lavender and earthy scents permeate the your senses. Full bodied, luscious, fresh, peppery black cherry liqueur flavors fill your mouth. This Chateauneuf du Pape is drinking perfectly. If you're looking for pleasure and a good time, this wine is up to the task.

6,032 Views

Tasted

Feb 15, 2011

1998
Le Vieux Donjon (Châteauneuf-du-Pape)

This beauty is drinking right where you want it to be. The ripe, sweet, fresh, peppery fruit is all there, with its earth, kirsch and garrigue profile. The wine is richly textured, full bodied, long, fresh and clean, leaving you with a trail of sweet, lush fruits in the end note. At close to 18 years of age, there is no reason to hold off any longer. The wine was produced from a blend of 75% Grenache, 10% Syrah, 10% Mourvedre and the remaining 5% comes from various, assorted varietals.

4,028 Views

Tasted

Sep 6, 2015

1998
Le Vieux Donjon Cuvée Spéciale (Châteauneuf-du-Pape)

Probably past its best days, without hesitation, the wine offers dark cherries, fig, kirsch, spice and herb notes. Lush, round, filling, but lacking excitement and length, there is ample ripe, overripe, sweet, dark red fruits on the palate with a dose of fig in the endnote. If you own a bottle of this rare wine, you really need to pop the cork, as its best days were probably several years ago.

1,662 Views

Tasted

Jan 31, 2021

1990
Le Vieux Donjon (Châteauneuf-du-Pape)

Dense, big, meaty wine. Pepper, jammy black fruit, and fresh herbs. Very concentrated with a chewy texture and lots of red and black peppery fruit.

3,574 Views

Tasted

Jul 25, 2005