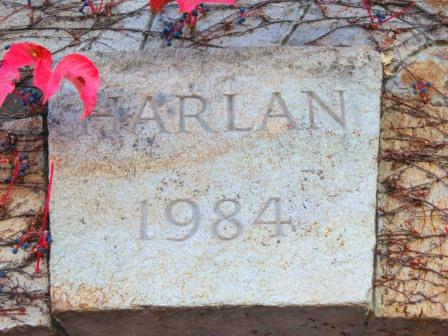 Everything about Harlan Estate, Napa Valley California Cabernet Sauvignon wine producer profile, wine tasting notes, wine and food pairing tips, best vintages, history of the property, information on their wine making techniques, terroir and soil. You can also read about the Grapes used for California wine and learn about the extensive History of Napa Valley, California Wines
Harlan Estate History, Overview
Like many of the famous names making wine in Napa, Bill Harlan owes a debt of gratitude to Robert Mondavi. It was a trip to Bordeaux and Burgundy with Mondavi that inspired Bill Harlan to create his vision of a First Growth California winery. It took only a few years before Bill Harlan created Harlan Estate in 1984. Prior to starting Harlan Estate, Harlan led a colorful life. He flew planes, gambled professionally as a Poker player and eventually settled on a career in real estate buying and selling properties and converting apartments to condominiums.
With his experience in real estate, he knew a value when he saw one. It was a run down country club that Bill Harlan turned into the number one hotel and resort in the Napa Valley, Meadowood. Shortly after that, Harlan began purchasing undeveloped land from the Stelling family, which soon became Harlan Estate. The wine of Harlan Estate were several years in the making. The early vintages were not commercially released. To learn more about the wine business, Bill Harlan created Merryvale, with the help of winemaker, Bill Levy, who is still with the Harlan team today.
According to Bill Harlan, his goal was to produce a Bordeaux First Growth equivalent in California. He's achieved that in spades with Harlan Estate based on the quality, price and status his wine has in the marketplace. All that, and they sell futures too!
The creation of Harlan Estate dates back almost three decades. The project first took hold in 1984. That year, Harlan began planting the vines for what would later become Harlan Estate. They started with only 6 acres, which of course expanded with time. The vineyard plantings consist of 70% Cabernet Sauvignon, 20% Merlot, 8% Cabernet Franc and 2% Petit Verdot. That varietal combination would be at home in Bordeaux in any First Growth property located in the Medoc. The winery at Harlan was built in 2002.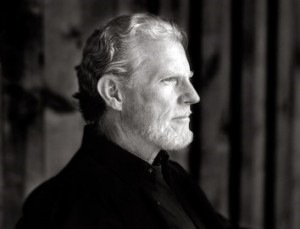 Harlan Estate Vineyards, Wines, Winemaking
The 36 acre vineyards of Harlan Estate are located on some of the better elevations and soils in the Oakville appellation. From the vineyards, you get great views of the Napa Valley. One of the keys to the terroir of Harlan Estate is the elevation. This ranges from a low of 225 feet to an impressive 1225 feet above sea level. Harlan Estate vineyards are in truth, just one piece of a bigger estate. In total, the property of Harlan Estate includes more than 240 acres of land! Everything is not planted. A lot of the surface area is relegated to the picturesque hills, valleys and amazing views from various overlooks.
All great wines share a common thread, they are produced in the vineyard. At Harlan Estate, that starts with a policy of severe selection in the vines and in the cellars. To insure the elegant textures, freshness and complexity Harlan Estate is known for, they completely destem the grapes. The fruit is whole berry fermented and they avoid pumping over. Harlan Estate wines are fermented in small, open top vats. Malolactic fermentation takes place in 100% new French oak. The wine remains in barrel for 24-36 months, depending on the vintage. With time, the oak fades as it becomes integrated into the wine.
The first commercial vintage of Harlan Estate was released in 1990. Prior years were made for friends and family. The team at Harlan Estate has remained relatively consistent over the years. The team starts with Don Weaver, estate director, Bill Levy, wine growing director, Mary Maher, vineyard manager, winemaker, Cory Empting and Michel Rolland, who is their consultant. Don Weaver is the long time director of Harlan Estate.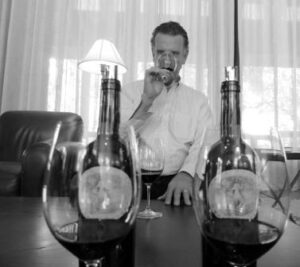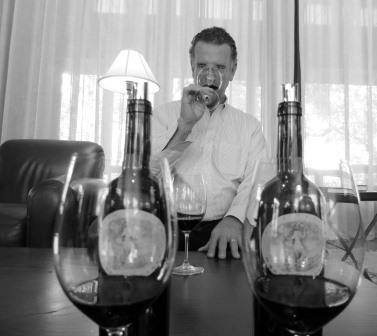 The average annual production of Harlan estate varies from vintage to vintage. It ranges from a low of 1,200 cases to slightly over 2,000 cases. Harlan Estate also produced a second wine. The Maiden made its debut in 1995. While some consumers consider the Maiden a second wine, that is not case, according to Harlan. The Maiden is always a completely different blend than you find in Harlan Estate, making it its own unique wine. The average annual production of the Maiden is close to 900 cases per vintage.
Harlan Estate Wine is expensive. The wine is sold direct to customers on Harlan's mailing list. The current release costs over $500 per bottle. Is it worth it? That depends on your income level and desire to drink one of the best wines made from California Cabernet Sauvignon. From a quality point of view, you're going to have a hard time finding a better expression of California Cabernet.
What do the wines of Harlan Estate taste like?
Harlan Estate produces a unique expression of California Cabernet Sauvignon. With a powerful perfume, the wines are rich, deep, concentrated and intense. Yet there is a sense of elegance and purity of fruit that meshes perfectly with all the power. When it's young, in very ripe vintages, the wine can seem over the top, but with time, those sensations mature allowing the wine to deliver one of the best tasting experiences found in modern California Cabernet Sauvignon wine. Harlan Estate is truly a world class wine, with prices to match. Harlan Estate has over the years become a mythical California Cabernet. Only Screaming Eagle is held in higher esteem in the marketplace. How did this happen and how are some of the wines showing today?
Serving and Decanting Harlan with Wine, Food, Pairing Tips
Harlan wines are best served at 15.5 degrees Celsius, 60 degrees Fahrenheit. The cool, almost cellar temperature gives the wine more freshness and lift. Young vintages of their red wine can be decanted for 1-3 hours, depending on the character of the vintage. This allows the wine to soften and open its perfume. Older vintages might need very little decanting, just enough to remove the sediment.
The red wine of Harlan is best served with all types of classic meat dishes, veal, pork, beef, lamb, duck, game, roast chicken, ribs, hamburgers, barbecue, roasted, braised, grilled dishes and stews. Harlan is also good with Asian dishes, hearty fish courses like tuna, salmon, mushrooms and pasta.
Harlan Estate Wine Tasting Notes
26 Vintages 351,680 Views Sort by Vintage-Rating
2015
Harlan Estate (Oakville)

The perfectly ripe, dense, black and blue fruits are the first thing you notice. But as you peer further into the caliginous wine, you find this cool, refreshing note combining dark red berries accompanied by incense, smoke, forest leaf and a light, background hint mint. On the palate, the wine balances power, restraint, elegance and purity. Complicated and concentrated, the wine is fleshy, rich, silky, mouth-filling and vibrant. The finish sits with you for close to one full minute. My instinct suggests 12-15 years in the cellar will complete the experience.

8,302 Views

Tasted

Nov 13, 2018

2014
Harlan Estate (Oakville)

An early drinking vintage of Harlan, say it isn't so! Most vintages of Harlan demand cellaring time, as if it was its right to do so. But the 2014 is deceptively easy to drink, almost forward in style. Powerful, with strong tannins and even more fruit, which due to its velvety textures and graceful style, overwhelms the tannins. The fruits are as dark in color as the wine, but there are cracks and crevices where, dark red, smoky berries, wet earth, cigar wrapper and spice poke through. The wine sticks with you from the first sniff, through the palate entry and doesn't leave for up to 50 seconds, after the finish.

6,319 Views

Tasted

Sep 8, 2017

2014
Harlan Estate The Maiden (Napa Valley)

Opulent, lush, round, juicy, spicy, dark fruits hit the spot. Blackberries meld with black cherries, licorice, espresso and earth, to create the aromatics. Open and forward, this will rock on release.

6,021 Views

Tasted

Sep 8, 2017

2013
Harlan Estate (Oakville)

Kicking off with a hint of oak, smoke, which quickly morphs to its lush, sensuous, powerful, full bodied approach. The wine builds and expands in your mouth and keeps going. When you return to the wine, you find an intriguing citrus, orange blossom note hidden in the background that adds to the continually expanding levels of complexity. This must remain with you for more than 60 seconds. But this is no shy wine. It is powerful, concentrated, complex and needs time to really come together.

9,305 Views

Tasted

Sep 5, 2016

The first thing you notice is the inky, dark hue. The perfume is only subtly oaky. The smoke, licorice, fresh picked blackberry, cassis, earth, boysenberry and hints of vanilla, tinged espresso beans. On the palate, the wine is deep, powerful and concentrated, it retains a freshness and vibrancy that keeps everything in balance. This is not over the top, or even close to too much, a common refrain from some tasters. There is no sensation of heat. It's on the refined, elegant, complex side of the style range with a finish that does not want to go quietly into that good night. The wine is going to need at least a decade to show at its best. This is one of the better examples of a young vintage of Harlan Estate I can remember tasting. As a matter of style, 2013 Harlan Estate is closer to the 2001 than the 2002 vintage.

15,099 Views

Tasted

Aug 29, 2015

2013
Harlan Estate The Maiden (Napa Valley)

Earthy in its personality, with a blast of ripe boysenberry, dark chocolate and fresh mint. Silky, polished and with a freshness that gives a great sensation of lift, there s ample concentration coupled with perfectly ripe fruit, making this clearly the best vintage yet of the Maiden.

6,216 Views

Tasted

Sep 5, 2016

2012
Harlan Estate (Oakville)

Intensity, purity, power and elegance are all wrapped up with waves of sweet, lush, polished, dark boysenberries that remain with you for close to 50 seconds. Give this at least a decade to develop and you'll be amply rewarded for your patience with additional levels of complexity and silkier textures.

5,987 Views

Tasted

Sep 5, 2016

Deep, dark ruby with blue, purple accents in color. Notes of smoke, vanilla, boysenberry, blackberry, cassis and campfire embers create the aromatics. On the palate, the wine is powerful, concentrated, lush, fat and sweet, it coats your palate with a deep purple tint. With silky, velvet textures and ample weight and density in the mouth, the spicy, chocolate covered fruits linger for at least 60 seconds. Perhaps I like the 2013 Harlan just a bit more, but my guess is, I could change my mind on that in the future. I just hope I get the chance to compare those two wines back to back some day.

4,686 Views

Tasted

Sep 22, 2015

2012
Harlan Estate The Maiden (Napa Valley)

Dusty, earthy nose, with just a hint of truffle in the background. Silky textures, freshness and a long, youthful finish that keeps you focused. Give this a few more years to develop.

3,057 Views

Tasted

Sep 5, 2016

Deep in color, with licorice, black coffee, smoke, earth, blackberry and boysenberry on the nose. The medium/full bodied, elegant wine is soft, forward and open for youthful pleasure, with a dusty, ripe, sweet, lush, black cherry character from start to finish.

4,127 Views

Tasted

Sep 22, 2015

2011
Harlan Estate The Maiden (Napa Valley)

Blackberry, fig and black cherry make a surprise showing. The ripeness on the nose is surprising for 2011. Medium bodied, finesse styled, with a dusty, cocoa, herb and cherry tinged finish. This is already drinking at close to peak.

3,341 Views

Tasted

Sep 5, 2016

2010
Harlan Estate (Oakville)

Silky, sensuous, lush, polished and powerful, this concentrated, rich, deeply colored Cabernet Sauvignon offers incredible depth of flavor, with waves of chocolate covered blackberries, smoke, toffee, espresso, fudge, boysenberry and black cherries. The wine is balanced, long and fresh, with an intriguing floral element.

5,829 Views

Tasted

Aug 25, 2015

Licorice, espresso bean, earth, graphite, cassis, blackberry, fresh herbs, tobacco open the perfume. In the mouth, the wine is polished, soft and already open. The texture is lush and polished, but it lacks the level of density and concentration found in the best vintages. There is a touch of olive tapenade in the end notes.

6,778 Views

Tasted

Dec 4, 2012

2009
Harlan Estate (Oakville)

Inky purple in color, with a beautiful nose of fresh picked, blackberry, boysenberry and blueberries, complicated by, charcoal, hot stone, vanilla, jam, and floral aromas. This is finesse style of Harlan Estate, rich in texture, lush, soft and with a beautiful sense of purity and elegance. The wine is polished with no hard edges. It should also drink well young.

4,356 Views

Tasted

Aug 23, 2013

Lush, rich, concentrated and packed with notes of fresh, roasted espresso bean, earth, licorice, boysenberry and smoke, this is an elegant, fresh, silky wine of purity and intensity, that offers the difficult combination of refinement and power.

6,805 Views

Tasted

Dec 5, 2012

2008
Harlan Estate (Oakville)

Young, with all the hope and promise of a better future, here you find a deeply concentrated, full bodied, powerful wine, with the added complexities of licorice, blackberry, black cherry, espresso, smoke, fudge and just a hint in the background of blueberry pie. The wine is full bodied, tannic, plush and polished. At this stage, there is a touch of heat in the finish that will probably lessen and eventually fade away with time. Give it up to decade in the cellar, or 2-3 hours of air before popping a cork.

3,232 Views

Tasted

Feb 3, 2018

The wine opens with chocolate, fresh herbs, blackberries, truffle, oak, forest floor and cassis notes. Polished, soft, sweet and supple textured, with a chocolate coated, boysenberry finish.

3,488 Views

Tasted

Dec 5, 2012

2007
Harlan Estate (Napa Valley)

Incredibly deep in color. The next thing you notice is the pungent aromas of truffle, coffee bean, blackberry jam, blue fruit, black cherry, spice box, caramel, chocolate and smoke. In the mouth, the wine coats your palate with waves of silky, pure fruit that fills every nook and cranny of your palate. Everything is perfectly balanced. This stunning expression of Harlan Estate is effortless is to drink. If you have the funds and the desire to experience California Cabernet Sauvignon at its decadent best, this is perfection in a glass.

8,303 Views

Tasted

Dec 5, 2012

2006
Harlan Estate (Napa Valley)

Wow! Talk about a wine with a lot going on. Initially, you discover the multiple layers of fruit. But it is the refined character, the soft, polished, silky tannins and the complexity that keeps you going back for another taste of all that ripe, deep fruit. Powerful, but elegant, this is gorgeous. Still young, it's a nice time to start opening your bottles, but there is no hurry, as they are going to age for decades with ease.

2,625 Views

Tasted

Aug 27, 2019

The darkness in the hue carries through to the dark, black, ripe, sweet fruits that permeate the wine. Licorice, smoke, touches of blueberry, earth and spice are evident in the nose. Concentrated, powerful, but balanced and polished, this is drinking well today, but another 3-5 years will add more complexity and softness to the wine.

2,902 Views

Tasted

Feb 3, 2018

Powerful, intense, full bodied and packed with layer after layer of deep, ripe, juicy black fruits, this is no shy wallflower. There is depth, complexity and length. The wine coats your palate and remains there for close to 50 seconds! Still young, I have no doubt this will be drinking even better 20 years from now.

3,992 Views

Tasted

Apr 14, 2017

There is ample layers of licorice, boysenberry, blackberry, blueberry, vanilla, earth and smoke, with a richness and sense of purity to the fruit to keep any taster busy.

4,463 Views

Tasted

Oct 31, 2014

Still young, the wine starts unwrapping its charms with boysenberry, truffle, smoke, caramel, vanilla, jam and black cherry aromas. Incredibly lush, rich, ripe, dense, sweet and mouth filling, there is a great persistence of fruit on the palate that ends with a concentrated blast of sweet, ripe, luscious fruits with no hard edges at any point in the experience. There is a purity in the fruit matching the wine's power with elegance. It's not just the score that expresses the pleasure of the wine being tasting. Much of it is about the style. The 2006 Harlan Estate is a very stylish style of California Cabernet Sauvignon that if you can afford it, or if you have a wealthy friend with a bottle in their cellar, if possible, you should try and taste this wine.

5,080 Views

Tasted

Aug 24, 2013

2005
Harlan Estate (Napa Valley)

Clearly this is a very good wine, but there is a touch of hardness and rusticity to the tannins that detracts from its other, positive attributes. Still, it is hard not to dig the concentrated, layers of sweet, fleshy, ripe, richly textured, dark black and blue fruits that are there from the start, through to the finish.

3,842 Views

Tasted

Feb 3, 2018

Still young, the wine needs at least a few more years to come together before all the sweet fruits, oak and tannin calm down and flesh out. This has the concentration and stuffing to age and develop for at least another 15-20 more years.

3,936 Views

Tasted

Feb 6, 2015

Silky, lush, soft and polished, the aromatics offers smoke, truffle, blackberry, vanilla and cocoa aromas. The elegant, poised finish ends with sweet, ripe, black cherries and dark chocolate. There is a hint of dust on the back note in the finish. This is in a great place for current consumption.

4,511 Views

Tasted

Aug 23, 2013

2004
Harlan Estate (Napa Valley)

Just stunning in every sense, the wine balances extreme levels of power, concentration and elegance, which is hard to do. Very ripe, but not overripe, the fruit is dark, sweet, ostentatious and refined. The wine is never tiring, instead, it is enthralling to taste. Every sip provides another experience, and isn't that what all great wines do?

2,440 Views

Tasted

Sep 21, 2020

This is just great in every sense of the word. With a nose that shouts quite loudly about its smoke, incense, fruit cake, blackberry, port and black cherry aromatics, the wine is concentrated, full bodied, opulently textured, balanced and intense. Still youthful, yet definitively drinking well now, the finish is loaded with plush, opulently textured, ripe, dark fruits that really linger. I'm sure this is the wine of the vintage.

4,891 Views

Tasted

Feb 3, 2018

Served blind, there was no way a taster could avoid the mountain of silky pleasure in the glass. Licorice, smoke, black cherry, jam, espresso and earthy scents combined with lush, fat, perfectly ripe berries and a long, fresh, sensuous finish. Wow! This was probably decanted about 20 minutes before serving.

4,553 Views

Tasted

Dec 24, 2013

Deep in color with a flamboyant, expressive nose packed with licorice, black cherry, blackberry, coffee, smoke, earth, truffle and ripe, no make that very ripe berries. Powerful, rich, intense and packed with layers of ripe, juicy, mouth filling fruit, no hard edges and seamless, plush textures, this large scaled vintage of Harlan Estate is still young and demands more time in the cellar before it softens and fleshes out.

8,234 Views

Tasted

Jul 18, 2012

2004
Harlan Estate The Maiden (Napa Valley)

Popped and poured, this is drinking great today! The wine is round, fruity, soft, fresh and loaded with ripe, jammy black cherries, very dark chocolate and a note of fig in the background. The wine has power, but all that fruit has lift. Drink this now, and you'll be more than happy!

2,056 Views

Tasted

Feb 21, 2019

2003
Harlan Estate (Napa Valley)

A very good, but perhaps not great bottle here. Loads of blackberry, cassis, licorice, smoke, black cherry, tobacco and earth, with good levels of concentration going on. This is almost a restrained vintage for Harlan that is ready to drink at 13 years of age. For tasters that find vintages like 2001 and 2002 to be too much, this is the right vintage to taste, if you have a bottle hanging around.

3,213 Views

Tasted

Oct 2, 2016

Not showing like a 10 year old wine, this seemed much younger with its fresh black and red fruits, licorice, wet earth and oaky nose. Power with elegance, the finish was long, fresh and clean.

4,490 Views

Tasted

Jul 26, 2014

2002
Harlan Estate (Napa Valley)

Inky in color, from the looks of things, this could easily be a 2012 Harlan! Barbecue smoke, incense, blackberry liqueur, mocha, blue fruit and licorice gets things of to a good start. The wine is full bodied, incredibly concentrated, opulent, lushly textured and mouth coating. The fruit keeps on going with a finish that must last close to 60 seconds. Still youthful, with this much going in, I suspect, it is good for another 30 years. For those wondering if, and how, new California Cult wines will age, check this wine out at 16, and it is still a baby. Expensive, but if this California Cabs are your wheelhouse, this is a reference point wine.

4,006 Views

Tasted

Feb 3, 2018

Inky in color, with pungent aromas of coffee, smoke, blackberries, cassis, earth, 5 spice, herbs and incense. Powerful and concentrated with mouth filling layers of fresh, ripe berries, this California Cabernet Sauvignon ends with an intense licorice, black cherry, oak, vanilla, smoke and olive filled finish. I am enjoying how this wine is developing. I wish I had more than one bottle left.

9,089 Views

Tasted

May 7, 2012

With its explosive nose of licorice, blackberry, blue fruit, jammy berries, oak, fresh herbs, oak and caramel grabs your attention. Thick, juicy, dense and concentrated, with layers of creamy, polished jammy blackberries and coffee flavors, this made a solid impression. I tasted this on release and thought it was over the top. This tasting changed my mind, I was surprised by how much I liked it. It's truly a world class wine.

9,045 Views

Tasted

Feb 24, 2011

Incredibly rich and concentrated with layers of ripe black and blue fruit, chocolate and jam, this Napa Cabernet was almost too much of a good thing.

3,412 Views

Tasted

Jul 5, 2006

2001
Harlan Estate (Napa Valley)

The most elegant, vintage of Harlan I've tasted yet. Here, you have an incredible wave of powerful fruit, but everything is soft, refined and polished. The tannins are silky, the fruits are perfectly ripe, there is depth, length and vibrancy, all backed up by the natural sweetness found in the dark berries. The long, seamless finish leaves you with pure blackberries, dark chocolate, spice box, smoke and espresso, topped with licorice. Drink this now, or age it for another 1-2 decades, regardless, this is a spellbinding wine.

3,891 Views

Tasted

Feb 3, 2018

Price aside, this is a benchmark California Cabernet Sauvignon. It needs air to shake off the initial heat and jammy characteristics, but once that took place, there was no stopping this incredible wine. Mouth coating layers of sweet, perfectly ripe fruit, silky tannins, opulent textures and a finish that remains for at least 60 seconds sums it up. Everything is in balance and harmony from start to finish. This has at least another 20 years of evolution in its future. This clearly refutes claims that modern California wines do not age.

5,902 Views

Tasted

Aug 7, 2015

Some wines are so good, they leave you speechless. 2001 Harlan Estate is one of those wines! With between 30 to 60 minutes of decanting, this incredible wine explodes with licorice, smoke, coffee, black cherry liqueur, blue fruit, truffle, chocolate and incense aromatics. Concentrated with incredible layers of juicy, sweet, polished fruits, the wine is pure silk, velvet and power that expands in your mouth. The finish seems to last at least 60 seconds! It\'s scary to think, this could get even better over the next few years. Looking back at my tasting note from about 18 months ago, the wine seems to have improved and blossomed to an entirely new level!

6,499 Views

Tasted

Jan 24, 2014

Served double blind in what turned out to be a flight of Harlan Estate, there was no problem in shouting out the obvious qualities of this wine. Big, bold, balanced and rich, with layers of sweet, ripe, polished fruits, soft tannins, freshness and a long finish, this is one of the benchmark California Cabernet Sauvignon wines.

3,915 Views

Tasted

Dec 24, 2013

With prices where they are, opening a First Growth, Screaming Eagle or bottle of Harlan is a rare treat. Quite often, these tremendously, expensive wines do not offer an experience close to their cost. For lovers of California Cabernet Sauvignon, this was about as good as it gets. The first thing you notice is how young, fresh and vibrant the wine is. For the tasters who think high alcohol wines do not age, this wine refutes that argument. With an explosive nose of licorice, coffee bean, earth, blackberry, spice and cigar box, the wine coats your mouth with flavor. Rich, plush, round and palate filling, there is a beautiful sense of purity to the fruit. There is no sensation of heat, even though the wine could be above its stated 14.5% alcohol level. Everything is in balance. the wine is not an over the top tasting experience. This has morphed into an elegant, sophisticated, California Cabernet.

5,066 Views

Tasted

Aug 28, 2012

1997
Harlan Estate (Napa Valley)

Like Dr. Jekyll and Mr. Hyde, this wine clearly has two sides to its personality. One can be at a minimum, marked by VA, others can be destroyed by VA. There are other times when the wine can provide stunning levels of pleasure. Fortunately for us, one of the good bottles decided to show up. Powerful, sweet, lush, rich, velvety, silky and rich, the fruit is ripe, fresh, clean and sweet. The finish is long, pure and generous.

3,290 Views

Tasted

Sep 23, 2015

The most inconsistent famous Cabernet Sauvignon on the planet. There are faulty bottles of this wine that are clearly marred by excessive VA. There are perfectly clean bottles as well. And there are bottles that are good, but not great, like this one. The fruit was ripe, the complexity was there as well. The wine was rich, long and round, but something felt a little bit off, as this was not at the same level of quality of the other bottles of Harlan served in the same blind flight.

4,482 Views

Tasted

Dec 24, 2013

When this wine is on, it's a majestic experience. On other occasions, the wine is marred by excessive VA, robbing the wine of its purity and exotic quality. Sadly, this example was flawed.

5,229 Views

Tasted

Dec 4, 2012

This could be the most controversial California Cult Cabernet wine in existence. And for good reason. Several bottles have been marred by VA, while others are clean. The clean bottles offer a stunning tasting experience. Fortunately, this was one of the clean bottles! Coffee, coconut, chocolate, licorice, blackberry, blueberry, jam and smoke, along with a minor touch of VA. Enough VA to add complexity, but not enough to overpower the wine. Huge, intense, concentrated and packed with layers of sweet, ripe, fruit, this wine coats your palate and keeps your attention focused on the levels of fruit packed into a single bottle of this elixir.

7,567 Views

Tasted

Nov 28, 2011

Smoke, blackberry liqueur, blueberries, cassis, spice and toasty oak aromas were all over the place. Powerful, concentrated and intense, this mouth filling wine coats your palate with waves of juicy ripe berries. Like all the bottles from this evening, the Harlan Estate was served blind. I bring this up so that you know, out of a table with 8 people, not one taster mentioned finding VA in the this particular bottle. I am certain some bottles are not clean, but this specific botte was a compelling tasting experience!

8,371 Views

Tasted

Mar 10, 2011

1996
Harlan Estate (Napa Valley)

Power and elegance, with a big blast of ripe, concentrated fruit. There is a wealth of raw material, length and purity in a style that is impossible to obtain in any other wine.

3,168 Views

Tasted

Dec 9, 2015

1995
Harlan Estate (Napa Valley)

Our tasting group put together a tasting of the best 1995 and 1996 California Cabernet Sauvignon wines and this was the wine of the tasting, and for good reason! – Sublime in every sense of the word, the wine delivers a beautiful, sexy, silky, delicious, never ending mouthful of decadently, perfectly ripe fruit. The nose is intoxicating, the appearance is youthful and the finish lingers and expands for close to 50 seconds! This is a benchmark for California Cabernet Sauvignon.

2,895 Views

Tasted

Dec 9, 2015

Wow! The first sip captures your attention with its display of truffle, smoke, licorice, boysenberry and blackberries. Intense, rich, , plush, full bodied and powerful, yet, refined and elegant, there is nothing out of place from start to finish.

3,163 Views

Tasted

Sep 9, 2013

When this was poured, I was told it was the 98 I was blown away by how good the wine was. I was convinced this was the California cabernet of the vintage. When I discovered it was the 95, I did not care, this was compelling. Filled with black cherry jam, licorice, smoke, herbs and truffle scents, this rich, dense wine was a treat for the senses. The wine ends with silky blackberry and chocolate flavors.

5,383 Views

Tasted

Feb 24, 2011

1994
Harlan Estate (Napa Valley)

There is an elegance matched with all the power that gives this wine its character. That difficult balancing act, coupled with the purity of fruit, silky textures and a finish that does not quit leaves you wanting more. At 23 years of age, this is drinking right where it needs to be. I am not sure what there is gain by waiting for more development, but the fruit is still fresh, vibrant and energetic, so there i no hurry to pop a cork on this magic elixir either.

5,668 Views

Tasted

Aug 3, 2017

Clearly, this is a benchmark wine for not only quality, but the ability to age and improve for California wine. Tasting like a wine that was only 10 years old, this was stunning in every sense of the word. The tannins were ripe and perfectly smooth, with a salty quality, the wine had incredible levels of depth, concentration and intensity, you could not fail to be blown away. If that wasn't enough, the 60 second finish of fruit left you almost speechless. Served double blind, it was impossible not to be riveted by its quality.

5,438 Views

Tasted

Jul 26, 2016

About as good California Cabernet gets. Complete in every way from start to finish. The perfume is intoxicating. The wine drenches your palate and taste buds with layer after layer of sweet, silky, perfectly ripe fruits, chocolate and licorice, finishing with a seamless end note that does not want to quit.

4,061 Views

Tasted

Feb 10, 2015

Blackberry, black cherry, licorice, earth, mint, truffle and stone aromatics keep you involved in the glass. On the palate, the wine is incredibly dense, rich, concentrated and fresh. The fruit coats your entire palate with ripe, fat, fleshy berries that leaves an impression of ripe berries and freshness that expands and lingers for close to 50 seconds.

5,233 Views

Tasted

Mar 4, 2014

Now we're talking! Mind blowing from the first sniff, swirl and sip. The bodacious perfume, packed with ripe blackberries, jam, coconut, earth, black cherries, licorice, smoke and spice was the perfect start. When the wine hit the palate, that's when the fireworks took off. Thick and intense, balanced and refined, with freshness, length, and expansiveness. Everything needed for a great was here in spades. Note to self, be nice to my friends with bottles of this in their cellar as it's so good, I need to taste it again!

6,130 Views

Tasted

Dec 24, 2013

1994 Harlan Estate kicks off with a powerful perfume filled with oak, vanilla, black cherries, blackberry, earth and spice. This full bodied, concentrated, powerful wine is balanced and harmonious. This is not overpowering. Everything comes together in an opulent, round, thick, ripe, fresh, fruit filled, polished finish. With today's prices hovering close to $1,000 per bottle, this was an honor to taste. This wine tasted like a wine with 5-10 years of age on it. I would never have guessed it was only days short of its 17th birthday. 99 Pts.

11,525 Views

Tasted

Nov 14, 2012

Spectacular nose with ripe cherries, cassis, blueberries, licorice and coffee notes. Full-bodied and very concentrated with gobs of perfectly ripe California fruit. The seamless finish was endless. This could easily be described as liquefied essence of California fruit.

9,404 Views

Tasted

Feb 22, 2010

From the first sniff and taste, it was clear, this was out of this world! What more could you want from a wine? This wine was packed with so much elegant, concentrated, ripe, decadent layers of black fruit, it was off the charts! Still youthful. The seamless finish lasted over :60!

9,035 Views

Tasted

Sep 25, 2005

1993
Harlan Estate (Napa Valley)

This is drinking at a beautiful level of maturity here. Still, it is impossible to believe this is 25 years of age. On the elegant, soft, silky side of the style range, this has all the concentration and backbone needed to provide a sublime drinking experience. Full bodied, with depth of flavor, and secondary nuances of smoke, incense, licorice, just roasted coffee beans, wet earth, thyme, a Bouquet garni of herbs and spices. The polished fresh finish feels as good as it tastes. Served blind, you would never guess this was 25 years old. There is no reason to age this any longer If you are sitting on bottle of this, I'd opt for drinking it over the next 7-10 years.

2,318 Views

Tasted

Feb 3, 2018

This very balanced wine delivered a boatload of pleasure. Ripe black fruit, licorice, coffee and chocolate in the nose leads into an elegant style with layers of complex, ripe fruit.

3,467 Views

Tasted

Feb 10, 2006

1992
Harlan Estate (Napa Valley)

A beautiful style of wine, with incredibly soft, supple, lush textured layers of pure, sweet, ripe, delicious black cherries and plums. This is drinking perfectly today.

5,525 Views

Tasted

Sep 9, 2013

Sadly, with prices that can compete with Lafite Rothschild, I seldom get to taste Harlan anymore. It's always a special treat. The wine opens with a perfume filled with black cherry, truffle, tobacco, earth, spice and smoke. Full bodied, concentrated, harmonious, plush and rich, this fully mature wine ends with chocolate covered black cherries and licorice.

5,544 Views

Tasted

Feb 29, 2012

Silky, elegant, balanced and complex. Everything is in harmony. What a great style of wine.

3,630 Views

Tasted

Nov 25, 2008

Concentrated and complex. Great texture and presence on the palate. Beautiful long, dark berry finish.

3,417 Views

Tasted

Feb 22, 2005

1991
Harlan Estate (Napa Valley)

Stunning in every sense of the word, the color remains deep and youthful. Earthy, yet filled with ripe blackberries, licorice and chocolate, the wine is powerful and elegant, a tough combination to find. The silky, rich finish leaves you after 50 seconds of fruit filled intensity. At close to 25 years of age, this can easily go another 15 to 5 more years.

4,433 Views

Tasted

Nov 26, 2015