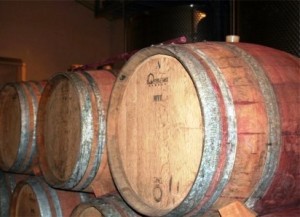 Learn everything about Domaine Bois de Boursan, Chateauneuf du Pape with wine tasting notes, wine, and food pairing tips, best vintages, a history of the property, and information on the vineyards and winemaking. If you want to read about other important wineries and winemakers from the Rhone valley: Links to all Rhone Valley Wine Producer Profiles
Bois de Boursan History, Overview
Domaine Bois de Boursan was founded in 1955, thanks to Jean Versino, who moved the family from the winemaking region of Piedmont in Italy over to Chateauneuf du Pape.
Bois de Boursan takes its name from the small area where they are located, which is not far from the Chateauneuf du Pape village.
Like many producers in the Southern Rhone valley, they started off selling their wine in bulk to negociants. At Bois de Boursan, that continued until some point in the late 1980s.
That changed when the younger, Jean-Paul Versino began managing Bois de Boursan.
Bois de Boursan Vineyards, Wines, Winemaking
One of the interesting aspects of the vineyards belonging to Bois de Boursan is they have 15 different soil types in their 16 hectoliters of vineyards. The vineyards are divided into 27 different parcels.
On average, the vines are a respectable sixty years of age. All vineyard management is 100% organic here.
However, at Bois de Boursan, they also own old vine Grenache that is more than 100 years of age.
The estate uses 15.5 hectares for the production of red Chateauneuf du Pape while 1 hectare of vines is reserved for their white Chateauneuf du Pape wine.
The best vintages of Domaine Bois de Boursan are: 2022, 2021, 2020, 2019, 2018, 2017, 2016, 2015, 2012, 2010, 2009, 2007, 2005, 2001, 2000 and 1998.
Domaine Bois de Boursan produces 2 red Chateauneuf du Pape wines and 1 Chateauneuf du Pape blanc. However, from time to time, the domaine has also produced a special cuvee of Bois de Boursan Les Baud.
Bois de Boursan Tradition is produced from a blend of 65% Grenache, 15% Mourvedre, 15% Syrah and 5% other varieties. The vines for this wine range from 40-80 years of age.
The terroir is rocks, clay, sand, and limestone. Bois de Boursan is aged in large foudres that were previously used to make beer in the Alsace region. Close to 3,200 cases are produced each year.
Domaine Bois de Boursan Cuvee des Felix made its debut in 1995. In the beginning, the production was quite small, today close to 5,000 bottles are produced. The wine is made from a blend that on average 60% Old vine Grenache, 25% Mourvedre, 10% Syrah, and 5% of various allowable grapes types.
The Grenache is from old vines that for the most part are 90 years old, give or take a few years.
The terroir is various galets and sand. Bois de Boursan is always the product of old vines with very low yields. The yields can be close to 20 hectoliters per hectare.
Bois de Boursan Cuvee des Felix in a combination of demi-muids and old, used, French, oak barrels for close to 18 months. The production is quite small as only 400 cases are produced each year.
Domaine Bois de Boursan Les Baud is produced from their oldest vines that can be over 100 years of age. The wine is usually a blend of 50% Grenache, 35% Mourvedre, and 15% Syrah.
The grapes are fully destemmed. The wine is aged in a combination of 20% new, French oak barrels and stainless steel tanks. The production hovers around 125 cases. The wine so far has been produced in 2003 and 2007.
Domaine Bois de Boursan Blanc is quite hard to find as the production is close to 150 cases per year. Made from a blend of 35% Grenache Blanc, 35% Clairette, 15% Roussanne, and 15% Bourboulenc, the wine is vinified in tanks and then aged in a combination of new and old French oak casks for 6 months before bottling.
When to Drink Domaine Bois de Boursan, Anticipated Maturity, Decanting Time
Bois de Boursan can be enjoyed on the young side. Young vintages are better with 1-2 hours of decanting. This allows the wine to soften and open its perfume. Older vintages might need very little decanting, just enough to remove the sediment.
Bois de Boursan is usually better with 3-5 years of bottle age. Of course, that can vary slightly, depending on the vintage. In the best vintages, the wine should be consumed within 7-18 years after the vintage.
Serving Domaine Bois de Boursan with Wine, Food, Pairing Tips
Bois de Boursan is best served at 15.5 degrees Celsius, 60 degrees Fahrenheit. The cool, almost cellar temperature gives the wine more freshness and lift.
Domaine Bois de Boursan Rouge is best served with all types of classic meat dishes, veal, pork, beef, lamb, duck, game, roast chicken, roasted, braised, grilled dishes, smoked meats, barbecue, sausage, cassoulet, and cheese. Bois de Boursan is also good with Asian dishes, hearty fish courses like tuna, mushrooms, and pasta.
The white wine of Bois de Boursan is best served with a myriad of different seafood dishes, shellfish, crab, lobster, sushi, sashimi, chicken, pork, and veal, as well as Asian cuisine and cheese.
Domaine Bois de Boursan Wine Tasting Notes
16 Vintages 55,503 Views Sort by Vintage-Rating
2019
Domaine Bois de Boursan Cuvée des Félix (Châteauneuf-du-Pape)

Smoky, dark red berries, herbs, pepper and spice pop on the nose. Medium-bodied, fresh, wild and meaty, with a boatload of chewy fruit on the palate, there is length, lift and freshness here. The wine was made using mostly Grenache and Mourvedre, with Syrah, Cinsaut and Counoise to top it off. Give it a few years in the cellar before popping the cork. Drink from 2025 - 2036

1,656 Views

Tasted

Jan 9, 2022

2019
Domaine Bois de Boursan (Châteauneuf-du-Pape)

Flowers, licorice, kirsch and spice open up the wine. Refined, silky, medium-bodied and with freshness that provides lift and length, you find olive tapenade and spice that complicates the red berry filled finish. The fruit is so ripe, this will be delicious on release. The wine was made using 75% Grenache, 10% Syrah, 10% Mourvedre, 3% Cinsault and 2% Counoise. Drink from 2022 - 2033

1,667 Views

Tasted

Jan 9, 2022

2017
Domaine Bois de Boursan Cuvée des Félix (Châteauneuf-du-Pape)

The black cherries, licorice and smoked dark red fruits pop with little effort. On the palate, the wine soft round, fruity and fresh, with a blast of peppery kirsch in the spicy finish. The wine was made using 60% Grenache, 30% Mourvedre and various other allowable grape varieties.

2,422 Views

Tasted

Sep 21, 2019

2017
Domaine Bois de Boursan (Châteauneuf-du-Pape)

Smoke and cherries come easily in the nose. On the palate, the soft, juicy fruit falls easily on your palate, leaving you with sweet kirsch in the finish. The wine was made using 70% Grenache, 10% Syrah, 10% Mourvedre, 3% Cinsault and 2% Counoise.

3,068 Views

Tasted

Sep 21, 2019

2015
Domaine Bois de Boursan Cuvée des Félix (Châteauneuf-du-Pape)

The licorice and black cherry smell as good as they taste. Long, with garrigue and spice box notes kicking in at just the right time, this should age nicely. The wine was made using 60% Grenache, 25% Mourvedre, 5% Syrah, 5% Cinsaut and 5% Counoise.

2,466 Views

Tasted

Aug 21, 2017

2015
Domaine Bois de Boursan (Châteauneuf-du-Pape)

Incense and dark cherries pop from the start. Fresh and juicy, with a blast of garrigue and olive, to complicate the dark cherries in the finish. The wine was made using 75% Grenache, 10% Syrah, 10% Mourvedre, 3% Cinsault and 2% Counoise.

2,383 Views

Tasted

Aug 21, 2017

2014
Domaine Bois de Boursan (Châteauneuf-du-Pape)

Early drinking, open, medium bodied, soft textured wine. The character here is about the peppery, kirsch and strawberry center with nuances of underbrush, herbs and olives.

2,366 Views

Tasted

Feb 22, 2019

2012
Domaine Bois de Boursan (Châteauneuf-du-Pape)

5 spice, incense and black cherries led off the wine. There is good freshness and intensity in the mid palate and finish. Give it a few years to develop more complexity. From a blend of 70% Grenache, 10% Syrah, 10% Mourvedre and 10% Counoise, the wine reached 14.5 ABV.

2,532 Views

Tasted

Sep 10, 2014

2012
Domaine Bois de Boursan Cuvée des Félix (Châteauneuf-du-Pape)

Floral, black cherry and licorice notes, silky textures and a blast of ripe, sweet, fresh, polished red fruits shine through the round textured finish. From a blend of 65% Grenache, 25% Mourvedre, 5% Cinsault and 5% Syrah.

2,535 Views

Tasted

Sep 17, 2014

2011
Domaine Bois de Boursan Cuvée des Félix (Châteauneuf-du-Pape)

Menthol and crisp, peppery red berries pair with soft, silky textures and a polished, cherry finish. From a blend of 65% Grenache, 25% Mourvedre, 5% Syrah and the remainder coming from assorted varietals, the wine reached 14.5% ABV.

1,299 Views

Tasted

Aug 26, 2014

2011
Domaine Bois de Boursan (Châteauneuf-du-Pape)

Earthy notes complicated by strawberry and raspberries produced an elegant, clean and fresh wine for early consumption.

3,138 Views

Tasted

Aug 19, 2014

2010
Domaine Bois de Boursan Cuvée des Félix (Châteauneuf-du-Pape)

I'm still on my young Chateauneuf kick and most of the wines from 2010 have been stellar. This was no exception with its ripe, lusty, peppery black raspberries, herb and earthy personality. Rich and intense, the luscious, ripe finish is filled with spicy, jammy, dark red fruits. As good it is now, it's only going to get better with a few years of age.

3,299 Views

Tasted

Jan 6, 2014

2009
Domaine Bois de Boursan Cuvée des Félix (Châteauneuf-du-Pape)

Ripe, round, lush and with perfectly ripe black cherries, plums, black raspberries, wet earth and 5 spice aromatics, this is drinking well today. If you like young Grenache blends, pull a cork and enjoy it, for its ripe, forward fruit.

3,132 Views

Tasted

Aug 24, 2017

2007
Domaine Bois de Boursan Cuvée des Félix (Châteauneuf-du-Pape)

Blending 65% old vine Grenache with 25% Mourvedre, Syrah and other assorted Rhone varieties produced a lush, jammy Chateauneuf du Pape filled with sweet, ripe, black cherry, kirsch, pepper , earth and black raspberry. This modern styled Chateauneuf du Pape is already fun to drink most Southern Rhones from 2007.

4,565 Views

Tasted

Jun 8, 2012

2001
Domaine Bois de Boursan Cuvée des Félix (Châteauneuf-du-Pape)

Fully mature and rocking it, with its earthy, barnyard, kirsch and garrigue aromatics. Rich, ripe, vibrant and lush, the is more than enough ripe, black and red fruits in the finish to keep it all interesting. If the horse or barnyard aromas were a little less potent, the wine would have received a higher score. Beauty for this wine is going to be in the eyes of the beholder.

2,443 Views

Tasted

Nov 14, 2015

Drinking at perfection, this beauty was driving on all 12 cylinders with its rich, depth of flavor. Ripe, sweet, spicy fresh berries, full bodied, concentrated and long, there is a lot to like about this wine. Still young, it should drink at this level for at least another decade.

3,397 Views

Tasted

Jun 1, 2013

Garrigue, kirsch, wet earth, the perfect touch of barnyard and a hint of over ripe strawberry is the perfect way to let you know you are in Chateauneuf du Pape. Rich, silky and bordering on lush, the wine ends with wild cherry liqueur complicated by a touch of green olive tapenade. Popped, poured and rockin'! This is drinking at absolute perfection. There is no reason to wait to pop a cork. I'm happy to have more in the cellar.

2,818 Views

Tasted

Oct 17, 2012

1998
Domaine Bois de Boursan Cuvée des Félix (Châteauneuf-du-Pape)

Provencal herbs, black pepper, licorice, spice, black raspberry and black cherry aromas lead to a fully mature, concentrated, Chateauneuf du Pape. This wine was a little more exciting in previous tastings. I'm going to drink my last remaining bottle sooner than later.

3,119 Views

Tasted

Sep 12, 2011

Filled with barnyard, cherry, pepper and jam filled berry scents, the wine is rich and elegant in style. This lush wine finishes with ripe, sweet, plush, round, cherry jam flavors

3,735 Views

Tasted

Aug 6, 2010

Garrigue, jammy black and red fruits with fresh ground pepper and a hint of earth tickle your nose. Lush, ripe fruit spills over your palate in layers of flavor with ripe, red fruit filled finish.

3,463 Views

Tasted

Dec 22, 2006