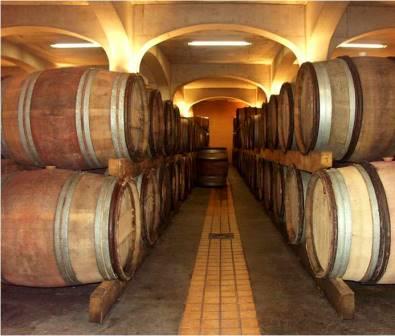 Learn everything about Domaine Janasse, Chateauneuf du Pape with wine tasting notes, wine and food pairing tips, best vintages, a history of the property and information on the vineyards and winemaking. If you want to read about other important wineries and wine makers from the Rhone valley: Links to all Rhone Valley Wine Producer Profiles
Domaine Janasse History, Overview
Domaine Janasse is a fairly new property in the Southern Rhone Valley especially by European standards. It did not become an official Domaine until 1973. Prior to that date, the harvest was sold in bulk to negociants starting in 1967.
Janasse takes its name from the small parcel where some of their vines are located in Chateauneuf du Pape. The actual estate is situated in the area of Courthezon.
Aime Sabon, the founder of Janasse increased the size of their vineyards over the years to their current 15 hectares in Chateauneuf du Pape that are placed in 15 different parcels. 1 hectare of vines is used for white wine grapes, while the other vines are used to produce red Chateauneuf du Pape wine.
Their vines are scattered across the region on different terroirs and soil types. They have old vines. Their oldest vines, which are close to 90 years of age on average are used in their special Janasse Cuvee Vieilles Vignes. Their oldest vines are planted in the La Crau area. 1990 is an important vintage for the domaine as it marked the first year when Janasse produced all three different cuvees.
Domaine Janasse is a modern style of Chateauneuf du Pape. Starting in 1993, they began to destem some of their fruit. That trend has continued and as of today, at least 80% of the berries are fermented without stems. Concrete vats are used to ferment their Grenache.
They use the short, conical shaped oak barrels to ferment their Mourvedre and Syrah. The Grenache is aged in foudres. The Mourvedre and Syrah is aged in a combination of new French oak barrels and foudres giving Janasse its modern style. In 2001, Sabon brought in his children to help run the estate, Christophe and Isabel.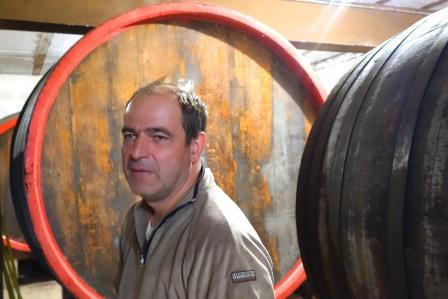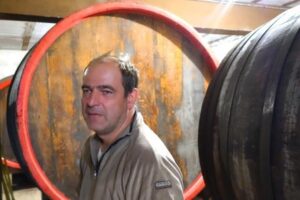 The best vintages of Domaine Janasse are: 2022, 2021, 2020, 2019, 2018, 2017, 2016, 2015, 2012, 2010, 2009, 2007, 2005, 2003, 2001, 2000 and 1998.
Domaine Janasse Vineyards, Wines, Winemaking
Domaine Janasse produces 3 red Chateauneuf du Pape wines and 2 white Chateauneuf du Pape wines.
Domaine Janasse Tradition is produced from 75% Grenache, 15% Syrah and 10% Mourvedre from vines that average 40 years of age. The terroirs vary, with rocks, stones, sand and some clay, as well as limestone soils. The wine is aged in a combination of foudres, and used oak barrels for 12 months. Production averages 1,250 cases.
Domaine Janasse Chaupin is produced from 100% Grenache from old vines that were planted over 100 years ago. In fact, they were planted all the way back in 1912. The terroir is pure sandy soils in the Chapouin vineyard. 70% of the wine is aged in foudres, while remaining 30% is aged in demi-muid. 25% of the demi-muids are new French oak for 12 months. The Production averages 1,000 cases. This is my favorite wine from Janasse.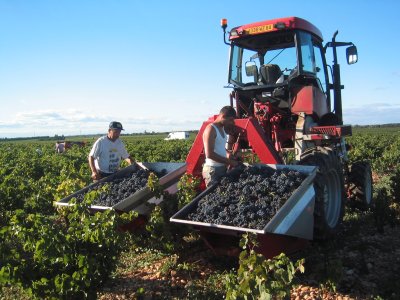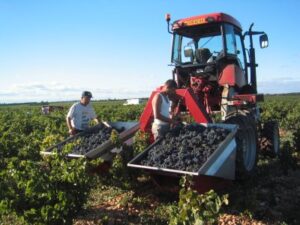 Domaine Janasse Vieilles Vignes is made from a blend of 85% Grenache, 10% Syrah and 3% Mourvedre. The rest of the blend comes from a myriad of different varietals which can be primarily Cinsault. Produced from old vines that range from 60 years of age to more than 100 years of age. The terroir is mostly galets, with some sand and clay. About 65% of the grapes are destemmed.
The remainder of the fruit is whole cluster vinified. 75% of the wine is aged in foudres. The other 25% is aged in 40% new, French oak demi-muids for 12 months. Some tasters love this cuvee. I find the oak can overwhelm the Grenache in some vintages when the wine is young.
So, give it time before popping a cork. Patience is virtue here, as this is truly worth the wait. The production averages 850 cases per year.
Domaine Janasse XXL In 2007, the estate made the debut vintage of Janasse XXL. Since then, it has only been produced in 1 subsequent vintage, 2016. Janasse XXL is produced from a blend of mostly old vine Grenache and a bit of Mourvedre planted in rocky soils in La Crau and Saumade. A portion of the grapes are vinified with stems.
The wine spends three years in demi-muids before bottling. The wine reached 16.5% alcohol. Not much was produced. The production is about 115 cases of wine. This is a massive wine that demands over a decade in the cellar before consumption.
Domaine Janasse Blanc is produced from a blend of 50% Grenache Blanc, 25% Clairette and 25% Roussanne. Aged in 80% new, French oak barrels for 7 months, on average, the production is 350 cases per year.
Domaine Janasse Prestige Blanc is made from 70% Roussanne, 15% Grenache Blanc and 15% Clairette. The wine is aged in new, French oak barrels for an average of 14 months. The production is only 90 cases per year.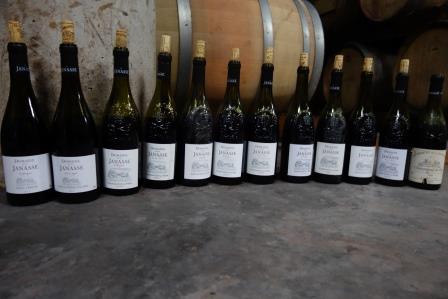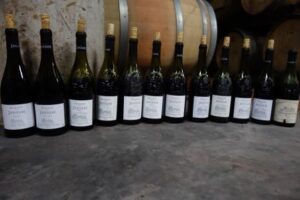 When to Drink Domaine Janasse, Anticipated Maturity, Decanting Time
Domaine Janasse is best when the wine is decanted for about 1-2 hours. This allows the wine to soften and open its perfume. Older vintages might need very little decanting, just enough to remove the sediment.
Domaine Janasse is usually better with 4-6 years of bottle age. Of course that can vary slightly, depending on the vintage. In the best vintages the wine should be consumed within 4-18 years after the vintage.
Serving Domaine Janasse with Wine, Food Pairing Tips
Domaine Janasse is best served at 15.5 degrees Celsius, 60 degrees Fahrenheit. The cool, almost cellar temperature gives the wine more freshness and lift.
Domaine Janasse is best served with all types of classic meat dishes, veal, pork, beef, lamb, duck, game, roast chicken, roasted, braised, stewed dishes, sausage, barbecue and cassoulet. Domaine Janasse is also good with Asian dishes, hearty fish courses like tuna, mushrooms pasta, eggplant, cheese and tomatoes.
The white wine of Domaine Janasse is best served with a myriad of different seafood dishes, shellfish, crab, lobster, sushi, sashimi, chicken, pork and veal, as well as Asian cuisine.
If you're at Domaine Janasse, here is a little secret for you. Janasse also produces a very small amount of a Vin de Paille that is only sold at the property. It's a fun dessert wine that's worth purchasing. I wish I had purchased more. Oh well… there's always next time.
The Sabon family also owns an additional 40 hectares of vines in the Cotes du Rhone appellation where they produce 3 red Cotes du Rhone and 1 white Cotes du Rhone wine, along with red and white IGP wines.
Domaine de la Janasse Wine Tasting Notes
51 Vintages 301,459 Views Sort by Vintage-Rating
2020
Domaine de la Janasse Vieilles Vignes (Châteauneuf-du-Pape)

Dark in color, the wine exudes a hint of jam along with black cherries, flowers and spicy plums in the nose. On the palate, the wine is lush, polished, balanced and fresh merging its naturally powerful, full-bodied style with elegance and polish. Clearly, this is one of the wines of the vintage. The wine is a blend of 85% Grenache, 10% Syrah and 5% Mourvedre. Drink from 2023-2038.

1,439 Views

Tasted

Jan 27, 2023

2020
Domaine de la Janasse Cuvée Chaupin (Châteauneuf-du-Pape)

Smoked kirsch, cherries, flowers, licorice and cocoa create the interesting nose. The palate offers richness, espresso tinged, dark cherries and cocoa with vibrancy, earthiness and energy with a touch of spice that kicks in on the backend. The wine is made using 100% old vine Grenache. Drink from 2023-2035.

3,039 Views

Tasted

Jan 27, 2023

2020
Domaine de la Janasse (Châteauneuf-du-Pape)

With a strong floral character, the wine quickly moves to its spices, kirsch and green leafy notes. Polished, round, fresh and sweet, the cherry, cocoa and spicy palate finish already tastes and feels great. The wine blends 65% Grenache, 20% Syrah and 5% Cinsault. Drink from 2022-2032.

1,454 Views

Tasted

Jan 27, 2023

2019
Domaine de la Janasse Cuvée Chaupin (Châteauneuf-du-Pape)

I love the floral character, peppery spices, smoke and array of black and red fruits that come to the forefront with ease. Rich, lush, and concentrated with an elegance to the wines character, this 100% old vine Grenache asks for just a few years in the cellar and it should fill out nicely. Drink from 2025 - 2037

5,406 Views

Tasted

Jan 9, 2022

2019
Domaine de la Janasse Vieilles Vignes (Châteauneuf-du-Pape)

Deep, dark and brooding, the wine is concentrated with layers of black cherries, red plums, black raspberries, kirsch, licorice, peppery spices, espresso and earth. There is a lot of power here, so you will need to give this time to develop, integrate and come together. But it will be worth the wait. The wine is made from blending 85% old vine Grenache, 10% Mourvedre and 5% Syrah. This is one of the top wines of the vintage. Drink from 2026 - 2040

4,310 Views

Tasted

Jan 9, 2022

2019
Domaine de la Janasse (Châteauneuf-du-Pape)

Forward, opulent, polished, fresh and sweet, the wine exudes charm effortlessly. On the nose you find smoke, touches of wood, thyme, earth, cherries and herbs. Round, ripe, long and rich, this should be delicious on release, yet it should age well for over a decade with ease. The wine blends 65% Grenache, 20% Syrah and 5% Cinsault. Just give this a year or two and it will be good to go. Drink from 2023 - 2034

1,710 Views

Tasted

Jan 9, 2022

2019
Domaine de la Janasse Blanc (Châteauneuf-du-Pape)

Bright, fresh, juicy, crisp and packed with ripe, round, citrus, mango and spice on the nose, the wine is lush, round, fresh and crisp on the palate. Drink from 2022 - 2030

1,402 Views

Tasted

Jan 9, 2022

2018
Domaine de la Janasse Vieilles Vignes (Châteauneuf-du-Pape)

The nose, with its pepper, oak, smoke, earth and dark red fruits is attention seeking. On the palate, the wine is plush, sweet, ripe, fresh and with depth of flavor. Yet it is also elegant, sweet, rich and lusciously textured, ending with loads of fruit in finish, This is one of the wines of the vintage.

4,242 Views

Tasted

Oct 12, 2020

2018
Domaine de la Janasse Cuvée Chaupin (Châteauneuf-du-Pape)

Produced from 100% old vine Grenache, the wine is spicy, medium-bodied, smoky, elegant, round and loaded with lush, but refined red fruits. Give this a few years in the cellar and it should fill out nicely.

2,754 Views

Tasted

Oct 12, 2020

2018
Domaine de la Janasse (Châteauneuf-du-Pape)

With a touch of oak, smoke, espresso, plum, cherry, earth and herbs, the wine is soft, elegant, sweet and spicy. Forward and fresh, this is going to be delicious on release, yet it should age well for about a decade. The Syrah, Mourvedre and Cinsault add a lot to the blend.

1,903 Views

Tasted

Oct 12, 2020

2016
Domaine de la Janasse Vieilles Vignes (Châteauneuf-du-Pape)

Deeply colored, this is incredibly concentrated. The wine is fleshy, silky and palate staining. The fruit coats your palate, but it's never heavy, or overblown. Instead, everything is in balance. The richly textured wine has polish, length and purity, along with a sexy style and a finish that you cannot stop tasting, staying with you for over 50 seconds! The wine is a blend of 85% Grenache, 10% Syrah and 5%Mourvedre.

7,154 Views

Tasted

Sep 10, 2018

2016
Domaine de la Janasse Cuvée Chaupin (Châteauneuf-du-Pape)

Smoky, fleshy and flashy, the wine is filled with layers of polished, perfectly, ripe, juicy sweet, fresh, vibrant, peppery plums and cherries. Full bodied, lush and rich, this is just great now and is only going to get better with age! The wine is made using 100% old vine Grenache.

5,019 Views

Tasted

Sep 10, 2018

2016
Domaine de la Janasse (Châteauneuf-du-Pape)

Already delicious, the wine is richly textured, with loads of peppery, slightly jammy, fresh, peppery fruits. The lush finish is juicy, fruity, round and sweet. The wine was made from blending 65% Grenache, 20% Syrah, 10% Mourvedre and 5% Cinsault.

3,830 Views

Tasted

Sep 10, 2018

2015
Domaine de la Janasse Vieilles Vignes (Châteauneuf-du-Pape)

Dark ruby in color, the initial incense aromatics soon moves to its kirsch and earthy side. Concentrated, plush and juicy, with layers of sweet, ripe red fruits, polished tannins and depth of flavor. The finish stays with you indeed.

5,395 Views

Tasted

Aug 21, 2017

2015
Domaine de la Janasse Cuvée Chaupin (Châteauneuf-du-Pape)

Fleshy, round and polished, with ample, sweet, plums and ripe cherries, the 100% Grenache based wine is full bodied, concentrated, richly textured and loaded with sweet fruits in the finish.

4,756 Views

Tasted

Aug 21, 2017

2015
Domaine de la Janasse (Châteauneuf-du-Pape)

Richly textured, forward in style with a juicy, sweet, dark red berry, smoke and earthy blend of aromatics. Round, open and spicy, this will be fun to taste young, as its brothers and sisters demand some time in the cellar.

3,226 Views

Tasted

Aug 21, 2017

2014
Domaine de la Janasse Vieilles Vignes (Châteauneuf-du-Pape)

Richly textured, with juicy, dark, red berries, spice, a hint of oak, smoke and pepper. There is a refined quality that adds to the elegant nature of the wine.

3,223 Views

Tasted

Jun 24, 2016

2014
Domaine de la Janasse Cuvée Chaupin (Châteauneuf-du-Pape)

Made using 100% Grenache, the wine is forward, fresh and fun to drink with its sweet, juicy, kirsch and wild raspberry profile, polished, round, textures and spicy finish.

3,357 Views

Tasted

Jun 24, 2016

2014
Domaine de la Janasse (Châteauneuf-du-Pape)

An elegant charmer that delivers a blast of fresh, sweet, kirsch and spice in a, round, forward style that was produced from a blend of 60% Grenache, 15% Mourvedre and 15% Syrah.

3,027 Views

Tasted

Jun 23, 2016

2013
Domaine de la Janasse Vieilles Vignes (Châteauneuf-du-Pape)

Smoke, espresso, black cherries and lush textures create one of the top wines of the vintage, with its lushly textured fruit and thyme filled finish. One of the top wines of the vintage was produced from a blend of 65% Grenache, 20% Mourvedre, 10% Syrah and the remaining 5% consists of various other, allowable grape varieties.

6,625 Views

Tasted

Sep 7, 2015

2013
Domaine de la Janasse Cuvée Chaupin (Châteauneuf-du-Pape)

From 100% Grenache, this is already approachable, with its medium bodied, soft, silky charms, the fruit is sweet, ripe, fresh and elegant.

4,488 Views

Tasted

Sep 7, 2015

2013
Domaine de la Janasse (Châteauneuf-du-Pape)

Medium bodied and soft, this is a finesse style of Janasse, with a sweet, cherry note that leaves a nice impression. Made from blending 65% Grenache, 20% Syrah, 10% Mourvedre and 5% Cinsault.

3,401 Views

Tasted

Sep 7, 2015

2012
Domaine de la Janasse Vieilles Vignes (Châteauneuf-du-Pape)

With a serious depth of flavor, the wine is rich, long and deep, finishing with layers of ripe, sensuous, peppery, sweet black raspberries and pepper. This is a very good wine in any vintage, but it's a real superstar in 2012! From a blend of 80% Grenache, 10% Mourvedre and 10% Syrah, the wine reached 15.5% ABV.

4,860 Views

Tasted

Sep 17, 2014

2012
Domaine de la Janasse Cuvée Chaupin (Châteauneuf-du-Pape)

Silky, polished and fresh, the fruit is sweet, ripe and supple in texture, with a vibrant quality. Made from 100% old vine Grenache, the wine reached 15.5% ABV.

4,017 Views

Tasted

Sep 17, 2014

2012
Domaine de la Janasse (Châteauneuf-du-Pape)

Using 70% Grenache, 15% Mourvedre and 15% Syrah in the blend, the nose pops with garrigue, mint and kirsch. On the palate, lush, layers of fresh, sweet, ripe cherries and spice carry through.

2,652 Views

Tasted

Sep 10, 2014

2012
Domaine de la Janasse Les Garrigues (Côtes du Rhône)

Black earth cherries and filled with garrigue, as the name implies. The wine is slightly rustic in character. You're left with a fresh, herbal and sweet kirsch sensation.

2,633 Views

Tasted

Aug 8, 2014

2012
Domaine de la Janasse Terre d'Argile (Côtes du Rhône Villages)

With complex notes of fennel, black cherry and mint, the wine is fresh, lively, spicy and herbal. It's also ready to go.

2,615 Views

Tasted

Aug 8, 2014

2011
Domaine de la Janasse Vieilles Vignes (Châteauneuf-du-Pape)

Full bodied, rich and polished, the fruit is fresh, ripe and expresses purity, length and supple textures. Produced from a blend 80% Grenache, 10% Syrah and 10% Mourvedre, the wine reached 15.5 ABV.

4,954 Views

Tasted

Aug 26, 2014

2011
Domaine de la Janasse Cuvée Chaupin (Châteauneuf-du-Pape)

Polished and plush, sweet and spicy, this 100% old vine Grenache wine is open, lushly textured and serving up a lot of lusty charm. The wine reached 15.5% ABV without any touch of heat.

5,199 Views

Tasted

Aug 26, 2014

2011
Domaine de la Janasse (Châteauneuf-du-Pape)

Sweet, ripe, silky red berries linger, until more, spicy, fresh fruits make their way into the long, seductive, fruit filled finish.

2,424 Views

Tasted

Aug 19, 2014

2010
Domaine de la Janasse Vieilles Vignes (Châteauneuf-du-Pape)

Blasts off with a massive, multi-layered dose of fat layers with juicy, sexy fruits. The wine is about silk, ripeness and peppery spices. Tthis coats your mouth while delivering freshness and complexity that makes you think and drink. If you love Chateauneuf du Pape, you need to try a bottle. In the years to come, this could earn a higher score.

9,953 Views

Tasted

Aug 8, 2014

2010
Domaine de la Janasse Cuvée Chaupin (Châteauneuf-du-Pape)

Screaming notes of intense kirsch with silky, sexy layers of fruit that linger with an impression of purity and ripeness that you just cannot get enough of.

5,973 Views

Tasted

Aug 8, 2014

Tasting this wine is like biting in a massive basket of insanely ripe, black raspberries with spice and washing them down with kirsch liqueur.

7,311 Views

Tasted

May 31, 2013

2010
Domaine de la Janasse (Châteauneuf-du-Pape)

Like biting into a basket of black raspberries with fresh herbs. Drink now to enjoy this wine of pleasure.

3,702 Views

Tasted

Aug 8, 2014

The wine is earthy, expressive and filled with jammy, smoky berries, silky textures and layers of sweet, plump, ripe fruits.

3,962 Views

Tasted

May 29, 2013

2009
Domaine de la Janasse Vieilles Vignes (Châteauneuf-du-Pape)

Incredibly rich, fat, dense and concentrated, yet there is no heavy texture, as everything is in balance. The wine offers a modern style with some espresso bean, smoke, licorice, black cherry liqueur and blue fruit characteristics. The wine is long and intense. This really leaves a lasting impression in the finish.

5,639 Views

Tasted

Aug 8, 2014

Soft, silky, elegant and sweet, the wine is fresh, long and packed with layers of ripe plum, kirsch and pepper.

5,234 Views

Tasted

Jul 8, 2014

2009
Domaine de la Janasse Cuvée Chaupin (Châteauneuf-du-Pape)

What a beautiful, sexy, sensuous style of Chateauneuf du Pape! Deep, rich, concentrated and opulent in texture, every sip is packed with super ripe, fresh, sweet dark cherries, black raspberries and kirsch. Drink now if you like it young, and there is no reason not to. Or wait 5-10 years for more secondary notes.

4,432 Views

Tasted

Aug 8, 2014

Earthy, peppery black raspberries, plum, kirsch and sweet cherry notes bring you to a juicy, fat, mouthful of fresh dark red fruits that linger.

3,913 Views

Tasted

Jul 8, 2014

2009
Domaine de la Janasse (Châteauneuf-du-Pape)

Soft, elegant and delivering the essence of fresh, sweet red berries, this delivers a fresh blast of Grenache in every sip.

2,914 Views

Tasted

Aug 8, 2014

2007
Domaine de la Janasse Cuvée XXL (Châteauneuf-du-Pape)

Even better than when I last tasted this about a year ago, this is mind blowing juice in every sense of the word! There is so much ripe fruit here, it coats your teeth, mouth and gums. This is no shy sister here. The juice is pure liqueur of Grenache! What makes this wine a stunner is that even though the level of concentration is almost off the charts, everything is in balance. The finish must last for at least 60 seconds. It's not exactly graceful, or elegant, but it's a beautiful, memorable expression of 2007 Chateauneuf du Pape. Less than 5 barrels were produced, so it is going to be hard to find over the coming years.

3,657 Views

Tasted

Nov 9, 2016

I never thought I'd taste a bottle of this bad boy. When I heard this was coming to the same dinner I was, I was already salivating. Deep in color, the wine is pure intensity in every sense of the word. The fruits were ripe, very ripe and overripe. Sweet, jammy, lush and powerful, yet balanced. There is a fig and raisin component that some tasters will not like. And if I was being critical, there was a touch heat in the 16.5% finish. But who cares? There was this incredible wealth of fruit that coats your palate, stains your teeth and makes you smile!

4,356 Views

Tasted

Feb 10, 2015

2007
Domaine de la Janasse Vieilles Vignes (Châteauneuf-du-Pape)

Rich, lush, opulent, and jammy, there is intensity, length, volume, and multiple layers of ripe, very ripe, and over-ripe fruits with the beginnings of touches of figs in every sniff and sip. Drink from 2022-2027.

2,778 Views

Tasted

Nov 28, 2022

Earthy, ripe, dense and rich, the wine is concentrated with fresh, ripe, very ripe and extremely ripe dark red berries, licorice and spice. This is long, opulent and intense. Still young, this should be even better with a few more years of bottle age.

5,882 Views

Tasted

Aug 8, 2014

Served blind, this was a winner from the first moment. Deep, dark and packed with copious amounts of black cherry, earth, animal, pepper, spice and a faint hint of vanilla, the fireworks really kicked off when the met my palate. Thick, intense, mouth filling and opulent, the sensuous, rich finish left an impression with all its layers of supple, fleshy black cherries. Drink this, or age it. This is pure bottled pleasure.

6,089 Views

Tasted

Feb 27, 2014

2007 Janasse VV From 85% old vine Grenache, 10% Syrah and 5% Mourvedre, this powerful, intense, deep colored wine is filled with licorice, pepper, kirsch, strawberry and black raspberry jam. On the palate, this is no shy wallflower of a wine. It's thick, rich and incredibly concentrated. Think of it as melted essence of Chateauneuf du Pape.

8,347 Views

Tasted

Nov 2, 2012

2007
Domaine de la Janasse Cuvée Chaupin (Châteauneuf-du-Pape)

Rich, pure and intense, this concentrated wine is packed with lush, ripe, sweet, fresh dark red berries, earth, licorice, garrigue, pepper. You can drink this now, or age it. Either way, it's a treat.

4,328 Views

Tasted

Nov 29, 2014

Truffle, sweet kirsch and peppery fruit couple with fresh, chocolate covered black raspberries and soft, fat, rich textures to produce a delicious tasting experience.

4,362 Views

Tasted

Aug 8, 2014

This hedonistic bottle of pleasure is ready to go. Every swirl, sniff and sip is packed with a blend of ripe, very ripe and over ripe deep, dark, peppery berries, jam, earth and spice. Lush in texture, full bodied and long, I love this style of Chateauneuf du Pape!

5,016 Views

Tasted

Nov 30, 2013

This 100% old vine Grenache based wine is filled with sweet, jammy cherries, black raspberries, pepper, licorice, garrigue, and kirsch. Long, rich, dense and lush, this intense, sublime Chateauneuf du Pape is drinking well now and like previous vintages, should improve and add complexity over the next several years.

7,732 Views

Tasted

Jan 2, 2012

Fresh ground pepper, gariggue, licorice, camphor, stone, black cherry jam and smoke filled my nose with its pungent aromatics. This lusty, concentrated wine ends with a long, spicy, rich, blackberry and jammy strawberry filled finish. This is the best vintage of Chaupin I have tasted yet.

8,504 Views

Tasted

Jan 24, 2011

2007
Domaine de la Janasse (Châteauneuf-du-Pape)

Elegant, medium/full bodied, soft, sweet and ready to go. This charming Chateauneuf du Pape drinks great now with little effort.

4,995 Views

Tasted

Aug 8, 2014

Filled with earthy, jammy blackberries and hints of coffee bean. 60% Grenache blended with equal parts Syrah and Mourvedre, the Syrah seems some oak again, which adds the coffee element. Thick and rich, but the finish on this bottle was short. Perhaps this was not a perfect bottle

6,998 Views

Tasted

Feb 2, 2011

2006
Domaine de la Janasse Vieilles Vignes (Châteauneuf-du-Pape)

Rich, intense, youthful and packed with kirsch, blackberry liqueur, spice, fennel and garrigue, with 30 minutes of air, the wine is starting to drink well. With a few more years of bottle age, it should be even better.

4,440 Views

Tasted

May 5, 2013

2006
Domaine de la Janasse Cuvée Chaupin (Châteauneuf-du-Pape)

Silky, soft, plush and polished, there is a lot of sweet, juicy, kirsch packed into every sip in this open wine.

3,394 Views

Tasted

Aug 8, 2014

2005
Domaine de la Janasse Cuvée Chaupin (Châteauneuf-du-Pape)

Just a beauty and showing in the sweet spot, the wine delivers fresh, ripe, sweet, red fruits, hints of pepper, espresso and underbrush. On the palate, the wine is lushly textured and leaves you with ample kirsch in the end note.

3,680 Views

Tasted

May 19, 2017

With beautiful, plush, round, fat textures and spicy kirsch, strawberry jam, earth, cherries, pepper, herb and spice notes, the wine is almost overflowing with the lusty qualities found in the best Chateauneuf du Pape's and it's drinking perfectly today.

4,214 Views

Tasted

May 2, 2012

2003
Domaine de la Janasse Vieilles Vignes (Châteauneuf-du-Pape)

Thick, rich and opulent in texture, the wine offers notes of jam, licorice, garrigue, kirsch liqueur, pepper and smoke. This hedonistically styled, packed and stacked Chateauneuf du Pape, produced from 85% old vine Grenache is drinking great today.

5,020 Views

Tasted

Feb 26, 2012

2001
Domaine de la Janasse Vieilles Vignes (Châteauneuf-du-Pape)

Rich, deep complex, but decidedly modern in style, jammy fruits, licorice, smoke, oak, pepper, earth and liqueur scents, luscious textures and a long, sweet, lush, oaky, kirsch and black raspberry finish.

4,785 Views

Tasted

Jun 5, 2012

2001
Domaine de la Janasse Cuvée Chaupin (Châteauneuf-du-Pape)

Past maturity and starting to fade, you are going to want to consume your bottles much sooner than later. The color has grown more pale and while there is still sweet kirsch, pepper and garrigue, the wine is much lighter than it was a few years ago.

3,013 Views

Tasted

Apr 24, 2016

Drinking at peak, this wine is filled with licorice, garrigue, jammy black raspberries, pepper, kirsch and spice box notes. Rich, multi-layered, plush and lush, the wine tastes great and feels just as good on the palate. Do not hesitate to pop a cork.

4,288 Views

Tasted

May 26, 2013

2000
Domaine de la Janasse Cuvée Chaupin (Châteauneuf-du-Pape)

Jammy blackberries, pepper, fresh market herbs, black raspberry, earth and kirsch pop the moment the wine hits the glass. Rich, concentrated and filled with dark, ripe berries, jam, pepper, spice and kirsch, this concentrated, lush, intense wine is in the perfect spot today.

4,813 Views

Tasted

Apr 25, 2011

1999
Domaine de la Janasse Vieilles Vignes (Châteauneuf-du-Pape)

Light in color, fully mature, or even a little bit past fully mature as the fruit is slowing fading. The wine offers soft, bright cherries and is slightly herbaceous in character. This requires consumption sooner than later.

4,355 Views

Tasted

Aug 8, 2014

1998
Domaine de la Janasse Cuvée Chaupin (Châteauneuf-du-Pape)

98 Janasse Chaupin offers fresh black pepper, garrigue, kirsch, smoke, Provencal herbs, jam and mineral aromas. This ripe, suave, rich, delicious wine fills your mouth with ripe jammy black raspberries, kirsch and pepper. Fully mature and throwing a touch of heat, I'd drink my remaining bottle over the next 2-3 years if I had any left. Sadly, this was number 12 from the original case I purchased on release.

5,550 Views

Tasted

Sep 26, 2010

Stellar combination of ripe, red and dark berries, jam and elegant textures. This might not improve much. But, who cares? It' so good now and will continue delivering ample pleasure for several years.

2,753 Views

Tasted

Nov 1, 2007

Pepper, kirsch, menthol, spices and licorice tones pop from the glass! Very thick, concentrated and balanced with velvet tannins and textures.

2,897 Views

Tasted

Oct 28, 2004

1998
Domaine de la Janasse Vieilles Vignes (Châteauneuf-du-Pape)

What a nice surprise. Until this tasting, this has not been my favorite Chateauneuf du Pape. But that changed with this bottle! It took almost 14 years, but clearly, it was worth the wait, even if it was my last bottle. With a deep color that made me think this wine was only a few years old, intense aromas of licorice, garrigue, black plums, cherries, kirsch, pepper, earth and spice, the offered an explosion of flavor and sensuous, deep textures. The long, concentrated finish delivered layers of lush, pure, ripe, spicy, dark berries.

4,145 Views

Tasted

Oct 19, 2011

The wine offers wood, ripe back fruit, jam, pepper and herbal aromatics. This powerful wine is filled with ripe, jammy fruit and spice. But the oak distracted from the wine. In this case in both the nose and in the mouth. People who like this style will rate probably rate it higher.

4,856 Views

Tasted

Aug 6, 2010

1001
Domaine de la Janasse Les Raisins Perdus (Southern Rhône)

Not overly complex, with nice, ripe apricots, oranges, honey and chalk, but quite low in acidity. Still, it was fun to drink this rare wine, as it is not sold commercially, and is only available at the domaine.

2,665 Views

Tasted

Sep 25, 2017