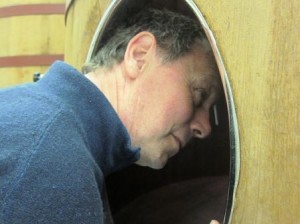 Learn everything about Mauvais Garcon Bad Boy Bordeaux with wine tasting notes, wine, and food pairing tips, best vintages, a history of the property, and information on the vineyards and winemaking. If you want to read about other important, Bordeaux Chateaux: Links to all Bordeaux Wine Producer Profiles
Bad Boy History, Overview
Jean Luc Thunevin is best known for his stunning St. Emilion Valandraud, as well as his successful career as a Bordeaux negociant. However, Jean Luc Thunevin is also a consultant to numerous chateaux in the Right Bank as well as the Left Bank.
But Jean Luc produces more than Valandraud. He is also involved in making some of the best Bordeaux value wines available today. While the stunning from Valandraud gets all the press, as it should, the value wines from Thunevin deserve your attention.
At the top of the Bordeaux value-wine list from the team of Jean Luc Thunevin is Bad Boy. The wine is also sold under the name of Mauvais Garçon in some markets.
Bad Boy takes its name from the well-earned moniker of Jean Luc, who is affectionately known as the Bad Boy of St. Emilion for marching to the beat of his own drummer. To illustrate that idea, in 2017, Jean Luc Thunevin began producing his first bottles of Bad Boy beer!
Bad Boy Vineyards, Terroir, Grapes, Winemaking
Bad Boy comes from a terroir of clay and limestone soils, similar to what you find in many St. Emilion vineyards. The Bordeaux vineyards used to make Thunevin Bad Boy, Mauvais Garcon are planted to a 95% Merlot and 5% Cabernet Franc. This is often the blend for the wine as well. Much of the fruit comes from vines planted in the Fronsac appellation.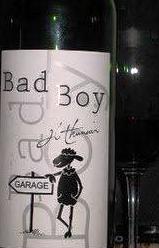 Jean-Luc Thunevin, who is known for his sense of humor claims, 6,666 six-packs, or 39,996 bottles of Bordeaux wine is produced on average each vintage of Thunevin Bad Boy.
Bad Boy is also sold under the name of Mauvais Garçon, which is translated from French to English as Bad Boy. As if that was not enough, it was only a matter of time before the Bad Boys had babies.
There are 2 new Bad Boys in town, a red and white Bad Boy to be exact. In 2014, Thunevin introduced a white Bordeaux wine, Bad Boy Blanc made from 100% Chardonnay. The wine is sold as a Vin de France under the name of Bad Boy Chardonnay.
As we said, there is another new Bad Boy in town, and this wine is even better as it is made from 100% Syrah planted in Bordeaux! The wine is sold as a Vin de France.
The best vintages of Bad Boy are: 2022, 2021, 2020, 2019, 2018, 2017, 2016, 2015, 2014, 2012, 2010, 2009 and 2005.
When to Drink Bad Boy, Anticipated Maturity, Decanting Time
Bad Boy can be decanted for 1 hour to allow the wine to soften and open its perfume. Older vintages might need very little decanting, just enough to remove the sediment. Bad Boy offers its best drinking and should reach peak maturity between 2-10 years of age after the vintage.
Serving Bad Boy with Wine, Food, Pairing Tips
Bad Boy is best served at 15.5 degrees Celsius, 60 degrees Fahrenheit. The cool, almost cellar temperature gives the wine more freshness and lift.
Bad Boy is best paired with all types of classic meat dishes, veal, pork, beef, lamb, duck, game, roast chicken, roasted, braised, and grilled dishes. Bad Boy is also good when matched with Asian dishes, hearty fish courses like tuna, mushrooms, and pasta.
Jean Luc Thunevin also produces Baby Bad Boy, which is an entry-level Bordeaux value wine. You have to admit, Jean Luc Thunevin makes wine fun.
Starting with the 2012 vintage, Jean Luc Thunevin began producing a small amount of Bad Boy in 10 cl, (Centiliters) about 3.4 ounces, test tube-shaped bottles.
Thunevin Bad Boy Mauvais Garcon is a delicious, lush, forward, easy-to-like style of Merlot-based Bordeaux. This value wine from the Right Bank drinks well young and remains fairly priced. Thunevin Bad Boy Mauvais Garcon delivers a good combination of fairly priced Bordeaux wine that is hard to find these days.
Mauvais Garçon (Bad Boy) Wine Tasting Notes
18 Vintages 48,255 Views Sort by Vintage-Rating
2020
Mauvais Garçon (Bad Boy) (Bordeaux)

Deep in color, this forward, plum, round, sweet, lush, early drinking charmer is packed with ripe dark plums, licorice, chocolate, showing luscious opulent texture. This is going to be delicious on release. This is by far the best vintage of Bad Boy ever produced. 90-92 Pts

1,003 Views

Tasted

May 20, 2021

2019
Mauvais Garçon (Bad Boy) (Bordeaux)

Good color, forward, easy to like and drink with loads of smoke, espresso, licorice, cherries and plums in every sniff and sip. 87-89 Pts

1,677 Views

Tasted

Jun 8, 2020

2018
Mauvais Garçon (Bad Boy) (Bordeaux)

Round, lush, fruity, juicy, sweet black cherries, flowers and licorice are in the nose, palate and finish of this forward, ready to drink charmer. You can enjoy this gem on release.

1,730 Views

Tasted

Mar 9, 2021

Forward, round and ready for prime time drinking for those thirsting for ripe, lush black cherries, licorice and chocolate in a crowd-pleasing style. 86-88 Pts

1,648 Views

Tasted

Apr 19, 2019

2017
Mauvais Garçon (Bad Boy) (Bordeaux)

Round and plummy with overtones of black licorice, the wine was vinified for early drinking, offering pleasure on release and for the next few years.

1,811 Views

Tasted

Apr 26, 2018

2016
Mauvais Garçon (Bad Boy) (Bordeaux)

Forward, round, soft and fruity, the ripe cherries and lush textured finish is great for near term pleasure.

2,002 Views

Tasted

Sep 21, 2019

If you like ready to drink charmers loaded with chocolate covered plum, licorice and kirsch, with a juicy finish, you came to the right place.

1,834 Views

Tasted

Apr 29, 2017

2016
Mauvais Garçon (Bad Boy) Syrah (Vin de Table Français)

Only Jean Luc Thunevin is willing to make a 100% Syrah in Bordeaux! Forward, fresh, fruity, spicy and easy to drink, the wine is soft, medium-bodied, and focused on its ripe, red, spicy cherries. This will be best enjoyed in its youth.

2,259 Views

Tasted

Sep 21, 2019

2015
Mauvais Garçon (Bad Boy) (Bordeaux)

Forward, fresh, sweet and lush, with fat, juicy, ripe fruits, chocolate and licorice all over the place.

2,247 Views

Tasted

Apr 29, 2016

2015
Mauvais Garçon (Bad Boy) Syrah (Vin de Table Français)

Leave it to Jean Luc Thunevin to make a Syrah in Bordeaux! With peppery, red fruits smothered in bacon fat and vanilla, the wine is medium bodied, soft and forward.

1,544 Views

Tasted

Apr 29, 2016

2015
Mauvais Garçon (Bad Boy) Chardonnay (Vin de France)

The second vintage for this Bad Boy. Made from 100% Chardonnay, the wine is fun to place in a blind tasting. Easy to drink, perhaps not extremely complex, but there is a refreshing acidity to the sweet, yellow fruits, green apples and hints of pear with just a dab of vanilla to add sweetness to the wine.

1,240 Views

Tasted

Apr 30, 2016

2014
Mauvais Garçon (Bad Boy) (Bordeaux)

With a boat load of chocolate covered cherries from start to finish, this Merlot dominated wine is forward, round and will be tasty on release. 87-88 Pts

2,304 Views

Tasted

May 1, 2015

2014
Mauvais Garçon (Bad Boy) Syrah (Vin de Table Français)

Packed with spicy, peppery red berries, espresso and cocoa, this medium boded, fresh, cherry filled wine will deliver the goods early in life. This will make a great ringer for a blind tasting! 85-87 Pts

1,360 Views

Tasted

May 1, 2015

2013
Mauvais Garçon (Bad Boy) (Bordeaux)

Flowers, licorice, sweet plum, and cocoa flavors are found from start to finish in this likable, forward wine. 86-88 Pts

2,244 Views

Tasted

May 1, 2014

2012
Mauvais Garçon (Bad Boy) (Bordeaux)

Forward, easy drinking Merlot based wine, with round textures and a fruit filled finish. Drink this on the young side.

2,464 Views

Tasted

Jul 2, 2015

Sweet red berries, oak and smoke, soft textures, forward and round in style, this medium bodied, Merlot based wine will drink well on release. 87-89 Pts

2,703 Views

Tasted

Apr 26, 2013

2011
Mauvais Garçon (Bad Boy) (Bordeaux)

Jean Luc Thunevin's 100% Merlot, eponymous wine reached 14.5% ABV. Aged in 50% new oak, the wine offers coffee, vanilla and black cherry scents, soft tannins and should deliver a fun, chocolate and black raspberry-filled finish on release. 88-90 Pts

4,002 Views

Tasted

Apr 20, 2012

2010
Mauvais Garçon (Bad Boy) (Bordeaux)

Bad Boy is filled with ripe jammy black fruit, licorice, round textures and chocolate covered plums. 88-90 Pts

3,801 Views

Tasted

Apr 22, 2011

2009
Mauvais Garçon (Bad Boy) (Bordeaux)

Oak, spice, blackberry, tobacco and earthy scents fill the perfume. Already open and drinking well, this fun, round, delicious, up-front style of Merlot based, Bordeaux wine will deliver a lot of pleasure early.

3,845 Views

Tasted

Jul 31, 2011

2008
Mauvais Garçon (Bad Boy) (Bordeaux)

08 Bad Boy (Bordeaux) should be called Bad Girl because Murielle Andraud is now entirely in charge, just as she is at Château de Valandraud. This merlot, styled for early drinking, expresses a good deal of charm with its ripe black fruit, chocolate, and licorice aromas. This wine will return a lot of pleasure for a fair price. 88-91

3,140 Views

Tasted

Aug 1, 2009

2005
Mauvais Garçon (Bad Boy) (Bordeaux)

Already open, charming and fun to taste, this Merlot based wine from Jean-Luc Thunevin offers rich textures, ripe fruit, spicy, licorice, dark fruit scents and it's available for a fair price.

3,397 Views

Tasted

Jun 20, 2009