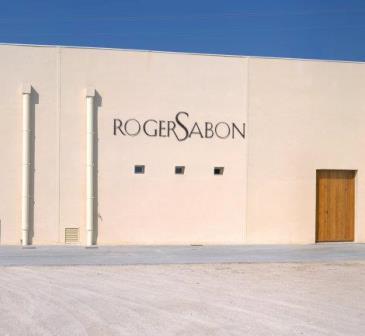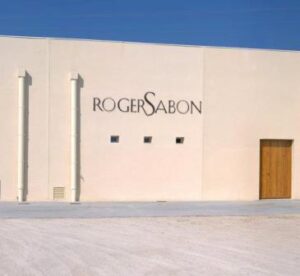 Learn everything about Roger Sabon, Chateauneuf du Pape with wine tasting notes, wine, and food pairing tips, best vintages, a history of the property, and information on the vineyards and winemaking. If you want to read about other important wineries and wine makers from the Rhone valley: Links to all Rhone Valley Wine Producer Profiles
Roger Sabon History, Overview
The Sabon family has a long history in Chateauneuf du Pape. In fact, they have been in the region even longer than Beaucastel has been around. That's a long time. The Sabon family can trace their Southern Rhone Valley roots all the way back to 1540. That is nine years older than Beaucastel. The first vintage bottled by what know today as Roger Sabon was in 1921.
At the time, the Domaine was managed by Seraphin Sabon. Sabon had three entrepreneurial, successful sons; Joseph Sabon, who founded Clos du Mont Olivet, Noel Sabon, who started the Domaine Chante Cigale and Roger.
Roger Sabon created the self-named property in 1952. Roger Sabon manages the estate with the help of his three sons, Jean-Jacques, Denis, and Gilbert Sabon.
Keeping everything in the family, the vinification is handled by Didier Negron, the son-in-law of Jean Jacques Sabon. The vineyards of Roger Sabon are managed by Denis Sabon and his son Julien Sabon.
Roger Sabon Vineyards, Wines, Winemaking
Roger Sabon has 16 hectares under vine in Chateauneuf du Pape. 15 hectares are used to produce red wine and one hectare is devoted to white wine grapes. Their best terroir is probably located on the rocky, sandy terroir found on the La Crau plateau. Their parcels are spread around the entire region.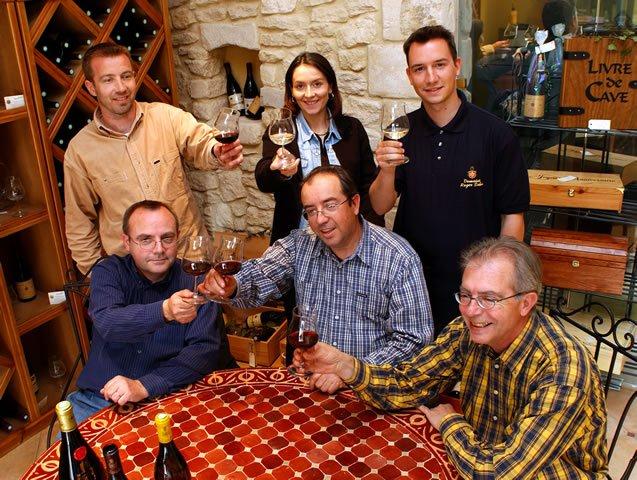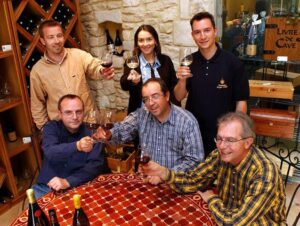 The best vintages of Roger Sabon are: 2022, 2021, 2020, 2019, 2018, 2017, 2016, 2015, 2012, 2010, 2009, 2007, 2005, 2003, 2001, 2000, 1998, and 1990.
Roger Sabon is an outstanding producer who is making wines that while not inexpensive, offer quality and character for a fair price.
Roger Sabon produces 4 red Chateauneuf du Pape wines and 1, Chateauneuf du Pape white wine.
Roger Sabon Olivets is produced from 80% Grenache, 10% Syrah and 10% Cinsault. From 50 year old vines, the terroir is limestone, rocks, stones, sand, and clay soils. The vines are planted in the le Deves d'Estouard and Pradel vineyards. The wine is aged in a combination of foudres and tank for 12 to 15 months. The production is 2,500 cases per year.
Roger Sabon Reserve is made from a blend of 70% Grenache, 20% Syrah and 10% Cinsault. The vines used for this wine are that are at least 65 years old. The terroir is small stones, rocks, sand, clay and limestone soil in the La Crau and la Grenade lieux-dits.
Vinification takes place in cement vats. The wine is then aged in foudres and tank for 12 to 16 months before bottling with with a production of 1,400 cases per year.
Roger Sabon Prestige, which is my pick for their best wine for the money comes from old vine Grenache that is almost 100 years old. With Grenache making up 70% of the blend, the wine also includes 15% Syrah, 10% Mourvedre, and other assorted grape varietals.
The terroir is galets, sand, clay, and limestone soils. The vines are well placed in the Les Brusquieres and Cabrieres lieux-dits. The wine is aged in a combination of foudres, demi-muid, and tank. On average, the production is about 1,150 cases per vintage.
Roger Sabon Le Secret des Sabon is one of the stars of the appellation. The debut vintage was 1990, but that vintage might not have been fully available commercially. The first widely marketed vintage, if you can call a 100-case cuvee, widely available, was the 1998.
Roger Sabon Le Secret des Sabon comes from a blend of old vine Grenache that dates back over 100 years and old vine Syrah. The blend varies. It can be 50/50, or it could be a bit more of one or the other. Though the old vine Grenache is the heart and soul of Le Secret de Sabon
The yields of Le Secret des Sabon can be as low as 10 hectoliters per hectare, though they average closer to 30 hectoliters per hectare. The terroir is mostly sandy soils with some rocks and stones. The wine is aged in tank for about 12 months. This stunning, pure, plush, rich, sexy, deep, Chateauneuf du Pape wine is in high demand, due to its unique character, charm, and style.
But if you want to taste an amazing expression of Chateauneuf du Pape, Roger Sabon Le Secret des Sabon is worth seeking out. Today, the production has increased to a whopping 150 cases per vintage.
Roger Sabon Chateauneuf du Pape Blanc Renaissance is made from 40% Roussanne, 20% Bourboulenc, 20% Clairette, 15% Grenache Blanc, 5% Picpoul and other assorted grape varieties. Aged in demi-muids for 6-8 months, the production is close to 175 cases per year.
When to Drink Roger Sabon, Anticipated Maturity, Decanting Time
Roger Sabon can be enjoyed on the young side if decanted for about 1 – 2 hours. This allows the wine to soften and open its perfume. Older vintages might need very little decanting, just enough to remove the sediment.
Roger Sabon is usually better with 3-6 years of bottle age. Of course, that can vary slightly, depending on the vintage. In the best vintages, the wine should be consumed within 5-20 years after the vintage.
Serving and Decanting Roger Sabon with Wine, Food Pairing Tips
Roger Sabon is best served at 15.5 degrees Celsius, and 60 degrees Fahrenheit. The cool, almost cellar temperature gives the wine more freshness and lift.
Roger Sabon is best served with all types of classic meat dishes, veal, pork, beef, lamb, duck, game, roast chicken, roasted, braised, stewed dishes, sausage, grilled meats, barbecue, and cassoulet. Roger Sabon is also good with Asian dishes, and hearty fish courses like tuna, mushrooms, cheese, pasta, eggplant, and tomatoes.
The white wine of Roger Sabon is best served with a myriad of different seafood dishes, shellfish, crab, lobster, sushi, sashimi, chicken, pork, and veal, as well as Asian cuisine.
Roger Sabon also makes red and white wine from their 17 hectares of vines located in the Cotes du Rhone and Lirac appellations.
Roger Sabon Wine Tasting Notes
47 Vintages 201,557 Views Sort by Vintage-Rating
2020
Roger Sabon Le Secret des Sabon (Châteauneuf-du-Pape)

Dark in color, the wine pops with licorice, black cherries, black plums and flowers as soon as the wine hits your glass. On the palate, the richly-textured wine is lush, polished, deep, balanced and long. There is intensity, purity, length and depth of flavor with a creaminess to the tannins, along with chocolate, licorice and black pepper in the endnote. This will age quite nicely. The wine is produced from 95% old vine Grenache with 5% coming from various, assorted, allowable grape varieties. This is one of the wines of the vintage. Drink from 2025-2040.

1,209 Views

Tasted

Jan 27, 2023

2020
Roger Sabon Reserve (Châteauneuf-du-Pape)

Flowers, black cherries, black raspberries, and plums produce the nose. Soft, lush and creamy on the palate, the wine has polish, vibrancy and freshness from start to finish. The wine was produced blending 80% Grenache, 10% Mourvedre and 10% Syrah. Drink from 2023-2035.

1,234 Views

Tasted

Jan 27, 2023

2020
Roger Sabon Les Olivets (Châteauneuf-du-Pape)

Flowers, red plums and cherry blossoms on the nose, the wine is medium-bodied, refined, earthy, salty and vibrant with a core of chewy, red fruits, olives and herbs on the palate. The wine was made blending 80% Grenache, 10% Syrah and 10% Mourvedre. Drink from 2022-2030.

1,062 Views

Tasted

Jan 27, 2023

2020
Roger Sabon Cuvée Prestige (Châteauneuf-du-Pape)

Smoke, tobacco leaf, flowers and dark cherries are there in spades on the nose and earthy, vibrant, fresh palate, that serves up a nice chocolate and pepper bite on the palate and the end of the finish. The wine was made blending 80% Grenache, 10% Syrah and 10% Mourvedre. Drink from 2022-2032.

1,233 Views

Tasted

Jan 27, 2023

2019
Roger Sabon Le Secret des Sabon (Châteauneuf-du-Pape)

The best vintage of Le Secret des Sabon since the otherworldly 2001, this is exciting from the moment the wine hits your glass due to its incredible nose packed with flowers, black and red fruits, herbs, peppery spices and thyme. The magic however is on the palate. There is weight, density and, concentration. Even with its wealth of fruit, the wine remains elegant, refined, silky, opulent, balanced, fresh and effortless to drink. The wine is made from seriously old vine Grenache, from mostly old vines that are more than 100 years of age. Clearly, this is in contention for one of the wines of the vintage. Drink from 2028 - 2040

4,657 Views

Tasted

Jan 9, 2022

2019
Roger Sabon Cuvée Prestige (Châteauneuf-du-Pape)

Without even asking, the kirsch, herbs, forest leaf, white flowers and spiced, dark red fruits show up. On the palate, the wine is even better with all of its soft, silky textured, elegant, red fruits. The wine is a bit tannic at the moment, so give it a few years and as good as it already is, it is going to be even better! Drink from 2023 - 2037

3,161 Views

Tasted

Jan 9, 2022

2019
Roger Sabon Reserve (Châteauneuf-du-Pape)

With gorgeous floral aromas, black raspberries, kirsch, cherries and a hint of licorice on the nose, the wine is soft, silky, supple, polished, fresh and sweet, finishing with all the delicious, ripe, vibrant, spiced red berries you can handle. There is good lift, energy, tapenade and spice in the endnote. The wine was produced blending 80% Grenache, 10% Mourvedre and 10% Syrah. Drink from 2023 - 2038

3,061 Views

Tasted

Jan 9, 2022

2019
Roger Sabon Les Olivets (Châteauneuf-du-Pape)

Sweet red fruits galore are found over here. On the palate the wine is soft, silky, polished, fresh and vibrant with layers of refined, pure red fruits that are already singing. This will deliver loads of early drinking pleasure. Drink from 2022 - 2035

2,381 Views

Tasted

Jan 9, 2022

2018
Roger Sabon Le Secret des Sabon (Châteauneuf-du-Pape)

Elegance is the key word here. Refined, fresh and with a beautiful silky, pure character, this is soft, sensuous and shows a gorgeous purity to the, ripe red fruits. For any vintage, this is a very good wine. But for 2018 this is clearly one of the stars of the vintage. This is made with mostly old vine Grenache.

2,235 Views

Tasted

Oct 12, 2020

2018
Roger Sabon Cuvée Prestige (Châteauneuf-du-Pape)

Medium-bodied, soft and fresh, the nose, with its blend of fresh picked flowers, herbs, earth, spices and red berries hits the spot. Soft, fruity, sweet and fresh, the wine is forward, open and just about ready to drink.

2,707 Views

Tasted

Oct 12, 2020

2018
Roger Sabon Reserve (Châteauneuf-du-Pape)

The spicy red cherry notes stand out here. Medium-bodied with soft, silky textures, and sweetness to the fruits, here you find a forward approach. In fact, this luscious, fruit-filled wine will be just great on release and should even better with age.

2,337 Views

Tasted

Oct 12, 2020

2018
Roger Sabon Les Olivets (Châteauneuf-du-Pape)

Peppery with green olives, herbs, cherries, raspberries and spice, the wine is medium-bodied, soft, forward and fresh, with a nice blast of kirsch in the finish. This will deliver loads of early drinking pleasure.

1,418 Views

Tasted

Oct 12, 2020

2017
Roger Sabon Le Secret des Sabon (Châteauneuf-du-Pape)

With a beautiful symmetry to the elements, the wine displays fabulous purity, elegance, silky tannins and freshness. The kirsch on the palate that remains on continuous display is elegant, refined and pure. This will age quite nicely. The wine is produced from 95% old vine Grenache with 5% coming from various grape varieties.

3,790 Views

Tasted

Sep 24, 2019

2017
Roger Sabon Cuvée Prestige (Châteauneuf-du-Pape)

Soft, polished, silky and fresh the wine is elegant, earthy and shows a lot of purity in the kirsch on the mid-palate and finish. The wine was made blending 70% Grenache, 20% Mourvedre and various other grape varieties.

5,326 Views

Tasted

Sep 24, 2019

2017
Roger Sabon Reserve (Châteauneuf-du-Pape)

Soft, sweet, supple and fresh, with layers of ripe, cherries and black raspberries, the wine is silky and polished, with ample lift in the red berry filled finish. The wine was produced blending 80% Grenache, 10% Mourvedre and 10% Syrah.

3,677 Views

Tasted

Sep 24, 2019

2017
Roger Sabon Les Olivets (Châteauneuf-du-Pape)

Soft, round, sweet and fresh with lush textures and a blast of ripe deep cherries, plums, earth and thyme in the end notes. The wine was made blending 80% Grenache, 10% Syrah and 10% Mourvedre.

3,081 Views

Tasted

Sep 24, 2019

2016
Roger Sabon Le Secret des Sabon (Châteauneuf-du-Pape)

The wine offers a myriad complexities on the nose. On the palate, the wine serves up a dense, decadently, opulent finish. The wine feels like each berry was hand polished, elegant and pure with all the depth your can handle everything is balanced and harmonious. The wine is produced from 95% old vine Grenache with 5% coming from various grape varieties.

5,907 Views

Tasted

Sep 12, 2018

2016
Roger Sabon Reserve (Châteauneuf-du-Pape)

Take incredibly ripe, sweet, fresh, black raspberries, blend them with cracked pepper, add in silk and velvet for texture and that is what you have going on here. The wine was produced blending 80% Grenache, 10% Mourvedre and 10% Syrah.

3,719 Views

Tasted

Sep 12, 2018

2016
Roger Sabon Cuvée Prestige (Châteauneuf-du-Pape)

Perfectly ripe, juicy, kirsch, plums and cracked pepper just rocks here! The wine is polished, soft and energetic, with a soft, fresh and fruity finish. The wine was made blending 70% Grenache, 20% Syrah, 5% Mourvedre and assorted AOC grape varieties that make up the remainder of the blend.

2,653 Views

Tasted

Sep 12, 2018

2016
Roger Sabon Les Olivets (Châteauneuf-du-Pape)

Elegant, sweet, polished and pure, the medium bodied, wine serves up, ripe, silky cherries without being asked. This is such a great, refined style here, it was impossible to put down the glass. The ability to age and enjoy young, is rare combination to find, but that's what you get here. The wine was made blending 80% Grenache, 10% Cinsault and 10% Syrah.

2,560 Views

Tasted

Sep 12, 2018

2015
Roger Sabon Le Secret des Sabon (Châteauneuf-du-Pape)

Flowers, red fruits, garrigue and subtle hints of jam create the nose. On the palate is where the real action takes place. Pure red fruits, silky polished tannins and a fresh quality give the wine lift and energy. The kirsch in the finish does not want to quit.

3,825 Views

Tasted

Aug 21, 2017

2015
Roger Sabon Reserve (Châteauneuf-du-Pape)

Dominated by its spicy red berries, you also find ample notes of cherries, earth, pepper and a silky textured, medium bodied, juicy, fruity finish. The wine was produced blending 80% Grenache, 10% Mourvedre and 10% Syrah.

3,386 Views

Tasted

Aug 21, 2017

2015
Roger Sabon Cuvée Prestige (Châteauneuf-du-Pape)

Juicy kirsch and all that cracked pepper is the first thing you notice. Fresh black raspberries, spice and earth kick in on the palate, where you also find soft, ripe tannins, and a fresh supple textured, berry filled finish. The wine was made blending 70% Grenache, 20% Syrah, 5% Mourvedre and assorted AOC grape varieties make up the remainder of the blend.

2,387 Views

Tasted

Aug 21, 2017

2015
Roger Sabon Les Olivets (Châteauneuf-du-Pape)

Smoked meat, spice and red fruits work well here. The wine is medium bodied, soft and forward, offering a charming wine to drink on the young side. Enjoy the spicy, peppery cherries here, while waiting for its bigger siblings to reach maturity. The wine was made blending 80% Grenache, 10% Cinsault and and 10% Syrah.

2,484 Views

Tasted

Aug 21, 2017

2014
Roger Sabon Le Secret des Sabon (Châteauneuf-du-Pape)

The floral notes really come out at the start, quickly followed by cherry liqueur and black pepper scents. Fresh, supple, medium bodied and silky, there is more than enough going here to make this a contender for the best wine of the vintage.

2,894 Views

Tasted

Jun 24, 2016

2014
Roger Sabon Cuvée Prestige (Châteauneuf-du-Pape)

The opulent, sexy textures are a knock out. The fruit is fresh, sweet and pure with a finish that is truly generous, spicy and silky. This should be a pleasure to drink young and it can age a bit as well.

5,516 Views

Tasted

Jun 24, 2016

2014
Roger Sabon Reserve (Châteauneuf-du-Pape)

Smoky, soft, silky, fresh, sweet, red fruits, elegant textures and a polished, kirsch, silky filled finish is already fun to taste is what you'll find here. Made from a blend of 80% Grenache, 10% Mourvedre and 10% Syrah, this is ready to go.

2,324 Views

Tasted

Jun 23, 2016

2014
Roger Sabon Les Olivets (Châteauneuf-du-Pape)

Polished, soft, silky layers of bright, red fruits, spice and fresh herbs in a forward, medium bodied, light textured, easy to like and enjoy style. And it sells for a fair price too.

2,490 Views

Tasted

Jun 23, 2016

2013
Roger Sabon Le Secret des Sabon (Châteauneuf-du-Pape)

One of the true stars of the vintage, which is not a secret due to their high quality wine making. The ripe kirsch notes really sing, leaving you with a lingering, silky red cherry finish.

4,817 Views

Tasted

Sep 8, 2015

2013
Roger Sabon Cuvée Prestige (Châteauneuf-du-Pape)

This really offers a lot of bang for the buck. The garrigue and peppery, red fruits on the nose is enough to move you. But the soft, silky, ripe, fresh mouth feel is just as delicious. The wine was made from a blend of 80% Grenache, 10% Syrah and 10% Mourvedre.

4,801 Views

Tasted

Sep 8, 2015

2013
Roger Sabon Les Olivets (Châteauneuf-du-Pape)

With a splash of fresh ripe, sweet, cherries and strawberry notes on the nose, this medium bodied charmer with its forward style and soft textures is already fun to taste.

4,613 Views

Tasted

Sep 8, 2015

2012
Roger Sabon Le Secret des Sabon (Châteauneuf-du-Pape)

Deep in color, with an explosive nose of thyme, black raspberry, kirsch and herbs that are followed by a plush, supple textured, layer of sweet, fresh, black cherries, kirsch and a hint of jam.

5,133 Views

Tasted

Aug 4, 2015

2011
Roger Sabon Le Secret des Sabon (Châteauneuf-du-Pape)

Medium bodied, forward, soft and approachable, the fresh, kirsch, thyme and garrigue character shines through in this difficult vintage.

3,494 Views

Tasted

Aug 4, 2015

2010
Roger Sabon Le Secret des Sabon (Châteauneuf-du-Pape)

Stunning levels of depth, richness and concentration, yet nothing is over the top, hot or even close to too much. The lush, corpulent textures, silky tannins, and waves of fresh, sweet, ripe and very ripe berries leave a mouth filling impression. With time, this could hit triple digits!

4,143 Views

Tasted

Aug 4, 2015

2010
Roger Sabon Cuvée Prestige (Châteauneuf-du-Pape)

Filled with ripe and close to over ripe, sweet, fresh, pure, black raspberries, jam, kirsch, pepper and garrigue notes, The wine is lush, full bodied and deep, leaving you with a long blast of fresh kirsch in the stylish finish.

4,756 Views

Tasted

Dec 15, 2014

2009
Roger Sabon Le Secret des Sabon (Châteauneuf-du-Pape)

Full bodied, rich, ripe, sweet, fresh, dense and packed to the gills with lushly textured, sweet fruits, jam, spice and herbs, this perfectly blends opulence with freshness and complexity.

5,373 Views

Tasted

Aug 4, 2015

Lush, plush, stylish and packed with ripe black raspberries, kirsch, fennel, earth, pepper and garrigue, the wine is quite forward as it is already delicious to drink now.

4,173 Views

Tasted

Jul 11, 2015

2007
Roger Sabon Le Secret des Sabon (Châteauneuf-du-Pape)

Such a beautiful sense of purity here in the fruit, it is impossible not to be drawn in to take another sniff and sip. Sweet, fresh, ripe and juicy, with loads of peppery fruit and silky, elegant, refined and polished textures that just do not want to quit. Still young, it is impossible not to see this is simply a stunning wine.

5,056 Views

Tasted

May 1, 2016

Packed and stacked with layer after layer of perfectly ripe, extremely ripe and over ripe, fresh, sweet, pure fruits. The wine is liqueur of Chateuaneuf du Pape. It feels great on your palate and it really lingers, leaving you remembering how great this was, and wanting another sniff, swirl and sip.

6,306 Views

Tasted

Aug 4, 2015

With some of the lowest yields in Chateauneuf du Pape (ranging from 8-12 hectoliters per hectare), this mostly Grenache based wine comes from vines averaging more than 100 years of age. That recipe produced a wine overflowing with kirsch, griotte, plum liqueur, pepper, spice, strawberry and black raspberry. Incredibly rich, silky and concentrated, this lush, opulent textured wine is almost off the charts. Very little is made and it's expensive, but it's one of the best examples of Chateauneuf du Pape at its best.

5,962 Views

Tasted

May 9, 2012

2007
Roger Sabon Cuvée Prestige (Châteauneuf-du-Pape)

Produced from mostly old Grenache with some vines that are close to 100 years of age, the wine is packed with kirsch, black raspberry, earth, herb, jam and black pepper. Full bodied and loaded with sweet, ripe, juicy fruit, this delicious Chateauneuf du Pape can be enjoyed now, or over the next 15 years.

4,607 Views

Tasted

May 9, 2012

2006
Roger Sabon Les Olivets (Châteauneuf-du-Pape)

Full mature, this ready to go, delicious wine serves up a blast of sweet, juicy, fresh, kirsch, garrigue and thyme, with soft textures and a fresh, open, cherry filled finish.

3,052 Views

Tasted

Nov 10, 2016

2005
Roger Sabon Cuvée Prestige (Châteauneuf-du-Pape)

Spicy, with lots of fresh cracked pepper, kirsch and wild strawberry. Bright, fresh and concentrated, you can drink this today and over the next decade.

3,846 Views

Tasted

May 9, 2012

2004
Roger Sabon Cuvée Prestige (Châteauneuf-du-Pape)

Fully mature, the offers freshness in the sweet kirsch notes, wet earth, herbs de Provence, pepper and black raspberry notes. Soft in texture and still light on its feet, there is no reason not to drink this up over the next few years.

2,693 Views

Tasted

Mar 7, 2018

2003
Roger Sabon Le Secret des Sabon (Châteauneuf-du-Pape)

This blasted from the glass with intense black cherry liqueur, pepper, jam and kirsch scents. This full bodied, mouth filling wine displays none of the over ripe qualities that many 03 Chateauneuf wines display. There is a purity of fruit and vitality that keeps it interesting. The wine ends with concentrated, ripe black raspberry and black cherry sensations.

2,631 Views

Tasted

Aug 17, 2010

2001
Roger Sabon Le Secret des Sabon (Châteauneuf-du-Pape)

It is hard to say which I found more compelling, the haunting dried flower, spice box, pepper, and kirsch aromatics, the stunning purity of the fruit, or the elegant, seamless, kirsch, cherry, and peppery strawberry notes in the long, drawn-out, elegant, refined, silky finish. At the end of the day, it does not matter. This is what great wine is all about. This is one of those close to impossible wines to find, that is worth the effort to seek out.

2,816 Views

Tasted

Oct 13, 2021

Outrageously good from the get go. The nose grabs you with its concoction of herbs, spice, licorice, earth, kirsch and pepper. Full, rich, deep, lush and suave the wine simultaneously coats your palate, yet retains its elegance. The seamless finish really lingers here. Splash decanted, this is a rockstar wine drinking at its peak.

3,158 Views

Tasted

Nov 2, 2020

A hedonistic thrill ride indeed. The sweet, plum and kirsch liqueur essence just keeps on giving. The wine is powerful, richly textured, balanced and complex. This is about as good as Chateauneuf du Pape gets.

3,464 Views

Tasted

Feb 17, 2018

Holy Cow! I\'ve died and gone to heaven. This wine floored me. It\'s so concentrated, you can eat it with a spoon, or drink it, depending on your needs for the day! The wine has incredible layers of concentration, but what makes this unique is that it\'s not heavy. It\'s just pure, hedonistic thrills. The wine paints your palate with flavor, wakes your soul and gets you going. The intensity of the perfectly ripe, fruit is to die for. The finish must last at least 60 seconds. If you\'re looking to know what great Chateauneuf du Pape is all about, this is your ticket.

6,135 Views

Tasted

Aug 4, 2016

This wine has arrived at the corner of Off the hook and Off the charts! Stunning in every way, the wine starts off with a sweet, jammy, floral, earth, truffle, smoke and kirsch perfume. If that was all there was to it, I'd be happy. But the electricity really start up when the wine hits your palate with its opulent, sexy, sensuous textures and layers of perfectly ripe, fresh, sweet, spicy fruits. There is a real beauty in this wines sense of purity in the finish.

4,498 Views

Tasted

Nov 14, 2015

This is simply best described as offering the essence of Grenache. There is a stunning purity if fruit that is seldom found in most wines. It's rich, fat, juicy, sensuous, intense and palate staining, yet balanced, long, complex and exciting. Sadly, there is so little made, production hovers at close to 100 cases, so unless you buy it early, prices quickly jump. But for those luck few that bought early, or of course for those with deep pockets, Chateauneuf du Pape does not get better than this!

4,843 Views

Tasted

Mar 10, 2014

2001
Roger Sabon Cuvée Prestige (Châteauneuf-du-Pape)

2001 Sabon Prestige is a winner. Pepper, jammy black cherry, kirsch and fresh herbs aromatics catch your attention. The full bodied, ripe, jammy black raspberry, spice, cherry and licorice flavors area treat. Fully mature, this is drinking at the perfect place. I wish I had more than one bottle remaining. 93 Pts

5,301 Views

Tasted

Oct 1, 2010

2000
Roger Sabon Le Secret des Sabon (Châteauneuf-du-Pape)

Fully mature, with soft, silky, elegant textures, the wine is on the floral side of the style range. The fresh sweet, kirsch is equally powerful on the nose, and in the medium bodied, polished, spicy, fresh finish.

3,038 Views

Tasted

Sep 16, 2016

2000
Roger Sabon Cuvée Prestige (Châteauneuf-du-Pape)

Candied red and black fruits with herbs, spices and pepper. Good weight on the palate. Silky layers of red and black fruit greet your taste sensations. Great acidic balance. Refreshing.

3,250 Views

Tasted

Sep 22, 2006

1998
Roger Sabon Cuvée Prestige (Châteauneuf-du-Pape)

This is not showing as well as previous bottles. The wine is now dominated by red fruit and starting to fade. There was a touch of VA in the wine as well.

3,074 Views

Tasted

Aug 27, 2012