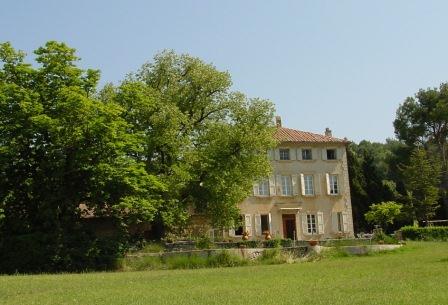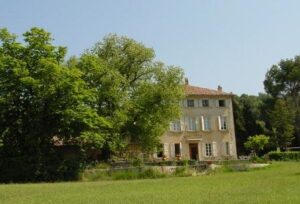 Learn everything about Saint Cosme, Chateauneuf du Pape with wine tasting notes, wine and food pairing tips, best vintages, a history of the property and information on the vineyards and winemaking. If you want to read about other important wineries and wine makers from the Rhone valley: Links to all Rhone Valley Wine Producer Profiles
Chateau de Saint Cosme History, Overview
Chateau de Saint Cosme is a negociant firm that produces excellent wine in Chateauneuf du Pape as well as in Cote Rotie and Gigondas. In fact, Gigondas is where the domaine maintains their official location. Saint Cosme is situated close to the site of an ancient Roman villa that is said to have been planted with vines thousands of years ago.
Saint Cosme is one of the older wine producers in the world. They have been involved in producing wine since the 15th century! Today, Chateau de Saint Cosme is owned by the Barroul family. The company is family owned and manged. It has been passed down for 15 generations of the Barroul family.
Henri Barruol the patriarch of the family who really brought Saint Cosme into the modern age starting with the 1957 vintage, passed away at 89 years of age in January 2017. His son, Louis Barruol has been in charge of the company since 1992.
Saint Cosme produces Gigondas from 15 hectares of land they own. Saint Cosme produces their Cote Rotie wine from purchased fruit obtained from growers in the Northern Rhone valley.
In Gigondas, they make several wines including 4 single vineyard wines which are the true stars of the appellation; Valbelle, Le Claux, Hominis Fides and Le Poste. Valbelle, was the first of those wines making its debut in 1993. The terroir for Valbelle and Hominis Fides is sand and limestone soils.
Le Claux, has a terroir of gravel and clay with old vines that were planted in over 100 years ago. Le Poste is produced from 50 year old vines that were planted in 1963 in a terroir of limestone and marl soil.
In Chateauneuf du Pape however, they do not own any vines. Instead, like most negociants, they maintain contracts with several growers. Most of their grapes are planted in the La Crau, Valori Cristia and Courthezon lieux-dits.
Chateau de Saint Cosme Vineyards, Wines, Winemaking
The vast majority of the fruit they purchase is a blend if 50% Grenache, 30% Mourvedre, 10% Syrah, 7% Cinsault and 3% Claritte. Although, the blend can often will vary to some extent, depending on the character and quality of the vintage. The vines are old at close to 60 years of age. The vineyard sources are in 2 lieux-dits, La Crau and Valori.
Chateau de Saint Cosme makes 1 Chateauneuf du Pape Rouge wine.
Chateau de Saint Cosme Chateauneuf du Pape
The fruit is not destemmed. Instead, the grapes are all 100% whole cluster fermented. The wine is aged in old, small, French oak barrels for an average of 20 – 23 months, depending the character and quality of the vintage. On average, Chateau de Saint Cosme produces about 350 cases of Chateauneuf du Pape wine each year.
When to Drink Chateau de Saint Cosme, Anticipated Maturity, Decanting Time
Chateau de Saint Cosme can be enjoyed on the young side. Young vintages can be popped and poured, or decanted for about 1 hour. This allows the wine to soften and open its perfume. Older vintages might need very little decanting, just enough to remove the sediment.
Chateau de Saint Cosme is usually better with 2-4 years of bottle age. Of course that can vary slightly, depending on the vintage. In the best vintages the wine should be consumed within 3-12 years after the vintage.
Serving Chateau de Saint Cosme with Wine, Food Pairing Tips
Chateau de Chateau Saint Cosme is best served at 15.5 degrees Celsius, 60 degrees Fahrenheit. The cool, almost cellar temperature gives the wine more freshness and lift.
Saint Cosme is best served with all types of classic meat dishes, veal, pork, beef, lamb, duck, game, roast chicken, roasted, braised, stewed dishes, sausage, barbecue and cassoulet. Chateau Saint Cosme is also good with Asian dishes, hearty fish courses like tuna, mushrooms, cheese, pasta, eggplant and tomatoes.
Chateau de Saint Cosme produces several wines in the Southern Rhone from the Gigondas, and Cotes du Rhone appellations. In the Northern Rhone Valley they produce Cote Rotie, Crozes Hermitage, St. Joseph and Condrieu.
Saint-Cosme Wine Tasting Notes
17 Vintages 71,836 Views Sort by Vintage-Rating
2016
Château de Saint-Cosme Les Claux (Gigondas)

Luscious, round and juicy with layers of black cherries, herbs and spice, the finish is long, fresh and complex. The finish must be tasted to be believed, as it stikcks with you for close to 60 seconds! This is a legendary bottle of Gigondas. The wine is made from a specific parcel selection and aged in 30% new French oak. Produced from blending 95% Grenache and 5% Syrah.

5,449 Views

Tasted

Sep 21, 2019

2016
Château de Saint-Cosme Hominis Fides (Gigondas)

Dark in color, this is beautiful in the glass, as well as on the nose and palate. The wine is full-bodied, concentrated, long, sweet, fresh and clean. There is purity and vibrancy to the fruit that really grabs you and sticks with you. The expansive finish keeps on going with its layers of fruit, herbs and thyme. This is just a superb wine that deserves to be tasted.

4,843 Views

Tasted

Sep 21, 2019

2016
Château de Saint-Cosme Le Poste (Gigondas)

Silky, lush, sweet and fresh with a juicyness to the fruit that comes along with a solid blast of dark red fruits, hints of thyme, garrigue and spice. Tannic, so give it a few years to soften and settle in.

3,607 Views

Tasted

Sep 21, 2019

2016
Château de Saint-Cosme (Gigondas)

The entry level wine Gigondas from Saint Cosme is perfect for early drinking, while waiting for its big brothers or sisters to develop. Soft round, fruit and juicy, the red fruits have lift, licorice and herbs, with a hit of rusticity in the finish.

3,796 Views

Tasted

Sep 21, 2019

2015
Saint-Cosme (Côte-Rôtie)

Meaty, fresh, bright, peppery and lush, with a core of dark, sweet cherries, raspberries, licorice, smoke and flowers. There is a softness to the tannins and a freshness to the layers of spicy kirsch in the finish. Another 5 - 7 years or so will really round things out here. For an ever-increasingly expensive appellation, this offers good value in the Northern Rhone.

3,634 Views

Tasted

Nov 24, 2019

2014
Saint-Cosme (Châteauneuf-du-Pape)

Fresh, peppery, polished and expressive, the wild red fruits and spice mixture comes through from start to finish on the nose and on the palate. This is a solid effort in a mixed vintage.

2,821 Views

Tasted

Jun 23, 2016

2013
Saint-Cosme (Châteauneuf-du-Pape)

Garrigue and thyme, with fresh black raspberries open the wine. On the palate, this medium bodied wine shows its elegance and charm early.

4,220 Views

Tasted

Sep 8, 2015

2012
Saint-Cosme (Châteauneuf-du-Pape)

Full bodied, lusciously textured, peppery, black cherry, plum, licorice, smoke and fresh herbs. This is good now and should be even better with another 2 years or so of age.

2,730 Views

Tasted

Mar 6, 2018

2010
Saint-Cosme (Côte-Rôtie)

Really stylish expression of Cote Rotie, with flowers, cherry, black raspberries, wet earth, forest leaf and olive notes. Medium/full bodied, fresh and vibrant, soft and polished, this should age well for at least another decade.

4,151 Views

Tasted

Mar 13, 2018

2010
Saint-Cosme (Châteauneuf-du-Pape)

Sporting a nose of kirsch, fennel and garrigue, this forward styled, plush wine is already drinking in the sweet spot.

4,627 Views

Tasted

May 29, 2013

2009
Saint-Cosme (Côte-Rôtie)

Forward in style, lushly textured and with a complex set of aromatics set off by licorice, vanilla, black cherry liqueur, jam, pepper and fresh herbs, this is one of the few remaining value wines from Cote Rotie.

3,066 Views

Tasted

Dec 1, 2013

2007
Château de Saint-Cosme Valbelle (Gigondas)

With a perfume of sweet, ripe, red and dark fruits, pepper, herbs and spice, the wine is rich, full bodied and concentrated, ending with fat layers of juicy, black raspberries and jam.

3,323 Views

Tasted

Mar 12, 2013

2005
Saint-Cosme (Côte-Rôtie)

What a charmer, with its kirsch, earth, black raspberry and floral personality, lush textures and long, fresh, sweet, dark red berry and spicy finish.

3,682 Views

Tasted

Mar 15, 2013

2003
Saint-Cosme (Côte-Rôtie)

Fresh jammy strawberry, garrigue, cherry liqueur, pepper, mint, smoke and graphite. In the mouth, the wine offers silky, rich, earthy, ripe, sweet strawberry, dried cherry and spice. There is no sensation of heat or jam. It's drinking well today.

3,756 Views

Tasted

Jul 15, 2012

03 St. Cosme Cote Rote rocks the moment it's popped and poured. Ripe blackberry, pepper, blueberry, bacon fat and jammy black cherries make their mark. This fat textured wine ends with a long jammy, fruit filled finish. What this wine lacks in elegance, it makes it up in spades with sex appeal.

3,137 Views

Tasted

Sep 1, 2010

2001
Saint-Cosme (Châteauneuf-du-Pape)

Fully mature, and probably at peak, the wine offers lush textured, richness and an earthy mix of herbs, black pepper, smoke and ripe, fresh, sweet cherries and black raspberry. There is no reason to age this any longer.

2,198 Views

Tasted

Mar 7, 2018

1999
Saint-Cosme (Côte-Rôtie)

My last bottle of this beauty was consumed a few years ago. Luckily, a friend brought a bottle last night, and while it has dropped a bit of depth and freshness, the wine is now quite sensual in nature, with sweet, ripe, peppery, kirsch and red plums, silky tannins and a red pit fruit filled finish. Nothing lasts forever, so if a have a bottle or two around, you should not hold on any longer.

3,061 Views

Tasted

Feb 26, 2019

Splash decanting was all this needed to bring out the black cherry, balsamic, bacon fat, licorice and fresh herb notes in the wine. Fully mature, the wine has shifted its fresh, acidic youthful profile and is now delivering silky, lush, black raspberries, with a mint accent. There is still ample freshness, spice and vibrancy here, but there is no real reason to age this any further. I have 3 bottles remaining from the original case and I'll probably finish them over the next 5-7 years.

2,433 Views

Tasted

Aug 10, 2016

Sweet ripe cherries, all spice, truffle, stone, fresh herbs and sizzling bacon fat brought this perfume to life! With silky textures, depth, purity of fruit, freshness and a long ripe, dark cherry finish, this Cote Rotie wine was a pleasure to drink. This is at the perfect place to start tasting this wine.

3,814 Views

Tasted

Jun 9, 2012

1998
Château de Saint-Cosme Valbelle (Gigondas)

This is a large scaled Gigondas filled with fresh black pepper, red and black fruit and meaty scents. Big, burly, rustic and primal. Fully mature.

3,488 Views

Tasted

Mar 28, 2008