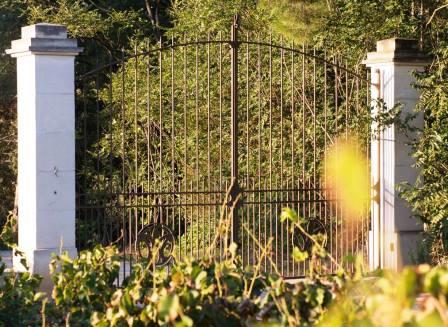 Learn everything about Paul Autard Chateauneuf du Pape with wine tasting notes, wine and food pairing tips, best vintages, a history of the property, information on the vineyards and winemaking. If you want to read about other important wineries and wine makers from the Rhone valley: Links to all Rhone Valley Wine Producer Profiles
While Domaine Paul Autard has a long, multi generational history in the Southern Rhone Valley that dates back to 1924. However, the modern era for Domaine Paul Autard really begins to take off in 2005 when Jean Paul Autard took over managing the estate.
Domaine Paul Autard Vineyards, Wines, Winemaking
Domaine Paul Autard owns 13 hectares of vines in the Chateauneuf du Pape appellation. 12 hectares are devoted to red wine grape varieties and 1 hectare of vines is reserved for the production of white wine.
Domaine Paul Autard also owns 12 hectares of vines in the Cotes du Rhone appellation where they produce red wine, and a late harvest, sweet white wine from Viognier, Je me Souviens.
Domaine Paul Autard produces 3 red Chateauneuf du Pape wines and one Chateauneuf du Pape Blanc.
Domaine Paul Autard Chateauneuf du Pape is a blend of 70% Grenache, 15% Counoise and 15% Syrah. The grapes are usually fully destemmed. The terroir is sand, rocks and stone soils. The wines are vinified in stainless steel tanks and is aged in used, French oak barrels for between 12-14 months. The production is slightly less than 6,000 cases per vintage.
Domaine Paul Autard Cuvee La Cote Ronde – Cuvee La Cote Ronde made its debut in 1989, making it one of the first, special cuvee wines in the region. The blend is 50% Grenache and 50% Syrah from vines that are more than 60 years of age.
The vines are planted in the Arnesque, L'Baratin, Barbe d'Asne and la Barnouine lieux dits. There you find a terroir of galets and sand soils. The grapes are fully destemmed. The wine is aged in 100% new, French oak barrels for an average of 18 months before bottling. The production is close to 800 cases per year.
Domaine Paul Autard Cuvee Juline is named after the two children of Paul Autard, Jules and Pauline. The wine made its debut with the 2006 vintage. Cuvee Juline is made from a blend of 50% Grenache and 50% Syrah completely destemmed from vines that are older than 60 years of age.
The terroir is various rocks stone and sandy soils. The wine is micro-vinified in new, French oak barrels and is aged in the same barrels for 18 months. The wine is quite modern in style and will not please everyone. This wine is quite difficult to find as only 175 cases are produced.
Domaine Paul Autard Blanc is produced from a blend of equal parts, Grenache Blanc, Clairette and Roussanne. The vines are old at an average age of 55 years.
The best vintages of Domaine Paul Autard are: 2022, 2021, 2020, 2019, 2018, 2017, 2016, 2015, 2012, 2010, 2009, 2007, 2005, 2001, 2000 and 1998.
When to Drink Domaine Paul Autard, Anticipated Maturity, Decanting Time
Domaine Paul Autard can be enjoyed on the young side with 1-2 hours of decanting. This allows the wine to soften and open its perfume. Older vintages might need very little decanting, just enough to remove the sediment.
Domaine Paul Autard is usually better with 3-5 years of bottle age. Of course that can vary slightly, depending on the vintage. In the best vintages the wine should be consumed within 3-14 years after the vintage.
Serving Domaine Paul Autard with Wine, Food Pairing Tips
Domaine Paul Autard is best served at 15.5 degrees Celsius, 60 degrees Fahrenheit. The cool, almost cellar temperature gives the wine more freshness and lift.
Domaine Paul Autard is best served with all types of classic meat dishes, veal, pork, beef, lamb, duck, game, roast chicken, roasted, braised, stewed dishes, sausage, grilled meat, barbecue and cassoulet. Domaine Paul Autard is also good with Asian dishes, hearty fish courses like tuna, mushrooms, cheese, pasta, eggplant and tomatoes.
The white wine of Domaine Paul Autard is best served with a myriad of different seafood dishes, shellfish, crab, lobster, sushi, sashimi, chicken, pork and veal, as well as Asian cuisine.
Domaine Paul Autard Wine Tasting Notes
23 Vintages 41,235 Views Sort by Vintage-Rating
2020
Domaine Paul Autard Cuvée Juline (Châteauneuf-du-Pape)

Dark in color, the wine is loaded with incense, espresso, chocolate, spice and smoke, along with loads of dark, ripe. red fruits. On the palate, the wine is rich, full-bodied, fleshy and creamy with dark cherry and cocoa packed finish. Produced by blending 50% Grenache with 50% Syrah, the wine is aged in 100% new, French oak barrels for 19 months before bottling. Juline, takes it name from the names of Jules Autard and Pauline Autard, the children of the Autard family. Drink from 2023-2035.

574 Views

Tasted

Jan 27, 2023

2020
Domaine Paul Autard Cuvée La Cote Ronde (Châteauneuf-du-Pape)

From a blend of 50% Grenache and 50% Syrah aged in 100% new, French oak barrels, this is a modern-styled Southern Rhone wine. But the dark red fruits, peppery spice and chocolate are also front and center. There is concentration, lush textures and an opulent, albeit, oaky finish that will need a few years to integrate. Drink from 2024-2034.

558 Views

Tasted

Jan 27, 2023

2020
Domaine Paul Autard (Châteauneuf-du-Pape)

Spice and espresso share the stage with all the ripe, black cherries, licorice and smoke on the palate. Clearly, a modern-styled Chateauneuf, the medium-bodied, fruity wine will be easy to like on release. Drink from 2022-2030.

553 Views

Tasted

Jan 27, 2023

2019
Domaine Paul Autard Cuvée La Cote Ronde (Châteauneuf-du-Pape)

A shot of espresso, smoke, sandalwood and dark red fruits shoots out of the dark, red colored wine. Rich, fleshy, round, forward and concentrated, there are layers to opulently textured wine that make an impression. If you are seeking the best expression of a modern, styled Chateauneuf du Pape, you came to the right place. The wine was made from blending 50% Grenache and 50% Syrah and was aged in 100% new, French oak barrels. Drink from 2025 - 2037

1,807 Views

Tasted

Jan 9, 2022

2019
Domaine Paul Autard Cuvée Juline (Châteauneuf-du-Pape)

Sporting a dark ruby hue, the wine instantly displays its spice, espresso, smoke, licorice, and black cherry profile without a hitch. The wine is full-bodied, concentrated, round and rich, with a lot of smoky, palate filling density from start to finish. This is going to take some cellaring for all the parts to come together. Made from an equal blend of Grenache and Syrah, the wine is aged in 100% new, French oak barrels for 19 months before bottling. Juline takes its name from Jules Autard and Pauline Autard, the children of the Autard family are one of the most modern-styled wines in all of Chateauneuf du Pape. Drink from 2025 - 2036

1,688 Views

Tasted

Jan 9, 2022

2019
Domaine Paul Autard (Châteauneuf-du-Pape)

Espresso and sweet, fresh cherries open up the nose. On the palate the wine is soft, plush, round and polished, leaving you with a big blast of chewy red fruits, smoke, licorice and a vanilla tint that should integrate with time. A few years of bottle should make this an even better wine. Drink from 2023 - 2033

1,394 Views

Tasted

Jan 9, 2022

2018
Domaine Paul Autard Cuvée Juline (Châteauneuf-du-Pape)

With a good depth of color, the wine starts off with a strong note of oak, wet earth, spice and grilled meat. The wine is no shy little sister. Big, rich, powerful and full-bodied, with a blast of fruit and oak on the palate, this is going take some cellaring for all the parts to come together. Made from an equal blend of Grenache and Syrah, the wine is aged in 100% new, French oak barrels for 19 months before bottling. Juline, takes it name from the names of Jules Autard and Pauline Autard, the children of the Autard family is one of the most modern styled wines in all of Chateauneuf du Pape..

1,253 Views

Tasted

Oct 12, 2020

2018
Domaine Paul Autard Cuvée La Cote Ronde (Châteauneuf-du-Pape)

Sporting one of the deepest hues of the vintage, the wine greets you with strong notes of espresso, vanilla, black cherry, licorice, smoke and plum. Full-bodied, round, fleshy and flashy, this is going to take time in the cellar to soften and allow the oak to integrate. If you are seeking the best expression of a modern, styled Chateauneuf du Pape, you came to the right place. The wine was made from blending 50% Grenache and 50% Syrah and was aged in 100% new, French oak barrels.

1,288 Views

Tasted

Oct 12, 2020

2018
Domaine Paul Autard (Châteauneuf-du-Pape)

Vanilla, espresso, smoke, wet earth and dark red berries are the first thing you notice. From there, you find a blast of round, lush, sweet, ripe, juicy red fruits with a dose of oak in the finish. Give this time to integrate and it should be a much better wine.

2,152 Views

Tasted

Oct 12, 2020

2016
Domaine Paul Autard Cuvée Juline (Châteauneuf-du-Pape)

Dark in color, the wine, made from equal parts Grenache and Syrah is big, powerful, dense and concentrated and oaky.. Following the color, you're easy finding incense, espresso, spice box and smoke to accompany all the dark, red fruits. There is sweetness and depth, as well as vibrancy and opulence. The fruit is perfectly ripe and the fruit is round and lush, but you have to move past the oak, letting the wine age before you get to the real beauty found here. The wine is aged in 100% new, French oak for 19 months before bottling. Juline, takes it name from the names of Jules Autard and Pauline Autard, the children of the Autard family is one of the most modern styled wines in all of Chateauneuf du Pape..

1,775 Views

Tasted

Sep 6, 2018

2016
Domaine Paul Autard (Châteauneuf-du-Pape)

The oak is the first thing you notice before moving on to layers of sweet ripe, opulently textured fruits. There is purity and weight here, with loads of fruits in the finish, along with wood. This will take time for everything to come together and for the oak to better integrate. The wine was made from a blend of 70% Grenache, 20% Syrah and 10% Mourvedre. The wine was aged in 30% new, French oak barrels for 14 months.

2,998 Views

Tasted

Sep 6, 2018

2015
Domaine Paul Autard Cuvée Juline (Châteauneuf-du-Pape)

Juline, takes it name from the names of Jules Autard and Pauline Autard, the children of the Autard family. The wine is one of the most modern styled Chateauneuf releases today. Fat, round and with a lot of oak in the nose, the oaky profile coexists with the fleshy, black raspberry and cherry tones, providing lush textures and a hedonistic approach. But there is a lot of wood going on here. The wine is made from blending of 50% Syrah and 50% Grenache that is aged in 100% new, French oak for 19 months before bottling. Much of the oak is already taken up by the Syrah, but there is still a woody profile that is going to be an issue for many tasters. I'd let this rest for at least 5-7 years for the oak to better integrate.

2,416 Views

Tasted

Aug 21, 2017

2015
Domaine Paul Autard Cuvée La Cote Ronde (Châteauneuf-du-Pape)

Smoke, with espresso and vanilla notes are what you notice first before you get to the deep, red fruits. The wine is fat, round and forward, with density of fruit and flavor, along with a lot of oak, making this one of the most modern styled wines in Chateauneuf du Pape today. The wine was made from blending 50% Grenache and 50% Syrah.

3,017 Views

Tasted

Aug 21, 2017

2015
Domaine Paul Autard (Châteauneuf-du-Pape)

Modern in style, with oaky notes out in front, the wine serves up vanilla, and espresso over its red fruits. Round and opulent in texture, the oak is fairly strong for a Grenache wine from Chateauneuf, so some tasters are going to have a hard time with it. The wine was made from a blend of 70% Grenache, 20% Syrah and 10% Mourvedre. The wine was aged in 30% new, French oak for 14 months.

2,141 Views

Tasted

Aug 21, 2017

2014
Domaine Paul Autard Cuvée Juline (Châteauneuf-du-Pape)

Juline, takes it name from the names of Jules and Pauline Autard, is a modern styled Chateauneuf. Round, fat and forward, there is a distinctive oaky profile along with the fleshy, black raspberry and cherry tones. Lushly textured, the wine really works this year due to its blend of 50% Syrah and 50% Grenache.

1,247 Views

Tasted

Jun 24, 2016

2014
Domaine Paul Autard (Châteauneuf-du-Pape)

With a kiss of oak, delivering a fresh espresso character coupled with fresh, juicy cherries, thyme and spice, the wine is round, open, polished and ready to go. This is a modern styled wine that is not for everyone.

1,410 Views

Tasted

Jun 23, 2016

2013
Domaine Paul Autard Cuvée Juline (Châteauneuf-du-Pape)

Juline, named after Jules and Pauline Autard, is modern in style, with its oaky nose, lush textures and flashy, fruit filled finish.

1,990 Views

Tasted

Sep 7, 2015

2013
Domaine Paul Autard Cuvée La Cote Ronde (Châteauneuf-du-Pape)

Sweet, cherry jam in the nose, with hints of licorice and toast in the nose, with a forward, silky, blast cherry in the round finish.

1,844 Views

Tasted

Sep 7, 2015

2013
Domaine Paul Autard (Châteauneuf-du-Pape)

With a big kiss of oak, licorice, lavender and kirsch, this modern styled wine leaves you with a polished, black raspberry finish.

1,873 Views

Tasted

Sep 7, 2015

2012
Domaine Paul Autard Cuvée Juline (Châteauneuf-du-Pape)

This is not a wine for everyone, due to its modern styled, obviously oaky character. Once past the oak, the blend of 50% Grenache and 50% is full bodied, concentrated, lush, round, fleshy and flashy, with a sweet, cherry, licorice and herb filled personality.

1,930 Views

Tasted

May 17, 2016

2010
Domaine Paul Autard Cuvée Juline (Châteauneuf-du-Pape)

Very oaky, modern style of Chateauneuf du Pape that inspire discussion between modernists and traditionalists. The wine has a lot of depth, fat textures, richness and ripe fruits and a real lush sensation. If the oaky, espresso notes integrate the score should go up. If they persist, my score would drop as I do not really like too much oak in Grenache driven wines.

2,211 Views

Tasted

Nov 20, 2015

2009
Domaine Paul Autard (Châteauneuf-du-Pape)

Forward, open and ready for drinking, the wine is soft, round and delivers a ripe, sweet, kirsch, black raspberry, thyme, smoke and spicy taste. This is not a wine to lay down for much more aging.

2,727 Views

Tasted

Jun 13, 2016

2007
Domaine Paul Autard Cuvée La Cote Ronde (Châteauneuf-du-Pape)

Modern, oaky, round, fat, lush, sweet and packed with ripe kirsch, licorice, smoke and cherry notes. Concentrated and made for pleasure, the modern style of this wine is going to please some people a lot more than others.

2,389 Views

Tasted

Sep 5, 2015