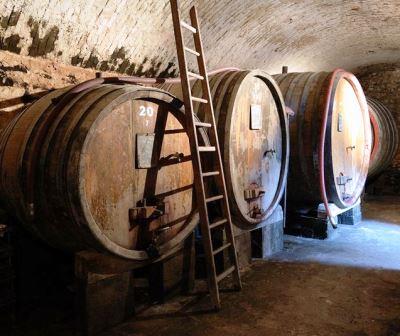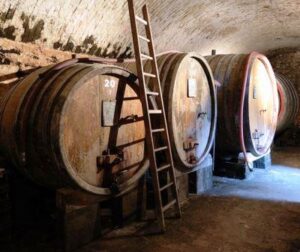 Learn everything about Domaine Pontifical Chateauneuf du Pape with wine tasting notes, wine and food pairing tips, best vintages, a history of the property, information on the vineyards and winemaking. If you want to read about other important wineries and wine makers from the Rhone valley: Links to all Rhone Valley Wine Producer Profiles
Domaine Pontifical dates back to the 1920's, but it took until 1979 for the modern era for property to start becoming established as a winery. In 1979, Francois Laget and Isabelle Laget started to manage the estate, renaming it Domaine Pontifical. The cellars are even older than the property as they date all the way back to the late 1800's.
Domaine Pontifical Vineyards, Wines, Winemaking
Domaine Pontifical owns 17 hectares of vines in Chateauneuf du Pape. 16 hectares are planted with red wine grapes. 1 hectare is reserved for the production of white wine grapes. The Laget family also own 2 hectares of vines with classification of IGP.
Domaine Pontifical produces 2 red Chateauneuf du Pape wines and 1 white Chateauneuf du Pape wine. Most of the vineyards are located in various lieux dits placed in the western portion of the Southern Rhone appellation.
Domaine Pontifical Chateauneuf du Pape is produced from a blend of 75% Grenache, 10% Syrah, 5% Mourvedre, 5% Counoise and 5% Cinsault. On average, the vines are 40 years of age. the wine is aged in old foudres for 12 months. The production is on average, 5,000 cases per vintage.
Domaine Pontifical Les Vieilles Vignes d'Albert is produced from 90% Grenache and 10% Syrah.The wine is aged in a combination of new and used French oak barrels for 12 to 14 months. The wine takes its name the founder of the estate in the 1920's, the great grandfather of Francois Laget. The wine made its debut with the 2007 vintage.
Domaine Pontifical Chateauneuf du Pape Blanc is made from 60% Grenache Blanc, 20% Roussanne, 10% Clairette and 10% Bourboulenc. The wine is aged in a combination of vats and French oak barrels for 6 months.
When to Drink Domaine Pontifical, Anticipated Maturity, Decanting Time
Domaine Pontifical can be enjoyed on the young side. Young vintages can be popped and poured, or decanted for about 1 hour or less. This allows the wine to soften and open its perfume. Older vintages might need very little decanting, just enough to remove the sediment.
Chateau Beauchene is usually better with 1-3 years of bottle age. Of course that can vary slightly, depending on the vintage. In the best vintages the wine should be consumed within 2-8 years after the vintage.
Serving Domaine Pontifical with Wine, Food Pairing Tips
Domaine Pontifical is best served at 15.5 degrees Celsius, 60 degrees Fahrenheit. The cool, almost cellar temperature gives the wine more freshness and lift.
Domaine Pontifical is best served with all types of classic meat dishes, veal, pork, beef, lamb, duck, game, roast chicken, roasted, braised, stewed dishes, sausage, barbecue and cassoulet. Domaine Pontifical is also good with Asian dishes, hearty fish courses like tuna, mushrooms, cheese, pasta, eggplant and tomatoes.
The white wine of Domaine Pontifical is best served with a myriad of different seafood dishes, shellfish, crab, lobster, sushi, sashimi, chicken, pork and veal, as well as Asian cuisine.
Domaine Pontifical Wine Tasting Notes
7 Vintages 15,545 Views Sort by Vintage-Rating
2016
Domaine Pontifical (Châteauneuf-du-Pape)

Light red fruit oriented wine that finishes with strawberry and red cherries along with a hint of olives in the medium-bodied finish. Drink from 2022-2025.

1,386 Views

Tasted

Nov 20, 2022

2013
Domaine Pontifical (Châteauneuf-du-Pape)

Medium bodied, elegant, soft, and forward, this cherry filled charmer is for early drinking.

1,828 Views

Tasted

Sep 8, 2015

2012
Domaine Pontifical (Châteauneuf-du-Pape)

From a blend of 80% Grenache, 5% Syrah, 5% Mourvedre, 5% Cinsault and 5% Counoise, the wine reached 14.5% ABV. With a nose of Kirsch, fennel and ripe, sweet raspberries, the wine moved quickly to its smooth, open, forward, red berry finish.

1,746 Views

Tasted

Sep 10, 2014

2011
Domaine Pontifical (Châteauneuf-du-Pape)

Light in the nose, the wine serves up delicate, tart, fresh red plums in the spicy finish.

1,547 Views

Tasted

Aug 19, 2014

2010
Domaine Pontifical (Châteauneuf-du-Pape)

Light on color and on the palate, with garrigue, barnyard, some red fruits and a touch of brett.

2,849 Views

Tasted

May 29, 2013

2009
Domaine Pontifical (Châteauneuf-du-Pape)

Light in color and fruit, the wine is a bit simple, with nice notes of fresh cherries and a bit of spice. Soft and easy drinking, this requires consumption.

2,884 Views

Tasted

Mar 7, 2018

2007
Domaine Pontifical (Châteauneuf-du-Pape)

Fully mature, this medium/full bodied, spicy, soft, fresh, sweet, red berry filled wine is at peak, finishing with a fresh, peppery, kirsch note at the end.

3,305 Views

Tasted

May 16, 2016