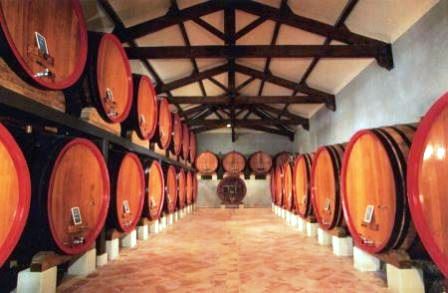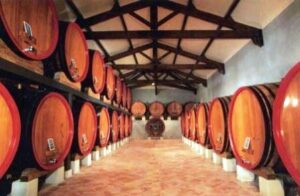 Learn everything about Maison Bouachon Chateauneuf du Pape with wine tasting notes, wine, and food pairing tips, best vintages, a history of the property, and information on the vineyards and winemaking. If you want to read about other important wineries and winemakers from the Rhone valley: Links to all Rhone Valley Wine Producer Profiles
Maison Bouachon dates all the way back to 1898 when it was founded by the Bouachon family. By that time the Bouachon family were already well versed in the wine trade as they were successful coopers who produced some of the best French oak barrels for winemakers in the Rhone Valley.
Maison Bouchon also created a successful negociant firm. The entire Bouachon company changed hands in 2001 when it was purchased by Skalli Family Wines. The Bouchon family continued to manage the winery until the winery was sold to Jean-Charles Boisset, who owns a wide array of wines and wineries in France and in Napa Valley.
Maison Bouchon produces and markets a wide range of wines from the Southern Rhone Valley from a myriad of appellations, not just Chateauneuf du Pape. In Chateauneuf du Pape, they produce Caves St. Pierre and Maison Bouachon.
Maison Bouachon Vineyards, Wines, Winemaking
Maison Bouachon produces 2 red wines and one white Chateauneuf du Pape wine.
Maison Bouachon La Tiara du Pape is produced from 60% Grenache, 30% Syrah, 7% Mourvedre and 3% of assorted grape varieties. The grapes are destemmed. The wine is aged in a combination of old foudres and used oak barrels for 12 months before bottling. On average, the production is close to 3,000 cases per year.
Maison Bouachon Dedication is produced from a blend of 60% old vine Grenache, 20% Syrah, and 20% Mourvedre. The wine is aged in used, French oak barrels for 12 months before bottling. The production is on average, 500 cases per year.
Maison Bouachon La Tiara du Pape Blanc is made from a blend of 60% Grenache Blanc, 20% Roussanne, 15% Bourboulenc and 5% Clairette. The wine is aged for 6 months on its lees in a combination of oak barrels and tank.
When to Drink Maison Bouachon, Anticipated Maturity, Decanting Time
Maison Bouachon can be enjoyed on the young side. Young vintages can be popped and poured, or decanted for about 1 hour, give or take. This allows the wine to soften and open its perfume. Older vintages might need very little decanting, just enough to remove the sediment.
Maison Bouachon is usually better with 2-4 years of bottle age. Of course, that can vary slightly, depending on the vintage. In the best vintages, the wine should be consumed within 4-8 years after the vintage.
Serving Maison Bouachon with Wine, Food, Pairing Tips
Maison Bouachon is best served at 15.5 degrees Celsius, 60 degrees Fahrenheit. The cool, almost cellar temperature gives the wine more freshness and lift.
Maison Bouachon is best served with all types of classic meat dishes, veal, pork, beef, lamb, duck, game, roast chicken, roasted, braised, stewed, and grilled dishes, sausage, cassoulet, eggplant, and tomatoes. Maison Bouachon is also good with Asian dishes, hearty fish courses like tuna, mushrooms, pasta, and cheese.
The white wine of Maison Bouachon is best served with a myriad of different seafood dishes, shellfish, crab, lobster, sushi, sashimi, chicken, pork, and veal, as well as Asian cuisine and cheese.
Maison Bouachon also produces wine from several other, Southern Rhone regions including: Gigondas, Vacqueyras, Tavel, Muscat de Beaume, Ventoux and the Cotes du Rhone appellation.
https://www.pavillondesvins.com
Maison Bouachon Wine Tasting Notes
8 Vintages 14,115 Views Sort by Vintage-Rating
2018
Maison Bouachon La Tiare du Pape (Châteauneuf-du-Pape)

Medium-bodied, forward, open, bright red berries with a savory, garrigue profile on the nose and in the mouth, finishing with bright kirsch and peppery herbs. Drink from 2023-2030.

1,163 Views

Tasted

Jan 31, 2023

2017
Maison Bouachon La Tiare du Pape (Châteauneuf-du-Pape)

Pepper, licorice, smoke, oak and cherries on those nose are slightly more interesting than the ripe, red cherry filled, simple palate. This will be fine to drink on release. The wine is blend of Grenache, with Syrah and Mourvedre.

1,600 Views

Tasted

Sep 21, 2019

2017
Maison Bouachon Dedication (Châteauneuf-du-Pape)

Medium bodied with a spicy, earthy core of red fruits on the nose and palate. The wine blends Grenache with Syrah.

1,720 Views

Tasted

Sep 21, 2019

2016
Maison Bouachon La Tiare du Pape (Châteauneuf-du-Pape)

Fully mature, medium-bodied, soft, earthy, kirsch and spice-filled wine that is best enjoyed in its youth.

2,059 Views

Tasted

Nov 1, 2021

2014
Maison Bouachon La Tiare du Pape (Châteauneuf-du-Pape)

Medium bodied, this Grenache dominated blend is soft textured, fresh and easy to drink, with its sweet, cherries and spicy charm. This will be fine to drink on release.

1,355 Views

Tasted

Jun 23, 2016

2012
Maison Bouachon La Tiare du Pape (Châteauneuf-du-Pape)

Medium bodied with a strong spicy quality, there is a touch of dryness in the red berry finish.

1,629 Views

Tasted

Sep 10, 2014

2011
Maison Bouachon La Tiare du Pape (Châteauneuf-du-Pape)

Fresh herbs, red fruits and a medium bodied soft wine with some dryness in the bright finish.

1,684 Views

Tasted

Aug 19, 2014

2010
Maison Bouachon La Tiare du Pape (Châteauneuf-du-Pape)

Old school, traditionally styled, slightly rustic in nature, with black raspberries and garrigue that is best drunk on the young side. Made from a blend of 80% Grenache, 10% Syrah and 10% Mourvedre.

2,905 Views

Tasted

Nov 27, 2014